Learning Community eNews | October 16, 2020
Mater Admirabilis
By Korin Visocchi, Ph.D, Chief Learning Officer
On October 20, Sacred Heart schools across the globe will celebrate the Feast of Mater Admirabilis. A statue or painting of Mater Admirabilis can be found in every Sacred Heart school around the world and has captured the hearts of students, alumnae, alumni, educators, friends, and Religious of the Sacred Heart throughout our international family.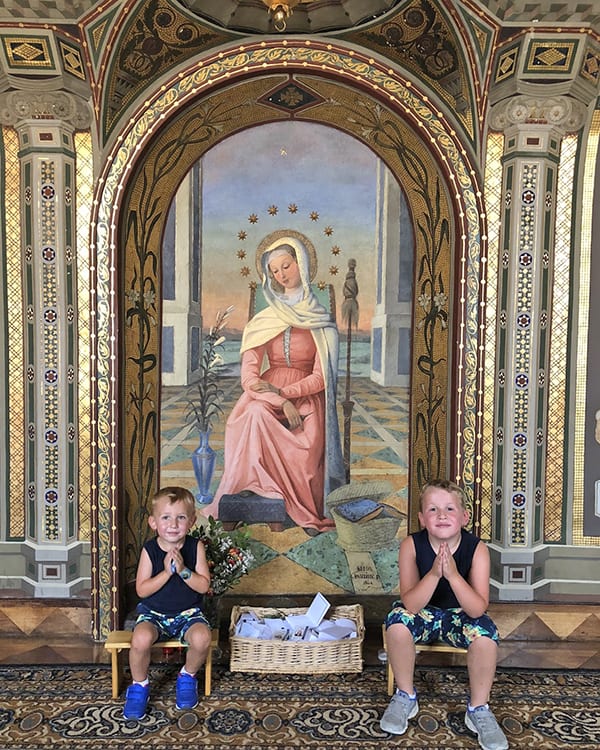 What about this fresco has brought comfort to generations? Why are we drawn to Mater?
My family travels to Italy to spend time with the Visocchi family near Monte Cassino, south of Rome. Each summer, we pack panini, fruit and water to pilgrimage to visit the original fresco of Mater. Tucked inside a side chapel at the top of the Spanish Steps inside Trinita dei Monte, is the beloved Mater Admirabilis. Mother, most admirable, indeed. Pictured: Mater Admirabilis, Trinita dei Monte, Rome, Visocchi brothers, 2018
As I stand before Mater Admirabilis, I am drawn to her gaze and her sense of peace. The image of Mater shows a very human Mary doing everyday tasks, like reading and spinning yarn, while actively listening and leaning into the heart of God. The work of attending, of noticing, and of responding to God's call is depicted through Mater's contemplative gaze and posture.
Mater made time, in a hurried world, for contemplation and wonderment.
How do you ready yourself to listen? What brings you peace?
As we prepare for Mater's Feast, let us pray for one another that each may be graced with the wisdom and wonderment of Mater to lead with hope, courage and compassion.
Happy Feast!
An invitation
All are welcome to celebrate this Feast Day with us on Tuesday, October 20, beginning at 9:20 a.m., when the Grade 2 Mater play debuts on our Facebook page. Then, at 9:30, you are invited to join us for a live-streamed liturgy, which may be found on our YouTube channel.
A prayer to Mater Admirabilis, inspired by the new calls from the Society of the Sacred Heart General Chapter 2016


Mater Admirabilis, may your gaze guide us
+ outwards to geographical and existential frontiers,
+ to live radically like Jesus of Nazareth,
+ to listen to the movement of the Heart of God within us and in the world.
We ask to know how to accompany emerging life;
to defend justice, peace and the integrity of creation;
to revitalize our union in diversity and act as one body in the world and in the Church;
so we can be nearer, simpler and more human,
and thus show the joyful and compassionate face of God.
Amen.
Resources
Mater Admirabilis Resource Page from RSCJinternational.org
Is my child on track for developmental milestones?
By Kristen Miller, Early Childhood Program Director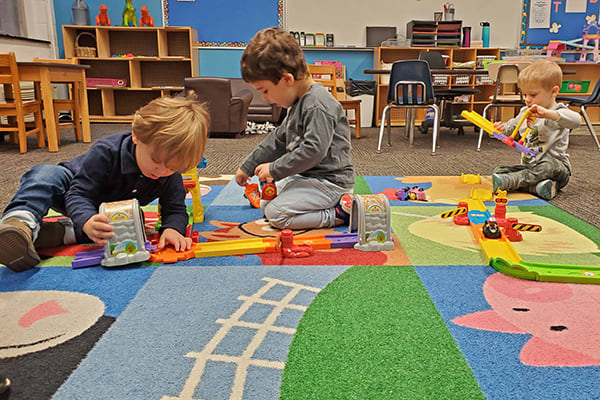 This is a question that we often hear as early childhood educators. One of the ways that we can assure parents in our Early Childhood Program that we are tracking their child's developmental milestones is through an assessment given twice a year to each child. It is called The Ages and Stages Questionnaire. The Ages and Stages Questionnaire is a widely-used screening tool for infants and young children, assessing development in five domains: Communication, Gross Motor, Fine Motor, Problem Solving and Personal Social. This tool creates the snapshot needed to catch possible delays and celebrate milestones. This assessment is administered mid-October and mid-February. During conferences in November and March, your child's teacher will go over the results with you. Rest assured if there are any results that need to be addressed, we would reach out to you immediately to develop a plan for how we can help your child master a task they might be struggling with.
Be sure to look for an email that will guide you to our November Conference sign-up. These will be held via Zoom this year. Conferences are a great opportunity to have a one-on-one with your child's lead teacher where you can ask the questions you just do not find the time to ask during drop off and pick up.
Developing Habits of Mind
By Renee McNally, Primary School Director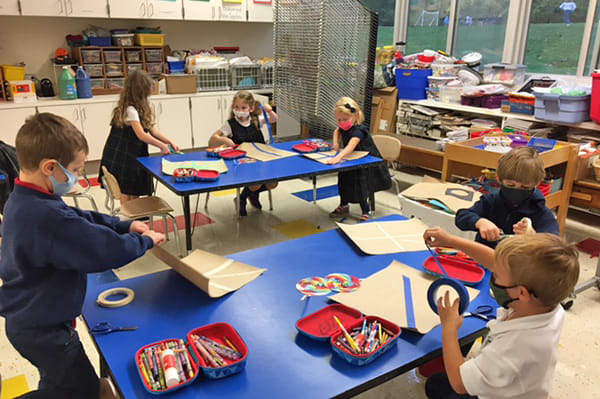 In the Primary School, your child will develop a strong literacy and math foundation that will set the stage for future learning, but we also promise to help your child develop in additional ways that will make a lasting difference in his/her life. Your child's experiences in the Primary School (and throughout his/her entire Sacred Heart education) will instill habits of the mind that will carry your child through a lifetime of learning.
For those of you with older children who have already completed the Primary School program, you might recall hearing me reference the Habits of Mind. Costa and Kallick organize these Habits of Mind into 16 categories. Ask any master teacher and he or she will tell you that their goal as an educator is to help their students become effective, independent learners. Developing these Habits of Mind will ensure this happens. The Primary School program provides experiences for our students to practice and develop in these meaningful ways.
As parents, you will have the pleasure of hearing about your child's daily triumphs. Do not take the word "triumph" lightly! Some of them might sound like this:
I made a choice today.

I played with my friends.

I learned how to check out a library book.

I got clay in my fingernails.

I can draw a triangle.

I know that cat and hat rhyme.

I built an airplane with the magnets.

I was a good listener.

I made a pattern.

I collected leaves on our nature walk.

I got "monkey bar bites" (a.k.a. blisters) from the monkey bars.

While these triumphs might not seem like criteria for guaranteed early acceptance into college, these small steps your child experiences in the Primary School will set the foundation for skills that will provide the necessary tools for future learning and future success. These small, yet very significant, accomplishments reflect lifelong lessons, or Habits, that will carry them through the rest of their lives, such as:

Every one of the Habits is woven throughout the Goals & Criteria that drive our existence as a Sacred Heart school. As your child discovers that school is not just a place for memorizing information, but a place for exploring, creating, communicating, solving problems, working together, and making choices, your child will become an independent thinker and will develop a life-long love for learning.
I encourage you to read this reflection from Dr. John Edwards titled "The Things We Steal from Our Children". It was written for teachers, but is relevant for parents, too. It is a reflective piece that emphasizes that when adults step in too quickly, our children lose out on learning opportunities to practice and develop the habits of the mind that are so important for navigating life.
By the way, my favorite Habit is #12, responding with wonderment and awe. What is yours?
United in Prayer
By Emily Avendt, Lower School Director & Director of Learning Support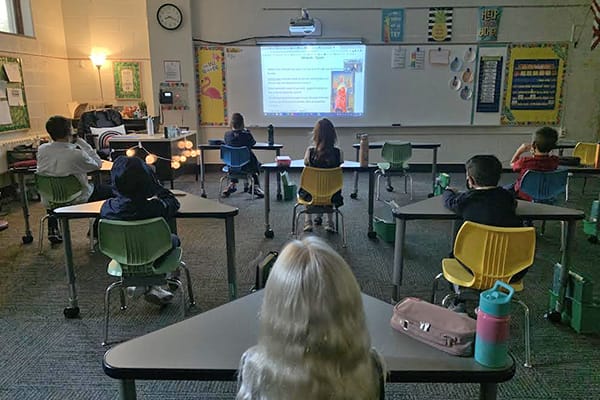 As a part of the Network of Sacred Heart Schools, ASH is connected in mission to over 150 schools in more than 40 countries. This week, the Lower School students participated in a Network prayer project entitled, United in Prayer during Covid-19. In preparation for the feast of Mater, students all over the Network wrote prayers and shared them with all participating groups.

During Morning Prayer, Lower School students prayed devotions to Mater from Sacred Heart schools in Poland, Australia, Egypt, Taiwan, Ireland, and the United Kingdom, among others. We looked at the map of international Sacred Heart schools to see where each school was located, and we even watched a video prayer from a student attending Fuji Sacred Heart School located near the base of Mt. Fuji in Japan!

One of my favorite prayers was written by the students at our Sacred Heart School in Takarazuka, Japan, and included the line: "Help us not to focus on the problems but to be Artisans of Hope for ourselves and others." By participating in the prayer project, I hope that Lower School students feel connected to the global and diverse community of Children of the Sacred Heart, and are empowered to be artisans of hope in this world! Please find the prayers the Lower School students wrote here.
Benefits of Group Work
By Kim Davidson, Director of Kensington Hall
In Kensington Hall, there is a strong emphasis on group work across the curriculum. Each cycle, students work as a group to research and create a presentation in both Science and Humanities that they present to the class during the fourth week of each cycle. You may have heard your son talk with you at home about how his experience was during this first cycle. Many of us also have memories of our own experiences of working on group projects in school. In Kensington Hall, we recognize the importance of teaching, modeling, practicing, and reinforcing the skills required to be a good group member, and how to present information and ideas to their peers. Students develop and build upon skills that will set them up for success as they go off into high school and beyond. There are so many lessons involved in group work that go beyond the end presentation. During the times that the students are working in their small groups, the teachers are observing and mentoring them through the process.

Life lessons that are modeled, discussed, and reinforced during the cycles in group work include:
Teamwork and collaboration

Working together toward a common goal

Working with people with different personality types, perspectives and skill sets

Accountability as a group member

Problem solving and working through challenges

How to best communicate with others

Time management and organization

Leadership
At the end of each cycle, students are given feedback from their teachers and the opportunity to reflect and discuss with their group members about what worked well, what didn't work, what challenges they overcame, and what they can do to improve for the next cycle. Our expectation is that students learn from their experience and grow stronger in those skills that they recognize for themselves are areas that need improvement.
This cycle, seventh and eighth grade students had fun researching and learning about the causes of the American Revolution as well as other major world revolutions in their Humanities class. In science, they were presented with a challenge to create a Rube Goldberg machine and make a balloon pop at the end.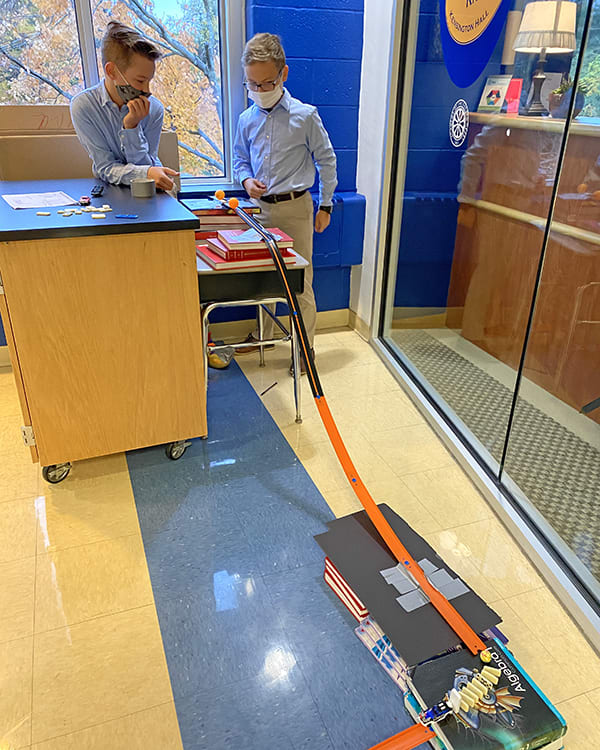 Fifth and sixth grade Humanities students created presentations on the Five Themes of Geography in the creation of the Thirteen Colonies. In science, students used their knowledge of force and motion and worked together to create a car powered by the force of a balloon. Be sure to ask your son about his projects and presentations.
New Faculty Announcement: Alison Peck
By Joyce Lee, Middle School for Girls Director
Let us extend a warm welcome to Alison Peck, our new Spanish teacher for MSG Grades 5-8. Alison grew up fascinated with languages since she was 3 years old and has officially taken Spanish courses ever since she herself was in middle school. She majored in and completed every Spanish course at Michigan State University and after living in Spain with a family from Caceres, she knew she wanted to teach Spanish. Earning a fellowship from MSU, she studied at Loyola University of Chicago and began her teaching career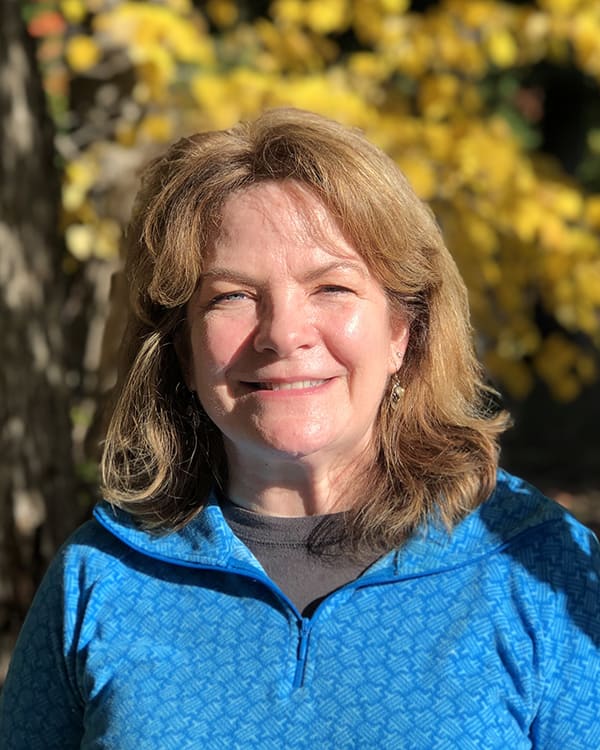 Alison has experience teaching grade levels K-12 and enjoys the middle school aged students the most. She loves spending time with her own two daughters, her 2-year-old granddaughter, and has trained a future leader dog named Nala. She is currently teaching herself Mandarin Chinese, sharpening her French skills through language courses, and enjoys art and writing novels. Alison is very excited to join the Sacred Heart community and we are very excited to have her! Spanish will begin for all interested students on Tuesday, October 20, which is also the start of Quarter 2.
To bring you up to speed on our open position teaching Language Arts and Humanities, for the 5/6 Communications class, Ms. Lynette Nixon will take over the teaching, direction, and grading until a permanent teacher is hired. The Humanities class continues to work on their research project on Native American Tribes, which is due October 26. We have been in conversation with five candidates and have interviews scheduled in the coming week. We hope to have another new faculty announcement for you soon!
Indigenous People's Day
By Linda Kozler, Director of Girls Education & Upper School Director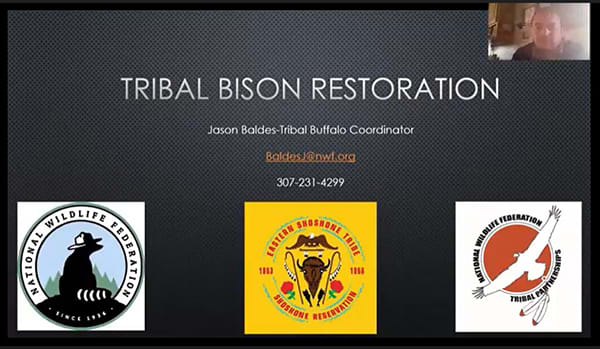 "Not only does Indigenous People's Day allow the country to educate itself on the loaded history surrounding the holiday, it also celebrates the perseverance and power that Native communities continue to have in the world." (Harvard Gazette)
On Monday, the Upper School was able to take some time to live our Goal 3 criteria which remind us of the importance of:
educating our students to reflect on the values of society and to act for justice

having our students walk alongside people who are poor, marginalized and suffering from injustice, and

inspiring our students to be active, informed, and responsible citizens locally, nationally, and globally in our multicultural world.
We did this by welcoming, via Zoom, leader Jason Baldes of the Shoshone tribe. He shared with classes his wisdom, his beliefs, and his experiences as a native American in this day and time in America.

To sum up the words of our own Paloma Palomino '24: What is Indigenous People's Day? Indigenous People's Day is a day set aside to commemorate and acknowledge Native Americans. We recognize their struggles and the injustices they have received throughout history, and we also celebrate their culture and how society and the natural world wouldn't be the same without their knowledge and understanding.
Why is it important to celebrate it? It is important to honor the natives of every country and to recognize their presence. They have been and are people who are persecuted, robbed of land, robbed of culture, and robbed of identity by governments. It is hard for them to be accepted by others and society and given equal rights in their own country. That is why it is important to celebrate them and lift them up in society.
Class of 2023 Joins the Brick Line!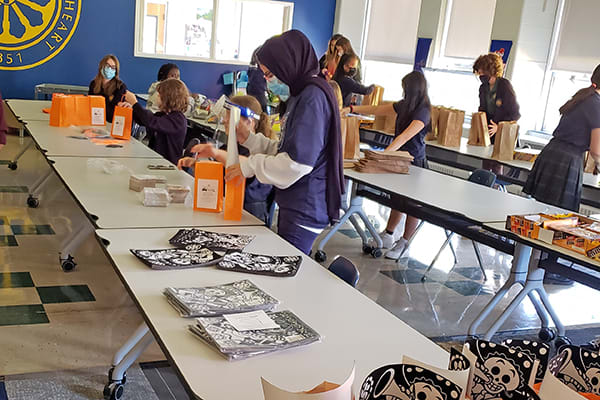 A brick line (also known as a "builder's line" or "mason's line") is essentially a long, often brightly colored length of string that does not easily stretch but aids in the level building of masonry walls. It also represents the theme of Upper School Thursday service activities this year. Joining together in a common, shared task as "we pass the bricks down the line", symbolizes our values to work toward a community goal. This was particularly evident as the sophomore class joined together to prepare and pack treat bags and craft kits for our Trunk or Treat Car Crawl guests. Many hands make quick work of a big task! In less than one hour, 16 girls packed 400 bags in anticipation of the October 18 Trunk or Treat Event, taking place from 3-5 p.m. We are still seeking volunteers to join the "brick line" on Sunday! Contact bpastrone@ashmi.org or lshultzanderson@ashmi.org if you can help in any way. Hope to see you there!
ACADEMY OF THE SACRED HEART