Learning Community eNews | January 29, 2021
FEATURED STORY:
Daring Trust and Confidence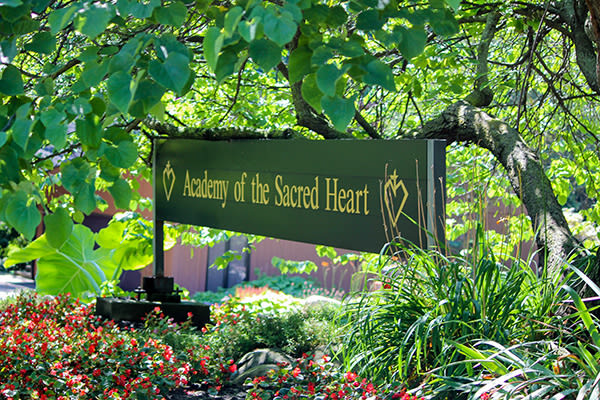 As we accompany children and young people of all faiths, a Sacred Heart education aspires to form students who will be the best for the world. The origin of Academy of the Sacred Heart finds its source in the vision of Saint Madeleine Sophie Barat, who began her work as an educator in 1800 when she founded the Society of the Sacred Heart in France. Saint Madeleine Sophie Barat responded to the needs of the world around her with daring trust and confidence. This spirit of trust, faith, courage and confidence continues to transform Academy of the Sacred Heart as we inspire life-long learners with a sense of hope.
In 2021, there are over 150 Sacred Heart schools in 41 countries, all rooted in Sophie's confidence that education is a means to transform the heart and world. A contemporary scholar and Sacred Heart historian, Sr. Kilroy, revealed how Sophie created new places and spaces for education that had an impact on society far beyond her own expectations and lifetime,
For Madeleine Sophie education was never the end. Rather it served as the means for educators and students to come to know and experience God's love. Sophie hoped that education within her schools would be profound enough to inspire people to rebuild, renew and transform society, wherever they lived. As her intuition matured, developed, and expanded, she came to see education as the means and the way to renew society (Phil Kilroy, RSCJ, Madeleine Sophie Barat, a Life).
Sophie puts forward a lofty goal, one where we as parents, educators and friends of Sacred Heart are called to rebuild, renew and transform society through education. We cannot miss however, that to transform the world, we should come to know and experience God's love.
Experiencing God's Love in Covid Times
In a time where most of my human interactions are virtual, including meetings, mass, Thanksgiving and Christmas morning with my parents and sister's family, I've stumbled in making time and space for quiet. For when I am still, I know that I am with God. As we move through month eleven of the Covid-19 pandemic, I caught myself pushing through the day's Zoom calls and emails, leaving little time to reflect, journal or be still. When I finally paused, and began to listen to the heart song that plays during my quiet walks outside, an overwhelming feeling of gratitude emerged.
The hum of the universe
The songs our children sing
The dawn of every new day
Wonderment in our minds
Calm in our soul
Peace in our hearts
I enter into 2021 with profound gratitude for the gift of relationships, the sweet sound of my boys singing, " Maaammmmaaa" early on a Saturday morning when the snow arrives, the heart-work that goes into providing Sacred Heart education, the blue skies that emerge occasionally in Michigan winter, and the profound gratitude that my vocation as a Sacred Heart educator encourages me to find the beauty in all things.

Gratitude & Farewell
Thank you for sharing your time with me as I author my final eNews for Academy of the Sacred Heart as Associate Head of School. With daring trust and confidence, I will begin my next chapter of Sacred Heart education with the Network of Sacred Heart Schools. My passion for Sacred Heart education is rooted in the charism, mission, and hope of Saint Madeleine Sophie Barat's vision and faith that love can transform the world. My best hopes for our Sacred Heart family is that we continue to lead with our hearts and find time to listen and wonder.
Peacefully,
Dr. Korin Visocchi
Circle Time Fun
By Kristen Miller, Early Childhood Program Director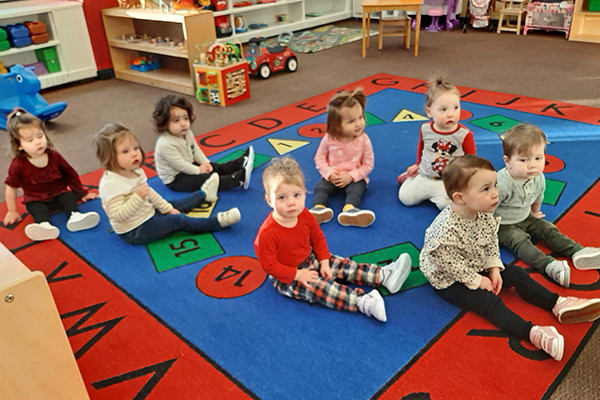 Each morning, the ECP students start their day with Circle Time, also known as large group. It is a routine that follows the children from Ryan's Roost through Preschool. Circle Time is an activity that we use to develop positive relationships between children. It gives them tools to engage with and listen to each other and follow directions from their teacher. The entire class takes part in Circle Time at the same time, led by the teacher, who sits in the circle with the children. During Circle Time, multiple skills are being developed. The kids are singing, listening, thinking, speaking, sitting, problem solving, concentrating, and so much more. Circle Time is planned with the age of the child in mind. We would not expect a 12-month-old to sit and attend for more than five minutes. If they do, that is wonderful. As the child gets older, the expectation becomes greater. Our expectation is that a Preschooler would be able to sit and attend to what is being taught for about 15 to 20 minutes. Their Circle Time experiences prepare them for future success in school settings.
Ready for Readiness!
By Renee McNally, Primary School Director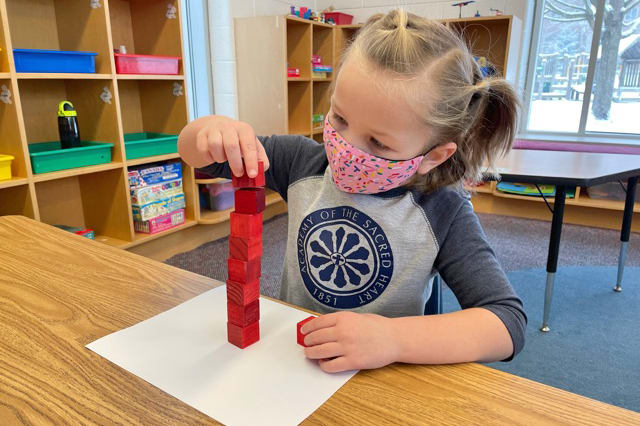 "Readiness" is a topic that our educators value and reference in their daily work with your children. The creation of developmentally appropriate experiences is of high priority in the Primary School to support all students' emotional and cognitive growth. A child's developmental age does not always align perfectly with his/her chronological age; therefore, our educators continually consider the best time and the best way to introduce new concepts based on what each child is ready to learn.
The Primary School program was designed based on the principle that all children develop at their own pace and in their own style. In a typical year, students spend part of their school day in their grade level groups engaging in direct instruction on that grade level's curriculum while part of the day is spent at cross-age learning centers where students work individually or in smaller groups while practicing and mastering skills necessary for each child's continued growth. Providing a group of children with educational experiences at optimal times based on each child's developmental readiness is challenging, yet essential.
The Primary School's developmental approach to learning is guided by Arnold Gesell's theory of maturational development. Dr. Gesell determined that children go through a predictable pattern of physical and cognitive growth, but at each child's own rate. While these stages of development are sequential, the timing of a child's development through the multiple domains of social, emotional, cognitive, physical, and adaptive growth is variable.
Gesell's research explains growth as a cyclical spiral with internal factors (genetics, temperament, personality, learning styles) and external factors (family background, parenting styles, cultural influences, health conditions, early experiences with peers and adults) that affect development. Each cycle of the spiral contains the time it takes to move through the six stages (smooth, break-up, sorting out, inwardizing, expansion, fitting together) in a half-year phase. Each child moves through the stages in a predictable pattern, but the time it takes to move through the pattern varies based on the external and internal factors of the child.
Knowing that approximately every six months a child will experience the "break-up" stage is helpful in the educational setting. Sometimes there is a student who seems to be moving along smoothly and then suddenly the child is crying more, getting frustrated, and/or is dissatisfied with his/her own abilities. According to Gesell, this is something typical that all children will experience throughout their development. Often, parents get concerned when their child is in this break-up stage. Understanding these stages supports parents in knowing that most of their child's behaviors are expected and will not last.
Early childhood educators work to find balance between developmentally appropriate instruction and rigorous academic expectations. The knowledge we have from the works of Gesell assists our educators as we create this balance. Setting a child up for success is always our primary goal. Watch for future eNews articles where we will dig deeper into the typical behaviors of 4, 5, and 6 year olds.
Making Saint Madeleine Sophie Proud
By Emily Avendt, Lower School Director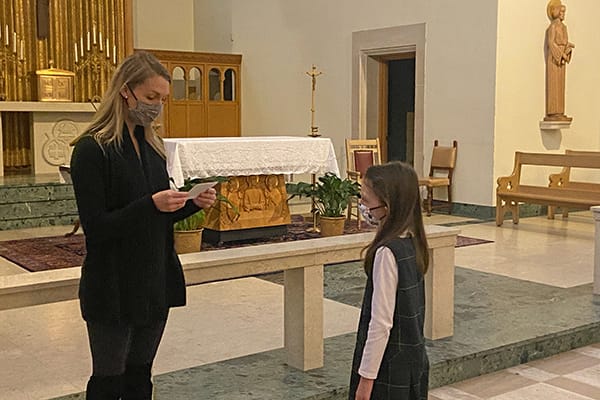 Saint Madeleine Sophie founded the Society of the Sacred Heart in 1800. She believed that education was transformational. Her writings and reflections continue to inspire Sacred Heart students and faculty all over the world and ring truer than ever to this day. Here a couple of particularly inspiring Saint Madeleine Sophie quotes:
"Your example, even more than your words, will be an eloquent lesson to the world."
"What is the good of teaching various subjects, of wasting time in learning them, if at the same time we cannot teach children the words of life and touch their hearts and their consciences?"
These quotes speak to Saint Madeleine Sophie's focus on the development of the whole child and on the importance of teaching students not only academic discipline, but also the gifts of self-knowledge, active faith and service to others. The Lower School honors Saint Madeleine Sophie's legacy throughout the year at Saint Madeleine Sophie (SMS) Award assemblies.
SMS Awards are a formal assembly where students are honored for growth in the Goals of Sacred Heart Education (listed in the terms that Lower School students use): love as God loves, study and learn, help those who need me and be a friend to all. Each student in the Lower School receives an SMS Award at one of the assemblies during the year when they have particularly shined that month. This experience not only reinforces the goals and vision of Saint Madeleine, it also gives the students an opportunity to give and receive praise and honor the gifts of those in our community. The Lower School students are surely making Saint Madeleine Sophie very proud!
Math Olympiad 3 Results
By Alexandra Plangger, math educator
The third round of Math Olympiad took place on Friday, January 15. For this round, we had a mix of in-person and flex students. We only have two remaining Math Olympiad contests! Mark your calendars now for the fourth contest, which will be the week of February 8. Now the moment you have all been waiting for ... the results! It is always very exciting to see new names on the board! Congratulations to the following students:
Division E:
Grade 5 with a score of 3: Evelynn Brenner
Grade 6 with a score of 4: Isabella Kaminskas, Elena Nowlan, and Zara Sinkular
Division M:
Grade 7 with a score of 3: Jade Myers
Grade 8 with a score of 1: Eva Drolet, Kamarri Hobson, Meredith McCarthy, Atia Samuel, and Isabella Seth
ASHworks Update
By Eric Swanson, ASHworks instructor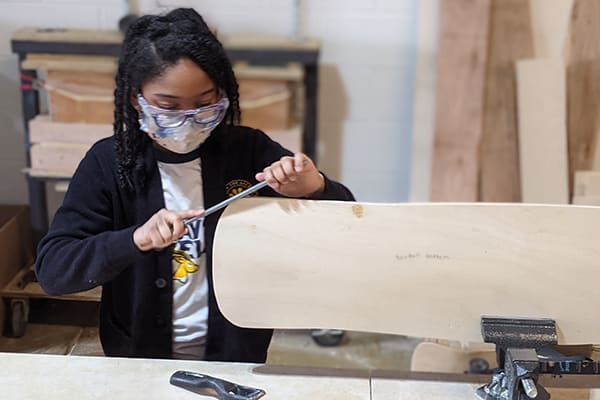 The young women from MSG have had an outstanding semester in ASHworks. Each week they continue to learn new skills, use additional tools, but most importantly, build confidence! Skateboards and longboards have been the sole focus of the last couple of weeks. After pressing/gluing the layers of plywood, the girls learned how to use the jigsaw to cut out the shape of the board. Although there was some initial intimidation, the young women of ASHworks performed admirably. They then continued to shape their boards using planes, rasps, files and even an electric router. Currently the girls are sanding their boards so they are ready to be painted with their designs for the bottom of the board. After painting, they will be sealed, then they will add grip tape, wheels and other components so they are complete.
This is a great project for the young women of MSG because it requires patience, teamwork, specific skills and a step-by-step process. The girls are so eager to learn and so willing to help one another. It has been so exciting to watch their initial ideas and drawings come to life. Keep an eye out for the skateboards in the display gallery over the next few weeks! View additional photos here.
Grade 8 Retreat & Regroup
By Michele Allison, science educator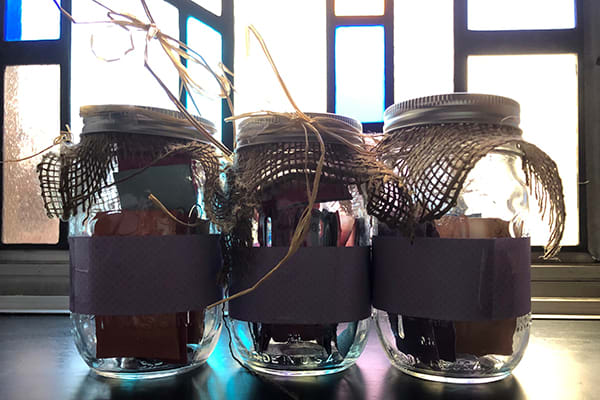 Grade 8 students had the opportunity to participate in a retreat on the afternoon of Wednesday, January 27. With a focus on Goal IV, students discussed ways to build community among their class. They also spent time writing affirmations for each of their classmates. These notes were placed in a keepsake jar that each student will be taking home. Discussion and reflection focused on encouraging a spirit of support and appreciation for one another and building a sense of inclusiveness for all.
As the class prepares to transition from middle school to high school in the next few months, they were asked to reflect on what they want to accomplish with their time together. Strengthening friendships, building stronger bonds and being good role models were among many of the ideas students discussed.
Celebrating the Life & Legacy of Dr. Martin Luther King, Jr.
By Kim Davidson, Kensington Hall Director
"I have a dream that my four little children will one day live in a nation where they will not be judged by the color of their skin but by the content of their character."
Kensington Hall students dedicated last week's prayer service to Dr. Martin Luther King, Jr. and his legacy of peace and equality. They chose readings about treating one another with love, offered prayer intentions, and listened together to his famous "I Have a Dream" speech.
Grades 7/8 have continued learning about social justice and human rights in their Humanities class. They are uncovering the history of human rights and social injustice, what has been done to combat social injustice, and what can we all do to make things better for others in our world.
Grades 5/6 discussed Martin Luther King's famous "I Have a Dream" speech and spent time thinking about their own dreams of peace and equality in their own lives. Listening to their thoughts and ideas reminded me of a quote from Maria Montessori in one of her writings, Education for Peace: "The child is both a hope and a promise for mankind." Children are innocent, loving, and accepting. They have an innate sense of right and wrong, and for justice.
After our class discussion, students created visual representations for what they want the world to be like. I hope we all spend more time listening to our children's ideas about peace and justice.
Supporting our Students
By Kim Davidson, Kensington Hall Director
The middle school years are challenging during a normal year; add on to that almost an entire year of a pandemic and social distancing, missing out on sports and other extracurricular activities, parties, sleepovers, school traditions and field trips, vacations, etc. This is taking a toll on many students' social, emotional, and mental well-being.
At school, we are offering routine, guidance, support, love, and as much joy as we can. Here are a few suggestions that could help at home as well:
Be there to listen to them and give extra grace. Many times as adults we want to give advice and try to fix things. Most often, adolescents just need someone to listen and understand where they are coming from.

Encourage them to stay active and get outside as much as possible.

Limit technology and social media.

Help them find positives and small things to look forward to during this challenging time.
Together, we will all come out of this year so much stronger.
Serving & Educating
By Evelyn Nye-Brothers '22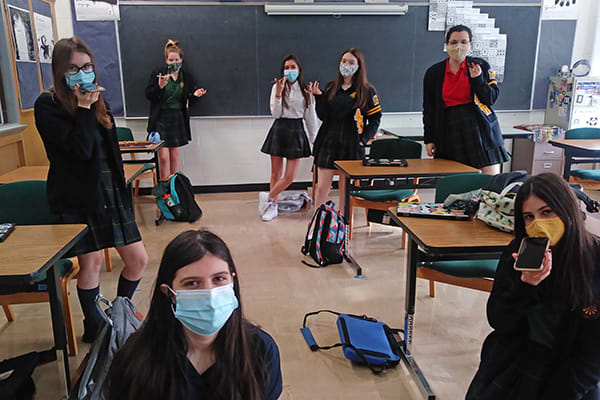 Earlier this month, the Upper School Literacy Service Group partook in an opportunity to read research articles for students in the Chicago Public Schools. We were able to support students with reading difficulties so they could have information for writing their research papers. It was fun recording articles about zoo animals, plastic recycling, and extreme sports. Being part of this service was very gratifying, knowing we were helping people and that we were taking the time out of our day to make someone's life a little less overwhelming. Even though this may seem like a small gesture, we are helping others nonetheless with their education, which is so important.
January 20 ... What a Day!
By Catherine Lehmkuhl '21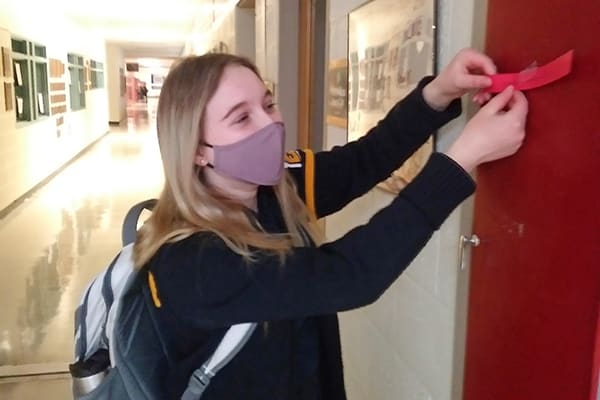 The Upper School celebrated Inauguration Day with joy and humility as citizens of the United States of America. We were inspired by the voices of Lady Gaga and Jennifer Lopez and the philosophy of St. Augustine. We stood joyfully for the National Anthem and Pledge and delighted in the poetry of Amanda Gorman (the students already have slogans - "Gorman 2036"!). And Garth didn't have to ask us twice to join in on "Amazing Grace." History was made as we watched Kamala Harris take her oath of office. Fun permeated the day as students joined in the scavenger hunt around the halls for Inauguration Day questions (above, Lilly Lessard '24 finds a scavenger hunt question). They could then turn their answers in for candies from the Service and Social Justice Committee (SSJC). See if you can answer the questions here.
The SSJC also offered a prayer for the day that we would like to share with you:
Almighty and Sovereign God:
As our nation undergoes this presidential transition, we pray:
May your Holy Spirit instill our president of righteousness and the values and principles of your kingdom to exercise the sacred trust of administering the nation.
Give our new president, his administration, and Congress the ability to honor you by doing what is right, fair, and just for all citizens, especially the poor, hungry, and marginalized.
We ask that all the people in our nation, irrespective of race, gender, ethnicity, or religious faith, be treated with dignity.
We pray for the wholeness, health, integrity, soundness, welfare, security, prosperity, harmony, and justice of all the citizens of our nation.
Help our nation develop a foreign policy that fosters peace, justice, equality, and freedoms that can advance the development, rights, and privileges of our global neighbors.
Move our nation to provide international leadership in the good stewardship of all the natural resources that you have entrusted to humankind.
Now all glory to God, who is able, through the Holy Spirit's mighty power at work within us, to accomplish infinitely more than we might ask or think. Glory to God through all generations forever and ever.
Amen.
MLK Day
By Minh-Nhi Daniels '22
On Martin Luther King, Jr. Day, a day to celebrate the beloved and brave American man who fought for justice, the Upper School students and I were invited to join Roeper in their day of virtual workshops about the roots of injustice and what is presently occurring today.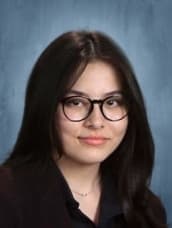 There were multiple workshops throughout the day, on topics including destroying systemic racism while breaking down bias, the difference between "not being racist" and moving to be "anti-racist", and a short film about two women during the Civil Rights Movement. I was fortunate to be able to attend two meetings, the first being the danger of the "white moderate" and the second, the short film. In the first workshop, speakers discussed the importance of using my voice in times when racism goes unnoticed and when victims of racially insensitive jokes are unable to stand up for themselves.
We were asked to reflect on times when we might have witnessed racism but willingly ignored it, without sticking up for the victim. The interesting thing about these workshops was that they consisted of teachers, parents, and people from around the country, so I was able to hear experiences of people who were bystanders and others who were victims of racism throughout their life. The second workshop I attended, the short film, depicted a white and black woman in a diner in the 1960s. It was eye-opening seeing the different experiences that they had to face when a group of white men entered the diner. After the film, we were again split into different groups, breaking down our thoughts and emotions gathered from the film as well as any hidden symbolic meanings we found. After the workshop was complete, ASH Upper School students attended a roundtable discussion. As a person who is a firm believer in social justice, it was a nurturing and educating experience, to hear from different perspectives, learn things about Martin Luther King, Jr. I never knew, and to learn about African American culture. It was a wonderful experience that I hope everyone can witness someday.
Questions Regarding the New Travel Policy & Screening
By Robin Clements, RN, BSN
We continue to follow the data, as well as the recommendations of the CDC, Michigan Department of Health & Human Services (MDHHS) and the Oakland County Health Division (OCHD). I have heard from parents that some families intend to travel for the mid-winter break. Travel and spending time with others outside your household increases the risk of spread of COVID-19.
Mr. Hermann sent an email on January 15 regarding the travel policy:
If your family travels overnight (in-state, domestically or internationally) and has close contact with people outside your household, we are asking your family to quarantine for 10 days upon your return. Flex learning is available for students needing to quarantine; please reach out to your learning community leader if your child needs to quarantine and you have not previously contacted your school leader about the need for flex learning.
This policy is in place until further notice, including mid-winter break and, likely, Easter break as well.
As Mr. Hermann requested in his email, we ask that all members of our Academy of the Sacred Heart community self-report travel/close contacts in good faith. If a family travels internationally, domestically, or within the state overnight and is staying with people outside your household, we ask that your child participate in remote learning for 10 days upon your return.
What if my spouse travels for business but my child and I have not traveled?
The CDC recommends "reducing non-essential activities for 10 days" after travel and taking the following precautions for 14 days after you return from travel to protect others.
Stay at least 6 feet from anyone who did not travel with you - both indoors and outdoors

Wear a mask in shared spaces outside your home

If there are people in the household who did not travel with you, wear a mask and ask everyone in the household to wear masks in shared spaces inside your home.

Avoid being around people who are at increased risk of severe illness.

Wash your hands often or use hand sanitizer with at least 60% alcohol.

Watch your health, look for symptoms of COVID-19 and take your temperature if you feel sick.
If the family member who traveled, develops symptoms of illness or is pending a test, the other family members are excluded from school and work.
If I just returned from travel (involving close contact with people from outside my household), am I allowed to enter the building?
Our updated screening question reads: In the last 10 days, any overnight travel (in-state, domestically or internationally) involving close contact with people outside your household?
For safety measures, only Early Childhood Program (ECP) parents are allowed to enter the building. We ask all other parents to drop their child off. We ask ECP parents not to enter the building if they have recently traveled. Another adult in the household should drop off and pick up the ECP student until the 10 days have passed.
Is my child allowed to return to school sooner than 10 days if I provide the school with a negative COVID test?
Although the CDC recommends a COVID-19 test 3-5 days after your trip and reducing non-essential activities for a full seven days after travel, even if your test is negative, the OCHD and MDHHS do not recommend a seven day clearance. The Academy of the Sacred Heart continues to request flex learning for 10 days after travel.


Again, we ask families to reach out to their learning community leader to notify them of your travel arrangements and set up flex learning upon your return. Please contact me with any questions at rclements@ashmi.org.
Today is the deadline to purchase the Wine & Dine viewing package for "Never Apart, Together With Heart," our virtual benefit coming up next Friday evening. Get your tickets now! You can also preview our silent auction items or grab a ticket for either (or both!) of our two 52-card raffles!
Don't miss the State of the School address on Tuesday, February 9 at 6:30 p.m. You'll hear a preview of the path forward for Academy of the Sacred Heart, student perspectives and important re-enrollment information. Register today!
ACADEMY OF THE SACRED HEART