Sacred Heart Connection - The Alumnae & Alumni eNewsletter | July 20, 2021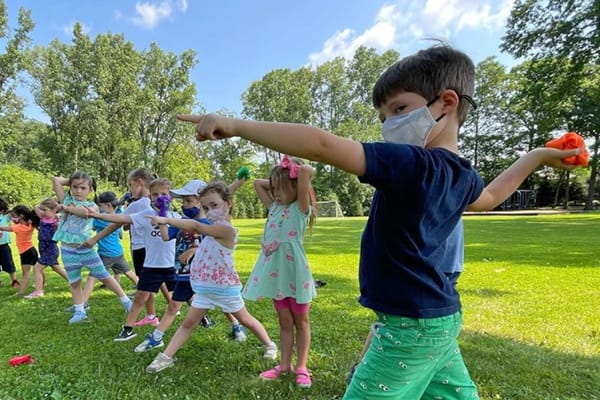 Academy of the Sacred Heart buzzes with activity year-round! From our Early Childhood Program to Summer at Sacred Heart to all those planning and preparing for a full return to school in the fall, our building and grounds are full of energy and excitement. Today, we are pleased to share recent news from our alum community, including:
AASH 43rd National Conference, "Hearts in Motion"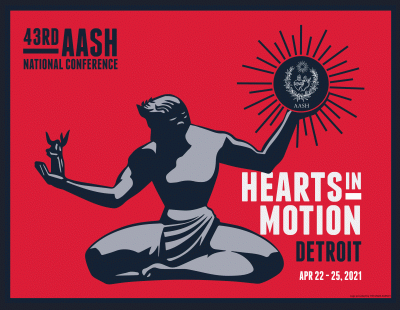 The 43rd Associated Alumnae & Alumni of the Sacred Heart (AASH) National Conference took place virtually this year for the first time, and with great success! Our circumstances in April meant AASH could not gather in Detroit, but that didn't mean plans for "Hearts in Motion'' had stalled. Former AASH President Barbara Brown Lopiccolo '62 shared, "Using the theme of Hearts in Motion, it really was about moving forward, and what a challenge that was to different people in different ways, and as an organization what our role was, in terms of helping." In fact, the conference committee, led by chairs Andrea Briefs-Ferris '75; Patricia Eldredge Kolojeski '62 (Grosse Pointe); Barbara Brown Lopiccolo; as well as AASH President Roselie Bellanca Posselius '73/'77 (Grosse Pointe/Bloomfield Hills), had been working diligently to make AASH's first ever virtual conference engaging and meaningful.
"I really was very pleased with how smoothly the technology went. We weren't sure what the level of experience was with the 250 people who signed up, but it just went very smoothly and it flowed," said Lopiccolo.
The Conference kicked off Thursday, April 22, with individual Regional Meetings for all four AASH regions. Keynote speaker Desiree Cooper spoke about women moving forward, particularly post-pandemic, on Friday, April 23. A panel hosted by Dr. Korin Visocchi, executive director of the Network of Sacred Heart Schools, featured Bloomfield graduates Pamela Alexander '84, Crystal Ashby '79, Reema Hasan, M.D. '96 and John McInerney KH '08. The panel discussed "Wholehearted Leadership" on Saturday, April 24. Lopiccolo stated, "I could not have been more pleased with how it turned out … the fact that so many other people were so touched by it, that was absolutely my most favorite part".
The Cor Unum Mass and Awards took place Saturday at Academy of the Sacred Heart's chapel. Congratulations to the incoming AASH Board members from Bloomfield Hills, Stephanie Chaczyk '07, Andrea Briefs-Ferris, and Sarah Mayer Wolf '07, as well as to Therese Gorman Mayer '44 on receiving the Cor Unum award, and Kennedy Annette Perkins, Grade 7 ASH student, who took second place in the AASH Essay contest.
Hearts in Motion featured a mix of live and pre-recorded events and was entirely free, but participants needed to register to receive Zoom links. Missed the Conference? Watch Here!
Annual Alumnae & Alumni Spring Reunion & Wansboro Award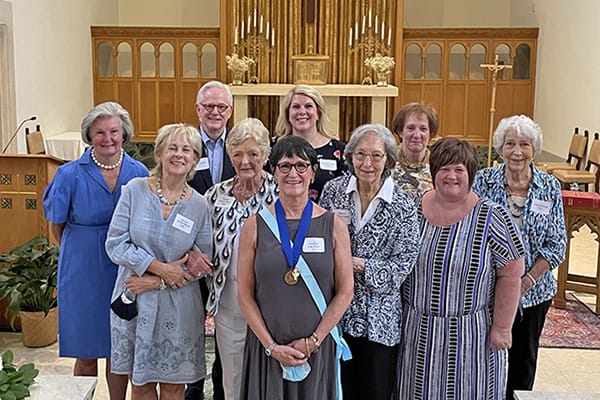 The Annual Alum Reunion was held on Saturday, June 5. What a joy it was to welcome alumnae and alumni back home to the heart! Alum Board members Stephanie Chaczyk '07, Isabella Shaya '11, and Allisen Willhoft '05 greeted guests at the door with smiles, welcomes and pictures. The reunion was open to all alums wishing to celebrate, with a focus on graduates celebrating their 10-, 25-, and 50-year reunions for both 2020 and 2021, as we did not hold a reunion last year due to COVID-19.
Members of our 50-year honor classes then stepped forward to be fitted with their traditional blue ribbons and lined up for the processional into Mass. Mass was celebrated by Fr. Gilbert Sunghera, and cantored by honorary alum Sheran Tioran.
The Wansboro Award was presented by the Wansboro Chair Andrea Briefs-Ferris and Board of Trustees Chair Emily Mayer '05, to a fourth generation alumna, Kay King Mayer '71 (pictured above, center, with previous Wansboro Award winners). Kay has had many roles at Academy of the Sacred Heart: student, alumna, parent, teacher, Middle School for Girls Dean of Students, and Enrollment Associate. Congratulations to Kay on receiving the Wansboro award!
After Mass, all were welcomed to an outdoor reception where old bonds and memories were cherished while making new ones! Click here for additional photos.
The 71st Candlelight Ball Honoring the Class of 2021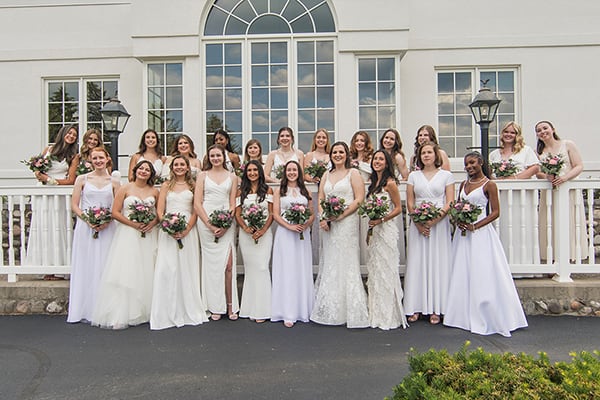 The Alumnae and Alumni Association was delighted to welcome the newest members of our esteemed community on Friday, June 11. The event was hosted at the Bloomfield Hills Country Club and it was a beautiful evening! The cherished presentation of each graduate was skillfully led by Stephanie Chaczyk, Alum Board President, followed by a strolling dinner, photos, and wonderful conversation.
We are so grateful to all of the Patrons of the Candlelight Ball who help support this event and the honored graduates. This year's Ball would not have been possible without the tireless efforts and organizing skills by Candlelight Chair, Jennifer Rink Kasselmann '99. Special thanks also goes to Bess Quick Walczak '10, Alum Board Vice President and Isabella Shaya '11, Alum Board Member for their assistance and representing the Association. View additional photos here.
Congratulations, Upper School & Kensington Hall Graduates!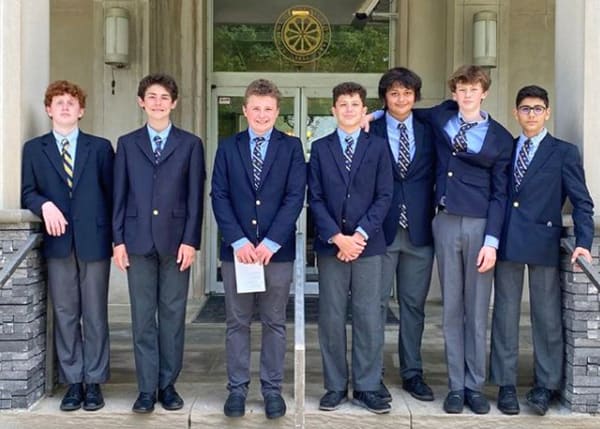 Join us in celebrating the many achievements of our newest alumnae and alumni, the Class of 2021. The 27 Upper School graduates received more than $4.5 million in scholarships from dozens of colleges and universities, while our Kensington Hall grads move on to notable area high schools. View the full list of college acceptances here. Congratulations to the Class of 2021!
Governor Gretchen Whitmer and Michigan Economic Development Corporation (MEDC) announced new manufacturing jobs and mixed-use development in northern Lower Michigan on June 16. M R Products, owned by alumna Maree Russo Mulvoy '66, received a $200,000 Jobs Ready Michigan Grant to fund recruitment and job training. M R Products, which operates under the trade name Mr. Chain and manufactures crowd control and visual barriers, is expanding its business into another building and creating 25 new jobs. Congratulations to Maree on being one of the first to receive the Jobs Ready Michigan Grant!
Congratulations to Dr. Madeline Thompson '09, the University of Michigan's newest PhD in Accounting!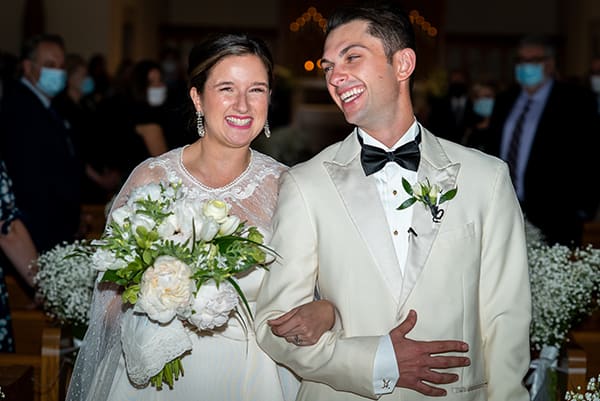 Congratulations to Matthew and Bess Quick Walczak '10 (pictured above), who were married on Saturday, May 15 in the Academy of the Sacred Heart Chapel.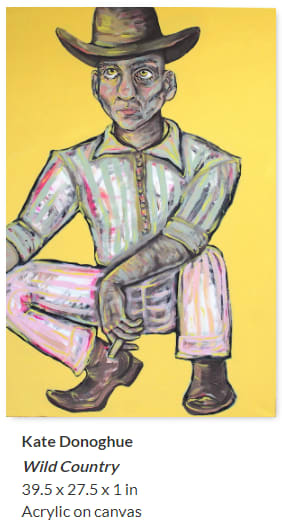 Alumna Kate Donoghue '18 had several paintings displayed at the Our Town Art Show and Sale from April 22 - May 6, as well as having one of her works sell! She is currently studying Fine Arts at University of Michigan and has earned the 2021 Emil Weddige Award for an outstanding undergraduate at the junior level who shows great promise as an artist, especially in the fields of painting and printmaking. Congratulations to Kate for her dedication and earning herself a scholarship for the second year in a row. View more of Kate's work here!
Employment Opportunities with Sacred Heart!
Please consider sharing your skills and talents with us as a member of Academy of the Sacred Heart's team. Job postings are updated as positions become available.

Keep Us Informed
Academy of the Sacred Heart alumnae and alumni stay connected through the eNewsletters by contributing any newsworthy events that are happening in your life. If you have any news about weddings, births, careers, awards, travels, etc., submit the updates so your news can appear as part of the online Alumnae and Alumni eNewsletter. You can submit the news by clicking here. Be sure to become a member of the Alumnae/i Portal to share even more news with your classmates.
Remember to stay connected through the ASH Alums (Bloomfield Hills, MI) Facebook page. Like us on Facebook and visit this site frequently to keep in touch with the school and your fellow alumnae and alumni.
Condolences were sent on behalf of the Alumnae and Alumni Association to:
In Memoriam:
Sally Hamlin Kreutz '47

Virginia Theisen Kircher '58

Margaret Tait Wilson '61

Angeline Golec, honorary alumna

Please email Kelita Bak at alumoffice@ashmi.org to inform the Academy of the Sacred Heart of a death in the family. We will share that information immediately with your classmates and pay our respects in the eNewsletter.
ACADEMY OF THE SACRED HEART