Learning Community eNews | March 19, 2021
FEATURED STORY:
New Experientials!
By Joyce Lee, Middle School for Girls Director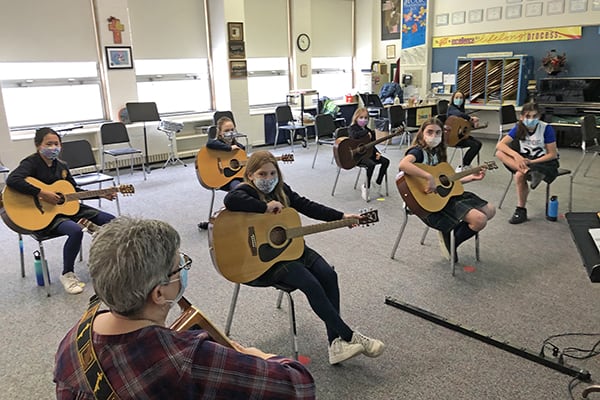 A new round of experientials has begun for KH and MSG students. Led by the interests and talents of the faculty, students are offered various opportunities to learn something new throughout the second semester. Highlights include Ms. Nixon teaching about the culture and signs in American Sign Language, Ms. Callas explaining about the power of building relationships in Networking with Style, Ms. Harnish leading students through the steps of developing your own brand in Entrepreneurship, plastic bags being woven into homeless mats in Serving Others led by Mrs. Lehmkuhl, Ms. Unrau teaching students how to play guitar (above), Mr. Kelly showing students how to make maple syrup from our own maple trees on campus, Mr. Ness teaching and improving soccer skills, Mr. Krogh teaching students about the strategies involved in the game of chess, Mr. Swanson's ASHworks class creating wooden coasters, and, to document all the fun learning and activities, Mr. Bagley's yearbook and photography group. A Quiet Activity Time is also offered by Ms. Harmon, Mr. Segal, and Ms. Unrau, where students can work on their own projects or spend some time catching up on reading and homework.
Experientials meet once a week on Thursday mornings and encourage students to try something new, get to know new teachers and their interests, and possibly discover a new talent or skill within themselves! Students in flex learning are also given ideas and suggestions to do during this block of time. Flex students can choose to explore their own hobbies and interests, or just use the time as a break from the screen. Overall, experientials are a great way to see Goal V in action among the faculty as gifts and talents are shared among the community. To view additional photos, click here.
Girls and Mentors
By Linda Kozler, Director of Girls Education & Upper School Director
Mentorship is a relationship in which a more experienced or more knowledgeable person helps to guide a less experienced or less knowledgeable person. Mentors spend time with their "mentee" and are available to support and advise them when they need it, delivering that support in a way that always keeps that person's best interests in mind.
There has been an enormous amount of research over the past few years about the positive impact of mentors on high school girls; the research shows us that mentoring girls (even if done electronically, a very new study has revealed) has many benefits and positive outcomes. We know that girls envision their future based on the role models in their lives, and mentoring helps to expand that foundation of dreams that they believe they can successfully follow. Further, mentors are important in helping girls to envision themselves being successful in any field they pursue, thus building their confidence and hope in the future in general. Another recent study reminds us that girls need and benefit from mentors who break free from stereotypes and model leadership, agency, and self-efficacy. And research has repeatedly shown us that girls who are mentored have a significantly increased likelihood of succeeding in college, a better personal investment in their education, increased social and emotional development, and improved self-esteem.
Mentorship can happen on many levels. Our teachers and coaches of course mentor the girls. Our students often find mentors through their volunteer and work experiences. And the older girls mentor the younger ones in our Big/Little Sister program. Below, Gretchen Parks introduces a new and exciting mentorship program that we are launching in the Upper School.
Career Connections
By Gretchen Parks, MA, LPC, Director of College Counseling
The Sacred Heart College Counseling Office and the Alumni Office are teaming up to present Career Connections, a new opportunity for Upper School students to explore their individual career interests with mentors from the Sacred Heart alums and friends of ASH. The concept was recently introduced to students during their course selection process for next year.
Unlike Career Days of the past, this program will be completely student driven, can start at any time in their high school career and can be utilized multiple times. Students interested in exploring careers simply meet with me. We'll talk a bit about how they developed this particular interest, then delve deeper into the value of mentorships and their own personal network.
Our Alumni and Sacred Heart Friends are truly an #ASHDifference! We are pleased to offer their knowledge and experience to our current students as they begin to explore their futures and develop their network. Students will be matched with alumni in their chosen fields.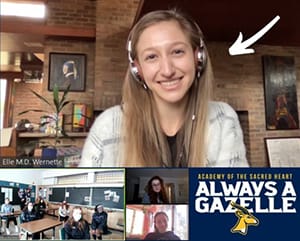 By utilizing the Zoom platform, something we all are now very familiar with, students will be able to connect with alumni from around the globe, as well as those right here in town.
Pictured: Elle DelGrosso Wernette '13 speaks to Upper School psychology students earlier this week, sharing some of her PhD work on the internal master clock, circadian rhythms, and the importance of rest.
The Benefits of a Small Middle School Environment for Adolescents
By Kim Davidson, Kensington Hall Director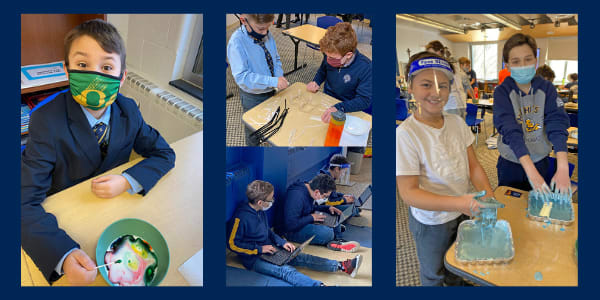 I would like for you to take a moment and reflect on your own middle school experience. What do you remember? Do you remember the fun you had with your peers, the intense emotions, the need to belong to a peer group? Perhaps there was some drama. Were you moody and withdrawn? Perhaps annoyed or irritated when your parents wanted to help you or even ask about your day? Where were you academically? Did you excel but not feel challenged, or did you struggle, yet didn't feel supported? You probably made some mistakes along the way that either you regret or that you learned from. Maybe you learned some important life lessons that you still remember today. You may remember some adults that helped mentor you.
Middle school is a time of tremendous growth. I speak to this often because it is so important for us as teachers and parents to remember. We have such an important job during this period of adolescence to help these young people grow into the best version of themselves.
I have been blessed to teach adolescents for the past 13 years. I have also been blessed to guide my own three children through adolescence. In my experience and research, I have found that the middle school years are such an important time period for students to learn in a smaller school and classroom environment. Some students and parents may look to middle school as a time to move their child to a larger environment, a time for them to "grow their wings" perhaps, yet it is quite the opposite. As I have mentioned before, the middle school years are a time of transition and growth. Students begin to go through puberty, which presents its own set of unique challenges. You may have noticed that your middle schooler is more emotional than before as he navigates growing from childhood to adolescence to young adulthood. Middle school students are trying to figure out their own unique place in the world, which means they might be starting to question and push back on the teachings and opinions of their parents. Their peers become very important. They begin to develop more complex relationships, and the need to belong, be accepted by and approved by their peers becomes more important than the approval of adults. These are some of the reasons why middle school students benefit from being in a smaller environment. The teachers are able to observe and intervene when necessary, providing the positive mentoring that adolescents need. Socially and emotionally, middle school students need adult mentors to help guide them.
Middle school also presents more academic challenges. Middle school is a time when students are asked to be more accountable and responsible for their own choices, behaviors, and keeping up with their schoolwork. Students are held accountable for missing assignments, permission slips and lunches. The curriculum begins to move from the concrete to more abstract, and students are asked to synthesize information more deeply. In a smaller middle school environment, students cannot "fall through the cracks" and remain unseen. Teachers know their students so well that they know when to push a student to excel, and when to encourage a struggling student to do his very best. A smaller class size allows teachers to meet each student where he is, and help him grow.
Small middle school environments allow teachers to form strong relationships with the students and their families. I have really enjoyed getting to know your boys this year. I truly love all of the conversations, the "aha" moments, the lessons, and even the challenges. I love hearing about which sports teams won over the weekend (even though I am more of a theater person, and my sports knowledge is all about Xavier Basketball)! I enjoy listening to the boys both challenge and encourage one another. I love that I am able to work in an environment that values relationships, because all the research shows what we experienced educators already know - that students learn best in an environment where they feel heard, valued, respected, and understood - and that can only happen through conversations and relationships. Kensington Hall is truly a brotherhood. It is a special place for young men to grow and learn - not just in their academics, but about themselves, as leaders, and how to care for others.
Kensington Hall is intentionally a small middle school environment that offers boys unique learning opportunities. We believe that boys learn from hands-on projects, group work, and experiential and service activities. These types of activities are intentionally built into our curriculum. The boys are also provided with many opportunities for leadership.
We aim to grow your student academically, morally, socially, emotionally and spiritually. That is at the heart of a Sacred Heart education. That is what sets us apart from other schools. Our Kensington Hall graduates will be well prepared to enter any high school they choose to attend. But above all, Kensington Hall graduates will have a strong sense of who they are, advocate for themselves and others, develop a heart for service, and be proud to be a student of the Sacred Heart.
March Math Olympiad Results
By Joyce Lee, Middle School for Girls Director
The final Math Olympiad contest took place on Wednesday, March 10 for Grades 5-8. Here are the top scores from each grade level. The Math Olympiad organization will look at the data from all mathletes who participated in the contest and will announce which students have placed in the top 50% worldwide at a later date. Congratulations to all who participated!
Division E (Elementary Division)
Grade 5 with a score of 1: Evelynn Brenner, Genevieve Levine, Penelope Wright
Grade 6 with a score of 4: Elena Nowlan
Division M (Middle School Division)
Grade 7 with a score of 2: Kaylen Clark
Grade 8 with a score of 2: Clare DePorre, Isabella Seth
Breaking the Ice
By Emily Avendt, Lower School Director & Director of Learning Support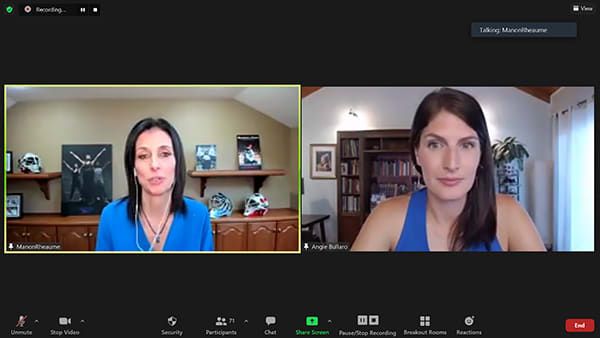 Our Sacred Heart foundresses were women of courage and confidence, breaking down barriers and creating opportunities for education to the Sacred Heart mission all over the world. This week, the Lower School students attended a virtual author visit with a similar theme of courage and confidence. Breaking the Ice is a story about the life of Manon Rhéaume, the first and only woman to play a game in the National Hockey League. It is a story about dreaming big, working hard and never giving up on those dreams. The Lower School students had the great opportunity to interact with both Angie Bullaro, author of Breaking the Ice, and Manon Rhéaume during the author visit. Here are a few highlights of the experience:
Angie, Manon and the Lower School students all talked about their favorite books.

The students learned about the research that must be collected before writing a book or a film. Angie shared 90s hair and clothing styles when talking about the film being created about Manon's story: "Between the Pipes".

Angie read aloud an excerpt from Breaking the Ice, depicting Manon's experiences of being the only female playing on men's hockey teams.

Manon shared her personal account of starting off playing hockey in her hometown of Québec to playing in the NHL and the 1998 Nagano Olympics.

Angie and Manon led the students through a physical activity aimed at visualizing and reaching personal goals.

The students learned about author voice and completed a guided writing activity.

Angie shared about the writing process and the importance of revision and practice not only as it relates to writing, but also in terms of how hard work and practice is necessary to reach any goal.

The students had the opportunity to ask Manon and Angie questions about their life experiences.
The author visit was informative, educational, inspirational and fun; all in celebration of National Reading Month and National Women's History Month!
Lower School Service Day
By Camilla McCaffrey, Lower School educator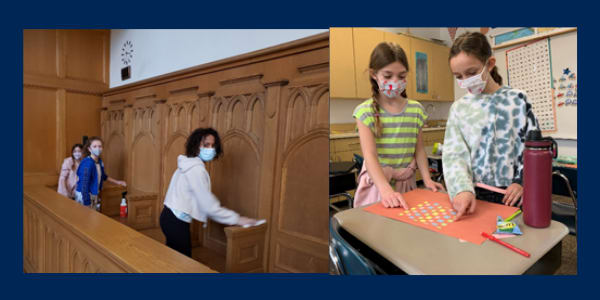 As with many things this year, Service Day had to be reimagined - no more cross-grade level activities, and limited access to other areas of the school in which to perform service. With that in mind, the teachers were able to come up with some creative ways the students could still serve others. One of the activities was creating cards for patients in the Children's Hospital in the Anschutz Medical Center in Aurora, CO. Students generated cheerful cards on the hospital's website, and then wrote personal messages to current patients. They watched a video of previously created cards being delivered to the children, which lent greater meaning to this service. Closer to home, our students made placemats and other Easter decorations for the residents at St. Elizabeth Briarbank, which is just the other side of Woodward from our school. These creations are sure to brighten up the days of the nuns and other women who live in this retirement facility. Even closer to home, the students in Class 4 performed service on the campus. With Mr. Marco Manzo's organizational help, these children rolled up their sleeves and tackled the cleaning of the pews in the chapel. They were amazed at how a little elbow grease really transferred dirt from pews to cloth! They also went on the grounds and picked up trash that had been blown into bushes or covered by snow this winter. Now exposed to the air, it was fair game to our gloved hands! We are so proud of how our students gave of themselves and lived Goal III on Service Day.
Five is Fabulous!
By Renee McNally, Primary School Director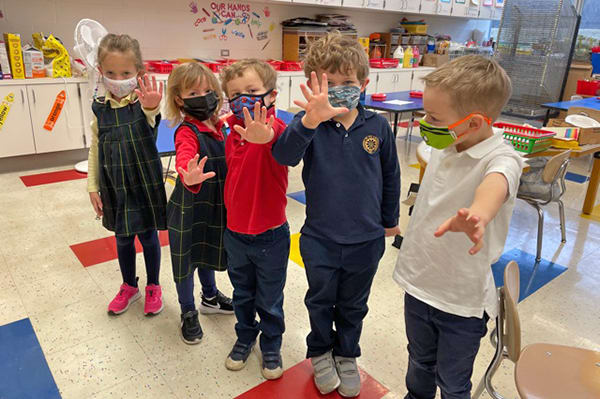 As you read in the eNews on January 29, the Primary School's developmental approach to learning is guided by Arnold Gesell's theory of maturational development. Dr. Gesell determined that children go through a predictable pattern of physical and cognitive growth, but at each child's own rate. While these stages of development are sequential, the timing of a child's development through the multiple domains of social, emotional, cognitive, physical, and adaptive growth is variable. As promised, we are going to take a closer look at typical behaviors of your fabulous five-year-old! (Remember, these are developmental guidelines and each child's transition through these stages may occur on a slightly different timeline.)

Five is a time of monumental change when children move from being cautious and compliant to uncertain and oppositional. Click here to compare developmental 5 and 5 ½ years through the lens of social-emotional, physical and cognitive behaviors.

Children go through stages of "equilibrium" and "disequilibrium." Knowing that approximately every six months a child will experience disequilibrium, or the "break-up" stage, is helpful in the educational setting. Sometimes there is a student who seems to be moving along smoothly and then suddenly the child is crying more, getting frustrated, and/or is dissatisfied with his/her own abilities. According to Gesell, this is something typical that all children will experience throughout their development. Often, parents get concerned when their child is in this break-up stage. Understanding these stages supports parents in knowing that most of their child's behaviors are expected and will not last.
Early childhood educators work to find balance between developmentally-appropriate instruction and rigorous academic expectations. The knowledge we have from the works of Gesell assists our educators as we create this balance. Setting a child up for success is always our primary goal.
Time to Celebrate Young Children, Their Families and Their Caregivers!
By Kristen Miller, Early Childhood Program Director
I know that everyone has spring fever and vacation on their minds, but here in the Early Childhood Program we are getting ready for a very special celebration - one that we did not get to have last year due to the pandemic. This year we are going to really celebrate our youngest learners and their caregivers. April 12-16 we will be celebrating the 50th Anniversary of Week of the Young Child!
The Week of the Young Child is an annual celebration sponsored by the National Association for the Education of Young Children (NAEYC), the world's largest early childhood education association, with nearly 60,000 members and a network of 51 Affiliates.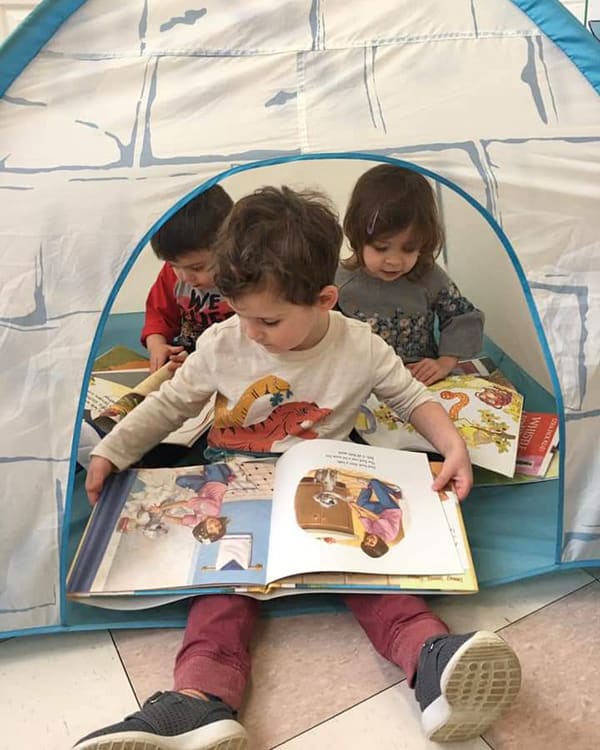 The purpose of the Week of the Young Child is to focus public attention on the needs of young children and their families and to recognize the early childhood programs and services that meet those needs. NAEYC first established the Week of the Young Child® in 1971, recognizing that the early childhood years (birth through age 8) lay the foundation for children's success in school and later life. The Week of the Young Child is a time to plan how we—as citizens of a community, of a state, and of a nation—will better meet the needs of all young children and their families.
Early childhood programs across the states will participate in similar daily themes, such as:
More information will be sent the week of April 5 so that you as a family can extend the fun and learning at home! We might even have a special video to share with everyone on Friday, April 16. Let the celebration begin!
ACADEMY OF THE SACRED HEART