All-School eNews | December 11, 2020
FEATURED STORY:
Forward in Hope
By Damian Hermann, Head of School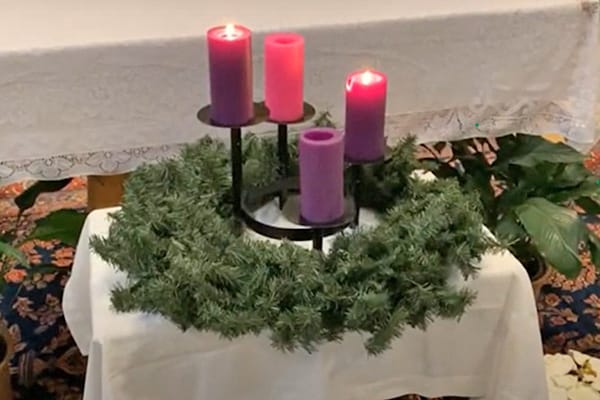 "Few things are so restless, unsatisfactory, and useless as impatient waiting - especially following hurried preparation, and one of the gravest lessons is to learn to wait with patience and resignation." - Janet Erskine Stuart, RSCJ
This quote by Mother Stuart was written with Advent in mind, but it sure does speak to me during this time of the pandemic. It reminds me that God is present in our restlessness, in our impatience, and in our resignation. God wants us to come through this even better, and I truly believe that we will.
Return to In-Person Learning on January 5, 2021
Every Sacred Heart family is experiencing the pandemic differently and it has been uniquely difficult for everyone. We all want to be back to in-person learning, and beyond that, we want to be back to the normal that we enjoyed pre-pandemic. Although we face challenges in the short term, I am heartened by the hopeful signs in the COVID data that indicate that we have seen the peak of the surge and are on our way back down. In Michigan and Oakland County, in particular, positivity test rates and infection rates are decreasing and experts are hopeful that these trends will continue. This gives me the confidence to plan for a full return to in-person learning on Tuesday, January 5, 2021.
Our plans are dependent on continued, expected improvements in local COVID data. In addition, we will remain in compliance with all applicable epidemic orders. Please do your part by limiting gatherings with those outside your household, masking up and remaining vigilant about physical distancing. I know this is particularly challenging as we approach Christmas and New Year's, but I'm asking everyone's continued sacrifice as we wait "with patience and resignation" for the end of the pandemic. We all share in the responsibility of keeping Sacred Heart safe and operational.
Travel Quarantining Expectations
The current recommendations are not to travel over the holidays; however, if you must travel, we ask you to respect the 10 day quarantine upon your return home. Flex learning is available when students are quarantining and we ask that you let us know ahead of time if this will be necessary for your child.
As an example, if your family travels and returns home by December 25, your family needs to quarantine until January 5. If you are back from your travel by January 3, you will need to quarantine until January 14.

Athletics
We are still awaiting a decision by the Michigan High School Athletic Association and the Catholic High School League regarding the resumption of athletic practices and competition in the Upper School. We will communicate with you as soon as we hear more information.
Sending a Message of Hope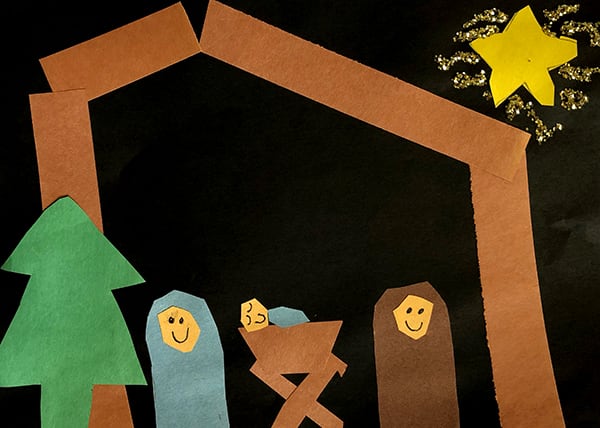 Congratulations to Gabriella Kareem in Grade 1, whose artwork was selected for Academy of the Sacred Heart's Christmas cards this year. Gabriella's art is a lovely representation of our Advent theme, "Hope is Born in a Manger." Please watch your mailboxes next week for our Christmas greetings.
Another Great Opportunity for Creativity!
By Patricia Kearney, Upper School educator
Our Upper School has been accepted as a Moth Educator Member. We applied for membership last February, and we were notified of our acceptance this month. You may recognize the name which is connected with The Moth Radio Hour on NPR. The Moth is a storytelling initiative that has spread throughout the world. Last year at the "Festival of Faith and Writing" in Grand Rapids, I attended The Moth workshop given by artistic director, Lea Thau. From there we have explored the art of storytelling in our English and Forensics classes, most specifically with the study of Canterbury Tales, giving students the opportunity to story-tell both in class and at Performing Arts Coffee Houses. Our Moth Educator Membership gives us connection to schools world-wide, and I look forward to communicating with them on how we can continue to bring stories to life even in this time of virtual learning.
Support for Lighthouse
By Sonia Juzych '24 and Jordan Rivenburgh '24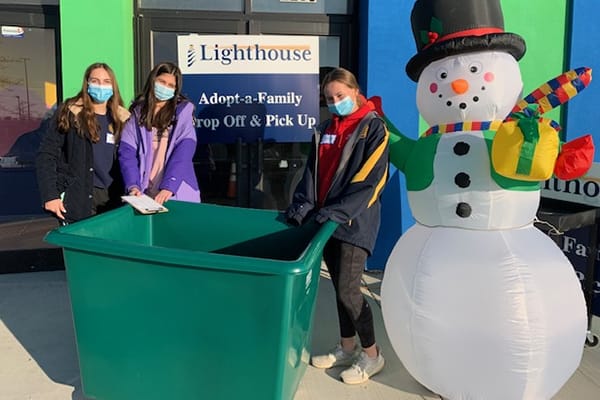 The pandemic has hit many people in our community hard. Lighthouse provides food, shelter, rental/utility assistance, and clothing, as well as provides crisis referrals to those in need in our community. Academy of the Sacred Heart has been a steadfast supporter of Lighthouse, providing hundreds of Thanksgiving baskets throughout the years.
The Class of 2024 took that a step further this year by collecting needed household items, toys, clothing, and gift cards for Lighthouse. Items collected will be used to complete Adopt-A-Family Christmas baskets for families in need. On Thursday, December 10, Lena Armijo, Sonia Juzych and Jordan Rivenburgh met at the Lighthouse warehouse in Pontiac to receive, categorize and assemble items for the Christmas baskets. The baskets will go out to over 500 struggling families this Christmas. Physically putting the baskets together, noticing the number of family members, and recognizing their needs really helped to bring home what this Christmas season is all about.
Without the help of Lighthouse and their donors, hundreds of families could go without Christmas gifts this year. We keep these families and all families hit hard in the pandemic in our prayers!
Dialogue, Connection, Sisterhood
By April Wilcox, Dean of Girls, Grades 5-12
ASH students had the opportunity to connect with one another, as well as with other young women from our Network schools this past week.
Becca Fite '21, Catherine Lehmkuhl '21, Isabelle Burg '22, and Anna Kalabat '24 connected with Sacred Heart students within our United States Network to discuss issues related to social justice. Isabelle commented that, "Hearing from bright young women from across the country was an incredible experience because I was able to see the fire in each girl's eyes, which gave me hope for the future, especially in such uncertain times. The education that we are receiving helps girls, who are underestimated and undervalued by society, find their voices and gives them a platform to be the change in the world. My favorite part of the discussion was the exchange of ideas, because we were all there knowing that the way to make the most impactful change in the world is through collaboration, because together, we are greater than the obstacles that stand in our way. We all immediately had a connection to each other through the sisterhood of Sacred Heart, which made me feel comfortable and at home. The Network of Sacred Heart schools is like no other, and I look forward to working together with these outstanding young ladies again soon."

Catherine expressed, "This dialogue was extremely valuable, as it gave me ideas for what we might implement at ASH in order to better engage our community in Goal 3: Social Action. We also got to discuss our inspiration for being involved in social justice and what issues we believe our generation will be responsible for addressing in the future. I'm excited to continue these discussions throughout the year!"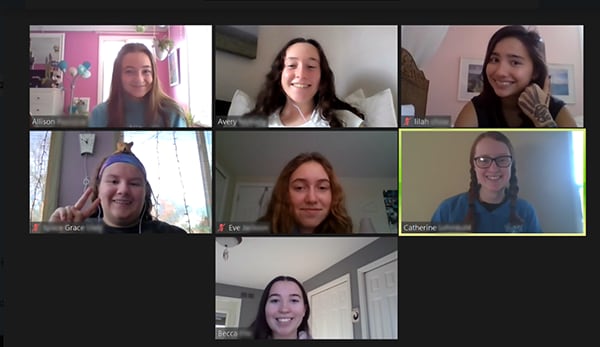 Additionally, our own ASH students had an opportunity to connect with one another through our ASH Sister Chat. Juniors and Seniors invited students from the sophomore and freshman classes to chat over Zoom. Evelyn Nye-Brothers '22 shared, "We were divided into groups and we got to chat about sports, fun facts, school, and life in general. It was such a wonderful experience to get to have the opportunity to connect and get to know one another without worrying about distancing and the weight of the world right now. We were able to just let conversation flow and build friendships to further enhance our sisterhood, which is such an important aspect of daily life at the Academy of the Sacred Heart! It was great to hang out without thinking about how unpredictable the world is nowadays and just talk to others, something I think we can all say we miss so dearly."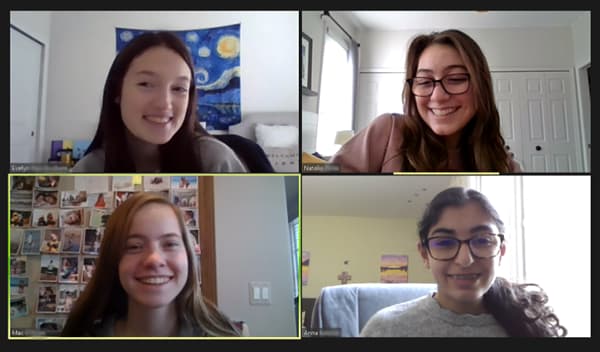 Youth Action Board
By April Wilcox, Dean of Girls, Grades 5-12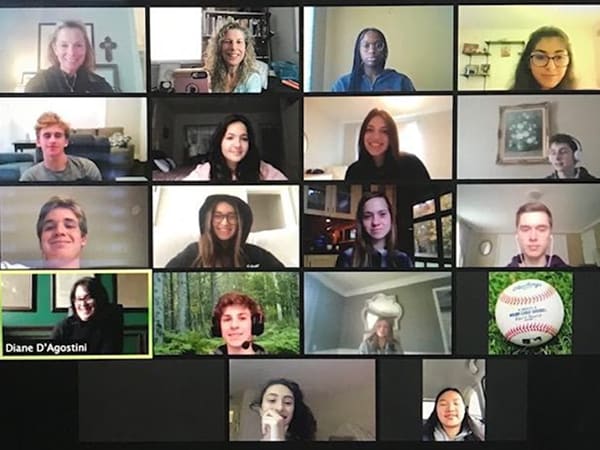 The Youth Action Board's mission is "to raise awareness and mobilize the entire community to prevent the abuse of alcohol, tobacco and other drugs, with a primary focus on our youth." Youth Action Board, or YAB, is a leading task force made up of teens from Birmingham and Bloomfield Hills schools, both public and private. Youth Action Board is a safe environment for teenagers to come together to discuss, learn, and grow as a community. The YAB group would appreciate it if individuals would spread the mission on social media to contribute and/or donate on their website. Paloma Palomino, Mac O'Brien, and Anna Kalabat, members of YAB, share their personal experiences:
My experience with the YAB community has been wonderful. Being able to connect with other students in a safe environment reminds me I am not alone and that there are other teens I can relate to in this big world. Discussing, laughing, and learning with other teens in my community makes my Sunday afternoons very exciting, especially during a time when life is challenging. I recommend this amazing opportunity to be a part of something very special!
- Paloma Palomino '24


My experience with YAB makes me feel like I am able to use my own voice and be able to develop more confidence every meeting. Connecting with other teens in the YAB helps me realize that we all have similar stress. Not only am I connecting with others, but I am learning about the world around me. YAB is a welcoming community and does not let you feel like an outsider like I have felt with my old school before Academy of the Sacred Heart.
- Mac O'Brien '24
Being a part of YAB makes me feel grateful for the experience to be connected to other people in my community. I enjoy talking with other students because it allows me to expand my connections with people and be a part of a group effort. It is an amazing opportunity to learn more about what the group can do to benefit others in their community.
- Anna Kalabat '24
Will You Be An Angel Among Us?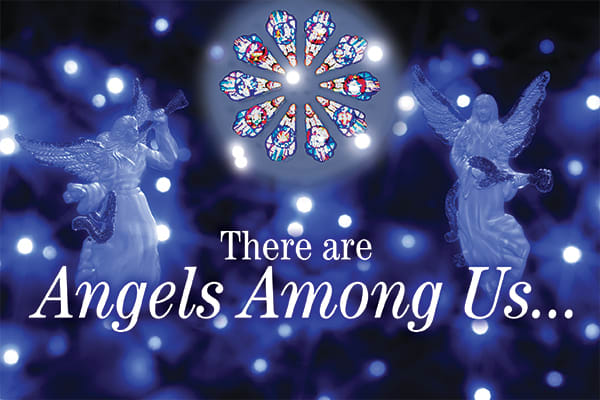 As we are all preparing for Christmas, during Advent we ask each member of our community to consider being an Angel Among Us by making a charitable gift to Academy of the Sacred Heart. The support we receive has meaningful impact on our ability to provide an excellent education to our students. Your contribution to Annual Giving goes straight to work this year, for your child.
With hope, we ask that you consider supporting Annual Giving, especially if you have not made your gift yet this year. We rely on your generosity, and that of our entire ASH community. Your Annual Giving dollars enable us to live our mission through technology and curriculum growth; health and wellness measures; and accessibility via tuition assistance and scholarship funds.

Thank you for all the ways you support Sacred Heart. To make your Annual Giving gift, please visit ashmi.org/give.
ACADEMY OF THE SACRED HEART