Learning Community eNews | April 30, 2021
FEATURED STORY:
Congratulations to our Valedictorian & Salutatorian!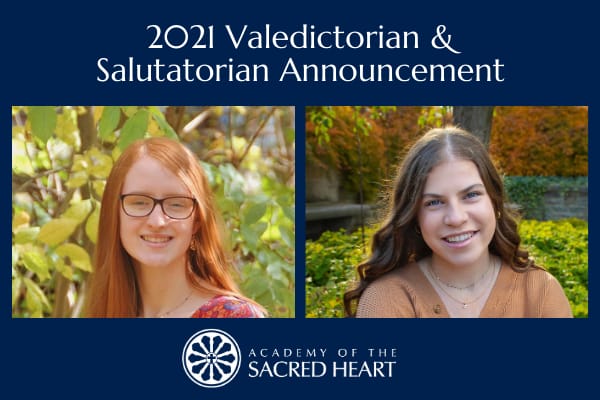 Academy of the Sacred Heart is proud to announce the Valedictorian of the Class of 2021, Catherine Lehmkuhl (left), and the Salutatorian, Caroline Krause.
The selection of the Valedictorian and Salutatorian for a graduating class is determined by several factors including full attendance during her junior and senior years (transfer students must have brought with them a minimum of a 3.60 GPA). The Valedictorian is the student with the highest cumulative GPA. The Salutatorian is the student with the second-highest cumulative GPA. The Valedictory speech is given during the Commencement Exercises, and the Salutatory speech is given at Prize Day.
We applaud these academic leaders for their excellence! Catherine will attend Marquette University in the fall, studying social welfare and justice. Caroline will attend Butler University, focusing on environmental studies.
As tomorrow is National Decision Day, we congratulate the entire Class of 2021 on their many accomplishments throughout their time at Sacred Heart. You may review the current list of college acceptances here.
The Best Use of Summer Break
By Linda Kozler, Director of Girls Education & Upper School Director
Connecting with our Sacred Heart School in Guadalajara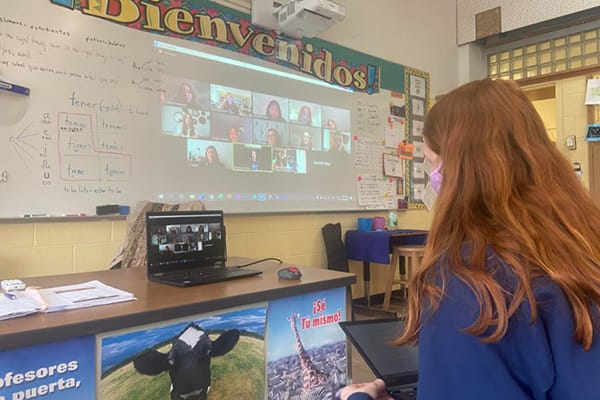 On Thursday, April 15, my Spanish class had a discussion with a few students at our sister school in Guadalajara, Mexico. This was the epitome of what it means to be a Sacred Heart student: having a network of friends around the world and an indescribable bond of being part of a family not of blood, but of values. We had the fantastic opportunity of practicing our language skills in real life situations, as well as learning about the similarities and differences between our neighboring nations. At a time in the world's history where it feels like personal interactions are being stripped away, having the ability to transcend borders and foster new relationships with the click of a button fills me with gratitude and hope. I am looking forward to having this one-of-a-kind experience again in the future.
Con mucho amor,
Isabelle Burg '22
Fold, Paper, Art: Epic Origami
By Linda Shultz Anderson, Upper School educator
Senior Natalie Wernette embraced her Foundations of Art studio assignment to create this incredible folded form from 36 carefully folded 6" x 6" white squares.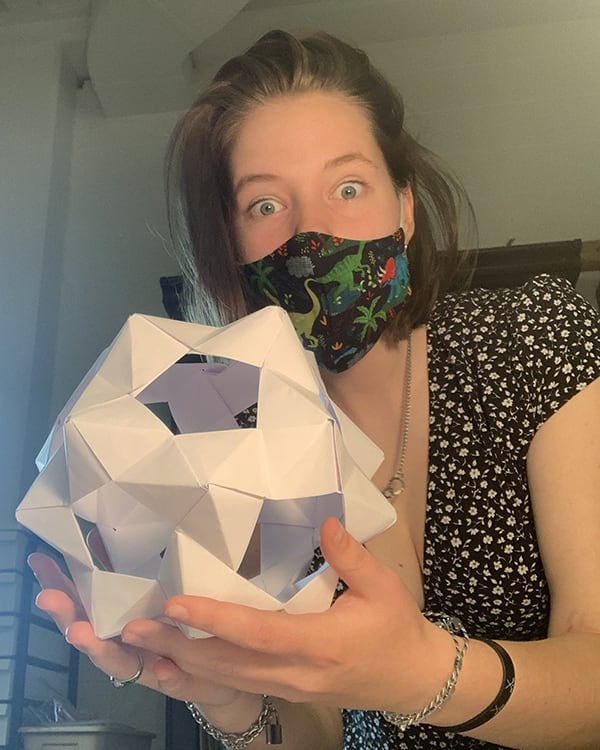 Students were challenged to create three-dimensional form using flat, two-dimensional paper squares. It was interesting to note how the disciplines of Geometry and Art met during this assignment as a circle became a sphere or cone, and squares became cubes. Natalie filmed herself as she folded the paper squares and that transformed into a beautiful orb. Click here to watch her project take shape.
Growth
By Kim Davidson, Kensington Hall Director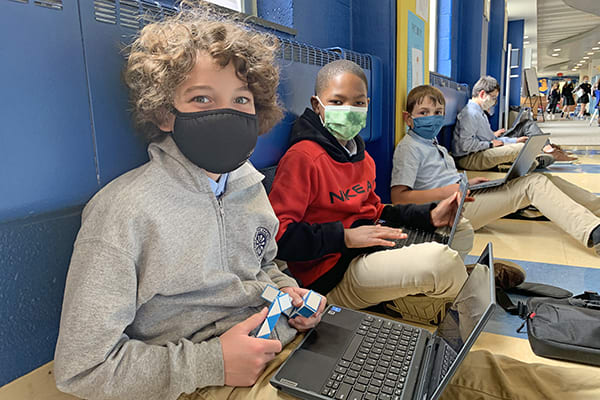 It is always a fun and rewarding experience to observe the students in the spring and reflect back to where they were at the beginning of the year. It is clear how much they have grown physically, as their pants are too short and their shoes are getting too small, and many are now taller than me! Reflecting back, it is also apparent how much growth they have had socially, spiritually, and academically. I feel that especially during this pandemic year, they were forced to grow and adapt in ways that no one could have possibly imagined. Traditional learning experiences and activities have been interrupted and changed; however, teachers and students alike learned to adapt and find new and creative ways to teach and to learn. Students had to become more independent and tech savvy while learning online, as well as learning to be resilient and patient with themselves and others. In many ways, due to the challenges of this year, students have grown closer in community with one another.
At Academy of the Sacred Heart, one way that we measure student growth is with the NWEA MAP Tests. Middle school students are taking their spring NWEA MAP Tests next week to assess their academic growth in the areas of reading comprehension, language usage, and math skills. This test is a helpful tool to track student progress over time. Teachers use the information to help guide instruction, and to better identify learning gaps and provide curriculum support when and where it is needed. We want our students to be proficient in reading and math so that they can excel in other areas of the curriculum and all doors are open for our students moving forward. We recognize, of course, that this test is just a snapshot of what the students know and understand on those given days of testing.
Academy of the Sacred Heart educators are consistently evaluating student progress in their classes and know students' areas of strength and weaknesses. Academy of the Sacred Heart educators also understand the importance of educating the whole child. Areas of growth that we as ASH educators also focus on and assess include, but are not limited to: work ethic, creativity, leadership, self-discipline, resilience, resourcefulness, character, motivation, presentation skills, and confidence. These skills that cannot be captured on a test will help them be successful in all of their academic areas and be well prepared for life after middle school.
Kensington Hall students were challenged to reflect on their personal growth during this past year. It is great that they recognize their own areas of progress and growth. Here's what some of them had to say:
"I think my greatest areas of growth this year are my work ethic and leadership skills. The reason why I think my work ethic has improved is because I have been more on top of my work and planning when to do it. I have gotten better at my leadership skills because I just have been more open and I contribute more than I used to." - Charlie Pankratz (Gr. 7)
"Academically, I think I grew the most in Humanities. Humanities is one of my favorite subjects, and this year, I have done really well on all my tests, as well as projects. I have put more detail and effort into my projects and they have turned out really nicely. I also think I have improved on my work ethic. I have tried very hard on all my projects to make them the best possible. I have also studied for tests this year more than I ever have. When there's a test, I studied for at least two hours the night before, and took advantage of study lunches." - Declan Feeny (Gr. 7)
"I think that my greatest area of growth this year is writing. I used to think that I was a terrible writer, but now I have confidence in my writing and I now like to present my writing in class." - Evan Puzzuoli (Gr. 7)
"I believe I grew the most in time-management skills this year, mainly because this new year brought lots of obstacles that I needed to overcome by managing my time. For example with the addition of cycle tests and personal projects this year, I learned to incorporate homework time into my schedule, fitting between friends and dinner on my planner (Yes, I have a planner for my personal life.)" - Colin Moran (Gr. 7)
"Academically, my biggest growth this year was spending more time producing quality work and going into more detail on my personal projects. Also, I have learned more about note taking for high school. My work-ethic this year has improved tremendously. I have put more effort into my personal projects and assignments in general. My leadership skills have improved this year because I've gotten older and more mature." - Paul Kaczmar (Gr. 8)
"My greatest growth academically would have to be being attentive and asking questions. Before, I used to not ask questions so things would be complicated for me. But now if I am confused I just ask the teacher for clarification. I am very attentive and know when things need to be done and complete." - Ethan Jackson (Gr. 8)
"I think that I have really grown in my leadership and have also learned to be very kind to others, and mostly, how to manage my impulses. I also think that my confidence has grown largely. Last year when I was in 7th grade, which was my first year here in Sacred Heart, I was very shy and I was not very confident." - Jack Squire (Gr. 8)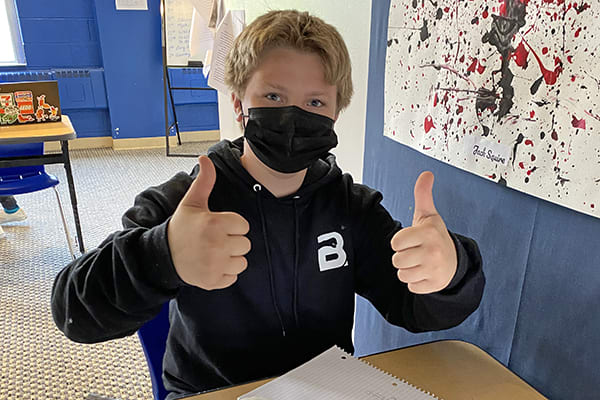 The Home Stretch
By Joyce Lee, Middle School for Girls Director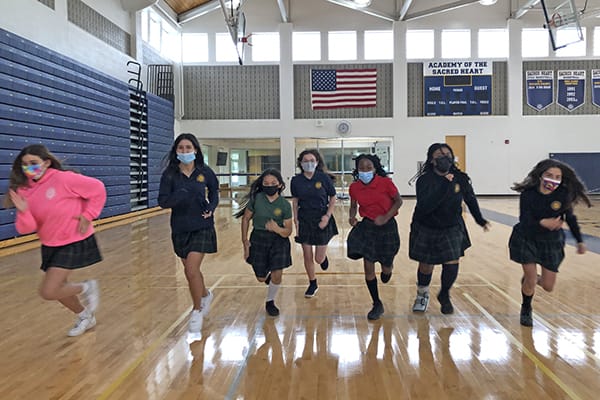 How many of you have heard yourself using the phrase "The Home Stretch" as the school year inches closer to June? It is a common reference in baseball, referring to the space between third base and home as well as a point in time during the Kentucky Derby race where the horses round the final turn and head toward the finish line. It is also commonly used in conversation when you are nearing the end of something and it's meant to encourage and provide support that we are almost there. This phrase gives me hope that yes, we are almost there to summer, but it also gives me pause. When you think of the home stretch, that final straight piece of track in a race, many people assume that it's smooth sailing when you turn that last corner. However, this is probably the most nerve-wracking part of the race, where the winner is determined from all the eager participants and can lead to the biggest shock and upsets as the winner is decided.
Back in 2009, Mine That Bird was only favored to win 50-1 and when the horses rounded that final turn, he wasn't even in the top five, maybe not even in the top 10. Once the corner was rounded, Mine That Bird came out of nowhere to win the Kentucky Derby by 6½ lengths, and at that time his win was considered one of the biggest upsets in the past 60 years. Maybe the biggest upset was Donerail in 1913. Odds of winning were only 91-1, but when the horses reached the stretch, Donerail closed the gap and managed to win by half a length.
Where does that leave us? Ultimately, we are nearing the end of a school year that has not looked like any school year we have seen or experienced before and we are rounding that final corner. As we come down the home stretch, it is important to still be vigilant and careful in terms of safety for our community and for our students. It is important that they continue to persevere through their final weeks of class, finish their projects, write their papers, and study for tests. It is easy to give less effort as they yearn longingly for their summer vacation, but we certainly do not want any upsets when they have been working hard all year. Let us all encourage and support the girls to finish strong as we continue to run the race together toward the finish line.
Students Building Toward a Successful Future in Mathematics
By John Bagley, KH/MSG educator
"Become the best student you can be."
"Work on building your organization and time management skills."
"Show your work!"
These phrases are frequently used in the MSG Grade 5/6 math class. They form the backbone of a successful academic life and, more importantly, help students gain the self-confidence needed to strive to realize their potential. The students continue to build their understanding of concepts and ideas through exploration and application of knowledge using Big Ideas Math. This resource allows students to navigate through developmentally appropriate mathematical concepts using a "balance of procedural fluency, conceptual understanding, and real-life applications."
In addition to familiarizing themselves with fractions, decimals, and ratios, the students have more recently begun working with algebraic expressions and properties. Particular emphasis is placed on writing equations using variables and solving introductory equations using basic operations: addition, subtraction, multiplication, and division.
Learning to recognize sequence and patterns in equations is a foundational mathematical principle and is reinforced through daily assignments.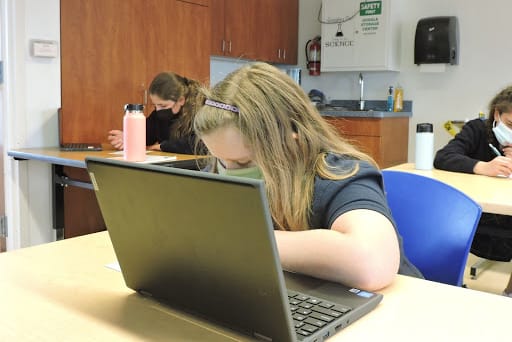 As the year begins to wind down, students will apply their understanding of variables to area, surface area, and volume of various geometric shapes including parallelograms, triangles and prisms. It has been a joy to see growth in each individual student and watch them support each other in their learning.
STEAM Week Finishes Strong with the Annual Egg Drop
By Emily Avendt, Lower School Director & Director of Learning Support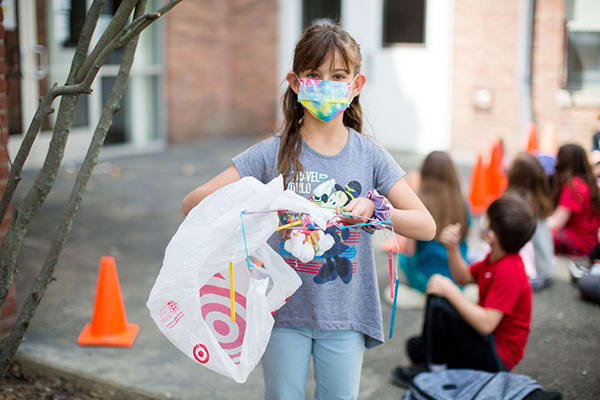 Last week was STEAM week in the Lower School! STEAM stands for Science, Technology, Engineering, Arts and Math. STEAM activities challenge students to focus on the interplay between the disciplines as an avenue for innovation. STEAM fosters creativity, curiosity, resilience, resourcefulness, collaboration and confidence. Students are challenged to think outside the box and use hands-on problem solving to figure out solutions to novel problems. STEAM fosters the critical skills that students will need to solve real world problems of the future.
STEAM week activities included:
Experiments on photosynthesis and density

Coding practice

Engineering tall towers made of spaghetti and marshmallows

Exploration of optical illusions and polygons

Learning about the impact of recycling on the environment
The culmination of STEAM Week was the annual Egg Drop. The Egg Drop challenge involves each student building a unique structure with a limited list of allowable materials to protect an egg to remain intact when dropped from one story (20 feet).
No two Egg Drop structures were alike! Some students used plastic bags to create a parachute effect to slow down the descent of the structure. Another common strategy was to use popsicle sticks to build a supportive frame on the exterior of the egg. After each structure was gently released from the roof with careful attention to optimizing the wind conditions, students rushed to give a thumbs up or thumbs down to indicate if their egg survived the trip. Special thanks to Mr. V. for supporting this event and cracking the audience up with his egg pun-filled commentary. As he would say, it was an EGG-cellent time for all! View additional photos here.
Six is Spectacular!
By Renee McNally, Primary School Director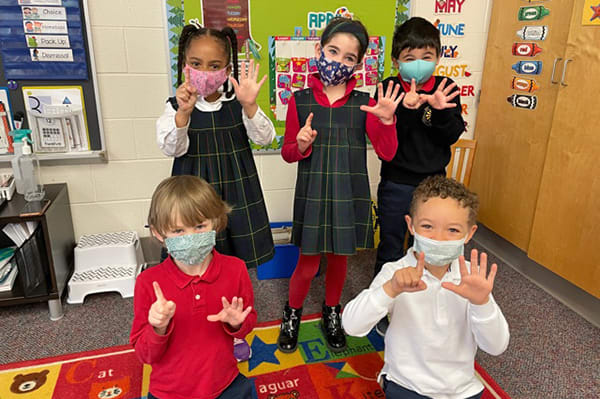 As you read in a past eNews, the Primary School's developmental approach to learning is guided by Arnold Gesell's theory of maturational development. Dr. Gesell determined that children go through a predictable pattern of physical and cognitive growth, but at each child's own rate. While these stages of development are sequential, the timing of a child's development through the multiple domains of social, emotional, cognitive, physical, and adaptive growth is variable. As promised, we are going to take a closer look at typical behaviors of your spectacular six-year-old! (Remember, these are developmental guidelines and each child's transition through these stages may occur on a slightly different timeline.)
Six is a time when children are changing rapidly and growing more independent, curious, and adventurous. As they move closer to age seven, they become more balanced. Click here to compare developmental 6 and 6 ½ years through the lens of social-emotional, physical, and cognitive behaviors. (If you missed our exploration of fabulous five-year-olds in the eNews on March 19, click here.)
Children go through stages of "equilibrium" and "disequilibrium." Knowing that approximately every six months a child will experience disequilibrium, or the "break-up" stage, is helpful in the educational setting. Sometimes there is a student who seems to be moving along smoothly and then suddenly the child is crying more, getting frustrated, and/or is dissatisfied with his/her own abilities. According to Gesell, this is something typical that all children will experience throughout their development. Often, parents get concerned when their child is in this break-up stage. Understanding these stages supports parents in knowing that most of their child's behaviors are expected and will not last.
Early childhood educators work to find balance between developmentally appropriate instruction and rigorous academic expectations. The knowledge we have from the works of Gesell assists our educators as we create this balance. Setting a child up for success is always our primary goal.
The Many Benefits of Bubbles
By Kristen Miller, Early Childhood Program Director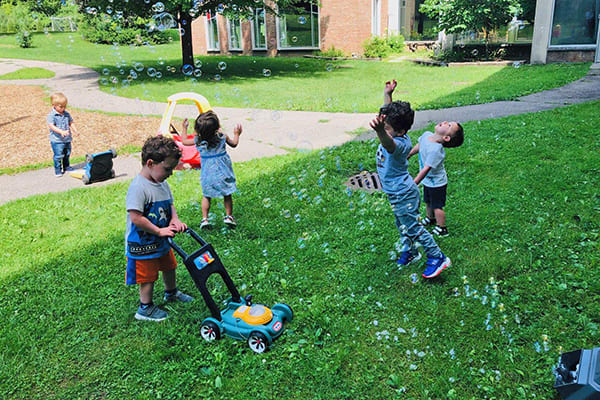 Children of all ages love blowing, popping, and, of course, spilling bubbles. There are many incredible benefits for both bubble blower and bubble popper. Who knew that blowing bubbles can help develop many age-appropriate milestones? Here are just a few ways that you are helping your little one's development with this fun, inexpensive activity.
Bubbles are a great way to help develop visual tracking skills. The eyes catch and track the slow-moving object. Following the bubbles up in the air and tracking them as they fall is mesmerizing for little ones.
Allowing your little one to grasp the wand will help develop muscles in the hands that will one day help with pencil grasp and eventually writing skills.
Helping your child learn how to blow bubbles encourages oral motor skills. Blowing is a great way to develop the muscles of the jaw and mouth, which in turn helps with the development of speech and language.
Bubbles are a wonderful distraction for a young child that might be anxious or in the throes of a temper tantrum. It might be a great idea to pack a small bottle of bubbles that is easy to pull out and use to entertain your child at any time.
So reach for those bubbles and have so much fun watching your child enjoy this very simple activity that provides hours of entertainment.
ACADEMY OF THE SACRED HEART