Learning Community eNews | October 2, 2020
Saint Madeleine Sophie & Sacred Heart
By Korin Visocchi, Ph.D, Chief Learning Officer
The chill of the autumn air brings a welcome sign to grab my Sacred Heart jacket and sweatshirts out of the closet. I love watching the colors on campus change as much as I love seeing the words "Sacred Heart" adorned on jackets, shirts and hats. To understand how we are part of a rich and storied heritage, I want to share about the foundress of the Society of the Sacred Heart, Saint Madeleine Sophie Barat.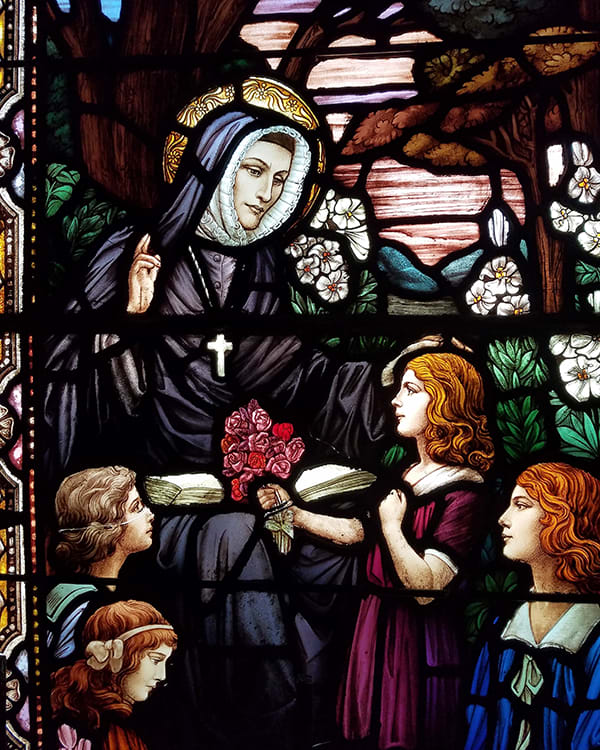 Saint Madeleine Sophie was born in France in 1779 in the little Burgundian town of Joigny, the daughter of a wine cooper in the wine country. She was educated beyond the norms of her contemporaries and well-suited for leadership of a religious community dedicated to prayer and education. Following the French Revolution, Sophie imagined schools as a way to repair the torn fabric of society and set about creating a transformative educational system.
In Paris, on November 21, 1800, at the age of 20, she and three other young women devoted themselves to "make known the revelation of God's love." They set out to give young women a classical education -- not common in their day -- and to offer religious studies and practical skills. They began to call themselves the Society of the Sacred Heart. Saint Madeleine Sophie's dedication to prayer, espacio, and contemplation were important to the development of Sacred Heart schools. She asked in a letter to the Society, "How must we pray? With faith, with love, with earnestness." During her 65-year leadership, the Society of the Sacred Heart grew to include more than 3,500 members, including 84 Sacred Heart boarding schools and 74 free schools.
Saint Madeleine Sophie's vision continues today, as Sacred Heart Schools serve the mission of education so that students from all faith backgrounds can have a transforming positive influence in the world. As we conclude our fifth week of the academic year, I am evermore thankful for the founding wisdom of Saint Madeleine Sophie Barat that guides me with faith, love and earnestness.
Teen Girls, Confidence and Resilience
By Linda Kozler, Director of Girls Education & Upper School Director
"Profit by the little trials that come to you, for through them we make real progress." - St. Rose Philippine Duchesne
There is a lot of attention in psychological literature right now about adolescent girls experiencing a drop in confidence and in resilience. Despite the fact that girls are currently exhibiting higher levels of academic achievement than ever before, and are in fact outpacing boys in this realm, they are not experiencing the same levels of confidence or resilience as the boys. Why? The answer might surprise us, though it would not surprise our beloved St. Rose Philippine.
The main reason is that in general, adolescent boys risk and experience failure more frequently, so as a result, they grow to trust in their ability to get back on their feet and move ahead stronger for it, which builds their confidence more efficiently than girls. And their confidence in themselves as they weather the outcomes of their mistakes and errors over time creates a deeper reservoir of resilience. Conversely, studies have found that as girls approach adolescence, their openness to risk and failure becomes diminished by the uptick in cultural signals that tell them to be careful, to value perfection, and to avoid taking risks at all possible costs.

Academic achievement is one area where these differences are particularly stark. Boys tend to take many more risks academically, and oftentimes girls prefer the safer route, or the route that ensures them the A grade but perhaps is not as challenging or risky to them overall as learners. For some girls, any risk-produced lower grade results in them attempting to "bargain" their grade up rather than living with the consequence of the grade earned and gaining confidence and resilience by working their way through the setback over time. Our culture reinforces a lot of these risk-avoidant and consequence-avoidant behaviors.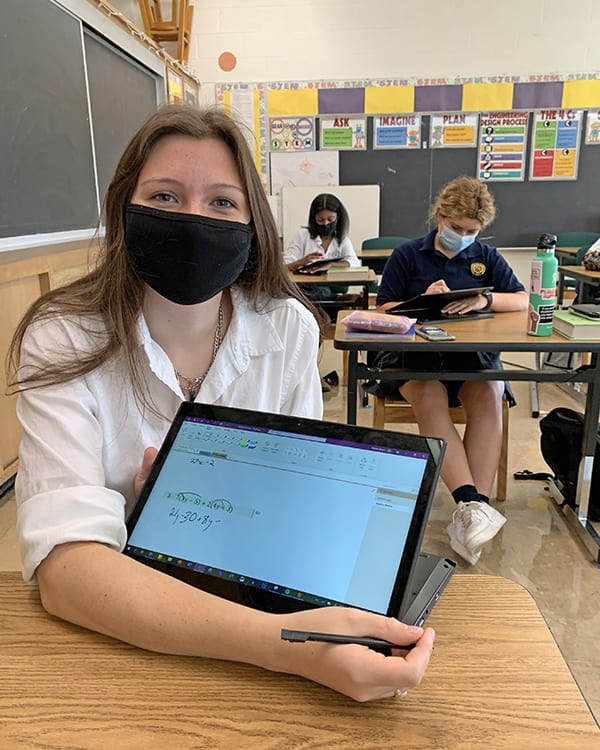 How do we untangle all of this, and help girls to strengthen confidence and resilience? By encouraging them to take safe risks, and even more, by allowing them to work their way through any consequences they may create or encounter along that path. Girls need to increase healthy risks and safe errors in their daily lives. They need to experience and be guided through negative consequences of their choices rather than being spared them.
Risk and failure followed by the process of recovery and mastery are the things that actively create confidence and resilience, and in fact build more of them. As girls take risks and discover they can survive a setback (or likewise, if they risk and succeed), achievement pressure will ease and their confidence and resilience will grow.
A New Experience
By Joyce Lee, Middle School for Girls Director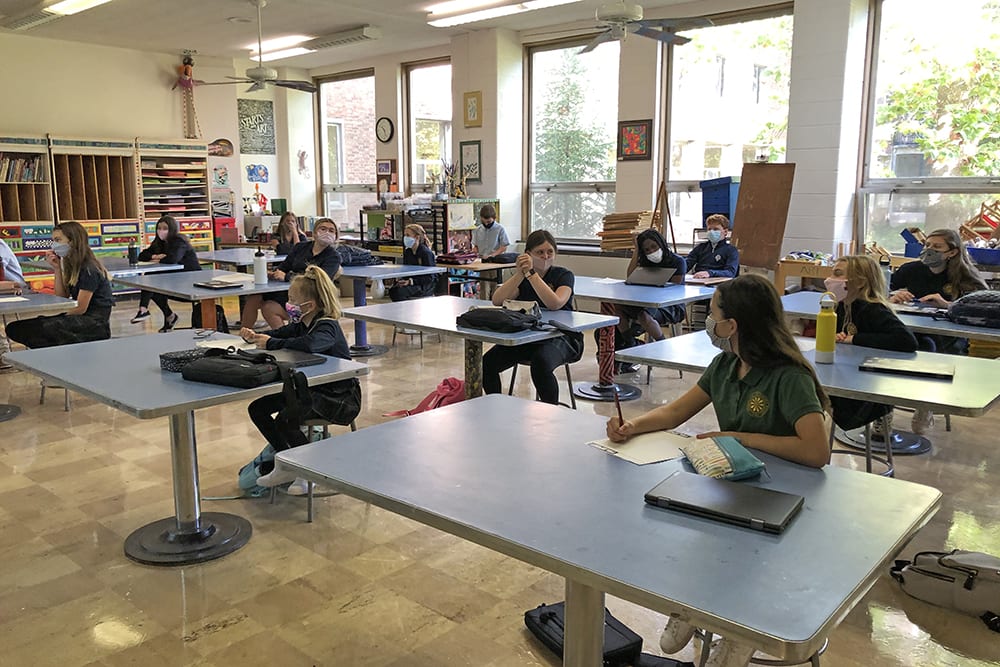 Experiential learning started this week for all middle school students. Led by the interests and talents of the faculty, students are offered various opportunities to learn something new throughout the first semester. The offerings include: ASHworks, beginning guitar, chess, mixed media art, yarn art, serving others, photography 101, creating a habitat for hummingbirds and honeybees, yoga and mindfulness, intentional success, yearbook, and a choose-your-own-adventure reading elective.
Experientials meet once a week on Thursday mornings and will give students a chance to learn a new skill, help others, or provide an avenue for self-improvement. At the heart of the experiential learning program is Goal V, where faculty are able to share their knowledge and gifts with others, and Goal II, where students are inspired to learn something new. It will be exciting to see what each experiential creates and does with their time together! View additional photos here.
Positivity and Resilience
By Kim Davidson, Director of Kensington Hall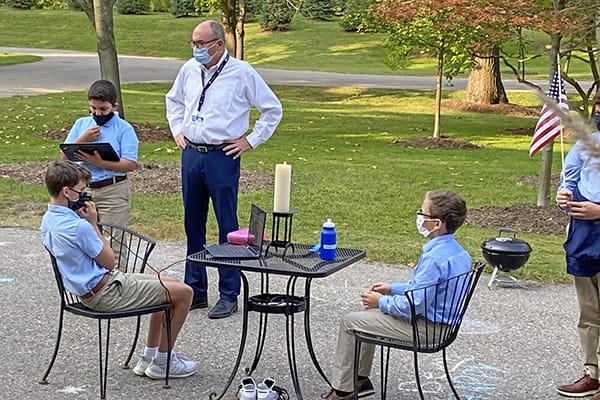 "I can be changed by what happens to me but I refuse to be reduced by it." -Maya Angelou

Resilience can be defined as the ability to cope with whatever life throws at you. A resilient person works through challenges and demonstrates a positive attitude that can help him/her navigate through difficult situations. We are all navigating difficult situations of varying degrees, and how we choose to work through the difficulties can make all the difference. This quote by Elizabeth Edwards spoke to me this week: "Resilience is accepting your new reality, even if it's less good than the one you had before. You can fight it, you can do nothing but scream about what you've lost, or you can accept that and try to put together something that's good."
I've heard many of our teachers discuss this sentiment with the students about the challenges of social distancing, mask wearing, and having to alter our traditional field trips, sports, and experiential activities. It's not easy. We can even claim that it's not fair. However, what good comes from fighting it and complaining about it? What if instead, we choose to look for the positives and come up with creative solutions? For example, we are able to be back in school learning together as a community. We have been able to spend more time learning outside on our beautiful campus. We have learned to be more flexible and think outside the box. We have learned more about technology and innovative ways to use it effectively. We have become closer as a community through these challenges. Our classroom communities have grown.

If we continue to teach our students to think in this way, imagine how much stronger and resilient they will come through this challenging time. Imagine how they can use this experience to work through difficulties that they will encounter throughout their lives. The Personal Work curriculum in Kensington Hall is helping the students to think through these concepts of resilience and positivity, and how it relates to our current situation. In Personal Work, our Grade 5 and 6 students are exploring what it means to have a growth mindset versus a fixed mindset, and the Grade 7 and 8 students are working on the importance of developing a positive mindset and attitude. Students are challenged to think about how they have a choice in how they respond to difficult situations. I would encourage you to discuss these concepts as a family. Keeping an open dialogue with your middle school student will help both him and you navigate these challenging times.
Charting our Course
By Emily Avendt, Lower School Director & Director of Learning Support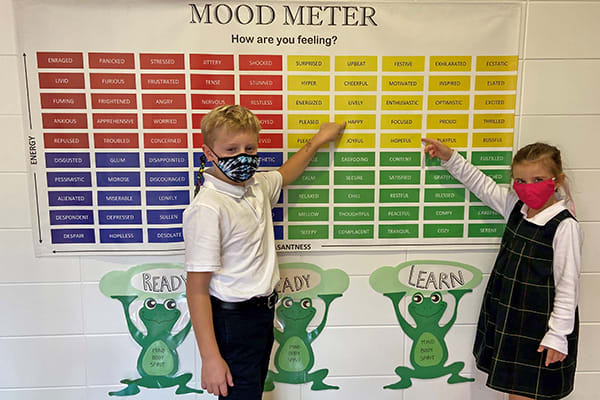 Each morning, I start off the school day by welcoming the Lower School students during screening and arrival. It brings me great joy to welcome the students and to witness the sweet exchanges between the students and parents as they hop out of the car. With each "love you," and "have the best day," I'm filled with gratitude that you entrust your precious children with us, and responsibility to provide the best possible educational experience for each child.

In the Lower School, we've started talking about how we want to feel while we are at school via our school wide social-emotional program, RULER. Classes have started making Charters. The Charter is one of the four RULER tools and it involves answering two questions:
How do we want to feel at school?

How will we help each other and ourselves to experience these feelings?
The end result of a charter is a creative output of those two questions that the class revisits often to remind them of their shared commitment to maintain a positive emotional climate in the classroom. Lower School classes have identified that they want to feel: happy, mellow, playful, motivated, energetic, excited, joyful, safe, included and confident!
The Charter reinforces that although we are all different, we can help everyone to feel safe and included at school. It also reminds us of the strength of our class communities. Families can make Charters at home, too! I encourage you to check out this step-by-step guide to Creating a Family Charter!
How Are You Feeling Today?
By Renee McNally, Primary School Director
The formal Primary School social studies curriculum is taught on Wednesdays and operates on a three-year cycle. The three themes are Careers, Journey through America, and Children around the World. All three years also include a study of self-awareness, friendship, feelings, and manners.
One of the Primary teachers presents the topic on Wednesday mornings. Sometimes homebase groups assist with the presentation as well. After the presentation, the students make choices for the rest of the morning, engaging in teacher-guided activities related to the topic of study. Special emphasis is placed on integrating other curricular areas into the activities, such as math, language arts, music, science, physical education, and art. You can refer to the handout you received in your blue curriculum folder for this year's weekly topics.
We kicked off our first presentation of the year on September 16 with an introduction to feelings and the Mood Meter, a tool for naming and monitoring one's feelings throughout the day. The Mood Meter is one of the anchor tools from the RULER approach, a curriculum designed by the Yale Center for Emotional Intelligence to support the development of social-emotional learning.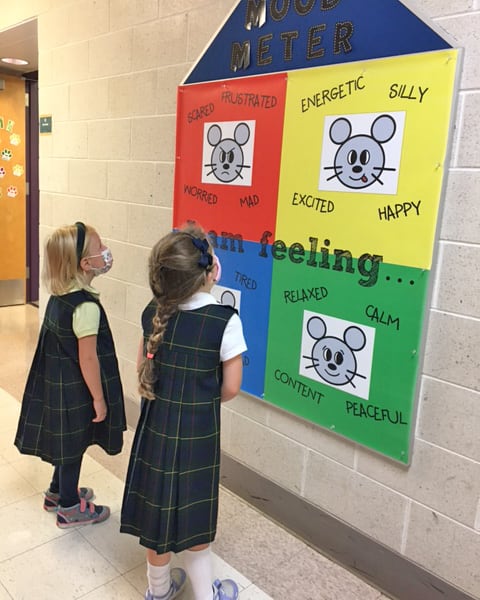 Social-emotional learning is always a key element of the Primary School experience, and its relevance is even more important as we navigate this particular school year. Following the reading of a story titled In My Heart: A Book of Feelings by Jo Witek, the students learned how to use the Mood Meter to help name their feelings to determine in which color quadrant their mood can be found. The following questions guided their exploration of the Mood Meter:
Each student was given their own mini copy of the Primary School's version of the Mood Meter to use at home. The goal is for children to understand that all feelings are important and that they have the power within themselves to change their mood if they do not want to be stuck in it. If you hear your child making statements such as, "I am in the yellow," or "I am feeling red right now," rest assured that they are processing their feelings in a healthy, productive way!
Setting Them Up for Success
By Kristen Miller, Early Childhood Program Director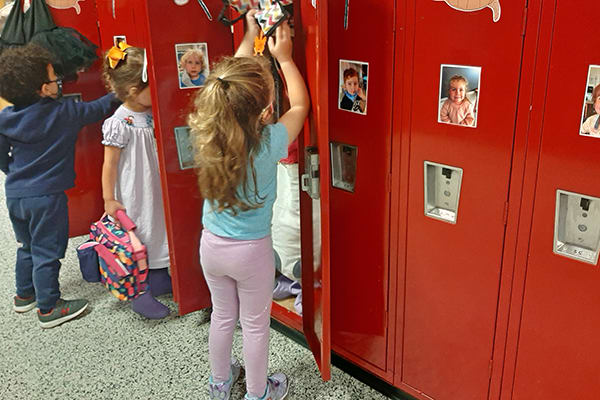 The Early Childhood years should be some of the most joyful years for you and your child. Your child is growing by leaps and bounds - walking, talking, laughing, singing and so much more. During this exceptional time of growth, they are naturally developing independence. More than likely you are starting to hear the words, "I do it," or "Me do it." With patience and a lot of deep breaths, you should let them do it or at least try. A motto that we use here at Academy of the Sacred Heart is, "What a child can do for themselves, let them do." Building confident, independent children starts in our Early Childhood Program here at ASH.
Here are a few ways you can help foster that independence at home and at school. Provide opportunities for them to carry their own lunch box or backpack. If they can walk, let them walk instead of being carried. It might take longer but that is OK. The extreme pride they have in themselves is worth the wait. Have your child help clean up their toys or put their cup in the refrigerator. Any little thing they can do to take ownership is building independence.
A task too large could set them over the edge. Start small and work up as they get older. For children who are starting to get themselves dressed or potty training, let us set them up for success. Clothes with elastic waists are much easier than buttons and zippers. Skinny jeans, although cute, are hard for a child to manage themselves. Tights for little girls can be tricky to work with also. If you are looking for more helpful hints to build independence in your child, feel free to reach out to their classroom teachers. We have many ideas that we are willing to share. As a team, we will help build your child into an independent, confident, lifelong learner!
ACADEMY OF THE SACRED HEART