Learning Community eNews | November 13, 2020
FEATURED STORY:
Being Fully Present
By Korin Visocchi, Ph.D., Chief Learning Officer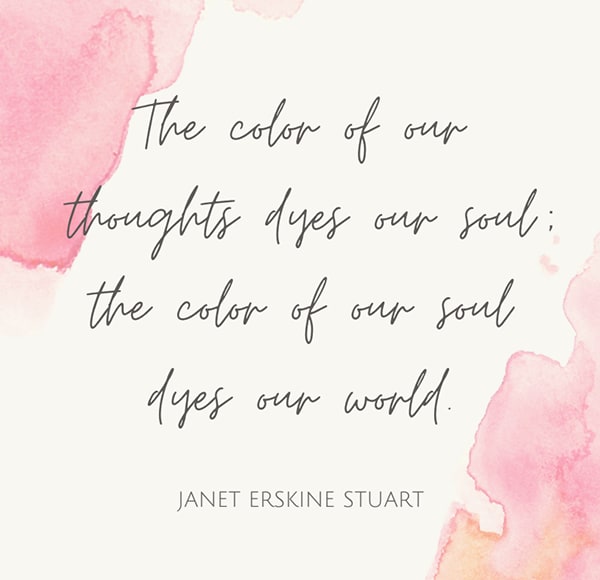 Quote artwork designed by Lauren Vidak, Director of Heart Enrichment and Summer Camp
As a Religious of the Sacred Heart, Janet Erskine Stuart held several leadership positions including serving as the Society's sixth Superior General; however, it is her writings that reveal to us a person who was deeply spiritual and deeply intellectual, a visionary and a realist.
Janet Erskine Stuart's spiritual and instructional writings reveal her openness to individual differences and her belief in a holistic approach to human development. To all of this, above all things, she also focused on God's tender care and acceptance of each person. Her writings continue to inspire and instruct thousands of people today.
"The color of our thoughts dyes our soul; the color of our soul dyes our world."- Janet Erskine Stuart
The sentiment of this Janet Erskine Stuart quote reminds me of a mindfulness retreat I attended three years ago. During the retreat, the facilitator created time and space in the agenda for us to be quiet. Just to be still.
I was hesitant to invest in an experience where we spend most of our time outside in nature and in silence.
Why would I attend a retreat where you are just quiet? Because I needed the practice. We found time for quiet, deep listening, and practiced being in the moment. In the moment, without distraction from Apple Watches, phones, and computers, we practiced, being mindful in the moment. It is a practice, because over time, we can improve our capacity to be fully present to ourselves, to others and to God.
Thich Nhat Hanh wrote, "When we are mindful, deeply in touch with the present moment, our understanding of what is going on deepens, and we begin to be filled with acceptance, joy, peace and love".
In a world full of debate, dialogue, and noise, may your thoughts design a masterpiece of love in your heart and in your world.
ASH Works: Fostering Creativity, Learning From Mistakes & Building Confidence
By Emily Avendt, Kim Davidson & Joyce Lee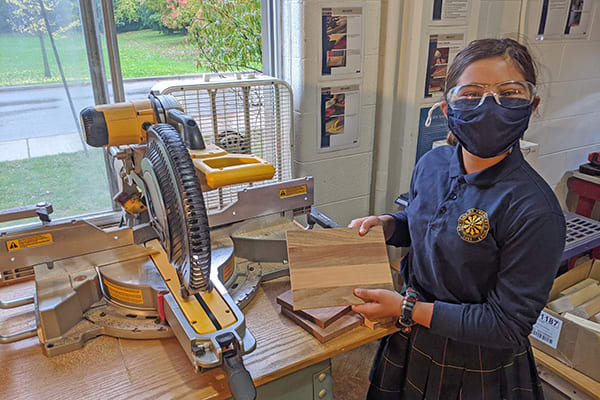 Academy of the Sacred Heart students in Grades 2-8 are loving their new course offering, ASH Works! Developed and taught by Mr. Eric Swanson, ASH Works is a truly unique experiential learning opportunity. Students create and build items big and small, and are fully engaged in every step of the process, from initial designs to cleaning up the workshop as a team.

During the design phase, students learn the importance of details and careful planning. They also learn how to safely don the appropriate protective gear for the project, as well as how to operate the tools required. During the design implementation, students practice teamwork and patience, and are encouraged to experiment and learn from mistakes. Mr. Swanson teaches that mistakes are awesome! They are opportunities to reflect on what went wrong, problem solve, and plan on how to improve next time around. ASH Works fosters a growth mindset and students experience confidence with each project completed.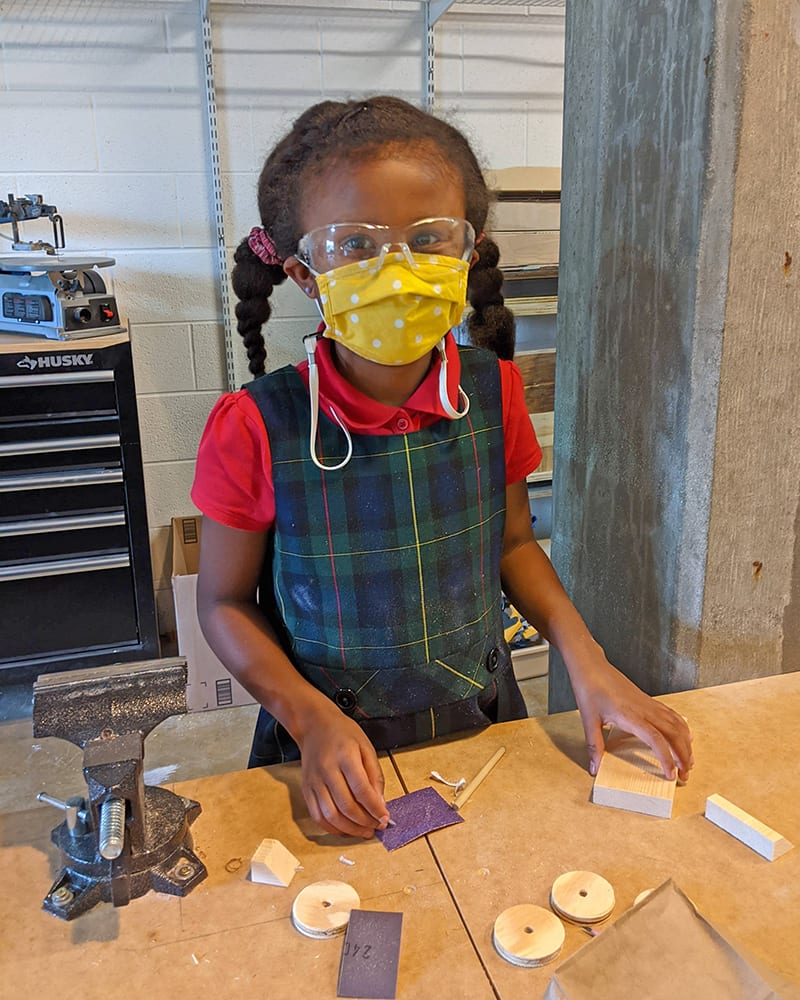 In the Lower School, the students' first project was building tiny houses. Students used wood, paper, tree branches and other natural items to build their homes before painting them. As you can see in this media gallery, the students were very creative! House designs were structurally diverse and included fun elements such as slides, monkey bars, swings, indoor basketball hoops and even furniture. Students are currently working on designing and building toy cars!
Middle School for Girls Grades 5 & 6 students have been designing, creating, and finishing up their cutting board project (see top photo). Many of the girls enjoy using the bandsaw after realizing it "wasn't that bad" and feeling a sense of accomplishment as they see their project come to life. They are excited to get started on their skateboard project next. Grades 7 & 8 girls who are in the ASH Works experiential on Thursdays have been working on making spoons or spatulas. Seventh grader Reese Lindsay said, "It's fun having the freedom to create something that is our own design," and her classmate Alexa Ross said that "the class is a nice break from our other academic classes."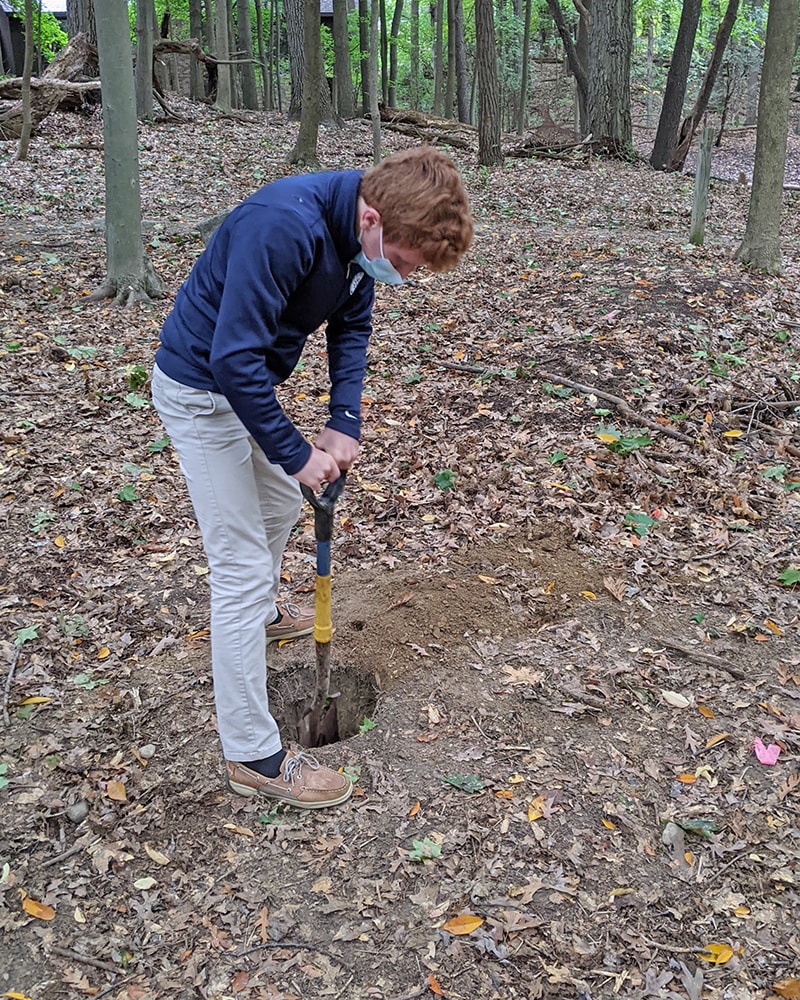 Kensington Hall students enthusiastically look forward to their ASH Works elective each Monday and Wednesday! It is an opportunity for students to get outside and learn by using their hands, and to be a part of creating something that they are proud of and can use once it is completed. KH students are working with Mr. Swanson in the woods on our property to build a fort and shed. They are learning the value of teamwork and that all the jobs are necessary and have value in completing a project. Mr. Swanson has been working patiently with the students on how to safely use the tools necessary for measuring, cutting, framing, and nailing.
Here's what some of the boys had to say about ASH Works:
"My favorite thing about the ASH Works Elective is that it gives us freedom and offers a fun experience that will help us out a lot in the long run." - Grade 7 student

"The reason why I like ASH Works is that when we build out in the woods we are all working together as a team. Each one of us has a job. There are multiple jobs like hammering, cutting wood, measuring, leveling, and looking for rocks. All of us have been working hard to get our fort done and we are doing very well." - Grade 8 student
We are excited to continue to see the amazing products of the ASH Works program, developing students' skills of the hands, heart and mind!
A Life-long Commitment to Serving Others
By Kristen Miller, Early Childhood Program Director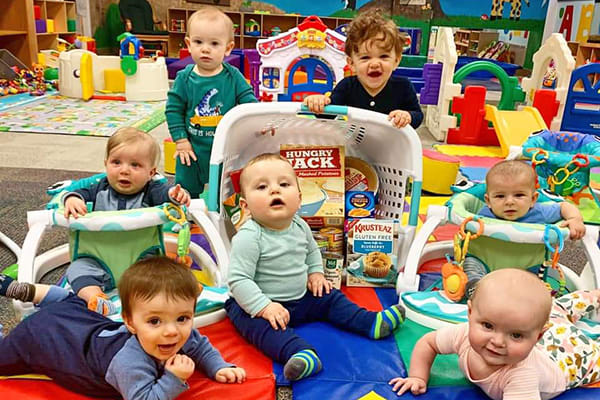 Goal lll: Schools of the Sacred Heart commit themselves to educate to a social awareness which impels to action.
I have been at Sacred Heart for more than 20 years. One of my favorite Goals is Goal lll. Service is a huge focus from infants through Grade 12. The infants may not quite understand yet, but by seeing the adults around them model the behavior, it becomes part of who they are as they move from class to class. As the children enter the Preschool, service becomes a large part of their curriculum. The children are offered a group activity once a week to provide service within our school setting. They make thank you notes for adults who do service in our building, clean out their own lockers, sort toys, make cards for children who are sick in the hospital, and my favorite, collect food for the Lighthouse Thanksgiving baskets.
This is one of the most impactful service projects. Visuals are important for our age group, and our kids can literally see their impact - the baskets go from empty to full. We have them help take the full basket to the area where it will be picked up for delivery. Families come together as a community to fill an empty basket with items that other families do not have. As caregivers, we use developmentally appropriate language to discuss how this will make a difference for a family who does not have food like we do in our cabinets. It fills my heart with joy knowing I am part of this wonderful community that can teach your children how important it is to help others.
Your food and monetary donations are very much appreciated. As you are giving thanks for everything you have this Thanksgiving, please mention the service your child took part in for a greater purpose. Hopefully, this will be the beginning of a life-long commitment to serving others with care, dignity and respect.
Hooray for Handwriting!
By Renee McNally, Primary School Director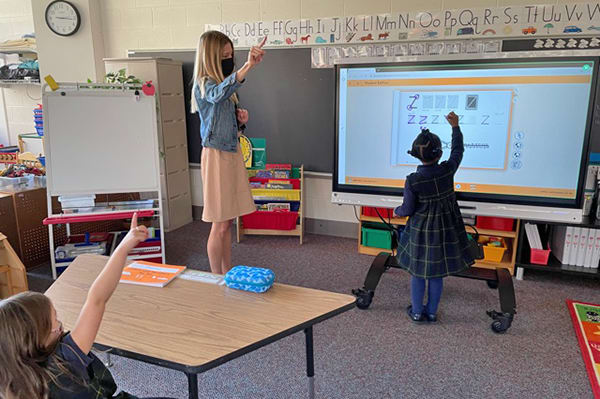 To fit more requirements into children's school day, some schools are choosing to eliminate handwriting instruction. While society debates the issue of the importance of handwriting due to the increased reliance on technology, educators worry about the impact the lack of handwriting practice will have on children. Brain research confirms that the physical act of writing has many long-term educational benefits. Proper letter formation leads to better grammar, spelling, and sentence structure, which then leads to better composition of written ideas. Once students can form letters and numbers on paper with appropriate speed, efficiency, and legibility, they are able to focus on content rather than mechanics.
Due to the steady decline of fine motor skills in children, the Primary School made a switch many years ago to a writing program used by occupational therapists called Handwriting Without Tears (HWT). The students in our program have experienced great success with the HWT curriculum. The faculty believes this is due to the program's attention to the following:
daily fine motor practice

attention to "top-to-bottom" letter and number formation (in the students' HWT workbooks)

development of spatial awareness (through music and movement exercises and the special lined paper that the students use)

use of multi-sensory manipulatives (wood "big/little lines" and "big/little curves", slates, magnet boards)

proper pencil grasp (the golf-size pencils used ensure students are using the proper grip)

developing a common language among the students for talking about letters and numbers



Fine motor skills are essential to a child's development. We encourage you to give your children time at home to use their hands for creating and constructing whenever possible!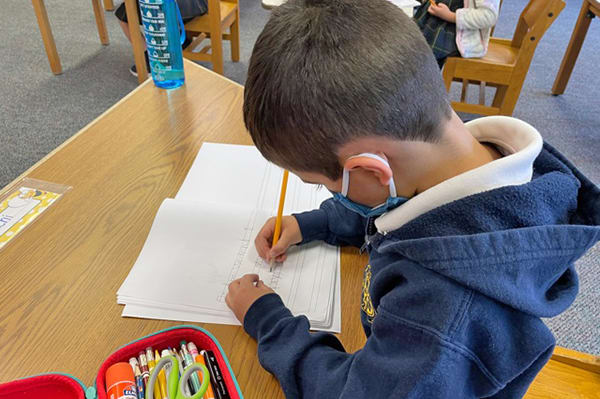 A Warm Welcome
By Joyce Lee, Middle School for Girls Director
In the last issue, we introduced Anna Kozler, our new 5/6 Communications and 7/8 Humanities teacher and Grade 7 Advisor. Now that she is officially here, we wanted to put a maskless face to the name. Please help me in welcoming Anna to our community! She has been getting to know the girls and is very excited to be here!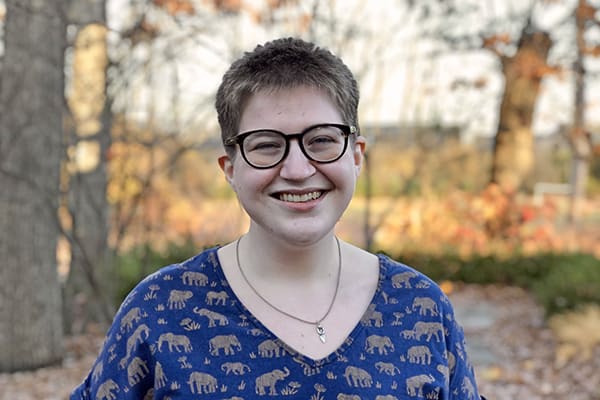 Book Buzz
By Lynette Nixon, Middle School for Girls educator
Students in 5/6 Humanities are well into their first book club of the school year. Since the curriculum is on a two-year rotation, this year the girls will focus on two genres in particular: mystery and science fiction/fantasy. This round of book club is focused on the mystery genre. The girls were placed into groups of three or four to read the same book and meet during class to discuss their reading. Literacy skills such as making inferences, using context clues and identifying elements of a mystery story are put into practice each day.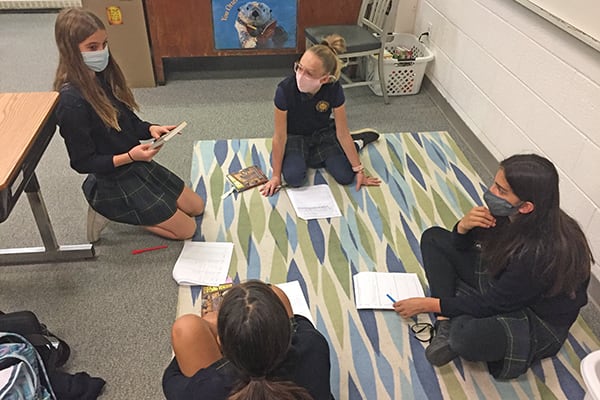 An Election Rooted in the Goals and Criteria
By Linda Kozler, Director of Girls Education & Upper School Director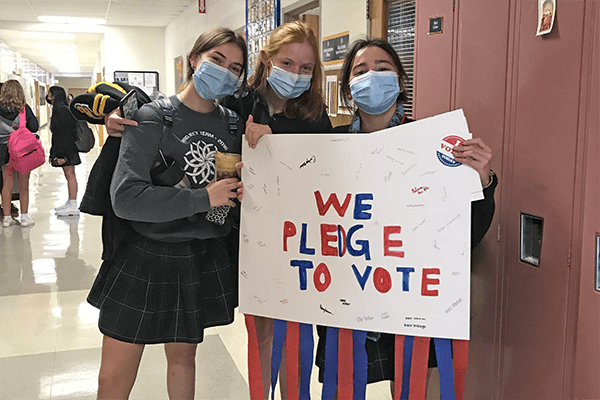 "The school promotes a safe and welcoming environment in which each person is valued, cared for and respected."

"In our multicultural world, the school prepares and inspires students to be active, informed, and responsible citizens locally, nationally, and globally."

- From the Goals & Criteria
One of my favorite parts of my job is the frequency with which I get to brag about our truly exceptional students. In speaking with educator friends across the country this past couple weeks, I have heard some fairly harrowing stories about the ways that their students walked through the election process. In response, I have been able to describe the ways that our girls remained absolutely impressive and stellar throughout.

In response to the Upper School faculty engaging students in the topic of the presidential election process - as a teaching opportunity that only comes around once every four years - our students exhibited passion and intellectual curiosity about the process of the election, asked higher level questions in class discussions, did their own surprisingly deep research into issues and candidates, shared their thoughts and opinions respectfully, and stayed grounded in a listening stance when opinions other than theirs were shared. They signed a pledge to be voting members of our society when they are old enough to do so. In short, they showed all the qualities of becoming well-informed members of the electorate, which as we know is a cornerstone of our democracy.

Not one bit of it surprised me, and every single bit of it made my heart swell with pride. I fully and genuinely expect to someday be watching election results for one of our very own graduates, as they move on from here to become leaders in our state and country!
Allow me to share the following from our Service and Social Justice Committee on this topic as well:
Presidential elections happen only once in our high school years, and they are an important time to teach soon-to-be voters about their duty as American citizens. The Service and Social Justice Committee helped the Upper School celebrate election week. We had four seniors who voted for the first time, so we decorated their lockers and held them up as role models. Although the rest of the Upper School couldn't vote, they signed the "I Pledge to Vote" poster encouraging participation in future elections. And to highlight the results, the SSJC has shared posters around the halls celebrating "firsts" for women in this election. It's never too early to practice civil engagement!
Announcing a Holiday Spirit Wear Pop-Up Store!
Open now through Thanksgiving Weekend, shop Sacred Heart spirit wear (and more) for that special ASH fan in your life! Click here to shop now. New items include winter sports team apparel, vests, a blanket, winter gear and more. Items are scheduled to arrive in plenty of time for Christmas. Be someone's Sacred Heart Santa this year.
ACADEMY OF THE SACRED HEART