All-School eNews | May 21, 2021
FEATURED STORY:
Ready for Celebrations & Growth
By Damian Hermann, Head of School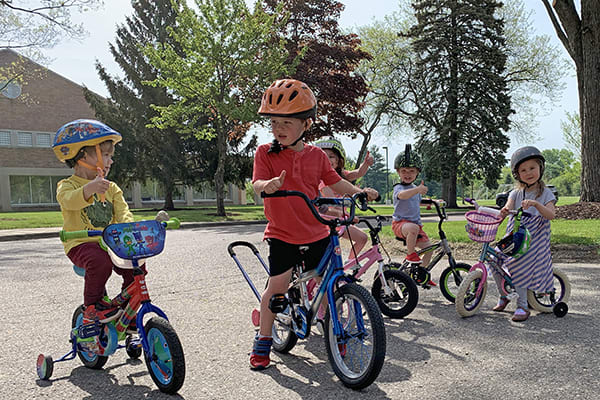 Above: Preschoolers enjoying Bike Week, a hugely popular event that builds gross motor skills, early literacy, resilience, sharing, turn-taking and more
As we approach the end of the year, it is reassuring to see things shifting in a way that feels normal. It is exciting to have Sacred Heart traditions like Prize Days, Congé, graduations, and Candlelight scheduled. I'm thankful for a great team of educators who have planned and organized what is a logistically complicated end-of-year schedule of celebrations. Of course, after a year of COVID logistics, they were well prepared for such a task. If ever there was a year to finish with hope and joy, this is the year, and I look forward to seeing you all as we celebrate the accomplishments of our students.
Strategic Planning
This is also a time when we look forward to next year. As you know, in partnership with the Board of Trustees, we began the first stage of strategic planning by surveying the community. We heard from Grade 5-12 students, current parents, faculty, past parents, and alumni. Our strategic planning partner, Greenwich Leadership Partners, is providing analysis of the data and consultation as we begin the next steps of the planning process. This summer, the strategic planning committee will formalize a timeline and process for this work. This ongoing strategy work will continue as we dive deep into the data. I am grateful to have a very talented partner in this work in Erin Wrobleski. You may remember that in Dr. Visocchi's absence, Erin came on as our Chief of Staff and Strategic Planning. She has made an immediate impact keeping all of our strategic initiatives moving forward while also initiating the first step of strategic planning - all during a pandemic!
Already the process has yielded some key insights from students and parents that will help us better tailor the student and family experience to the needs of the community:
the US Commons/Lounge is getting a furniture redesign, to better represent the lounge feel that students miss and that COVID made even more acute;
students emphasized the importance of mentor time at the beginning of the day, which will be reinstated; and
a greater emphasis on US curricular variety for students is in the works and we hope to have additional options for the fall.
Please look forward to ongoing updates that we will be sharing along the way.
As we begin to open back up post pandemic (more on that in the Nurse's Notes below), we are planning for a normal start to next year. A few things that you can expect in the fall include:
full school day in the Upper School;
no "opt-in" Flex/Remote learning;
food service solution (pre-order); and
a return of in person events and traditions.
Teaching and Learning
Curriculum and Instructional excellence is an ongoing, continuously improving process. We take seriously Goal II: A Deep Respect for Intellectual Values. Beginning July 1, Michele Allison will step into the role of Instruction and Curriculum Coordinator for Academy of the Sacred Heart. Michele has a master's degree in curriculum and teaching from Michigan State University. This is her 15th year as a Sacred Heart educator, and she previously taught at Kensington Academy. Her new position will be key to the long-term success of each of our students and our school as a whole. I'm so pleased to be able to elevate a qualified and dedicated Sacred Heart educator who understands our mission, philosophy and curriculum and will guide us to ever-greater academic success.
You may recall that our teachers have been working with The Reading League for the past 18 months. This work informed our curricular review and decision to adopt CKLA as our Language Arts Curriculum for K-8 students. We are excited to implement this highly rated curriculum that will be a powerful tool to ensure that every student is learning and growing.
I am also excited to see the growth of our students as measured by the MAP assessment. The Winter to Spring assessment window showed that in K-8, we achieved 135% of our projected growth in math and 110% of our projected growth in reading. Kudos to our teachers and leaders who kept our students moving forward despite the challenges and disruptions of the pandemic.
Graduating Seniors
This week, our faculty and staff reflected on the Sacred Heart Graduate document recently published by the Network of Sacred Heart Schools. Our seniors are the most impressive graduates in Michigan - of that I am certain. Recently, I have met with them in small groups and came away shaking my head at their poise, self-awareness, and confident voices. Each of our graduates stand out in a way that only a very small percentage of graduates from other schools do. I am looking forward to the graduation ceremony and Prize Day when this will be on full display.
Drumming Up Raffle Ticket Sales - Drawing in One Week!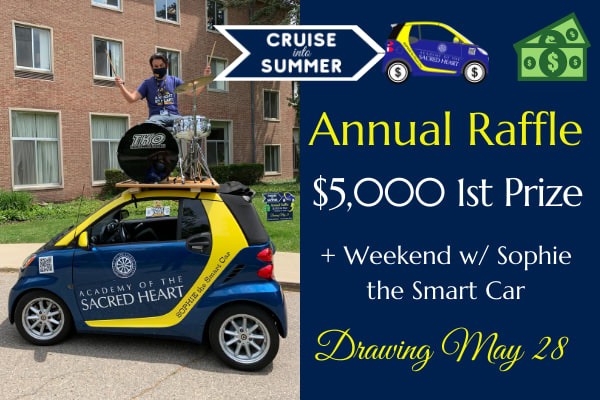 Thank you to everyone who has already purchased and/or sold raffle tickets. There is just one week left until the drawing during Congé on Friday, May 28! Don't miss your chance to win $5,000 cash + a weekend with Sophie the Smart Car + a LEGO® Smart Car. There will be also be a Second Prize of $1,500 cash. The top ten sellers will receive a LEGO® Smart Car, too! Tickets are $50 each or three for $100. Proceeds support the #ASHDifference!
The Advancement Office has teamed up with PAASH volunteers to drum up some additional ticket sales on Tuesday and Wednesday during drop off. Watch for a curbside "drive-thru" where you may drop off your envelopes and completed stubs or purchase your tickets on the spot with cash, check or credit card. You just never know who will make an appearance!
Need additional assistance? Just call the Advancement Office at 248-646-8900 x170. Best of luck!
With Deep Gratitude
By Susan Nye-Brothers, Spiritual Life and Chapel Coordinator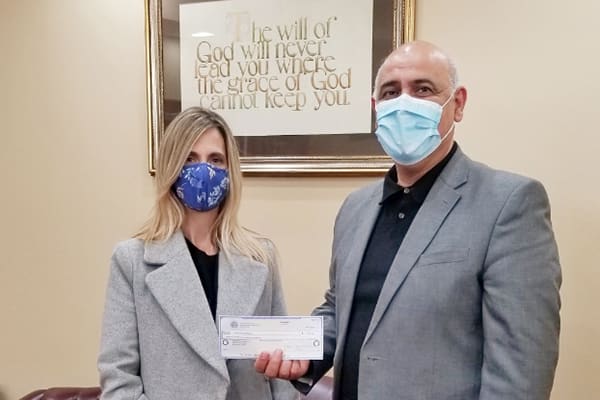 This beautiful Academy of the Sacred Heart family, its students, faculty, and staff, rose to the occasion yet again, boldly and generously supporting Goal III, A Social Awareness which Impels to Action. Our Lenten partnership with the Detroit Rescue Mission Ministries (DRMM) was blessed immensely by the monetary donation collected of $1,360 in total. Dr. Chad Audi, the father of our own Knight Nadim Audi, spent deliberate time with me to offer both the history of this mission as well as his passion for those the mission serves. DRMM is an enormous presence in the state of Michigan, and I was privileged to listen to Dr. Audi as he shared stories of utter heartbreak and sweet success. We laughed, and we cried, and his heart was truly touched by the generosity of our ASH family. His humility, co-mingled with the love of his pure heart, is inspirational. Dr. Audi embodies Matthew 25:40; "The King will reply, 'Truly I tell you, whatever you did for one of the least of these brothers and sisters of mine, you did for me.'", as do each and every one of you. Your and your children's donations will assist in physically feeding guests of the DRMM, and for that Dr. Audi and his team are truly grateful. May God continue to bless you, guide you, and keep you safe.
On Tuesday, May 25, we will celebrate the feast day of our foundress, St. Madeleine Sophie Barat. Join us virtually for a livestreamed liturgy at 9:30 a.m. by visiting youtube.com/sacredheartmi.


Congé will be held on Friday, May 28. This year's "in-school holiday" will look a bit different than in the past; students will rotate around campus in their learning communities, participating in outdoor activities (weather permitting). Parents are invited, but not required, to watch their child(ren)'s lip sync, which will take place on the front porch at the West Entrance. Learning community leaders have provided details on timing, parking and dismissal procedures in a separate email. Thank you in advance for your patience as we adapt this tradition to current gathering restrictions.


From PAASH: We wish to offer parents an opportunity to recognize our amazing teachers, faculty and staff who have quickly adapted to the challenges the pandemic has posed in educating our children. If you would like to give a gift for the end of the school year to recognize the aforementioned, PAASH is suggesting utilizing the SCRIP program. The monies collected will be pooled and shared with all of the teachers, faculty, and staff in the form of VISA gift cards, which we are able to purchase without any fees, and an extraordinary, year-end, educator appreciation luncheon. Please note, funds given for this purpose are not tax-deductible. We would appreciate receiving funds no later than Friday, May 28. If you have any questions, please feel free to contact Gloria Pankratz. Click here to submit your donation.

Please remember to register to attend your child(ren)'s Prize Day. Currently, registration is required. Each family may have two guests per Prize Day. Please note that all attendees will be screened before entering the building, and must wear a mask and observe social distancing. Prize Days will also be livestreamed at youtube.com/sacredheartmi so that additional family members and friends may participate remotely. To register, or for additional details, click here.


Perhaps your child has outgrown this year's uniforms, or your soon-to-be graduate has no use for his/her ASH uniform next year. If so, please consider donating these items for a used uniform sale to be held this summer. Whether you have jumpers, skirts, shirts, pants, sweaters, PE clothes or other ASH gear, donating your child's gently-used uniforms will help others in our community and won't clutter your closet. Simply drop items off to any portry attendant, labeled "Used Uniform Sale".
A Change to the Mask Policy - A Light of Hope
By Robin Clements, School Nurse
I am delighted to say that we are no longer requiring masks be worn outside. In the past, mask breaks were allowed while outside. However, if social distancing was not possible, masks needed to be worn. At this time, during recess and while outside, students and staff/faculty, whether vaccinated or non-vaccinated, will not be required to wear a mask.
Although the Governor and the Centers for Disease Control and Prevention (CDC), state vaccinated individuals are no longer required to wear masks indoors, the school wishes to model appropriate behavior for students. All employees, even fully vaccinated employees, are expected to wear masks in the building while working with students, meeting with other adults, and moving throughout the building.
The Centers for Disease Control and Prevention is recommending schools keep to the current COVID-19 guidelines, including mask-wearing and distancing, for the remainder of the school year as most students are not fully vaccinated. We ask all vaccinated students and ECP parents to continue wearing their masks while in the building.
Thank you for your cooperation and consideration this school year. I appreciate the parents keeping their children home when sick, even if it was just mild congestion. Thank you for using the remote learning option after travel and during quarantines. I think we are all ready for the 2021-2022 school year and are hoping the Oakland County Health Division and Michigan Department of Health and Human Services lift many of the restrictions and requirements regarding COVID-19.
ACADEMY OF THE SACRED HEART