All-School eNews | April 16, 2021
FEATURED STORY:
Week of the Young Child - Celebrating Your Children & Their Caregivers
By Kristen Miller, Early Childhood Program Director
This week, we celebrated the 50th anniversary of the Week of the Young Child. Established by the National Association for the Education of Young Children (NAEYC) in 1971, the Week of the Young Child focuses public attention on the needs of young children and their families and recognizes the early childhood programs and services that meet those needs. It brings awareness to the importance of the early childhood years (birth through age 8), which lay the foundation for children's success in school and later life.
We have been very busy celebrating and honoring your children and their amazing caregivers. Together, everyone enjoyed music (see video above), made a tasty snack, created beautiful artwork and so much more. In fact, Wednesday's highlighted theme was "Work Together Wednesday." It was amazing walking through each classroom witnessing your children creating beautiful art murals using paint and different media, together. Another group went outside and gathered sticks together to help clean up areas of our lawn, while others built with blocks together. Although we could not invite families to join us in school today to end the festivities, we are celebrating and speaking about each child's family and what makes your family special.
I would like to praise and thank each caregiver that your child encounters during their time at school. The relationships developed are of the utmost importance in your child's development while in our care. Thank you for sharing, and entrusting us to care for, your children during their most vulnerable, impressionable years.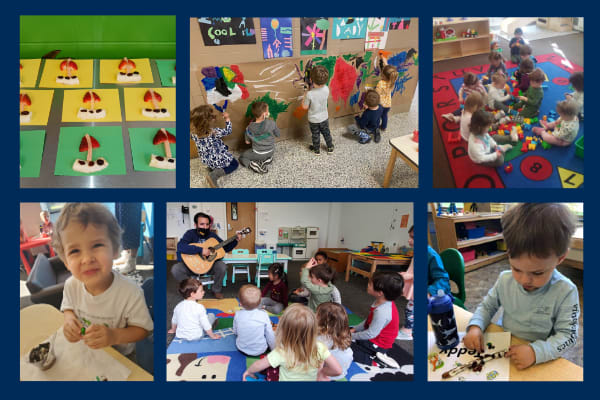 Music Mapping
By Mrs. Feeny, Primary School Music Teacher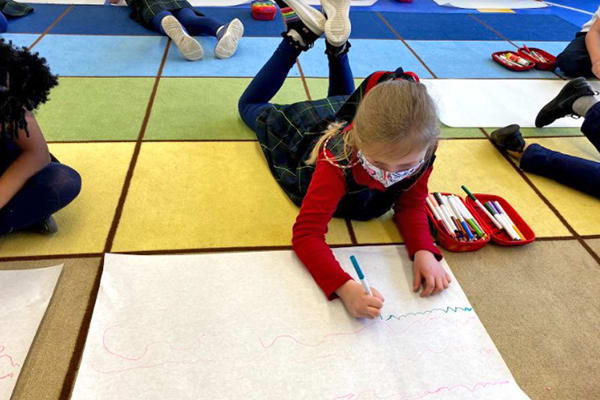 The Primary students have learned how to make listening maps in music class. They have been studying "The Dance of the Sugar Plum Fairy" from The Nutcracker by Tchaikovsky. The students have listened to the piece repeatedly, used movement to express the music, and traced the melody in the air to discover the melodic contour. They also created visual representations of the music. The students have been guided to draw from left to right, and to include as many auditory details as possible. After the maps are created, the students use their finger to "follow their map" (and the maps of their classmates) as the music is played.
The Primary School's music program is based upon the Orff Schulwerk approach to music education. The Orff experience includes vocal and instrumental music, rhythmic speech, poetry, and expressive movement. The Primary School recognizes performing arts skills and experiences to be essential in the development of compassionate, confident, and balanced human beings. During their music classes, Primary students:
play xylophones, drums, and other child-sized percussion instruments

learn to use their singing and speaking voices to express themselves

examine and create visual representations of rhythms and melodies, paving the way for musical literacy

experience mathematical concepts in the form of musical elements and spatial relationships

recite poetry, sing songs, clap, move, dance, and play

are active participants, never bystanders, in the act of music creation
"Sign" to Learn
By Renee McNally, Primary School Director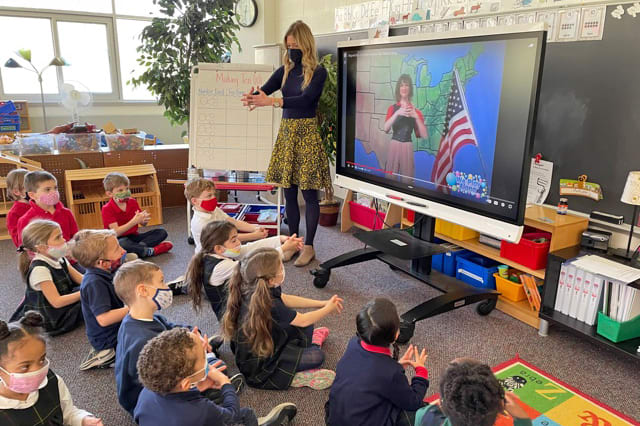 Above: Primary students learning how to sign "God Bless America"
American Sign Language has been a part of the Primary School's M.I.N.I.s curriculum for more than two decades. This year, Mrs. Skerske, who is fluent in American Sign Language, has worked consistently with the Kindergarten students on developing their signing skills. The rest of the Primary students will have an opportunity to integrate some signing into their music classes. Introducing children to Sign Language has many social and curricular benefits. The students learn the signs of many words and how to communicate information within the classroom environment. The students also develop an awareness of persons with disabilities.
Learning American Sign Language also promotes proven curricular benefits. Children who practice signing develop fine motor skills, those skills that involve a refined use of the small muscles controlling the hand, fingers and thumb. As children work to form the proper hand configurations for signing, their muscles are being exercised, which is beneficial as students approach tasks such as drawing and writing. It has also been proven through brain research that physical movement is a key factor for getting the brain to move information into long-term memory. As children engage in the physical act of signing, their retention of letters and their corresponding sounds, numbers and words is enhanced.
Lions and Apples and Robins, Oh My!
By Emily Avendt, Lower School Director & Director of Learning Support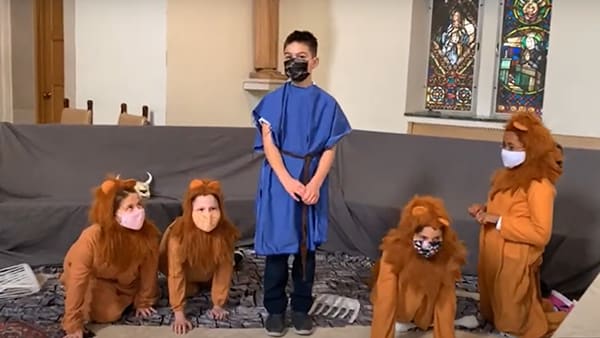 The Lower School performing arts curriculum offers many opportunities for students to sing, play instruments, speak, move and perform in concerts throughout the school year. Like the Primary School, the Lower School curriculum is anchored in the educational philosophy of Carl Orff, which encourages a playful and experiential exploration of music and movement. Students study orchestral instruments, serve as cantors and lectors during school liturgies, learn to play the recorder starting in Grade 3, and perform in the annual Christmas and Prize Day programs.
Each class also has a grade level specific performance once throughout the year:

Grade 2: This past fall, the second graders performed Apples! Apples, Everywhere! for their cushion concert. A cushion concert is a fun, informal concert that highlights what the students are learning in music class. The second graders did an excellent job telling the story of Johnny Appleseed, singing, and playing instruments.
Grade 3: The third grade students are currently practicing for their upcoming cushion concert entitled Michigan Medley, which they will perform on May 21. The performance includes singing and storytelling to explore Michigan's history, while incorporating multiple instruments.
Grade 4: The fourth grade students were featured in Lenten chapel performances this past March. Grade 4A performed the story of Exodus and Grade 4B performed Daniel in the Lion's Den. The students did a wonderful job creating and performing a theatrical presentation while acting, singing and playing instruments in costume.
All concerts performed this year were recorded and are featured on our Sacred Heart MI YouTube page.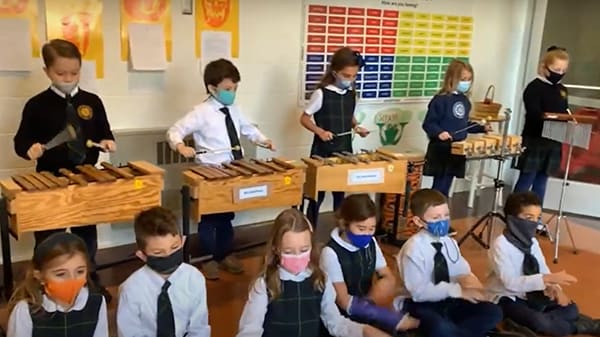 American Sign Language
By Lynette Nixon, MSG educator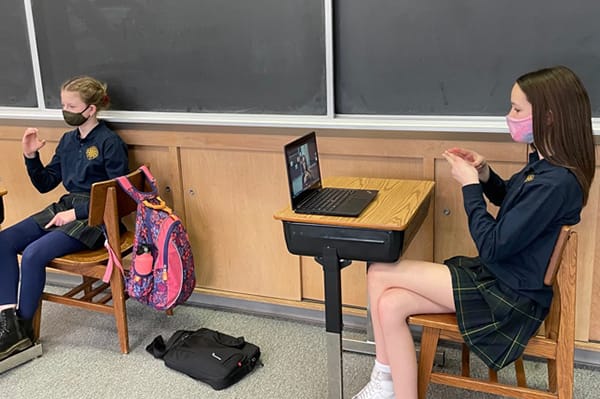 Students in the American Sign Language (ASL) experiential are learning first-hand the challenges and joy in exploring a new language. After starting with some background knowledge about the Deaf community, the history of ASL, and the syntax and structure of the language, the girls are building their vocabulary while practicing individual signs, phrases, and fingerspelling. The importance of finger and hand position, along with facial expressions are discussed as they learn new words and practice the signs independently and with partners. Practicing with a partner and recording themselves signing help students learn to understand signs they see. Phrases that include a variety of greetings, along with vocabulary such as numbers, question words, and family roles have already been introduced. They will end the year by learning how to sign a song of their choosing and present it to the group. It has been wonderful seeing the students help each other perfect their signs and watching their confidence grow each week.
Things are Shaping up in Math Class!
By Charity Callas, MSG educator
Students in both KH and MSG celebrated all things round by commencing their geometry section with pi! Despite 3.14 falling on a Sunday this year, the students enjoyed adventuring inside and around the school in teams looking for round objects to measure! From measuring the diameter of the gym floor basketball key to the circumference of the stained glass rose window, the students discovered that no matter how big or how small the circle, with minor error, the ratio of circumference to diameter was always the same ... 3.14! Students were able to finish the section before spring break with an Easter Egg Scavenger Hunt!
The main focus of this section was to help students understand and conceptualize two-dimensional figures and their relationships, including points, lines, and planes. Along with circles, students reviewed triangles, quadrilaterals and regular polygons. Drafting and calculating composite figures allowed the students to see irregular shapes in architectural structures, nature and even in the classroom. Geometry allows them to utilize critical thinking and problem-solving skills, along with communicating mathematically. This section required the students to apply their previous math skills from earlier in the year to master the new concepts, making spring the perfect time to study and explore. Although the students will study more in great detail in Upper School, understanding the basic concepts will give them an academic advantage for spring NWEA.
Boys and Executive Functioning
By Kim Davidson, Kensington Hall Director
"Executive function and self-regulation skills are the mental processes that enable us to plan, focus attention, remember instructions, and juggle multiple tasks successfully. Just as an air traffic control system at a busy airport safely manages the arrivals and departures of many aircraft on multiple runways, the brain needs this skill set to filter distractions, prioritize tasks, set and achieve goals, and control impulses." -Center on the Developing Child, Harvard
Is your middle school boy disorganized? Does he have a hard time finding things and keeping track of his assignments? Does he have difficulty completing homework assignments on time independently? Is he easily distracted and lacks the ability to control his impulses? Does he have trouble following directions or a sequence of tasks?
If you have answered yes to any of those questions, you are not alone! Most of our conferences and conversations with parents revolve around how can they help their child with organization, time management, and impulse control. There is a reason this is a common issue, and with time, practice, and patience, your boys will improve. During adolescence, the prefrontal cortex, the area of the brain where most executive functioning takes place, is still developing. Executive functioning skills do not come naturally and must be reinforced and practiced.
During our most recent staff professional development day, Mr. Hermann led the KH teachers in discussing which skills we felt were most important for our middle school boys. Using the research and ideas from Center on the Developing Child, this is the list we came up with that we will continually focus on during the middle school years.
Eight Executive Functioning Skills Children Should Have
Adaptive Thinking (flexible; improvise and overcome; handling failure)

Organization (note-taking, physical organization, time)

Working Memory (using prior knowledge to connect to new learning; developing memorization skills)

Planning (p

rioritizing, goal setting)

Time Management (accountability, respecting due dates)

Self-Control (decision making, right vs. wrong)

Self-Monitoring (goal setting, reflective, metacognition)

Goodness (empathy, sympathy, leadership)
Students need to develop and practice these skills so that they can be more successful and confident in school and throughout their lives. Once these skills are in place, academics become much easier.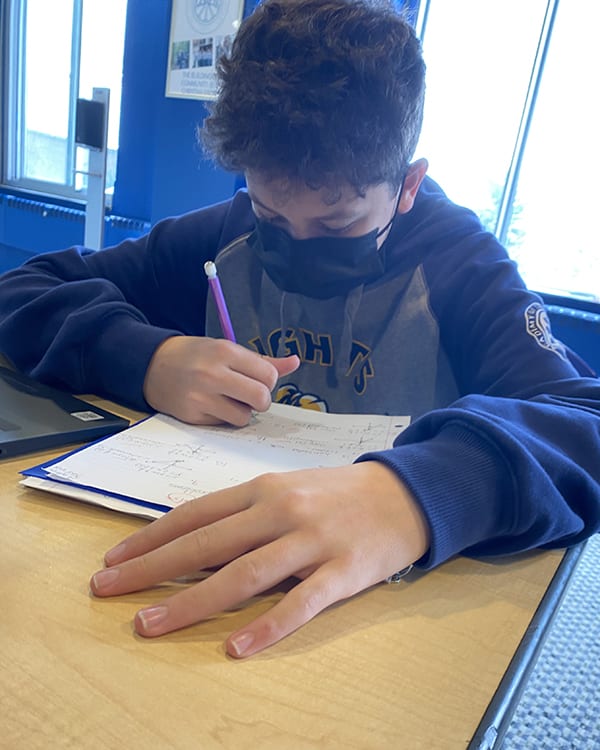 In Kensington Hall, not only do we talk about these skills regularly with the boys, we also have dedicated class times during Personal Work and Study Skills to explicitly teach about what they are, why they are important, and allow the boys to discuss and reflect on which skills they struggle with as well as which skills they are strong in. Our goal is that these skills will be in place by the time they graduate eighth grade so that they can enter any high school they choose as a confident and successful learner ready to take on the challenges of high school.
Keep in mind that each child develops at a different rate, and particular skills will be easier for some than others. Learning these skills takes time and practice. Here are some ways you can help your son at home while he is developing these skills:
Talk with him about what he thinks are his strengths and weaknesses in executive functioning

Help him set a goal for himself (and encourage him to follow through on that goal)

Establish routines for homework and bed times

Help him to create checklists for what he needs to remember to bring with him to school, for homework, etc. to make the information visible

Post schedules and project due dates in a common area

Help him map out long term projects and place benchmark goals on the calendar (Use the Cycle Maps sent out each cycle as a guide)
We will continue to partner together to help these young men on their developmental journey!
Social Emotional Learning is Good for Girls - Now and For Their Future
By Linda Kozler, Director of Girls Education & Upper School Director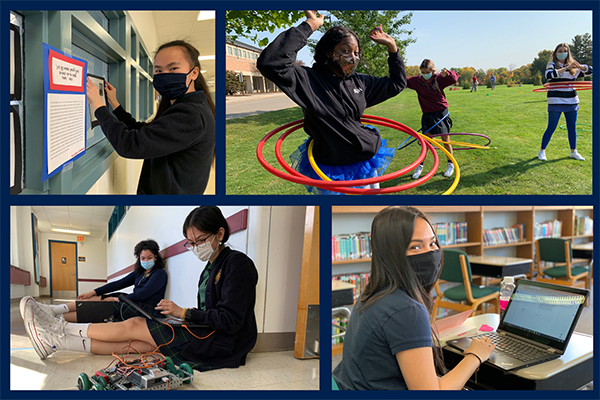 A phrase that I say very frequently in the Upper School is "all feelings are fair." Learning how to understand, express, and manage our emotional selves is a critical task, especially during adolescent development. More and more, you can find educational literature being written about the emerging best practice of high schools having a Social Emotional Learning (SEL) Program. What is a SEL program? It is any program that addresses the following five competencies:
Self-Awareness (understanding my thoughts and feelings and what causes them, as well as learning to express them respectfully),

Self-Management (understanding that I can have many different responses to an event, that I can choose to respond as constructively as possible, and practicing constructive responses in my life, knowing how to regulate my emotions),

Social Awareness (learning to understand other people's thoughts and feelings, and the reasons behind them),

Relationship Skills (how to adjust and manage my own thoughts, feelings, and responses so as to maximize positive interactions, how to communicate most effectively, how to understand the communications that others provide to me), and

Responsible Decision Making (understanding the consequences my actions have on myself and others, how to align my choices with my values, and how I can solve problems creatively).
Here at ASH, as you know, we use the RULER program from the Yale Center for Emotional Intelligence for our SEL lessons. This program is evidence-based and considered a premier way of delivering SEL content to students of all ages. In the Upper School, RULER combines with other important pieces of our curriculum--such as our wellness and theology classes, service, student leadership, Project Term, exchange, some of our clubs and extra-curricular offerings, and even in the format and intentionally small size of our classes which increases student class participation--to ensure that our students are doing in-depth SEL work all the way through their high school years.
Numerous research reports show that SEL can have a positive impact on students' academic performance. Edutopia conducted in-depth SEL research and concluded that SEL plays a critical role in the development of adolescent girls' confidence, agency, leadership abilities and ultimately their success. In a meta-analysis of 213 high school SEL programs, covering three decades of research, they found that social and emotional learning interventions that address the competencies listed above increased students' academic performance by 11 percentile points, as compared to students who did not participate in such SEL programs (Durlak et al., 2011). Other research studies have shown that women who had a SEL program in high school report having stronger relationships in their lives, are more likely to try harder and persist in the face of life challenges, are more self-aware and confident, become leaders in college and careers, and report more feeling of happiness and well-being as adults.
Social Emotional Learning in the Upper School is helping students develop and grow as whole people in high school, in order to benefit from this for the rest of their lives.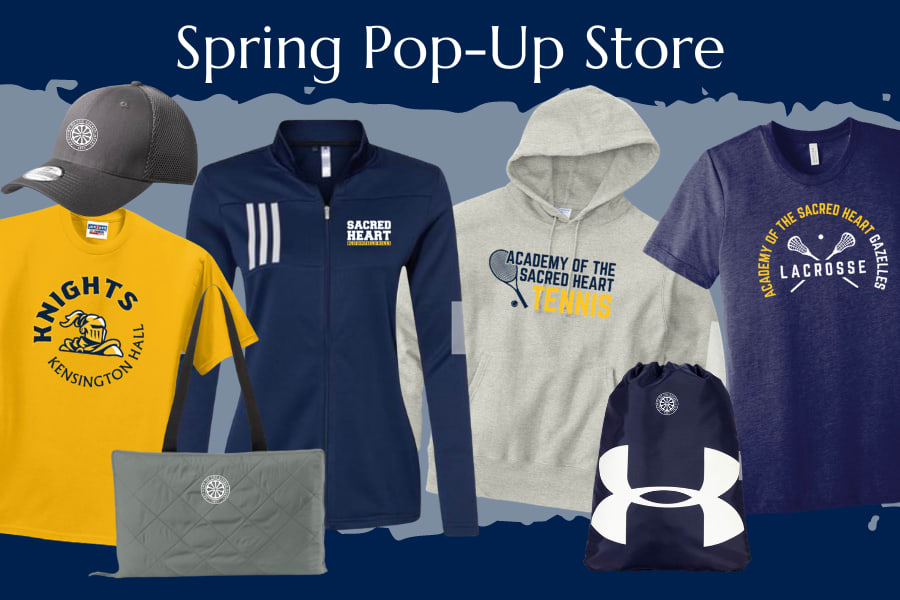 The spring spirit-wear pop-up store is now OPEN! We've got spring sports, alumnae throwbacks, summer items, and MUCH MORE! Click here and place your order by Sunday, April 25.
ACADEMY OF THE SACRED HEART