Learning Community eNews | September 18, 2020
Connecting with Sacred Heart Heritage
By Korin Visocchi, Ph.D., Chief Learning Officer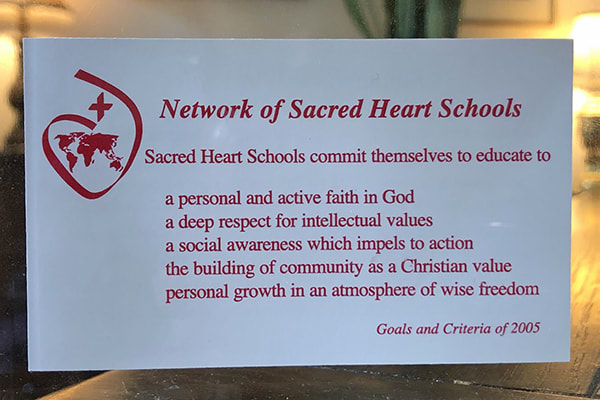 The three most overused words that I have used and heard since March 2020 are nimble, pivot and unprecedented. Perhaps you have, too? As a History teacher, I am naturally inclined to look for connections between present day and years past.
A school with a 170-year history in Michigan has certainly experienced hurdles, joys, and even pandemics, all the while, trusting in the Sacred Heart of Jesus to guide the way. Founded in 1851, Academy of the Sacred Heart is Michigan's oldest independent school.
Reflecting on the history and legacy of Sacred Heart education and the Society of the Sacred Heart conjures up images of strong, creative, and courageous educators. Dare I say, during unprecedented times, the Religious of the Sacred Heart were steadfast in their core values and also nimble as they endlessly adapted (pivoted) to a changing world.
Since I first was welcomed into the community of Educators at Sacred Heart in 2010, I have always found inspiration, comfort and direction from the Goals and Criteria and the wisdom of our foundresses, Saints Madeleine Sophie Barat and Rose Philippine Duchesne.
As one of 24 institutions comprising the Network of Sacred Heart Schools, U.S.-Canada Province, and among the nearly 150 Sacred Heart schools in 41 countries around the globe, Academy of the Sacred Heart upholds and practices the values and principles articulated in our educational philosophy, the Goals and Criteria of Sacred Heart Education.
This year we take extra care to focus on Goal Four: The Building of Community as a Christian Value. The first criterion for this goal states: The school implements an ongoing plan for educating both adults and students in the heritage and mission of Sacred Heart education.
I look forward to writing and sharing more about what makes a Sacred Heart education unique throughout the year. Read on for more from each Learning Community Leader.
Tugging at the Heartstrings
By Kristen Miller, Early Childhood Program Director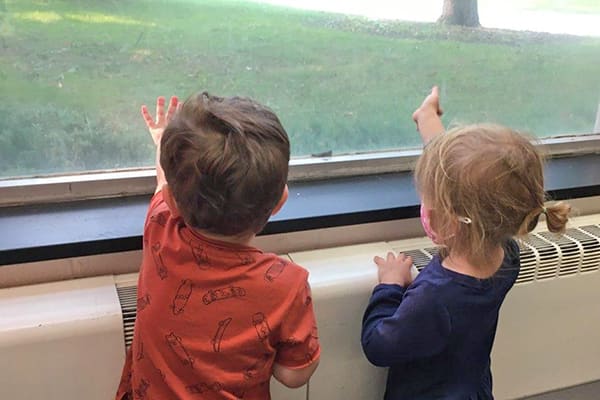 To all you wonderful Moms and Dads, you guys are doing the very best you can with drop off in the mornings. I am sure your morning starts off somewhat slow, and before you know it, the hustle and bustle of packing everything up and heading out the door becomes a mad dash. You arrive at school, enter the door and your child puts on the brakes. You may not have even crossed the door threshold and they are screaming.
Separation anxiety is real. It is extremely stressful for you and your child. It is normal behavior that many children go through at different developmental stages. It might skip an older infant but be a challenge for toddlers. Please know that we are here to help you. As early childhood educators, we are well-versed in these types of situations and know that once a child is busy with an activity, the child is fine. They need to feel safe and secure. We will provide that for them and for you.
A few hints that might help - first, be quick with your good-bye. Lingering is hard on your child and you. Second, be as consistent as you can. I cannot stress enough how important a routine is. Children thrive with routine. Third, explain to them who will be picking up so that they know who to expect. This will help with building that trust. Finally, the biggest piece of advice is, once you say goodbye, you must leave. Coming back just prolongs the process and becomes very confusing to the child. If you find yourself struggling with this, please speak with your child's teacher to develop a plan that will work best for you and your child. Together, we can work through this.
Early Childhood Program parents, please join me for Coffee with Kristen next Friday, September 25, at 9:30 a.m. via Zoom. We cannot be together in person but that should not stop us from having a Zoom together to chat and meet one another in the comfort of your own home. Hope to see you there!
Hip, Hip, Hooray! It's Independence Day!
By Renee McNally, Primary School Director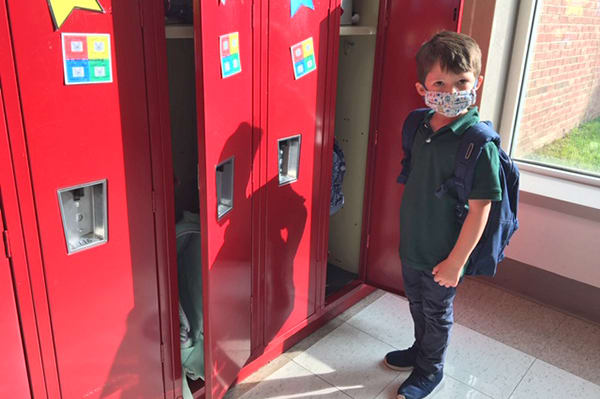 As you become more acquainted with the Primary School program, you will notice the many opportunities your child is given to develop independence. In lieu of our typical Curriculum Night, the teachers have prepared video recordings for you about the school year and the many ways we will help your child foster personal growth. Look for the links to these recordings in your email on Tuesday, September 22.
The children of the Primary School have spent the first few weeks of the school year getting to know their teachers, learning how to maneuver through learning centers and getting acquainted with friends. The Primary School is a safe place where children are given daily opportunities to build their independence. In fact, all the basic beliefs upon which the Primary School was first developed, still hold true. One of these timeless principles is to "never do for children what they can do for themselves".
One way the Primary students learn to foster independence is to enter school on their own. Allowing the students to learn how to get to their lockers and to put their belongings away independently empowers them for even greater successes later. This particular year due to protocols related to the pandemic, the children have already impressed us with their ability to navigate the hallway and get ready for their school day. Even our most hesitant students have learned to enter school independently with some encouragement from their parents before exiting the car and from the faculty members stationed along the way. It is music to our ears to hear a child say, "I can do this!"
Anchored in Faith & Community
By Emily Avendt, Lower School Director & Director of Learning Support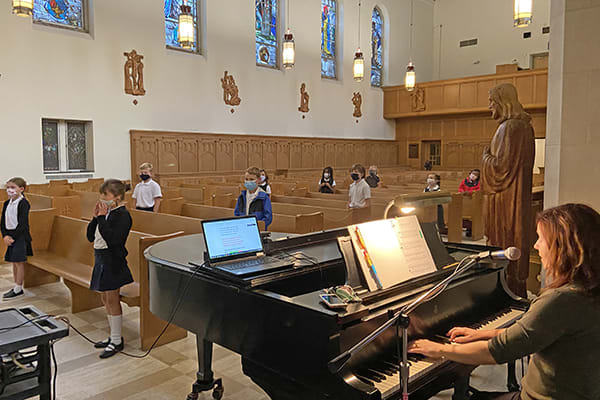 This summer, while planning and researching for a year of both in-person and flex learning, I came across the symbol of an anchor. It was presented as a method of prioritizing consistency between in-person and virtual schedules for students by creating key anchor points that always remain in the daily schedule. It may seem like a simple idea, yet I found the concept profound and critical during these unpredictable times. What are our anchor points of the school day? What are the anchors of our school community?
We are fortunate at ASH to have the Goals & Criteria as our anchor and guidebook for what makes a Sacred Heart education transformational, regardless of mode of delivery. For the Lower School, the first anchor of our day is morning prayer (pictured above). Although the Lower School cannot all be physically together for our morning prayer, we have reimagined it to maintain this daily anchor point of faith and community. Each morning one class leads morning prayer and song with Mrs. Feeny, our music teacher, and I in the chapel while the rest of the Lower School community participates via Zoom from their classrooms and homes.
The anchor is a symbol of safety and security. In ancient times it was a Christian symbol of the hope that we have in Christ, and it is one of the oldest symbols of the cross. As we start the 2020-2021 school year, we are anchored in faith and community with hope for the journey ahead.
Paving the Path During a Pandemic
By Kim Davidson, Director of Kensington Hall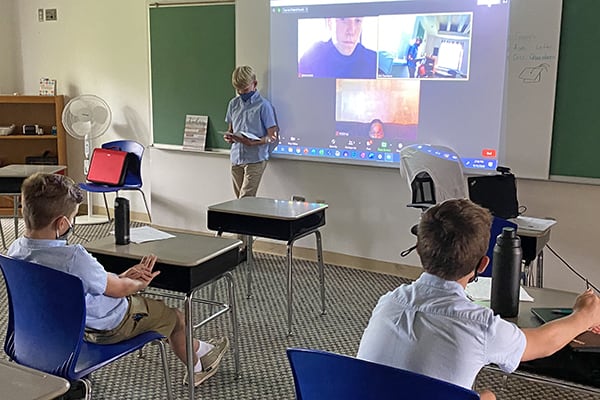 No one could ever have imagined how much the world of education would change since last March. We did not know when we left the school building on March 12 that it would be the last time students entered the classroom for the year. Academy of the Sacred Heart was able to pivot quickly and transform the way we educated our students while maintaining the community feel of a Sacred Heart education. I am so proud of the faculty and students for how well they all adapted to the new reality. I am a firm believer in the idea that we learn the most from experiences that are difficult and challenging, and that growth happens through trying something, failing, and trying again.
Nothing about what we have done since March has been easy; however, we have learned so much from this experience. Has it been perfect? No. Have we made some mistakes? Of course. Have we continued to reevaluate and learn from our mistakes? Yes. That is what Sacred Heart educators do. I often think about what St. Madeleine Sophie Barat and Rose Philippine Duchesne would have done if they were presented with these challenges. They both had a persevering spirit and wanted what was best for each individual child. Their leadership helps us to this day. It was with excitement and anticipation this summer that the Learning Community Leaders began planning for face-to-face learning as well as a Flexible Learning option. We recognized that we needed to find a way to best educate all of our students.

All of the planning paid off when we began to welcome both former and new families for our August Conferences. It was great to see the Kensington Hall families and welcome them to a new school year. Words cannot express the feeling of welcoming students back into the classrooms, and that includes our Flex Learners! It felt like our community was back together again. The boys felt this as well, and are so happy to be together learning again. Kensington Hall is once again alive with energy, enthusiasm for learning, and being together as a community of brothers.
Our focus for this year is Goal IV: The building of community as a Christian value. We have spent the past couple of weeks during our Orientation Cycle discussing what it means to be part of a school community, what each person can contribute to the community, and how we can work together to help one another be safe and healthy. Please help our efforts and have conversations with your sons about the importance of social distancing and mask wearing so that we can continue to have our community on campus.
The Changing Seasons
By Joyce Lee, Middle School for Girls Director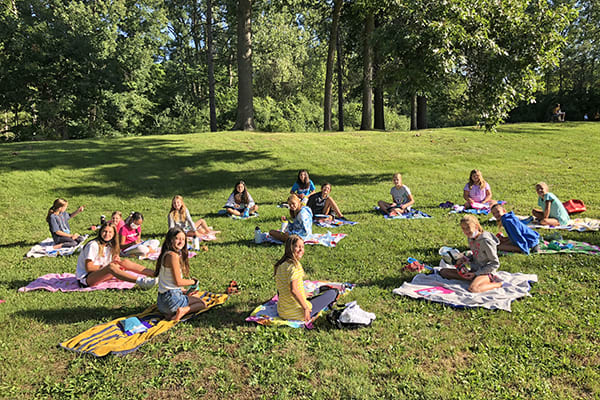 In a few days autumn will officially take over summer, bringing with it the beautiful transformation of vibrant colors, cooler weather, and the smell of smoky leaves. The MSG hallway and classrooms have also begun their own transformation of what school looks like during this time: classmates both in person and on screen, extra masks hanging in the lockers, and colorful blankets being spread out on the grass as students spend more time outside. Some things may look and feel different for students this year, but each day the students continually live out Goal IV and build community as we have the opportunity to be together in school.
With 22 new girls this year, the core mission and values of what make Sacred Heart special will be especially important as we include new students and families into the fold. Even though the safety requirements are telling us to stay six feet apart, Sacred Heart is committed to doing what we do best in bringing everyone together. This message was made evident through our beginning of the year retreat, "Together Through the Storm," where students reflected upon their own fears, discussed ways to talk, pray and rely on God, and to have faith in the midst of being fearful. It was a beautiful retreat made possible by Karen Lehmkuhl and the MSG Faculty. The girls enjoyed their time together and it was a great way to start building connections with their classmates and teachers. We look forward to strengthening these connections in the spirit of Goal IV. View more retreat photos here.
"BRICKLINE!"
By Linda Kozler, Director of Girls Education & Upper School Director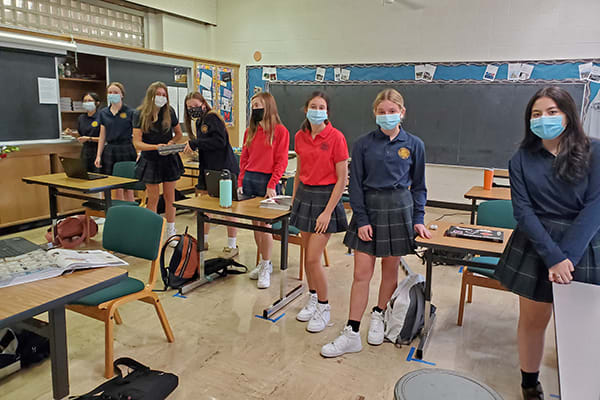 This year the Upper School's theme for Service is BRICKLINE! As an introduction to this theme, Mrs. Kearney shared with the girls her story of working with Habitat for Humanity. Every day in the middle of digging, mixing cement, and laying foundations, there would come the cry, "Brickline!" It was a welcome call for everyone to stop whatever they were doing to form a line in front of a huge pile of bricks and to move the bricks down the line to the housing site that needed the bricks. Bricklines were a time for singing songs, laughing at all the unique swinging techniques, and the community feel of everyone having one job to do together. During this unique year of needing to stay within our school building for Service, the idea of pulling together and swinging our unique skills down the line until they reach our local community is a new kind of "Brickline!"
Mr. Kearney also added to our Service Program initiation by explaining the Theology of the Hammer. We want to be sure that we keep true to this theology of educating and advocating for ourselves and others on community needs, then doing the fundraising and resource gathering needed to fill those needs, and finally to engage in the physical action of service itself.
After a couple weeks of researching possibilities, each Thursday morning the Upper School will engage in Service. There are currently six service opportunities that we will devote our time and talents to:
The Sewing Group will sew for needs like pillowcases or masks for the homeless or fidget squares for the elderly

Weaving Workers will knit/crochet hats for newborns or blankets and mats for shelters

Publications will have girls tending to the publications needs of our school as well as bookmaking

Technology Aids will do computer work for organizations like The Smithsonian and National Parks and Rec

Literacy Aids will record books for elderly, blind and school children in need

The Advocacy Group will write letters, recycle, put up signs, and develop websites for

various voices.
This new type of Service will fill needs in our community as well as give our students a chance to learn some new skills! It also dovetails nicely with the summer service and social action experiences undertaken by several members of our senior class. Click here to read reflections on these virtual experiences that connected our students with peers from across the country and around the globe.
We are so excited to get the Brickline going from our ASH home to our local community!
ACADEMY OF THE SACRED HEART