All-School eNews | October 30, 2020
FEATURED STORY:
Sacred Heart Education: Rich Tradition
By Korin Visocchi, Ph.D, Chief Learning Officer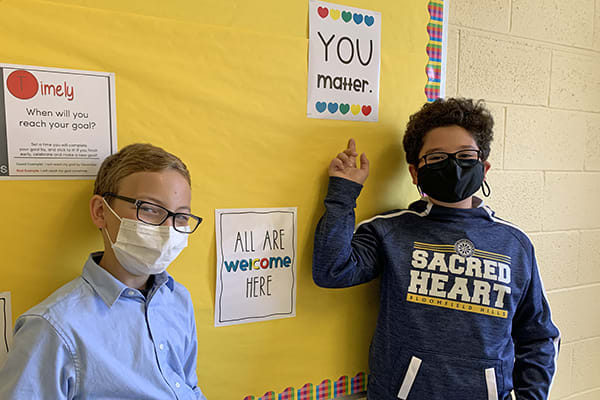 What exactly is a Sacred Heart education?
Meg Canty, RSCJ, former Head of Academy of the Sacred Heart, has become a mentor and friend to me in the last few years. When I asked her this week what makes a Sacred Heart education unique, Sr. Canty shared without hesitation, "goodness".
Of course we want our children to practice kindness, but what does it mean to practice and model goodness?
The Society of the Sacred Heart has this beautiful way to message their calling: love is our mission. The tradition of Sacred Heart education brought to us by Saints Madeleine Sophie and Rose Philippine, and so many others since then, is alive and well. Love is our mission.
The deep and rich tradition of education at Academy of the Sacred Heart, founded in 1851, is an expression of the Society of the Sacred Heart's mission. It began with the first Plan of Studies (Règlement du pensionnat et Plan d'Études) in 1805, five years after the Society of the Sacred Heart began in France. The Society of the Sacred Heart was and is still committed to a life-long love of learning. As the times changed, so did the education plan, so it was revised in 1833 and went through major revisions nearly every 15 years.
A hallmark of Sacred Heart education worldwide, is the capacity to discern, listen, and grow. While our regional and international schools have unique characteristics, the "ties that bind" consist of the Sacred Heart educational approach informed by the Plan of Studies, and more contemporary version, the Goals and Criteria. In the United States, the Goals and Criteria for Sacred Heart schools first appeared in 1975, and were revised in 1990, 2005, and 2020.
I am ever grateful for the opportunity to revise, revisit, and re-energize our decision-making, for the sake of each child, informed by the Goals and Criteria. Today in the 24 Network of Sacred Heart Schools in the U.S. and Canada, the Sacred Heart educational tradition continues, shaped by the five Goals of Sacred Heart education that still give life to the vision of Saint Madeleine Sophie Barat:
A personal and active faith in God

A deep respect for intellectual values

A social awareness that impels to action

The building of community as a Christian value

Personal growth in an atmosphere of wise freedom
A Sacred Heart education, infused with the Goals and Criteria, is both strong and nimble enough to embrace global realities while learning and including everyone along on their journey. We carry the mission in our hearts, and we live the Goals and Criteria here at Academy of the Sacred Heart.
MAP Growth Scores K-8 Posted to PCR: Here We Grow!
By Emily Avendt, Lower School Director & Director of Learning Support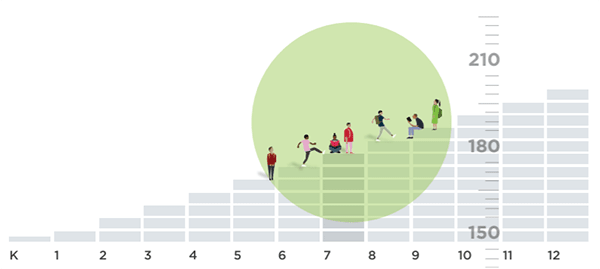 "We must not be blind to the fact that in these times of activity in which we live, demands are made upon us and obstacles rise so that certain modifications and a certain perfectioning become indispensable ..."
St. Madeleine Sophie wrote the above quote 200 years ago, yet like so many of her quotes, it remains relevant and inspirational to us as Sacred Heart Educators. Over the course of the last seven months the modes of delivery of education have certainly been modified, and it begs the question of if and how this will impact our children's academic development. At ASH, we made a decision to change the timeline of our MAP Growth testing this year to explore the impact of remote learning right away and get to work on strategically supporting the growth of each learner.

Each year, students in Grades K-8 take the NWEA MAP Growth assessment in the fall, winter and spring. Students in Grades K-8 take the reading and math assessments and students in Grades 6-8 take the language assessment as well. The MAP Growth Assessment is a unique tool; here are a few key details:
Administered on iPads for Grades K-1 (with headphones and audio) and on computers for Grades 2-8

Computer-adaptive: when a student answers a question correctly, they get a more challenging question. If they answer incorrectly, they receive an easier question. This format minimizes frustration and hones in on what each individual child is ready to learn next.

Focused on growth: in addition to an achievement percentile, students also receive a growth percentile indicating how their rate of growth compares to peers in the national sample that scored similarly on the student's last MAP Growth assessment taken.
MAP Growth Family Reports have been posted to PCR. Please find an example of a Family Report here and more information about the MAP Growth assessment here. Please note that if your child is in kindergarten or is new to ASH, you will not see a growth percentile on the report yet. Once your child has completed two testing windows at ASH (after the winter testing window in 2021), a growth percentile will be available. We are excited for another year of transformational growth in each student!

To access your child's report:
1. Log into your parent portal
2. Under Household and Student Information, choose "PCR Access"
3. Click on "Students" at the top of the page
4. MAP Growth Reports are linked under "Assessments"
Upper School Student Wins Congressional Art Award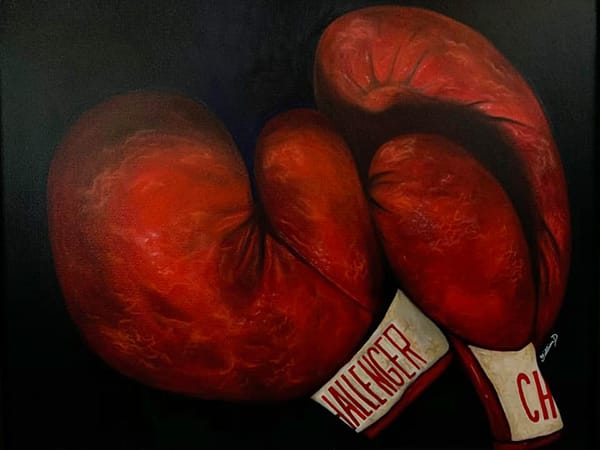 Senior art student Gillian Donoghue was recently awarded a Congressional Art Award representing District 14 for her oil painting, Fistic (pictured above). The office of congresswoman Brenda Lawrence has announced that Gillian's painting will be displayed at the United States Capitol Building for a period of one year. The Upper School Visual Arts Department is very proud of Gillian for this major accomplishment. Gillian is currently enrolled in Portfolio Preparation and serves as Mrs. Anderson's art studio assistant.
Celebrating UN Day
By Anna Kalabat '24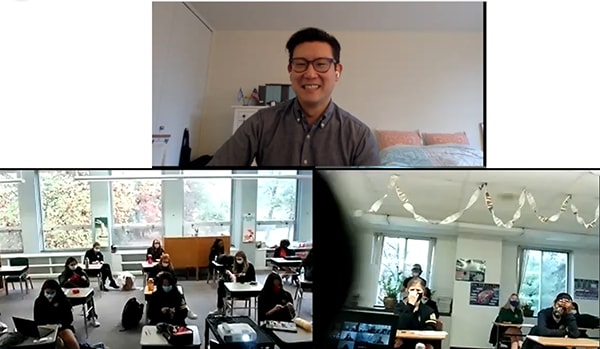 October 24 was the celebration of the United Nation's 75th anniversary. To celebrate, the Upper School Service and Social Justice Committee invited Mr. David Lee, who works on the United Nations Security Council, for a Zoom Interview. Mr. Lee is currently in charge of the United States UN efforts on Iran, North Korea, Syria chemical weapons, disarmament, and cyber threat issues. He previously served as the lead US diplomat in charge of North Korean policy. Mr. Lee has also worked in the White House for several years as a political military consultant. We were able to learn what a typical day is like for a UN worker and how important the UN is for global peace.
Mr. Lee also informed the school about many of the changes that COVID-19 has put on the UN. He stated that in the beginning, the UN's goal was to try to get travelers back to their homes. The UN is now working remotely during the pandemic. In order for them to work in person, he said that just like us, everyone must take social distancing precautions as well as wear a mask.
We are grateful to Mr. Lee for fitting us into his busy schedule and for the UN and the work it does for the whole world.
New Faculty Announcement & Quarter 1 Snapshot
By Joyce Lee, Middle School for Girls Director
The wait is over! We would like to share some good news and introduce Anna Kozler as a new member of the MSG Team as she takes on the role of being the 5/6 Communications and 7/8 Humanities teacher. Getting to know Anna as an educator, it is clear that she values and has personal experience in the single gender, Catholic education environment, and as an English major, loves the critical study and analysis of literature. She also possesses an in-depth awareness of the global struggles which drive her interest in social and environmental justice that so closely align with the Sacred Heart mission. Students who viewed her lesson were struck by her friendliness and upbeat personality, which Anna is so excited to share in person once she begins her time with us on Friday, November 6.

As a community we have also made it through the first quarter of school! We have a lot to be thankful for as we continue to be able to learn together in person or through Zoom, build new friendships, and learn new and exciting concepts in the classroom. I hope you all were able to gain some great insight and feedback on your daughter during conferences last week. You heard how she is as a learner in her classes and specific ways and strategies needed for her continued growth through our middle school program. Interim reports that are available in the Parent Portal provide a snapshot of where your daughter is at this point in time and she can continue to build upon that foundation for the reminder of the semester, which ends December 18. Another important piece of information that is also available in the Parent Portal are the results of the NWEA MAP tests that were taken in September (see article above). Grades 6-8 will have scores in Language, Reading and Math. Students in Grade 5 took an Oral Reading Fluency Test instead of the Language test and will have scores in Reading and Math as well.
KH Immersion Week
By Kim Davidson, Kensington Hall Director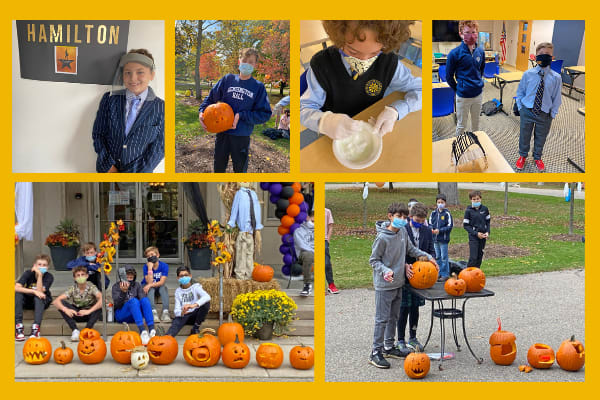 "I believe Immersion Week is the light at the end of the tunnel that keeps me going throughout the cycle." - Grade 7 Student

Immersion Week is a unique component of the Kensington Hall middle school curriculum. Students grow to appreciate and cherish this special time in their educational experience. After we complete each five-week unit of studies, presentations and tests, we have what we call Immersion Week. Immersion Week allows time for the students to take a break from some of their traditional academics, and creates a dedicated time to build community and participate in experiential activities. During non-COVID years, we would go out into the community for service opportunities, go on camp overnights, visit museums, attend theater and dance productions, and participate in adventure activities and other cultural experiences that align with our curriculum. This cycle, since the COVID restrictions kept us from leaving the school, we worked to create activities that we could do on campus for our first Immersion Week. Here are some of the highlights:

Pumpkin Carving Contest
Pumpkin carving is an annual tradition in Kensington Hall. We were blessed with a beautiful fall afternoon to spend out on our front lawn carving pumpkins. The boys then had to come up with a story to tell the community about their pumpkin creation. The boys were judged by both the creativity of their carving and their storytelling. We were all impressed with the level of creativity displayed by the boys!

Team Building and Halloween Science
Grades 5 and 6 had a great time discussing and implementing the scientific process of making glow in the dark slime. Grades 7 and 8 worked with a partner to construct skeleton bridges out of Q-tips, pipe cleaners, and clothes pins, with the goal of creating the strongest bridge to hold candy. Advisory classes met to participate in team building activities that focused on working together and communicating with one another to be a stronger community.

Theater Experience
Since we couldn't go to the theater, we brought the theater experience to Kensington Hall! Students dressed in theater attire, lined up to receive their program and theater snacks, and sat down in the "Kensington Hall Theater" to watch a musical performance that revolved around our cycle studies of forces and revolutions. Grades 5 and 6 watched "Newsies," a musical based on the New York City newsboy strike of 1899. Grades 7 and 8 watched "Hamilton," and really enjoyed the story as well as the hip hop musical numbers. We all agreed that we can't wait for theaters to open so that we can experience a show live.
Be Aware of Phonemic Awareness
By Renee McNally, Primary School Director
Parents often ask us how they can help support their child's learning, especially during the Primary School years when developing a literacy foundation is of utmost importance. Helping your child develop phonemic awareness is a key component to setting him/her up for reading success and it only takes a few minutes per day to make a lasting difference.
Throughout the last several decades, our nation has witnessed a decline in the number of students who come to school with an ability to manipulate sounds. The ability to isolate, blend, and segment sounds is called phonemic awareness and is essential in learning to read. The difference between phonemic awareness and phonics is that phonemic awareness is an auditory process with a focus on phonemes (sounds) and phonics includes a visual process with a focus on graphemes (printed letters).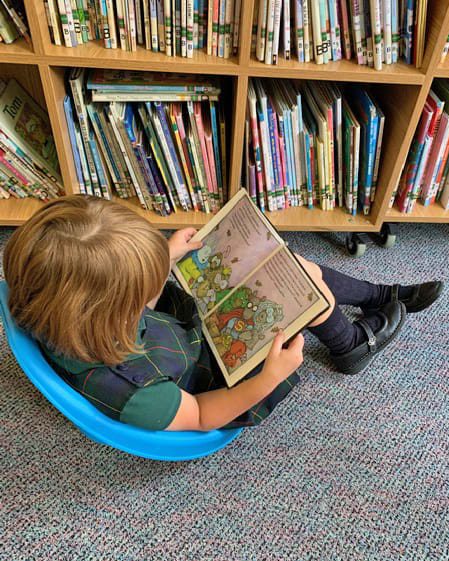 All Pre-K, Kindergarten, and First grade students are receiving phonemic awareness instruction using a program called Heggerty that the teachers implement daily during their homebase language arts classes. The lessons typically take about 10 minutes as students explore sounds and manipulate words in a fun and engaging way. Students who become strong in phonemic awareness experience more reading success throughout their elementary and middle school years and beyond.
Phonemic awareness is something parents can help their child develop as well. It can be practiced anywhere and just about any time of day, such as while driving in the car, waiting for an appointment, or during mealtime. Click here to view examples of phonemic awareness skills that can be reinforced at home through fun word games the family can play together.
Who Stole the Nursery Rhymes?
Ask any early childhood teacher and he/she will tell you that fewer and fewer children can recite nursery rhymes from memory. Nursery rhymes are a critical component in developing phonemic awareness and literacy, so do not leave them out of your child's bedtime routine!
Nursery Rhymes can…
set a foundation for phonemic awareness and learning to read

increase a child's vocabulary

promote memorization

expose children to the rhythm of poetry

increase spatial reasoning

help children explore their emotions

create comforting connections between parent and child
"Falling Back"
By Kristen Miller, Early Childhood Program Director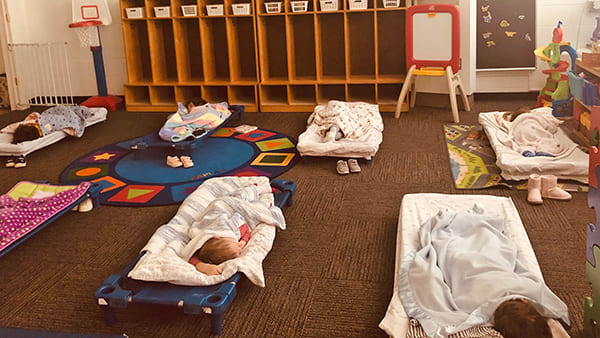 The dreaded time change is upon us this weekend. For parents of young children, this looming date can be very difficult for your little one's sleep schedule, not to mention yours. A shift in a child's sleep schedule will have an impact on the entire family. If you have worked hard to get your baby or toddler sleeping well and on a schedule that works, I am sure you are nervous about how the time change will affect their sleep.
Many experts suggest starting the process of changing your child's sleep schedule a few days before the actual time change occurs. Adjusting even 15 minutes in your nap and bedtime routine can be helpful. The use of light and darkness is very effective in (re)setting the body clock. When you see light, your brain signals to be alert and awake. When you see darkness, you start to slow down and become sleepy. The best advice I was given by my pediatrician was, when your baby wakes in the middle of the night, do not turn on lights or engage in conversation. Feed and cuddle them as needed and quietly put them back to sleep. Lo and behold, it worked; maybe not the first time, but after a few days it did. Sticking to a predictable routine and some much-needed patience will pull you through this tricky parenting moment. Feel free to reach out to your child's classroom teacher for tips and tricks to good sleeping habits, too. Sleep is imperative to grow a happy, healthy child.
One of my favorite places to find great parenting tips is The New York Times Parenting section. They have great articles to help you grow as a parent and know you are not alone out there. When you have a moment, I highly recommend you check out their articles.
ACADEMY OF THE SACRED HEART