All-School eNews | February 26, 2021
FEATURED STORY:
Love Illuminating Our Lives
By Damian Hermann, Head of School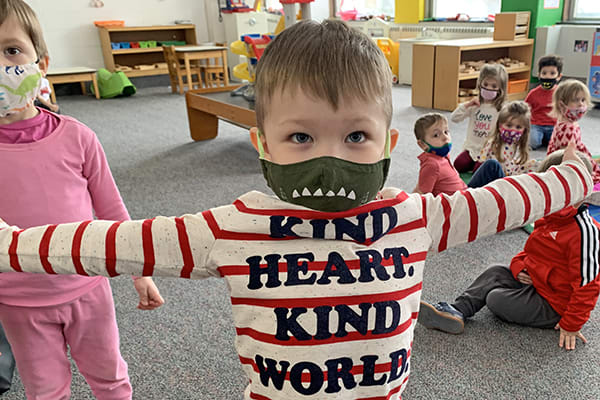 Since March 13, 2020, it has felt like we have been in a perpetual state of Lent -
a time when we have been more prayerful than we've ever been;

a time when we have given of ourselves in so many ways that we've never imagined;

a time when we have practiced self-control every day and even every minute, doing what is good for the whole;

a time when we have suffered and mourned with our friends and family;

a time when we have abstained from luxuries - like parties, eating out, visiting our families, or gathering in large groups;

and a time when we have constantly reassured ourselves that we are waiting in hope for renewal.
The good news is that we are seeing progress -
Sacred Heart educators have had the opportunity to schedule their first, and in many cases, their second vaccine;

Vaccine production is improving every day;

Michigan's positivity rate is tracking down (there have been a few ups and downs, but it is still tracking steadily down since the surge peaked in late November);

And, transmission in schools remains low, and at Sacred Heart, even lower.
All of these indicators give me confidence. I'm appreciative of all that our families have sacrificed to keep Sacred Heart safe, including quarantining after this Winter break, giving all of our educators the opportunity to receive or schedule their second vaccination. With that complete and with the data trending positively, I am rescinding our quarantine requirement following travel, effective April 1. I am counting on each member of the community to closely monitor guidance from the CDC and the Oakland County Health Division should you choose to travel.
We are also starting to meet and discuss how we can begin to safely celebrate some of our end-of-year events. While our events won't yet go back to "normal", I do anticipate that we will be able to plan ways for our communities to celebrate in-person and for our students to experience the joy and hope of the end of the school year.

Pope Francis says, We proclaim the resurrection of Christ when His light illuminates the dark moments of our existence. As we continue to pray through Lent, my particular prayer intention is that we all feel His love illuminated in our lives and allow ourselves to experience the Hope of his resurrection.
Lenten Prayer & Almsgiving
By Susan Nye-Brothers, Spiritual Life and Chapel Coordinator
The season of Lent is upon us, and so we at ASH will be creating spaces for our community to enter into this time of prayer, fasting and almsgiving more deeply. For prayer, this morning we invited all faculty, staff and students to celebrate morning Mass with Fr. Steven Hurd, SJ. At this time, we are unable to welcome parents on campus, but hope to be able to include you by way of an online format in April. On Friday, March 5, we will offer Exposition of the Blessed Sacrament with an opportunity for private Adoration to faculty, staff and students from 7:45 a.m. - 12:15 p.m. On Friday, March 19, we will pray the Rosary with any and all community members available via Zoom at 8:30 a.m. This is a different and temporary approach to gathering, but we are hopeful that this serves as a more viable option for parents and students to pray together during the colder months.
For almsgiving, we have chosen to partner with the Detroit Rescue Mission Ministry (DRMM) this year. We will be placing donation receptacles in each learning community to assist in alleviating food insecurity for the patrons of this ministry. Two dollars ($2) will provide a healthy, nutritious meal for one of our brothers or sisters in Christ. Because we are a community steeped in a Social Awareness that Impels to Action (Goal III), we will be encouraging our students to offer what they are able to provide sustenance for those in need. Matthew 25:35 -"For I was hungry and you gave me something to eat. I was thirsty and you gave me something to drink, I was a stranger and you invited me in." We may not be able to physically invite an individual into our homes, but by offering food and drink to those in need, we are certainly inviting Christ into our lives in a most powerful way. To learn more about the DRMM, please watch the video above.
Editor's Note: An additional resource for Lenten prayer will be offered by Manresa Jesuit Retreat House in Bloomfield Hills - two morning reflections themed "A Lenten Journey of Mercy" on Thursday, March 4 and Thursday, March 18 from 9:30 a.m. to noon. These online sessions will be presented by Fr. Fran Daly, SJ, Manresa's former Executive Director, and Sr. Kathie Budesky, IHM, Director of the Visitation North Spirituality Center. Total cost is $25. Register here or call 248.644.4933 Ext. 0 (phone only after March 1). Zoom instructions will be provided to paid registrants.
Anonymous Gift Honors Two RSCJ
By Kelita Bak, Chief Advancement Officer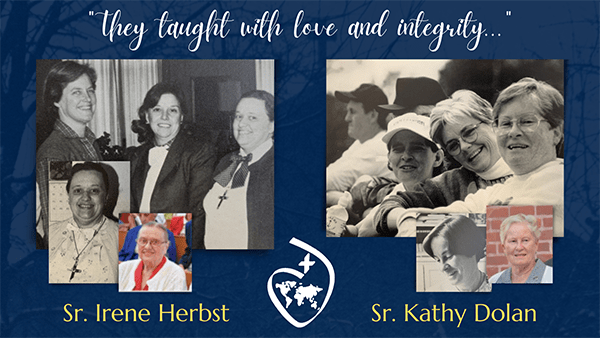 It isn't often that we are surprised with an incredibly generous gift by a truly anonymous source, but we recently had that amazing experience. Academy of the Sacred Heart received a $50,000 unrestricted gift from an anonymous donor, "In recognition of Sister Herbst and Sister Dolan who taught with love and integrity." To whomever made this incredible donation, on behalf of everyone at ASH, we are so grateful.
It was wonderful to reach out and talk with both RSCJ to share the news. Sr. Kathy Dolan was the head of the Lower School from 1973-1980, and went on to teach religion in the Middle School for Girls and Campus Ministry, serving a total of 14 years at ASH. She also served as a Trustee on our Board. Upon hearing of the gift, she said she is humbled and honored. She added, "I will pray for that person as it's the only way to thank them for their generosity and goodness to the school. I hope they know how much this means to me and to the school." Sr. Dolan said she had many happy years at ASH and she continues to be an avid reader of this publication, and she also enjoyed the Benefit earlier this month.
Sr. Irene Herbst was similarly surprised and pleased to hear the news, saying, "Wow! What a beautiful gift!" She served as the head of the Middle School for Girls from 1973-1985 under Sr. Maxwell's leadership as Head of School. She shared that when she was called to serve at Villa Duchesne she was given a 12-year pin, in recognition of her 12 years at ASH and laughed when it was suggested that she qualified for an honorary diploma! She too, said that she will include this generous benefactor in her prayers along with her continued prayers for ASH. What a delight to engage with these two amazing RSCJ, who clearly made an indelible impression, how wonderful to have a gift that ensures their legacy and that of Sacred Heart education continues into the future.
Pre-Register Today for ISACS Parent Series Webinars
As a member of the Independent Schools Association of the Central States (ISACS), Academy of the Sacred Heart is pleased to offer our families access to their Parent Series of webinars on timely topics. To participate in the following events, you must pre-register; click here for details.
Parenting in a Pandemic with Michael G. Thompson, psychologist, author and school consultant - Wednesday, March 3 at 7:30 p.m.
Managing Anxiety, Stress & Parenting Under COVID-19 with Lisa Damour, psychologist and author - Wednesday, March 10 at 7:30 p.m. Dr. Damour previously offered this presentation to ASH parents as part of the Heart of the Matter speaker series in 2020.
Please reach out to Erin Wrobleski with any questions about the ISACS Parent Series. You may also contact her to view recordings of the recently-held webinars, The Importance of Executive Function: Helping Them Show What They Know with Steven Guy & William Benninger, psychologists and Speaking to Children About Race with Y. Joy Harris-Smith, educator and author.
ACADEMY OF THE SACRED HEART