All-School eNews | September 25, 2020
FEATURED STORY:
We Are Where We Are Meant to Be
By Damian Hermann, Head of School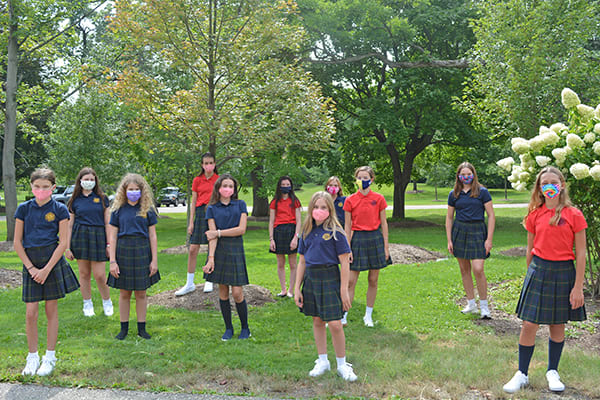 What a year this is! It is truly beyond description, but there is something particularly hopeful and powerful in the communal experience of it. We are all dealing uniquely with our current challenges, but we are also sharing an experience that bonds us. I truly believe that, even with the pandemic, the civil discord, and the political divisiveness, we are where we are meant to be. God doesn't make mistakes, and this current place in time is His plan. I have full faith that we will emerge a stronger and more united community because of it all.

One way to stay strong is to be aware of the blessings we experience every day. In particular, I would like to share some incredible blessings that Academy of the Sacred Heart has experienced in the past few months.
Enrollment is growing:

In June we retired a $7.7M bond debt, making us free of all long-term debt.

Balanced budget amidst COVID demonstrates our commitment to financial discipline.

In-person learning continues as a result of:

Planning and execution of a terrific leadership team;

Committed teachers who are going the extra mile to do what is best for students;

Higher standards of building sanitization and enhanced cleaning daily and monthly, including scheduled monthly electrostatic disinfection of the entire building (happening this weekend);

Mask wearing and social distancing efforts (we can always improve) by faculty, staff and students;

Families who remain committed to taking precautions outside of school to keep our students and families healthy;

And families who are working with us and showing patience as our nurse, Robin Clements, works to make sure that all symptoms are taken seriously and the proper protocol is followed.
I am grateful to a faculty and staff whose focus on our students remains steadfast. I'm grateful to our parents who have shown patience and support as we adapted and created new protocols this year. And I am grateful for the mission of Sacred Heart Education and the vision of St. Madeleine Sophie that carries us forward in uncertain times. Though we are not physically in community like we are all used to, we are a Sacred Heart community that is strong and will remain so as we move forward in Courage, Confidence, Faith, and Trust.
Visual Arts National Media Winner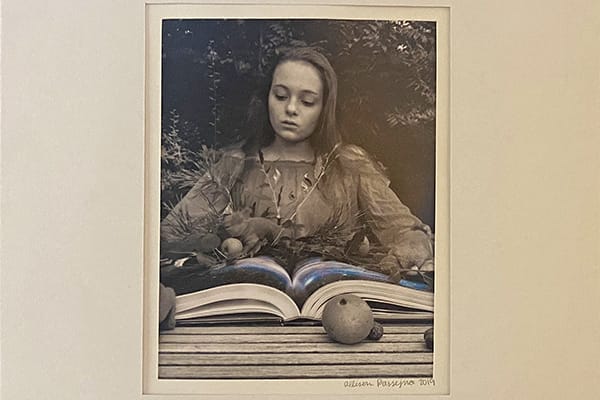 Since 1923, the Scholastic Art & Writing Awards have identified teenagers with exceptional artistic and literary talent. Annually Upper School visual arts students have the opportunity to submit their work for regional review through the College for Creative Studies in Detroit. In February 2020, the following Upper School students were awarded Michigan Gold, Silver and Honorable Mention prizes for their artwork: Katerina Jonna '21, Avery McNally '21, Gillian Donoghue '21 and Allison Passejna '21. Allison's Gold Key award-winning photography advanced to the National Level for jury review. The Academy of the Sacred Heart Visual Arts department is very proud to announce that Allison Passejna is a National Silver Medalist 2020. Congratulations! This is indeed a prestigious award. We look forward to this year's Scholastic Art Awards 2021!
Peace Be With You
By Catherine Lehmkuhl '21
September 21 was International Peace Day! Members of the Service and Social Justice Committee in the Upper School celebrated the holiday by drawing messages of peace in chalk on their driveways and sidewalks!! Then students in both the MSG and US Religion Classes had a chance to decorate ASH driveways, too. Here are some of their beautiful designs!

As we continue to pray for peace in our country and in our world, here is a prayer that will make you think about how we can better our world through peace.
Father of Jesus,
You who sent your angels to herald your Son's coming with cries of peace,
Hear our cry now
That your peace may touch all corners of our world.
Peace to the smallest child, still in the womb.
Peace to the most vulnerable of our elderly, who long to see your face.
Peace to the migrant fleeing war, persecution, hunger and poverty.
Peace to the citizens of those nations to which migrants flee.
Peace to the those touched by violence and disaster,
By storms and quakes and droughts and floods,
Who struggle to find safety and mercy in the very world you made for us.
You whose Son called all peacemakers blessed,
Help us forge peace in your name.
Peace among nations.
Peace among neighbors.
Peace among families.
When we look back on this time
May we recall it as the time we all heard the angels' cry
And worked together to reveal that peace to all.
A peace worthy of God, born into the world.
Amen
Peace. It does not mean to be in a place where there is no noise, trouble or hard work. It means to be in the midst of those things and still be calm in your heart. - Unknown
The Service and Social Justice Committee wishes you a PEACEFUL school year!
You're Invited to the ASH Booster Club Golf Outing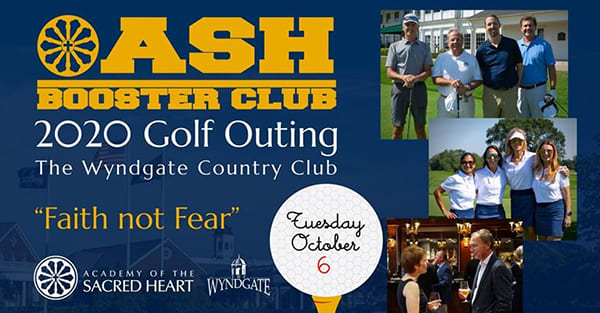 Join the ASH Booster Club for the fall golf outing on Tuesday, October 6 at The Wyndgate Country Club. Just a few spaces are left - register today! Sponsorship opportunities are also available, so don't miss out on this opportunity to connect with our community! It promises to be a great day supporting Sacred Heart and the Booster Club.
Trunk or Treat: Car Crawl Edition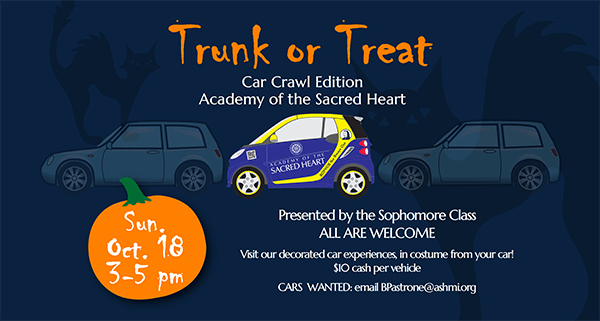 The Seventh Annual Academy of the Sacred Heart Trunk or Treat event is happening - as a "Car Crawl" on Sunday, October 18 from 3-5 p.m.!

All are welcome to travel through our not-too spooky campus and visit our decorated car experiences from the comfort of your vehicles. (Enter at Kensington Road / exit at Squirrel Road.) $10 per vehicle. Proceeds benefit local charities and Upper School programming. Thank you to the sophomore class for working so hard to make this event happen!
CARS WANTED! Would you like to decorate your car and get into costume as part of our parked display? E-mail BPastrone@ashmi.org.

Please Support Annual Giving Because "Learning Can't Wait!"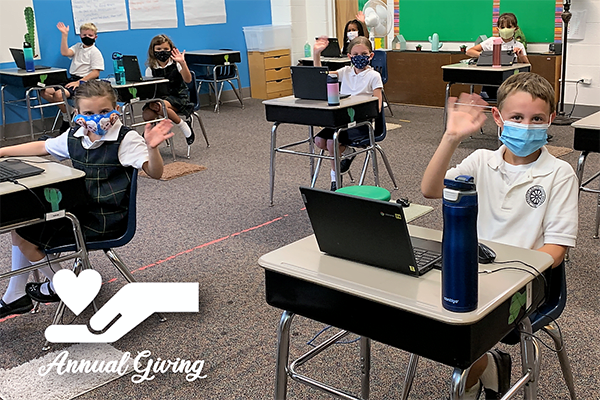 Your support at this time is especially critical as we are investing significant resources to protect against the COVID-19 virus and provide a safe, secure, and exceptional educational environment.
Annual Giving takes Sacred Heart beyond what tuition dollars cover. Excellence, growth and community are possible when we all come together in support of Academy of the Sacred Heart. Please make your gift today! Give securely online at ashmi.org/onlinegift or send your gift in to school. Thank you for all the ways you support Sacred Heart!
Do you like working with a committee and planning events for a good cause? If so, the Benefit committee wants YOU! We expect that this year's Benefit will be unlike any other year, and Sacred Heart needs our support more than ever, so let's take this chance to be creative and work on something great. Our first meeting will be virtual (Zoom) on Wednesday, September 30 at 10 a.m. We would love to see you there. Contact Carolynn Krause in the Advancement office for more information: cakrause@ashmi.org. Thank you for your consideration and for all you do for ASH!
Illness Protocol, Reminders & Upcoming Events
By Robin Clements, RN, BSN, School Nurse
Thank you for your patience and cooperation during the first four weeks of this unusual year. I have received many emails and phone calls from parents regarding the protocol on keeping children home from school when ill and the return to school protocol.
As many of you know, COVID-19 symptoms tend to be milder in children than adults. Some children may not have obvious symptoms of illness at all. Some may only have a runny nose/mild congestion or a stomachache. Please keep your child home from school if he/she reports any symptoms of COVID-19. I understand this can be frustrating. Some children suffer from allergies and some have sensitive stomachs. However, we must take a community approach and keep our child home and seek the guidance of a physician to prevent the spread of illness.
If your child does not pass the screening process or is reporting symptoms of COVID-19, contact your pediatrician. There is a required form that the doctor must complete for your child to return to school (see below). The doctor will determine when your child may return to school. The school has a 72-hour rule for fever, vomiting, and diarrhea this year in addition to the required form. The school must receive the form before or at the time the student returns. If the child is not seen by a physician, he/she will be required to remain out for 10 days from the start of symptoms.
A student who is tested for COVID-19 is not cleared to return to school until proof of the negative PCR test result is received. Per Oakland County Health Department recommendations, the school requires a negative PCR test to clear a student to return to school. Rapid test results will no longer be accepted.
Click here for the "Exclusion Due to Illness" policy
Click here for the "Clearance to Return to School" form
Click here for guidance on when to quarantine if exposed to a case of COVID-19. Please note that students who are in quarantine MUST remain out at a minimum of 14 days, even if testing negative for COVID-19. A negative test does not shorten the quarantine. The incubation period is 2-14 days from exposure.
Hearing & Vision Screening
The Oakland County Health Department will be conducting hearing screening on October 5 and 6. Students in Pre-K, Kindergarten, Grade 2 and Grade 4 will be screened during those two days.
The Oakland County Health Department will be conducting vision screening on October 14, 15, and 16. Students in Pre-K and Grades 1, 3, 5, 7 and 9 will be screened during those three days. Some signs that a child may be having difficulties with vision are squinting, headaches, changes in behavior and school avoidance.
If you believe your child is having difficulty hearing or having difficulties with vision and he/she is not in the testing grades, please contact your child's teacher or myself. The health department requires a signed consent form from parents to test students who are not in the above grades and a referral from your child's teacher. You may contact me at rclements@ashmi.org.
Reminders & Items of Note
September is Suicide Prevention/Awareness Month. These times have been difficult for many people of all ages. Common Ground's 24-hour helpline is 800-231-1127. New Oakland Family Centers' Crisis Line is 877-800-1650.
Health appraisal forms, immunization waivers, and allergy/asthma action plans are past due. The school must receive these required forms by October 1. Students will be excluded from school until the form is received.
On behalf of the COVID task force, I'd like to ask all parents to avoid providing food items to be shared at school. We understand this can be disappointing as holidays, birthdays and other celebrations approach. However, due to the health and safety protocols in place, the only food we may distribute to students must be purchased and individually pre-packaged. Thank you for your understanding.
Back to School Basics for Teens
By Yasmine Lennon, School Counselor
Hello ASH Families! I have the pleasure of serving as the school counselor for Grades 5-12. My focus will be on implementing our social emotional learning curriculum and as well looking out for your child's well-being this year. I bring with me over a decade of experience and a passion for helping others. As we center on Goal Four - The Building of Community as a Christian Value - of the Goals and Criteria, I look forward to getting to know each of your families across various platforms.

Let me share a great article written by Dr. Lisa Damour, who serves as the executive director of the Laurel School's Center for Research on Girls and is recognized by the American Psychological Association as a leader in mental health and child development. She has touched on a single and highly significant subject that does not typically come up in the conversation for teenagers returning to school this fall. And that is "the woven-in forces that promote healthy adolescent development." Dr. Damour refers to it as "ordinary magic;" I like to think of it as figuring out life.
I know from personal experience that summer break has a time warp effect. By fall, the relaxed schedule allows the teenage mind to forget what day of the week it is. By the time school starts, that same mind is ready for new faces and enough learning to prevent brain atrophy (at least mine always was). Add in the pandemic effect, in which no one knew what day or month we were in. Emerging from all of that, this fall promises to be unlike any other. Don't expect social distant schooling or remote learning to provide the same benefit as the years prior. I'm not talking about meaningful learning or sharpening SAT scores, I mean the healthy progress of the developing teenage psyche. Without intervention, our children could be on a trajectory to be underserved in the COVID era of teaching.
Each of the topics identified by Dr. Damour rely on one key observation: "The healthy adolescent trajectory toward independence involves loosening emotional ties to parents and strengthening ties to peers."
Dr. Damour also makes clear that part of the intervention is about students connecting with trusted adults. As the ASH counselor, I am here to do some of this work with and for you and your child. I am helped in this work by the many ASH teachers who know your child well and can help them through this time. Their ASH peers serve as additional supports and embody a network of resilient individuals ready to make their mark on the world. We will be focusing our energies this year on doing just that.
I am tempted to joke about being insulted and offended at the mere suggestion that I am not able to provide everything my child will need. But truthfully, at times it is a bit difficult to accept... a little. Part of me will always maintain that I am the sun in the solar system of my child's life. But Dr. Damour is correct and we must do right by our children. So take her recommendations to heart AND give yourself permission to trust that we are all in this together.
HEART Enrichment Classes Begin Next Week!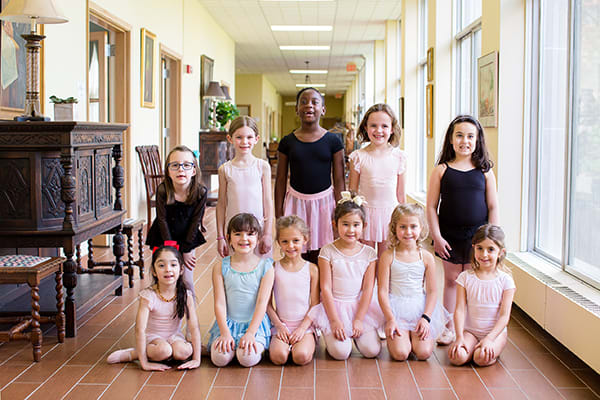 Above: Ready to dance in 2019
HEART Enrichment couldn't be more excited for classes to begin next week! We have carefully selected classes in several different areas to provide safe and fun after school options including Drama Kids Theatre, NASA Science, Amazing Athletes and a variety of dance classes for all ages. Details, class descriptions and registration are available online at ashmi.org/enrichment or by emailing Ms. Lauren at lvidak@ashmi.org.

Along with the start of enrichment classes, we are thrilled to announce two new dance teachers will be joining us this fall! Ms. Erica and Ms. Janet are so excited to begin working with our dance students and can't wait to meet everyone in class! Ms. Erica has worked in dance studio settings for 15 years as a tap, jazz and hip hop specialist. Her passion lies in working with younger dancers to create lesson plans and choreography that foster a love of dance in every student. Ms. Janet has been a professional dancer and instructor for over 35 years, focused in ballet, modern, tap and jazz. She has worked with the Cecchetti Council of America, Blue Lake, the Michigan Dance Council, Kinderdance and several other prominent companies across the country. Ms. Janet is excited to bring her extensive experience working with younger dancers to Academy of the Sacred Heart!
ACADEMY OF THE SACRED HEART