Learning Community eNews | October 8, 2021
FEATURED STORY:
Experiential Learning
By Joyce Lee, Middle School for Girls Director, and Kim Davidson, Kensington Hall Director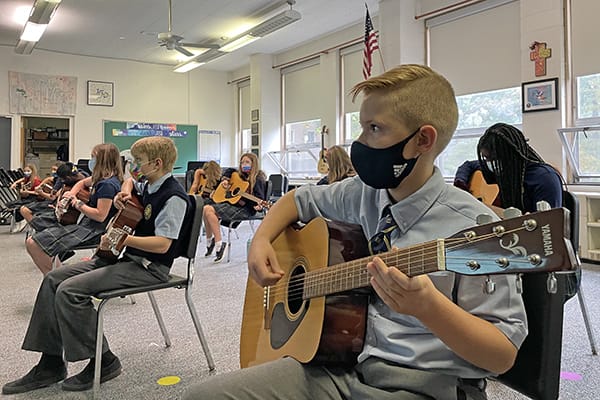 Experiential learning, which meets once a week on Thursday mornings, started last week for all MSG and KH students. Led by the interests and talents of the faculty, students are offered various opportunities to learn something new. At the heart of the experiential learning program is Goal V, where faculty are able to share their knowledge and gifts with others, and Goal II, where students are inspired to learn something new. The offerings this first semester include:
Bucket Band and Beginning Guitar with Ms. Unrau - Students will use buckets and drumsticks to learn basic rhythm patterns and techniques to play along with their favorite songs or make up their own! In beginning guitar, students will learn basic notes, strum patterns, and finger picking.
Butterflies, Dragonflies, and Ladybugs! with Mrs. Shultz Anderson - Students will create these magical garden visitors with paper, wire, beads, and more!
Chess with Mr. Krogh - Students will learn about the game of chess, move patterns, strategies and will have the opportunity to play against classmates and computers.
Card Games with Mr. Kelly - From Solitaire to Blackjack, Euchre to Crazy Eights, students will learn how to play these great card games and will have the opportunity to play with classmates.
Destination Imagination with Mrs. Trentacosta - Students will work in teams to solve various STEAM-inspired challenges using creative, critical, independent, and collaborative thinking.
Great Books with Mr. Danielson-Francois - A deep immersion in the Roman and Greek intellectual tradition where students will read, interpret, and perform selections from Theogony by Hesiod.
Juggling with Ms. Shepler - Students will learn new juggling skills, using scarves, bean bags, and juggling balls to enhance hand-eye coordination and concentration.
Passport to the Amazon Rainforest with Mr. Rossi - Travel to the Peruvian Amazon rainforest through slideshows, artifacts, and stories!
Quiet Activity Time with Mrs. Bondra - Students have the opportunity to work on projects, bring in a craft to finish, knit, draw, doodle, work on typing skills, study time, homework, or catch up on hobbies during this quiet bonus time during the day.
RULER with Mrs. Mifsud - Students will build their community strength, personal growth, and social awareness as they learn more about themselves and each other. RULER is an acronym for the five skills of emotional intelligence (Recognizing, Understanding, Labeling, Expressing, and Regulating) and is an approach to Social-Emotional Learning developed from the Yale Center for Emotional Intelligence.
Rustic & Holiday Woodcrafts with Mr. Swanson - Students choose to design and build a houseware item (log candle holders, holiday signs, serving boards, ornaments, etc.) and turn it into a rustic gift for the holiday season!
Serving Others with Mrs. Lehmkuhl - Opportunities will be given to perform acts of service in the classroom, including making plarn (plastic bag yarn) and learning to crochet the plarn into sleeping mats for the homeless.
It will be exciting to see what each experiential creates and does with their time together! Ask your middle schooler which experientials they have been placed in! View additional photos here.
Sign Up for Upper & Middle School Conferences
Registration for Parent-Teacher Conferences in the Middle School for Girls, Kensington Hall and Upper School is now open. To register, you will need to log in to the Parent Portal; please watch the short (two-minute) video above for instructions. You may sign up for conference times until Tuesday, October 19 at noon.
Conferences will be held as follows:
Upper School - Thursday, October 21 from 1-4 p.m. and 4:30-7:30 p.m. All US conferences will be offered via Zoom.
Middle School for Girls & Kensington Hall - offered in-person:

Friday, October 22 from 8 a.m. - noon and 1-3 p.m.
Monday, October 25 from 8 a.m. - noon
Goal Two: A Deep Respect for Intellectual Values
By Linda Kozler, Upper School Director
In my last article, I talked about how we start the year rooted in Goal One, faith. Today I wanted to share the ways we focus on Goal Two, intellectual values, daily. There is an enormous pool of evidence that tells us about the advantages of single-gender education for girls. Girls from all-girls schools, as compared to their co-ed school peers, have significantly higher rates of academic achievement, and better college and career outcomes. We also know that smaller schools, by virtue of the natural increase in one-on-one attention over larger schools, and the stronger sense of connectedness, also produce better academic outcomes.
And here is the really good news: not only does our Upper School provide both of these intellectual advantages, it also sets its curriculum atop a foundation of teaching the way that girls learn best: we utilize relational, Socratic, dialogic methodologies wherein girls have greater voice and learn with and from one another, in circles of leadership where competition is not about defeating others, but rather about the whole group lifting each other upward. We place our highest priority on the development of critical thinking and creative problem solving in all that we do, from the classroom to clubs and sports, to service and Project Term. That kind of dedication to intellectual growth requires special attention to such broader things as what girls need, how girls lead and teach, how to facilitate reconciliation between peers, how to foster opportunities for using their voices, and how to encourage wise choices. Our value for the intellectual development of our students is abundantly apparent every day, and, aligned with the wisdom of St. Madeleine Sophie, is always couched in the greater picture of all of the Goals. Our lived experience of Goal Two exemplifies the ideals of Aristotle, who said, "Educating the mind without educating the heart is no education at all."
Are some days in classes hard? Yes. Can the workload be heavy? At times. Do we challenge the girls in order to stretch and grow their intellects? Absolutely. We want them to achieve their fullest potential. But at the same time, we do all of this through love and knowledge of each student, and we do so in a way that is encouraging, compassionate, and kind. Yes, we will grow their intellect and critical thinking through the arts, STEM classes, co-curriculars, co-taught classes, immersion experiences, excellence in written and verbal communication, development of leadership skills, and global impact. But more importantly, we will grow their hearts.
Network Dialogue
By Marisa Nafso '22

Students at Sacred Heart schools are given various opportunities throughout the year to take advantage of Network programs that allow them to connect with other Sacred Heart students around the globe. I was given the opportunity to participate in a Network Dialogue Exchange that focused on Solidarity and Sustainability last year, and was eager to return to the program this year. A handful of my peers and I take two hours out of our school day to log on to Zoom and engage in dialogue about global issues with girls from Sacred Heart schools in the U.S. and internationally. This program has helped me to develop the skills I need to talk about difficult topics, ultimately allowing me to think deeply about my values and beliefs. I believe the greatest part of this experience is that I get to speak my views confidently in a place of mutual respect. It is also inspiring to hear from such kind and well-spoken young women that I share the gift of a Sacred Heart education with. We hope that more students will join this program so they can take part in these crucial conversations that will grow their character throughout the years.
Latin and Lit Class Participate in Stratford Theater Festival Virtual Workshop!
By Jade Horcoff '23, Kate McHugh '23 and Abby Mayer '23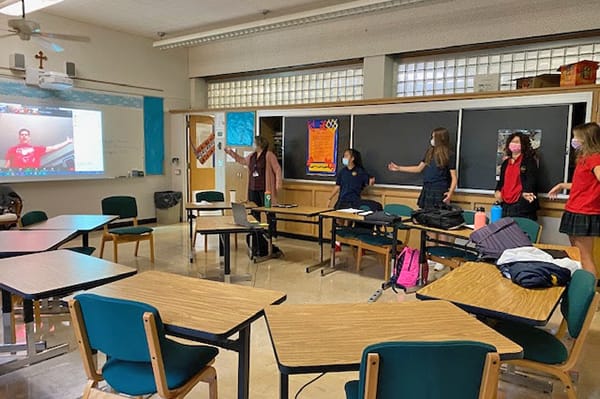 On October 5, our class spoke with the cast of this year's Stratford Midsummer Night's Dream production. We were able to watch the play virtually before meeting some of the cast. Demetrius, one of the main characters in the play, and another Demetrius from years past, introduced us to the acting world. Upon first meeting the current and former actors, we were able to act out scenes together and have the actors critique us on our skills. Not only did we get to walk through the first scene of the play, but we also were able to discuss the brainstorming behind this production. We got a first-hand look at how the cast and crew decided on costuming, writing the script, and much more. This experience allowed us to better understand and appreciate all that goes into being an actor.
Big Sister/Little Sister
By Natalia Pinto '22 and Evelyn Nye-Brothers '22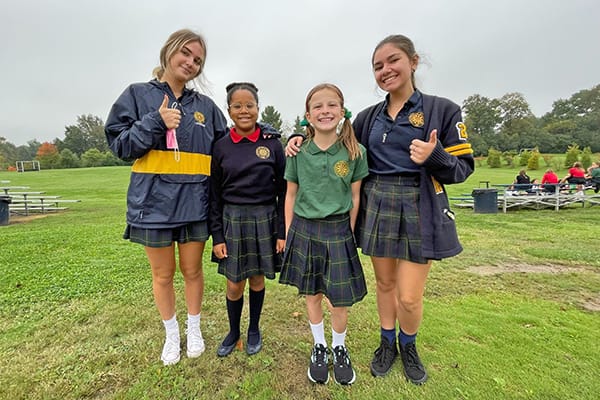 On October 6, both the Middle School for Girls and the Upper School girls got to experience the first Big Sister/Little Sister event this school year. This activity involved mixed groups of students from both communities answering some fun icebreaker questions to get to know each other. These activities will be planned bi-monthly for the girls to connect with one another and create a further woven community, something that we have all really been missing these past two years.
You're Invited to the First-Ever Upper School Powderpuff Game!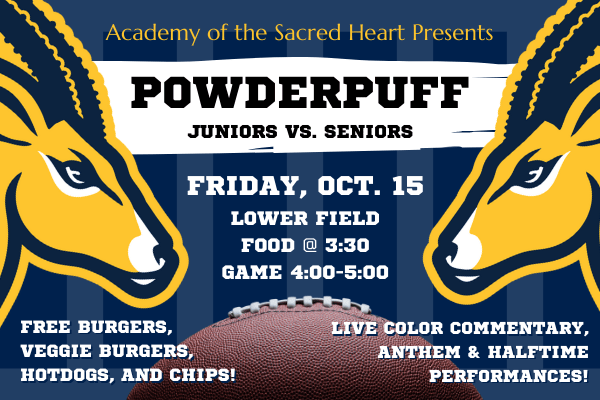 Don't miss the inaugural Upper School Powderpuff game, taking place next Friday, October 15 on the Lower Field. Grab a burger or dog before kick-off and come cheer on the Juniors and Seniors!
It's Almost Time to Trunk or Treat!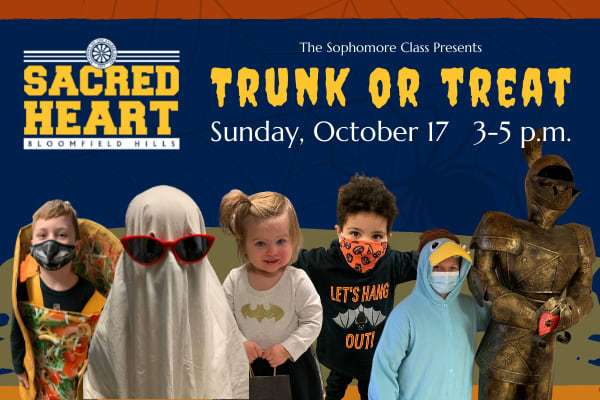 The Sophomore Class of 2024 is excited to host the eighth annual Trunk or Treat event on Sunday, October 17, from 3-5 p.m. Join us as we welcome Halloween revelers to a celebration of the harvest season.
Decorated cars for our parking lot "neighborhood" are needed! Participating cars will need to arrive prior to 2:30 p.m. Sign up here to register your car for this event.
All are welcome to attend Trunk or Treat. Activities will include Halloween crafts, outdoor games, and of course, trick or treating through the neighborhood of cars! The fee is $10 per family. Donuts, cider, and popcorn will be available for purchase.
PRIMARY SCHOOL & LOWER SCHOOL
A Popping Good Time in Science!
By Emily Avendt, Primary and Lower School Director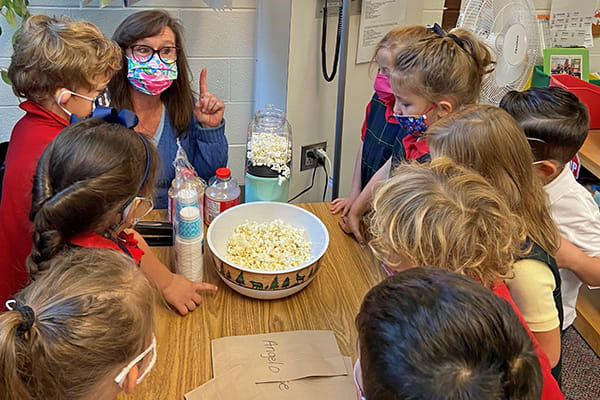 The Primary School young scientists had quite an exciting week learning about the five senses in science. Mrs. Stephanie Hamilton, Primary School science teacher, gave students a hands-on learning experience to extend their learning of the five senses. Students rotated through different activities while learning about touch, sound, smell, and sight. The popcorn station was a favorite, as students engaged all five senses, as they learned about the transformation of the kernel to popcorn when heated.
Lower School students are also gearing up for a big week in science with Lower School Science Night taking place on October 14, and the annual Egg Drop on October 15. Science Night is an opportunity for our Lower School scientists to come back to school in the evening and participate in hands-on experiments in the Lower School classrooms. The following day at 2:15 p.m., students will test out their egg contraptions as they are released from the rooftop. It is always exciting to see whose creation withstands gravity and force, protecting the egg from cracking. Parents are welcome to attend at the South Circle.
Celebrating St. Francis
By Emily Avendt, Primary and Lower School Director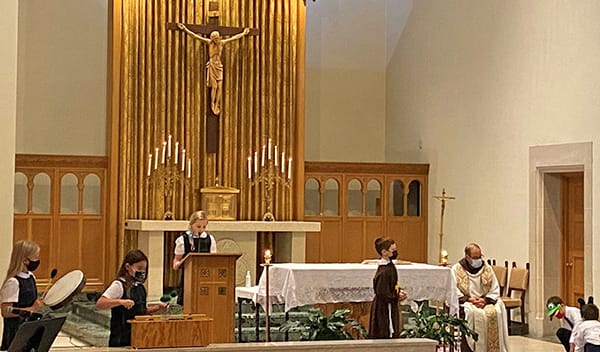 This week during the St. Francis Liturgy, Grade 3 students served as student leaders as they read aloud during the Liturgy of the Word and Prayers of the Faithful, sang beautifully as cantors, and performed St. Francis Takes a Walk during the communion reflection. Practicing and performing this short play provided students an opportunity to develop fictional characters, create sound effects with percussion, and use proper vocal technique to project their voices. Bravo to Grade 3 for sharing their gifts and talents with our community!
St. Madeleine Sophie Awards
By Emily Avendt, Primary and Lower School Director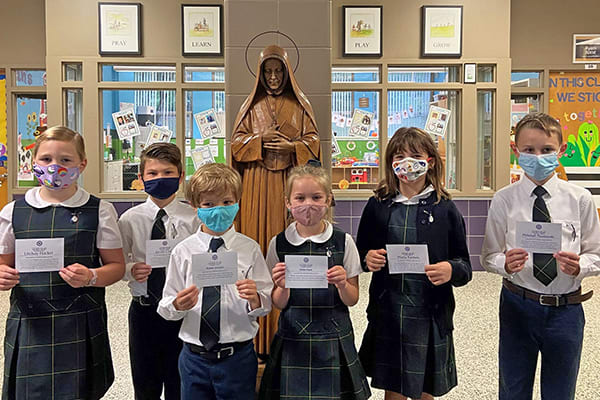 Congratulations to this week's St. Madeleine Sophie Award recipients in the Lower School. St. Madeleine Sophie Awards (SMS) are a formal assembly where students are honored for growth in the Goals of Sacred Heart Education (listed in the terms that Lower School students use): love as God loves, study and learn, help those who need me and be a friend to all. Each student in the Lower School receives an SMS Award at one of the assemblies during the year when they have particularly demonstrated the Sacred Heart Goals in action. This experience not only reinforces the Goals and vision of our foundress St. Madeleine Sophie, it also gives the students an opportunity to give and receive praise and honor the gifts of those in our community.
What Did You Do at School Today?
By Kristen Miller, Early Childhood Program Director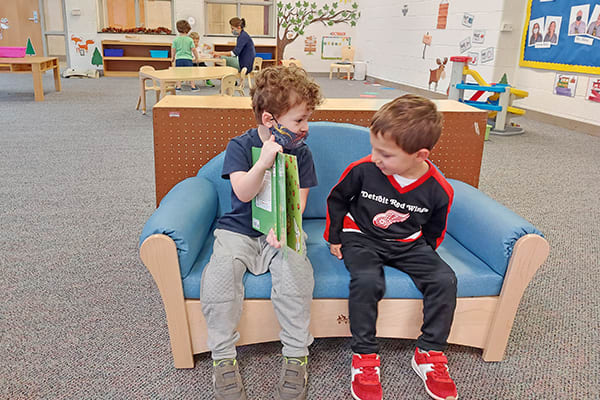 How many times have you picked up your child from school and said to them with excitement, "What did you do today at school?" The response most parents receive is, "nothing", or a shrug of the shoulders saying, "I don't know." Even though they were busy doing activities from 8 a.m. to 5 p.m., the typical answer remains, "nothing." Trying to get feedback about your child's day when they cannot offer the response you're looking for can be a bit frustrating. Here are a few ways to reframe your questions to get more information about their day.
What made you smile today?

Who did you sit with at lunch?

Who did you play on the playground with?

What was the most fun activity you did today?

Did you make a new friend today? Tell me about that friend. What is his or her name?

What was the best part of your day?

What book did your teacher read today?
These questions should initiate conversations that kids are excited to share information about. Giving them a specific question to answer will help them filter and process what they did during the day and hopefully prompt a meaningful conversation about the day's activities.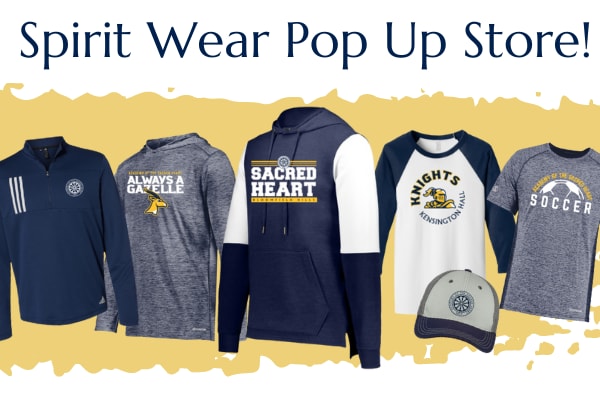 By popular demand, we've opened up the Sacred Heart Spirit Wear Pop-Up store, now with more winter items, including a winter jacket! Check out the offerings and remember to use the menu to view for men's, women's, or youth items. All apparel will be ordered and printed to your specifications, so please allow three weeks from the CLOSE of the store on Tuesday, October 12 for delivery. Don't delay - order now!!
ACADEMY OF THE SACRED HEART