All-School eNews | March 26, 2021
FEATURED STORY:
The Unlimited and Unmerited Favor of God
By Damian Hermann, Head of School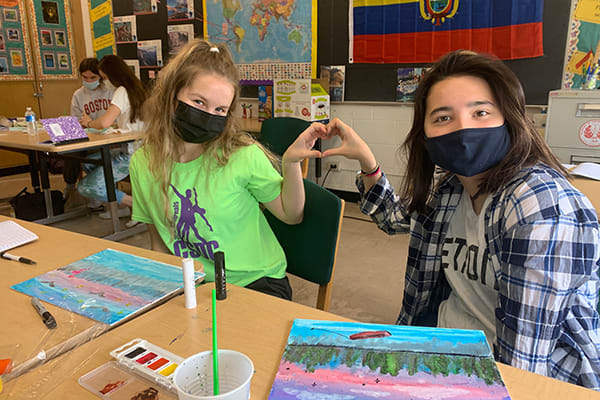 Above: Upper School students during Project Term this week

A particularly unique element of a Sacred Heart education is how our students come to understand that they are a small part of a much larger whole. This doesn't happen overnight. It is an apostolic approach to education that the RSCJ have embraced over the past 200 years and which places them in 41 countries and 155 schools. This approach shows our belief that, in engaging with the larger world, we can both spread the greatness of God's love as we understand it, and learn much about God's love as experienced through others.
During this week of Project Term, I have watched as our students have engaged with global issues, designing and offering solutions for quality and access of education in Mongolia, conservation in Costa Rica, gender equality in Cambodia, and immigration in the Dominican Republic. Meeting with in-country teams and working with our faculty and facilitators, our students are striving to live into St. Madeleine's Sophie's vision - a vision that asks our students be extraordinary in their influence to to heal and renew society. Project Term is a truly transformational #ASHDifference and I'm so proud of the maturity, resilience, and brilliance of our students, who have made the 2021 stay-at-home COVID Project Term a deeply powerful learning experience.
I try to pay particular attention during Lent, and listen for God's voice a little more carefully. Today I received an email from a current trustee and former Academy of the Sacred Heart Head of School, Sister Meg Canty. She signed off with: "May your Holy Week be full of grace - the unlimited and unmerited favor of God." While I've heard this kind of language before, there was something about seeing it in writing that stopped me in my tracks - "...the unlimited and unmerited favor of God." As we approach Holy Week, I am going to use this phrase to guide my prayer and reflection.
COVID Case Surge
I know that you are all aware of the case surge we are experiencing in Michigan and in particular, here locally in Oakland County. Hospital admissions have also had corresponding surges, and Troy Beaumont has re-instated visitor restrictions, seeing a steep increase in cases in the last seven days.
I know that many of our families are planning to travel over Easter and I ask you to continue to take all recommended precautions to stay healthy and safe. Correspondingly, it is important that now and through the end of the year, we closely monitor the symptoms of our children and their potential exposure to the virus, and keep them home as necessary. This will ensure our continued in-person operation and allow us to finish our school year as strong as we started it.
Rest assured that our learning community leaders and teachers are hard at work, planning and designing many celebrations for the end of the year, including Prize Days, Graduations, and yes, even Congé. Let us all pray and do our part to make it possible that these events can be in-person.
Welcome to the Network, St. Philomena School!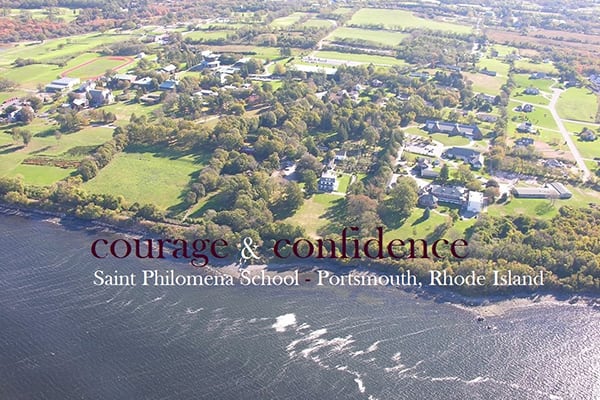 Academy of the Sacred Heart welcomes Saint Philomena School of Portsmouth, Rhode Island to the Network of Sacred Heart Schools! St. Philomena School becomes the 25th member of the Network, which spans the United States and Canada and is affiliated with more than 150 schools worldwide. Click here for the full announcement from Elizabeth Hicks, chair of the Network of Sacred Heart Schools Board.
We are thrilled to have another partner in the mission of Sacred Heart education and invite you to learn more about our newest sister school using the links above.
Junior & Sophomore Class Plant Fundraiser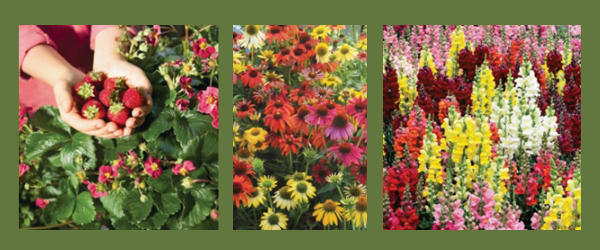 This year has certainly been a challenge for everyone, and it has been especially difficult for the current seniors in the Upper School who have had to miss many events and traditions due to the pandemic. To make their last year at Sacred Heart a little more special, the junior class is hosting the Senior Tea at an outdoor venue to make it as COVID-safe as possible. To make this event and other junior class activities possible, they decided to have a plant fundraiser with the sophomore class and Foertmeyer & Sons Greenhouse Co.
If you are looking to make your garden look beautiful this spring, please consider ordering some plants! There are many different options such as begonias, hanging baskets, lavender, tomatoes, and more to make your yard look fantastic this year. Your support helps continue the traditions that are so important to life at Academy of the Sacred Heart! Orders are due by Sunday, March 28. Shop to support the juniors here or shop to support the sophomores here.
Allergies or COVID-19?
By Robin Clements, R.N., B.S.N., School Nurse
The weather is warming up. The children are spending more time outside at recess, for sports, and during the weekends. We have had some beautiful, sunny days. I have noticed the trees and bushes are budding, which means it's allergy season.
Allergy season AND COVID-19? Well, that will keep a school nurse busy and on her toes, right?
So, how do we know if it is "just allergies" or COVID-19? It may be tricky. Some cases of COVID-19 have been as mild as "just congestion" or "just a runny nose."
The school follows the "one major or two minor symptoms" rule suggested by the Oakland County Health Division (OCHD) and the Michigan chapter of the American Academy of Pediatrics (MIAAP). Any student with a cough, shortness of breath/difficulty breathing, or loss of taste or smell requires COVID testing or is required to stay out of school 10 days from the onset of symptoms. Any student with two or more of the following symptoms requires testing or remaining out for 10 days: sore throat, headache, fever, nausea/vomiting, congestion/runny nose.
Even if your child has a history of allergies, if your child has multiple symptoms and isn't feeling well, please keep him/her home and consult with your pediatrician for PCR testing.
Symptoms of COVID-19 are:
Fever (temperature of 100.4 or higher)

Chills/muscle aches/extreme fatigue

Sore throat

Headache

Cough

Diarrhea

Vomiting

Shortness of breath or difficulty breathing

Loss of taste or smell

Congestion or runny nose
Common symptoms of allergies are:
Congestion or runny nose

Dry, tickly cough

Itchy, watery, red eyes

Sneezing

Headache

Sore throat
A few thoughts:
Sneezing and red, itchy eyes are not symptoms of COVID-19.

If your child has known environmental/seasonal allergies, now is the time to start them on their allergy medication.

If your child has more than one symptom of COVID-19, keep him/her home and consult with your pediatrician. If the PCR test is negative, and your child is diagnosed with allergies, the doctor can suggest the right allergy medication for your child. If your child is still experiencing allergy symptoms while on medication, the doctor may choose to change the medication or dosage.

Teach your child to avoid their environmental allergy. Avoid touching the grass and flowers. Practice good handwashing after being outside.

Continue to practice social distancing, good handwashing, and wearing a mask when around people outside your household.

A child with environmental allergies may be sent home from school and be required to be tested for COVID-19 as a precaution. If the PCR test result is negative, the student may return to school. Please understand that the school is taking every precaution to keep our community healthy.
ACADEMY OF THE SACRED HEART