All-School eNews | October 1, 2021
FEATURED STORY:
You Are Not Alone
By Damian Hermann, Head of School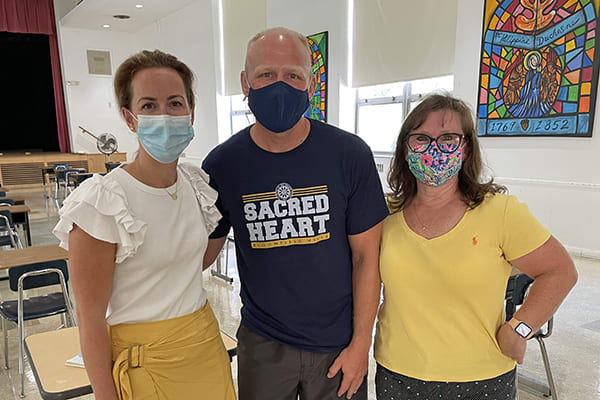 This article was originally published in September 2019, and several people have referenced it in conversation with me recently. In a year where we are focused on moving Forward Together and building community, I thought it was worth revisiting. Remember that our team of Sacred Heart educators (just a few are pictured above) is here to support you and your children. -DH
"You are not alone." I said this to the Upper School parents for Curriculum Night and I think I struck a chord. As a parent, I remember questioning myself regularly. Do other parents lose their temper like I do? Do other children talk back to their parents like mine do? Do other children actually do chores thoroughly and with joy? Do other parents constantly wonder how to balance micromanaging their child and letting their child make their own decisions and suffer the consequences that accompany such a privilege? Am I crazy, or have these kids taken the remains of my sanity?

I'm going on 25 years in the business of teaching and leading schools, and I have spent countless hours with students and parents. I have observed the growth of children at every level of development, and the corresponding parenting that accompanies that. Let me assure you. You are not alone. While the struggles we all experience with our kids may have subtle differences, the similarities are far more numerous.

Parenting is the hardest thing I have ever done. I now have an 18- and a 19-year-old, and while experience hasn't made it much easier, I have gained perspective. This perspective has taught me:
We are stronger as parents when we share our collective experience. And at Academy of the Sacred Heart, we have a community (Goal 4) that enjoys socializing. We have a community that celebrates together. We have a community that prays together. We have a community that grows together (sometimes for as many as 18 years). And we have a community that is a family. You are not alone. I urge you to use the Sacred Heart family to lessen the burden of love that is parenting.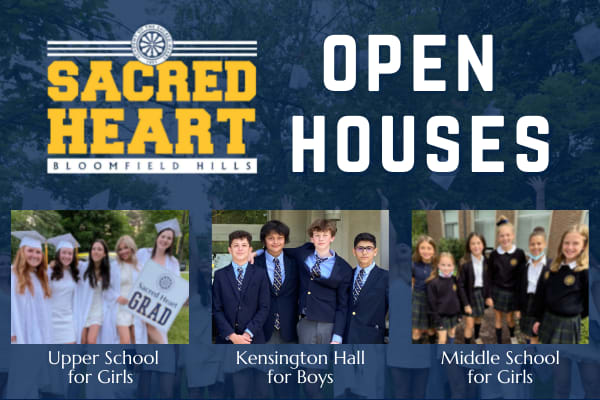 The Admissions team is pleased to announce a series of exciting, informal experiences that offer prospective families a glimpse into the breadth of a Sacred Heart education.
Friday, October 15, Upper School Open House, 9-10 a.m.
Wednesday, October 27, Upper School Open House, 6:30-7:30 p.m.
Tuesday, November 9, Parenting for Resilience in Adolescent Girls, featuring Upper School Director Linda Kozler, 6:30 p.m.
Wednesday, November 10, Kensington Hall Open House, 9:30-10:30 a.m.
Friday, November 12, Middle School for Girls Open House, 10-11 a.m.
Thursday, January 20, 2022, Primary & Lower School Open House, 9-10 a.m.
Please help us spread the word! Details and registration for all events can be found at www.ashmi.org/open. We invite you to reach out to anyone you think would be a great fit at our school and share details about these upcoming events. Better yet, come to an event with them; we'd love to see you here as well! We are excited to show prospective families what an amazing educational experience we offer at Academy of the Sacred Heart.

Don't forget about our Referral Program. This program applies when a current family refers a new family to Sacred Heart who is accepted and enrolls full-time. We then issue the referring family a one-time $2,000 bonus. This program is just one of the ways we want to express our appreciation to those who share the ASH Difference with neighbors, colleagues and friends.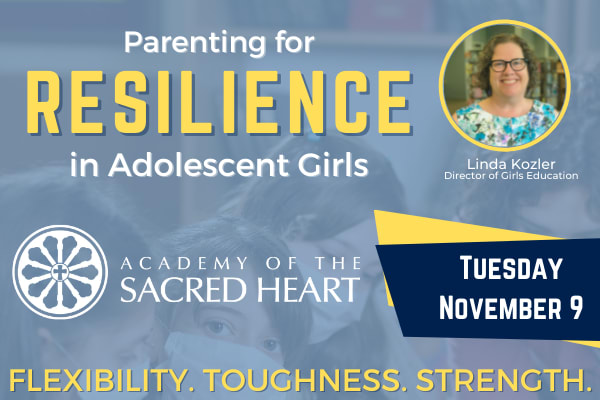 Plan to Trunk or Treat on October 17!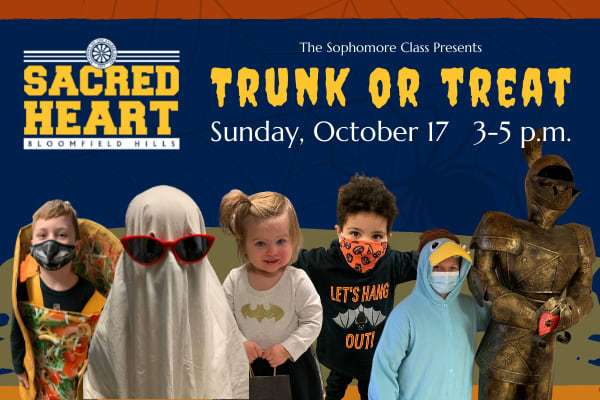 The Sophomore Class of 2024 is excited to host the eighth annual Trunk or Treat event on Sunday, October 17, from 3-5 p.m. Join us as we welcome Halloween revelers to a celebration of the harvest season.
Decorated cars for our parking lot "neighborhood" are needed! Participating cars will need to arrive prior to 2:30 p.m. Sign up here to register your car for this event.
All are welcome to attend Trunk or Treat. Activities will include Halloween crafts, outdoor games, and of course, trick or treating through the neighborhood of cars! The fee is $10 per family. Donuts, cider, and popcorn will be available for purchase.
Food Allergies
By Robin Clements, RN, BSN, School Nurse
According to Food Allergy Research & Education (FARE), one in 13 children in the U.S. has a food allergy. Our learning communities include students who are allergic to different foods or food groups, including both tree nuts and peanuts. Reactions range from mild to life threatening. The most common food allergies are:
Nuts/Peanuts

Milk

Eggs

Wheat

Seafood

Soy

Sesame
Although the Academy of the Sacred Heart is not a nut or peanut-free school, we as a community can work together to protect students with life-threatening allergies. We ask you as parents to partner with us in that mission. The following steps are some of the ways we can work together to help prevent allergic reactions from accidental exposure to a food allergen:
Students will wash their hands before and after lunch.

Classrooms are designated as an allergy aware space. There will be no classroom projects with peanut butter, nuts or nut shells. Please do not send in projects involving nuts or peanut butter. Please read labels. Snacks entering the room must be nut/peanut free.
Parents who send a lunch from home for their child are free to pack the foods of their choice. It is our hope that families CHOOSE not to send foods containing peanut butter or nuts.
Please talk to your child about not sharing food from home with other students.
If you are planning to bring in a snack to share, your child's teacher or I can provide you with "allergy safe" suggestions.
If bringing in homemade treats from home, please label the allergens that it contains (i.e., Contains eggs and milk.)

We prefer these treats be peanut/nut free.
The Academy of the Sacred Heart allergy policy is available in Magnus Health and on the school website. If you have any questions or concerns, please contact me directly at rclements@ashmi.org.
ACADEMY OF THE SACRED HEART