All-School eNews | March 5, 2021
FEATURED STORY:
Read! Read! Read!
By Renee McNally, Primary School Director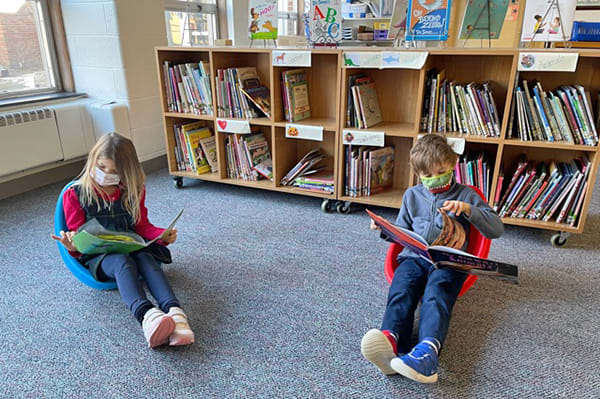 Any book that helps a child to form a habit of reading, to make reading one of his deep and continuing needs, is good for him. - Maya Angelou
The Primary School kicked off National Reading Month with a day to celebrate literacy and good books. Parents often ask how they can help support their child's learning, especially during the Primary School years when developing a literacy foundation is of utmost importance. Read below for three important steps you can take now to support your child's literacy development.
Enjoy books with your child every day! Jim Trelease, author of The Read-Aloud Handbook, reminds us that research has proven that "children who read the most, read the best." Continue to read aloud to your child even after he/she has become an independent reader. Reading to your child builds background knowledge that translates to improved fluency when learning to read.


Practice phonemic awareness. In October, you read about the importance of developing phonemic awareness. The ability to isolate, blend, and segment sounds is called phonemic awareness and is essential in learning to read. The difference between phonemic awareness and phonics is that phonemic awareness is an auditory process with a focus on phonemes (sounds) and phonics includes a visual process with a focus on graphemes (printed letters). Click here to view examples of phonemic awareness skills that can be reinforced at home through fun word games the family can play together.


Include nursery rhymes and poetry when reading to your child. Nursery rhymes are a critical component in developing phonemic awareness and literacy, so do not leave them out of your child's bedtime routine! Nursery Rhymes can…

set a foundation for phonemic awareness and learning to read

expand a child's vocabulary

promote memorization

expose children to the rhythm of poetry

help children explore their emotions

create comforting connections between parent and child
Reading to your child and supporting the development of phonemic awareness are key components to setting your child up for reading success. The time spent together with literature will create favorable memories and make a lasting difference in your child's life.
"Please read this book to me."
By Kristen Miller, Early Childhood Program Director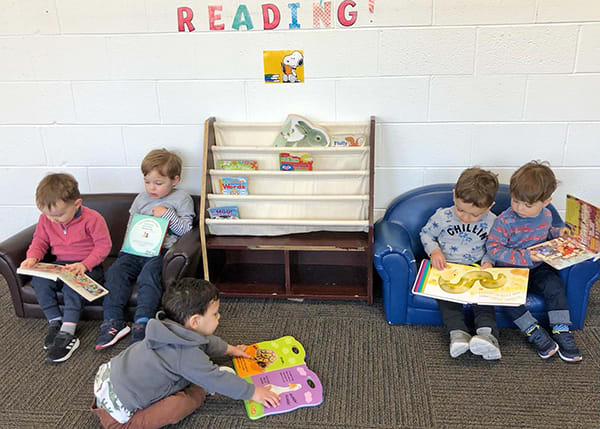 I hear this request from one of our Early Childhood students at least once a day. It is with great pleasure that I stop what I am doing as often as I can to sit down and read that story. Often, I find three or four kids on my lap enjoying a book or two. Reading books is one of my favorite activities to do with our youngest learners when I visit the classrooms. Early literacy and reading are so important to a child's development. Language and literacy develop together as a baby grows from an infant, to a toddler, to a school-aged child and older. This development typically happens through social interactions with you as parents, and in the childcare/school settings.
It is never too early to start reading to your baby. Infants love board books. Board books are made for babies to get their hands around and for them to touch, feel, and explore, the same way they explore the world around them. (Sometimes even tasting the books is fun for the infants.) As a child gets older, he/she may not want to sit still as you read, but that is OK. Do not stop. Believe it or not, they are still listening. Your child might enjoy acting out the book you are reading. What a great gift to use their imagination to grow the storyline! The possibilities are endless.
To encourage reading, make it part of your normal bedtime routine from a very young age. Cozy up in a chair together and snuggle while enjoying a good story. Hopefully, it can help make bedtime go more smoothly and lead to a lifelong habit. Creating a fun, comfy space will make reading or looking at books more inviting. Another great reminder is to utilize your community library. They offer wonderful reading programs as your child grows.
Reading IS Rocket Science
By Emily Avendt, Lower School Director & Director of Learning Support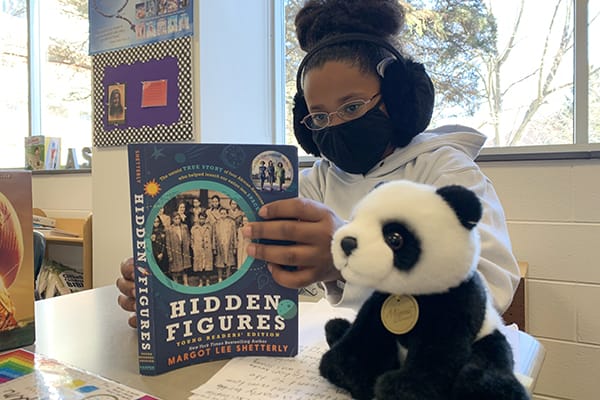 National Reading Month is a month to encourage the love of reading for all ages. With a quick Google search about National Reading Month, there are many resources on how to support your child's reading growth: creating nightly reading routines, pointing out print in everyday surroundings, modeling by setting an example of frequent reading as a parent, having lots of interesting and engaging books around the house, etc. These are all great ways to encourage your child to be an avid reader, and at school we certainly aim to encourage that joy as well. Pictured above, you can see Lower School students celebrating National Reading Month by enjoying a pajama day and having some cozy reading time during the school day. We are also excited about an upcoming author visit that will be featured in the next Learning Community eNews.
Dr. Maryanne Wolf, scholar and reading advocate, articulates the joy and capacity for growth experienced when reading as deep reading:
"Deep reading is our species' bridge to insight and novel thought. These processes include connecting background knowledge to new information, making analogies, drawing inferences, examining truth value, passing over into the perspectives of others, and integrating everything into critical analysis."
To achieve deep reading, the reader must be able to read the text with relative ease in order to devote cognitive brain power to the higher order processes described above. The reader is thus able to get lost in the book and take on different perspectives, which in turn challenges their own perspectives and promotes the development of empathy. This is truly the magic of reading, yet what's interesting is that the human brain was never meant to read (Maryanne Wolf). Unlike speaking and language, which typically develop rather naturally via brain circuitry we are born with, neurologically there is not one circuit responsible for reading. In order to achieve skilled reading and the capacity for deep reading, systematic and explicit reading instruction is necessary to create new circuits from older cognitive structures.
As a country, reading scores on the NAEP Reading Assessment from the last 20+ years have consistently shown that only approximately 30% of students in eighth grade perform at or above the benchmark for proficient reading. Put simply, our nation has some work to do! Here at ASH, we are working hard to understand the science of reading via our ongoing professional development relationship with The Reading League. Our teachers are learning the science so we can continue to build our own background knowledge of the instructional practices required to achieve deep reading - it is rocket science.
I hope this month you find the time to celebrate reading with your families and never underestimate the power of reading with your children!
March into Reading!
By Kim Davidson, Kensington Hall Director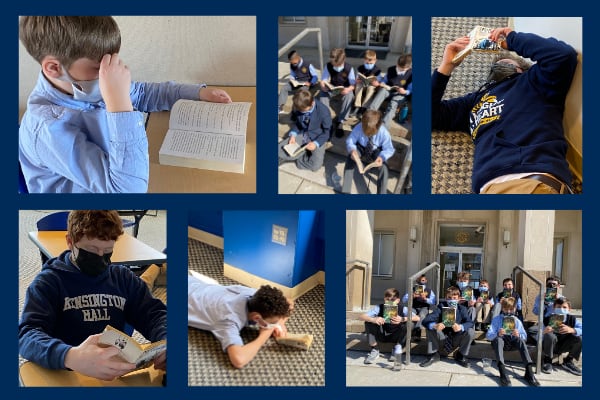 March is often referred to as National Reading Month, which originated in honor of Dr. Seuss' birthday to help motivate people of all ages to read every day. At Academy of the Sacred Heart, we recognize the importance of literacy and instilling a love of reading.
I remember as a child spending countless hours immersed in books - not assigned for a class, rather for enjoyment and a way to pass the time. Some of my favorite memories with my own children involve discussing the books we were reading and passing on new recommended titles. Countless hours (and dollars!) were spent at our local Barnes and Noble. We joked that when my oldest went away to college, we were going to turn her room into a library.
Research has and continues to show the many benefits to reading. Some of these benefits include:
The more you read, the better you get at it.

Reading daily exercises the brain and helps students make connections.

Reading daily improves focus and concentration, and relaxes the mind and body.

Reading daily improves vocabulary and comprehension skills.

Students who read daily have better writing and language skills

Students who read daily have better memory and retention skills.
What is being done at school to encourage literacy and an enjoyment of reading:
Modeling reading during any "down time"

Creating a time and space for reading. This often occurs during Personal Reflection time.

Reading stories out loud to engage students. I am currently reading Percy Jackson out loud with Grades 5 and 6 to help engage them in a good book.

Providing students with age-appropriate novels that they can relate with and discuss together.
What you can do at home to encourage literacy and an enjoyment of reading:
Model reading at home.

Create a time and space for reading.

Read stories and books aloud as a family.

Allow students to choose books of their choice at home, including:
Books recommended by some of our own Kensington Hall students:
The Mysterious Benedict Society and the Riddle of Ages by Trenton Lee Stewart is one of my favorite middle school books. I recommend all the books in the series but the 4th one is full of good trickery to defeat the ultimate bad guys known as the Ten Men and the evil control freak, Ledroptha Curtain. All the books are awesomely clever and the Benedict Society is always outsmarting the bad guys in ridiculously cool ways. It really makes you think, "Man, I wish I could do that!" - Liam Muir, Grade 5


Holes by Louis Sachar. Holes is a story about a young boy named Stanley Yelnats IV. He was wrongfully accused of stealing baseball shoes from the famous Clyde "Sweet-Feet" Livingston and was sent to a brutal corrections camp for 18 months and was forced to dig HOLES. The crazy camp warden and her staff forced the children in their care to mysteriously dig holes all day long in the desert. The boys at the camp had to dig a hole 5 feet wide and 5 feet deep every single day. According to the Warden it builds character so they won't do bad things after they get out. At least that's what they wanted the boys to believe. - Teddy Moore, Grade 6


Little League by Matt Christopher. I recommend this book because it is funny, it gets you hooked, and it is about baseball. I rate this book 10/10. - James Wudyka, Grade 6


I recommend Masterminds by Gordon Korman because it leaves you on a cliff hanger in every chapter. - Sam Versaci, Grade 6


The Good Shepherd by C.S Forester. I recommend this book because of its adventurous spirit. This book also takes place during WWII which is one of my favorite things to learn about. It also teaches you about naval maneuvers and teaches you about how a U.S destroyer would beat a German U-Boat. - Colin Moran, Grade 7


My favorite book is I Will Always Write Back by Caitlin Alifirenka and Martin Ganda. It is a good story, always keeps your attention, and has good characters. I rate it a 10/10. - Kaito Lovin, Grade 7


To Kill a Mockingbird by Harper Lee is my recommendation. I recommend it because it has many twists and turns in the plot, and the characters learn many important life lessons. - Wally Knysz, Grade 8


I recommend The Harry Potter Series because there is a lot of action in these books. There is also adventure when Harry and his friends are figuring out secrets and information to take down the bad guys. I would recommend this book so you can figure out what happens in the end and learn about wizards and what Hogwarts is like when you go there. - Ethan Jackson, Grade 8
You could also check out these lists of recommended books for middle school boys from Goodreads or Scholastic. I encourage all of our families to spend time getting immersed in books. Have fun getting into and discussing some good books together! It will be time well spent!
Semester Assembly: Celebrating the Goals
By Joyce Lee, Middle School for Girls Director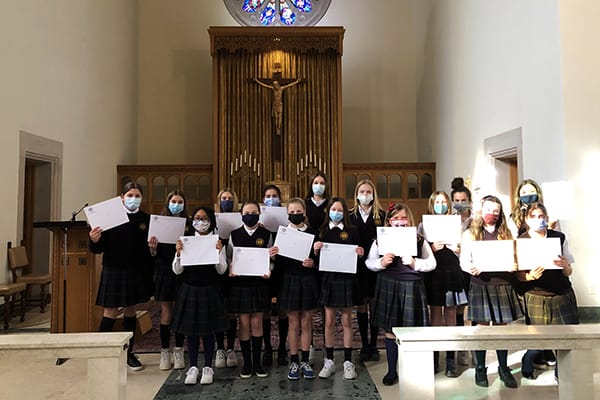 The Goals and Criteria are consistently celebrated through many events and activities at Sacred Heart. One of these events is Semester Assembly, where student achievement and highlights from the first semester are recognized. In a non-COVID year, the entire MSG would gather in either the auditorium or chapel to celebrate and hear about the accomplishments in various categories such as art, athletics, math, and of course, the Goals and Criteria.
Usually held in January, the assembly was pushed back to give time for the students and faculty to learn about the new Goals and Criteria that were released earlier this year. In addition to recognition from the faculty, students learned about the new criteria and were asked to write a Goal Card for a classmate. They needed to think about the five Goals and decide which one their classmate lived out the best. Student to student Goal Cards were read aloud during Morning Assembly by the grade level advisor in February. For Semester Assembly this year, each grade level was invited to the chapel, where they were recognized on Zoom for the Goal Card written for them by a faculty member. Each student received an envelope containing the Goal Cards from both the teacher as well as their classmate. Grades 5-7 had their Semester Assembly this past week, so please ask your daughter to share her Goal Card with you! Grade 8 will be recognized on Monday, March 8 and will have their certificates to share with you next week. Of course, celebrating the Goals is not just a one-day event and we look forward to celebrating them again at the end of the year for Prize Day!
Math Olympiad IV Results
By Charity Callas, Math Educator
All of our students, both on-campus and flex, had the opportunity to participate in our fourth Math Olympiad contest on Monday, February 8. With points adding up, team members from all grades are eligible to earn individual awards and the students are excited to see their school year results following next month's contest. Students with the top scores in their grade were also recognized at morning assembly. Our fifth and last contest of the year will be held on Wednesday, March 10.
Division E (Elementary Division)
Grade 5 with a score of 1: Ruby Barahona and Genevieve Levine
Grade 6 with a score of 4: Elena Nowlan
Division M (Middle School Division)
Grade 7 with a score of 2: Jorin Higgins
Grade 8 with a score of 2: Eva Drolet
Project Term 2021: The Gift of Opportunity
By Linda Kozler, Director of Girls Education & Upper School Director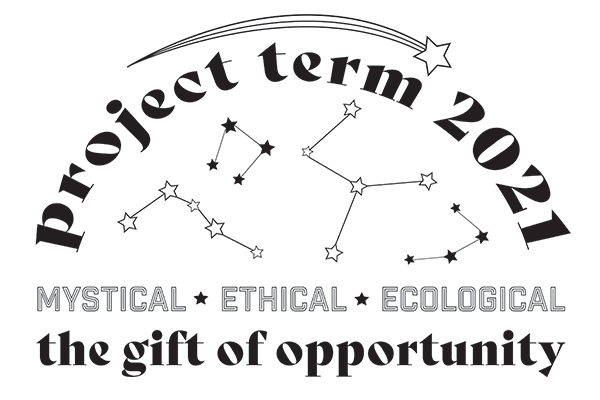 Despite the fact that Project Term has been around for nearly 50 years, this year will be a first for us in so many ways. Not only are we staying at school and doing PT virtually, but we are also delving into an entirely new and meaningful way of doing global work by using the human-centered Design Thinking model. This experience and training will give our girls countless new opportunities moving forward. Our PT coordinator, Ron Rossi, shares his thoughts on this gift, below:
This year for Project Term, we will have the unique opportunity to participate in Rustic Pathways Global Issues Design Challenge program using the IDEO Design Thinking approach. The five-step process (Empathize, Define, Ideate, Prototype, and Present) will be used by Upper School students to address one of four critical global issues, depending on which they chose - quality and access of education in Mongolia, conservation in Costa Rica, gender equality in Cambodia, and immigration in the Dominican Republic. This flexible, human-centered approach has been used in the design industry for more than 40 years. Now colleges (and businesses, and engineering firms, and those working in global relief services) across the country are beginning to use it in solving complex problems in today's world. Later this month, our Upper School students will live their way through the model and see for themselves how it transforms global work.
Here is an example of what our week will look like, for our Quality of Education in Mongolia participants:
Monday: Empathize – Live interaction with the Mongolian country team. Students will learn about the issues surrounding Mongolia's education system, access and quality of education.
Tuesday: Define – Students will get to know their Rustic Pathways program leader and team. Discussions to help build background knowledge and further define the problem.
Wednesday: Ideate – Students brainstorm ideas with their teams on how they might address the issues at hand to bring improvement.
Thursday: Prototype & Test – Working with their groups, students flesh out their solution concept and plan a final presentation.
Friday: Present – Students will present their plans to the Rustic in-country leaders. They will receive feedback and additional help in moving forward with this project or perhaps other projects closer to home.
Ms. Kozler and I have been fortunate enough to be meeting/working with several different resources including International Samaritan, Cross Catholic, and Notre Dame's iLab project, for both support and mentoring in working with international communities using the Design Thinking process.
Despite the challenges COVID has presented, the silver lining is that it has forced us to reimagine the future of Project Term. Later this spring I will bring together a group of students to help create a blueprint for future Project Term trips so that we can continue to live, in an ongoing way, this new framework for our projects. I know this will take us to a whole new level of purpose and possibility!
Cooking with the Spanish 5 Chicas!
By Señora Pastrone, Spanish Educator
I am very proud to present to you the wonderful cooking videos made by the Spanish 5 class. They are a stellar group of young ladies who worked diligently on this project and it shows. Take a look!
Cazuela de macarrones con queso y tomates asados
Receta de Becca Fite
Crepes rellenas de Nutella y fresas
Receta de Olivia Morreale
Rollitos de pollo con prosciutto y queso
Receta de Bianca Shaya
Empowering Female Voices
By April Wilcox, Dean of Girls, Grades 5-12

Chelsea Johnson '22, Lena Armijo '24, and Jordan Rivenburgh '24 participated in The National Coalition of Girls Schools Empowering Female Voices program for the past month. Within six sessions, students had the opportunity to learn and deliberate about critical policy issues, and consider ways to activate members in their communities to take action on the issues that matter most. This program aimed to empower students as female change-makers. Each student focused on a different topic: Chelsea Johnson joined the Education committee, Lena Armijo worked on the Environmental Justice committee, and Jordan Rivenburgh was part of the Criminal Justice committee. Below is a brief statement from each participant.
During the month-long program I had the opportunity to network with girls from different Sacred Heart schools dedicated towards creating new policies to help the community. I was a part of the Education committee and my sub-committee focused on the lack of diversity and inclusion in the staff and curriculum. Throughout our process, we were assigned to do research and then produced a policy we later introduced to a panel of political guests. My group's policy focused on creating mentorship programs for students to create relationships and break down stereotypical barriers with students of color. Throughout the program I have learned the importance of improving the education system within my local community. After discussing with my group members we came to the conclusion that schools have to incorporate more diversity in their community, because diversity inclusion helps students transition into a workplace. - Chelsea Johnson
During this six session program I got to meet amazing people and learn so much more about the environment. In the environmental committee we started by brainstorming the issues we have and the side effects that came with those issues. We narrowed down those issues into what we thought were the three biggest issues. These issues were deforestation, fossil fuels, and environmental racism. Five other girls and I worked in the deforestation sub committee. In this group we talked about the main issues deforestation causes and ways to fix them. We said that one of the main effects from deforestation was habitat loss, specifically in the rainforest. Our policy stated, "In order to protect future environments, and rehabilitate already destroyed ones, we propose a total restoration of the Amazon rainforest. Our proposed policy is to require a mutually beneficial incentive with companies/organizations working in the Amazon rainforest. The requirement would include if a company makes more than $3 million dollars a year there will be a 5% income tax that will go towards protecting the rainforest and on the other hand, a financial incentive for every 5% a company spends on forest rehabilitation. The policy would promote hiring local community members to help rehabilitate in order to support the economy." This was such an eye-opening experience for me. I had the chance to educate myself further on issues we have in our criminal justice system, our education system, our healthcare system, in the environment, and in our economy. - Lena Armijo
During this program I had the gift of working with girls from all over the country and had the opportunity to learn more about criminal justice and ways we can make a difference in our country. I was a part of the Criminal Justice committee; in our own committees we separated into three subcommittees. In my subcommittee, we focused on incidents with police forces in the U.S. and came up with a policy for how it can be avoided. The main idea of our policy proposal is to reform the training of police officers, making it longer, and more focused on certain issues such as mental health and how to work with disabled people. We also emphasized the importance of de-escalation tactics and using weapons as a last resort. We looked at the police system in Finland where officers are required to have a college level education and so we suggested raising the training period to 2 or 3 years. During this workshop I got to educate myself on certain issues that our country is struggling with that I wasn't aware of before. I realized that you don't have to be an adult to make a change in the world, I can use my voice and what I know to make a difference. This experience was truly amazing and I am so lucky I decided to step out of my comfort zone and try something new. - Jordan Rivenburgh


It was such a privilege to watch Chelsea, Lena, and Jordan commit to and grow from this program. These young women grew their knowledge about United States policies and the power of their voice. Chelsea, Lena, and Jordan are on their way to be real change-makers in the future!
Scholastic All-Catholic Team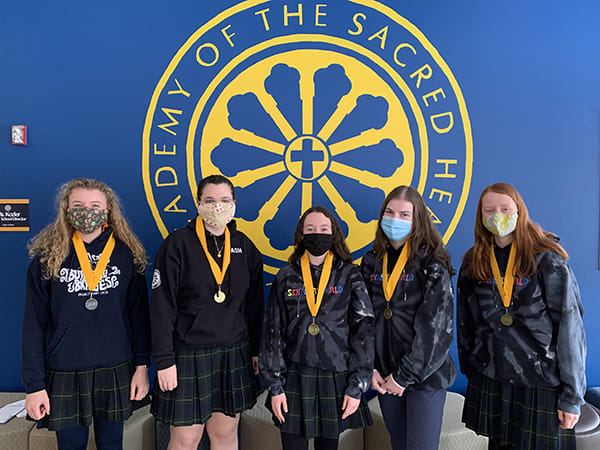 The Academy of the Sacred Heart community was thrilled to have eight Upper School students announced as members of the Catholic High School League's Scholastic All Catholic Team, recognizing outstanding academic achievement in the classroom and beyond. Congratulations to seniors Caroline Krause, Catherine Lehmkuhl, Avery McNally, Olivia Morreale and Bianca Shaya; juniors Isabelle Burg and Charlotte Carozza; and sophomore Elyse Martel. Sacred Heart Gazelles are leaders with character! Congratulations!
Tech Service Group Recognized
The Upper School Tech Service Group has been featured in the Pontiac Kennedy School newsletter. The US usually has a service group which goes to the center to help each Thursday with the special needs students. With COVID, they have not been able to go to Kennedy in person, so they have organized a way every Thursday to still connect with the students in a fun and educational way. Here is the newsletter write-up:
The Academy of the Sacred Heart students are presenting and offering virtual field trips to the zoo for Kennedy School. Community service is an integral part of the fabric for the young ladies attending Sacred Heart. Kennedy School is grateful for the opportunity for students to experience going to the zoo virtually. The virtual zoo is aligned to Community Based Instruction. Kennedy students are excited about going to the zoo even when they can't leave the house.
As a member of the Independent Schools Association of the Central States (ISACS), Academy of the Sacred Heart is pleased to offer our families access to their Parent Series of webinars on timely topics. On Wednesday, March 10 at 7:30 p.m., the series will conclude with Managing Anxiety, Stress & Parenting Under COVID-19 with Lisa Damour, psychologist and author. Dr. Damour previously offered this presentation to ASH parents as part of the Heart of the Matter speaker series in 2020. To participate, you must pre-register; click here for details.

Please reach out to Erin Wrobleski with any questions about the ISACS Parent Series. You may also contact her to view recordings of the recently-held webinars, The Importance of Executive Function: Helping Them Show What They Know with Steven Guy & William Benninger, psychologists; Speaking to Children About Race with Y. Joy Harris-Smith, educator and author; and Parenting in a Pandemic with Michael G. Thompson, psychologist, author and school consultant.


On Tuesday, March 16 at 7 p.m., author John Palfrey will share insights from his new book, The Connected Parent: An Expert Guide to Parenting in a Digital World. Co-authored with Urs Gasser, the book is "an essential guide for parents navigating the new frontier of hyper-connected kids." The webinar is offered free to independent school parents by The Greenhills School; register here.
ACADEMY OF THE SACRED HEART