All-School eNews | February 12, 2021
FEATURED STORY:
Hope at the Foot of the Cross
By Emily Avendt, Lower School Director & Director of Learning Support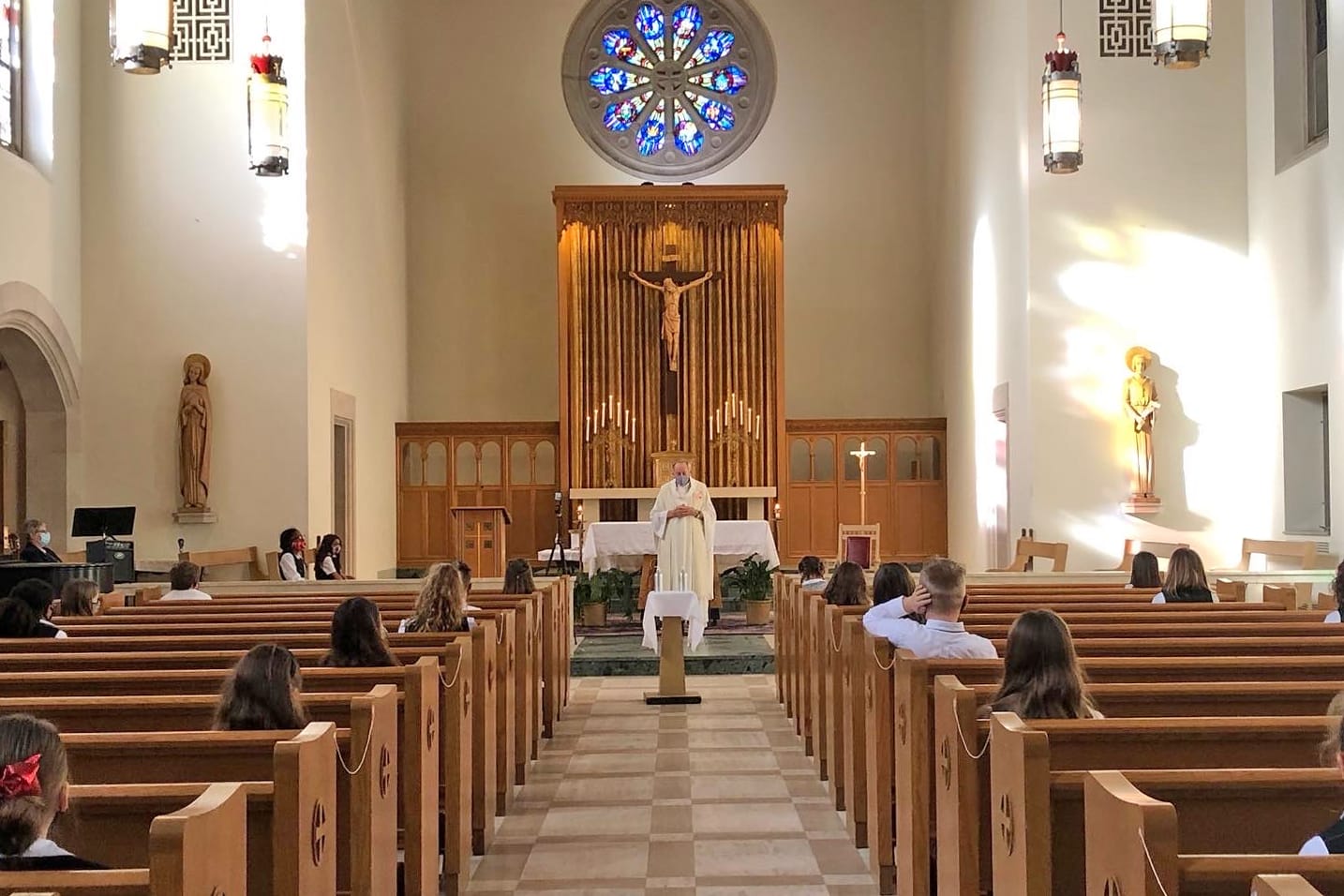 Author's note: As Sacred Heart educators, we are forever inspired by our foundresses and in awe of the timeless philosophy of a Sacred Heart education. The Sacred Heart approach is iterative. We are always evaluating, adjusting and improving our programs, striving to make present each Goal and its criteria to the fullest extent possible. The five Goals are rooted in St. Madeleine's Sophie's vision and remain constant, and the Criteria are updated over time and thus provide the most relevant and urgent guidance to uphold the Goals. In honor and celebration of the 2020 revisioning of the Goals and Criteria for the Sacred Heart Schools in the United States and Canada, each Learning Community Leader has chosen her favorite Goal and/or Criteria to highlight. Enjoy!
Choosing one Goal and/or Criterion is not easy, as each Goal contributes to the whole formation of each child of the Sacred Heart. As we begin Lent next week, I'm particularly inspired by the lasting impact of Goal 1, Criterion 3:
Goal 1: Schools of the Sacred Heart commit themselves to a personal and active faith in God. Criterion 3: The school community reflects an ethos of joy, hope and celebration and its programs assert that there is meaning and value in life.
A few years ago we welcomed Dr. Lisa Miller, author of The Spiritual Child, to campus for a presentation. Dr. Miller's research around spiritually is both compelling and familiar. Spiritually is inborn and is a major protective factor throughout the course of a lifetime. Dr. Miller writes,
"From the moment our children are born, we imagine their future selves. Our hopes for our child--the young adult he or she will grow up to be--inform everything we feel and think and do as parents ... We envision our young children as accomplished, impassioned adults who have achieved school, sports, or stage success and used it as a pathway to opportunity, to love and be loved, to have wonderful friends, and in every way to enjoy a good life and career. We gaze at our gurgling baby or adventurous toddler with love--and a twenty-year trajectory of aspiration. We don't just talk and dream, we also plan and act on our best intentions. And yet all of those conversations, elaborate schedules of extracurricular activities, and high aspirations often miss the single most crucial ingredient of all, the only thing that science has shown to reliably predict fulfillment, success, and thriving: a child's spiritual development."
Roughly 200 years prior, St. Madeleine Sophie wrote: "What is the good of teaching various subjects, of wasting time in learning them, if at the same time we cannot teach children the words of life and touch their hearts and their consciences?"
Both quotes speak to Goal 1 and the importance of spiritual development and the fostering of joy and hope. I believe it is the essence of the #ASHDifference. The development of spirituality, of feeling known and loved by God and by our school community, and cultivating joy not only shapes the daily experience of ASH students, but it shapes the trajectory of their lives.
As we enter the liturgical season of Lent next week, our school theme is Hope at the Foot of the Cross. We are all bearing our own crosses. How might we be the hope at the foot of someone's else's cross? And, how might we allow others to bear the weight of our own crosses? This theme is a perfect example of how we are called as an ASH community to be signs of hope in our would.
A Climate of Respect
By Linda Kozler, Director of Girls Education & Upper School Director
Goal IV, Criterion 1: The school, affirming that all are created in the image and likeness of God, promotes the inherent dignity of the human person and strives for relationships characterized by inclusion and mutual respect.

The Academy of the Sacred Heart is "small by design," which offers our students a unique, even rare, opportunity to be deeply known, and to be genuinely connected--with one another, and with their teachers. This bedrock of community and true connection means that relationships characterized by inclusion and respect, highlighted in this criterion, are much more readily the norm here than in larger schools. Research tells us that a positive school climate exists when all students feel comfortable, wanted, valued, accepted, and secure in an environment where they can interact with caring people they trust. We also know that a positive school climate benefits everyone associated with the school – students, staff, parents, and the community. A growing body of research indicates that positive school climate is associated with, and can be predictive of, academic achievement, students' healthy development, and higher self-reported levels of happiness.
Students need to feel safe in order for school climate to be healthy, and for us to be able to promote this criterion fully. This includes feeling both physically safe and emotionally safe. Best practices have taught us that one of the key ways we can know whether our students feel safe is to explore whether students feel both that they respect others and that they are respected by those around them. Respect, as a key aspect of both school climate and this criterion, is a high value and priority at ASH. In the Upper School, we recently started to do a self-reflection on respect as a school, following the best practices for improving school climate (and therefore living this criterion more and more fully over time): collecting data (we surveyed students about their experiences of respect in the building, both giving and receiving), using student leadership (a team of students who are invested in wanting to improve the experience of respect in the Upper School started to meet to look at the data and address what it tells us), and listening to student voices (the committee is working on plans to increase student experience of respect, as well as seeking ongoing feedback from the adults and students on this topic).
This is one concrete way that we at ASH are actively working to live this Criterion and Goal to the fullest extent possible every day.
Life at the Sacred Heart Booklet Published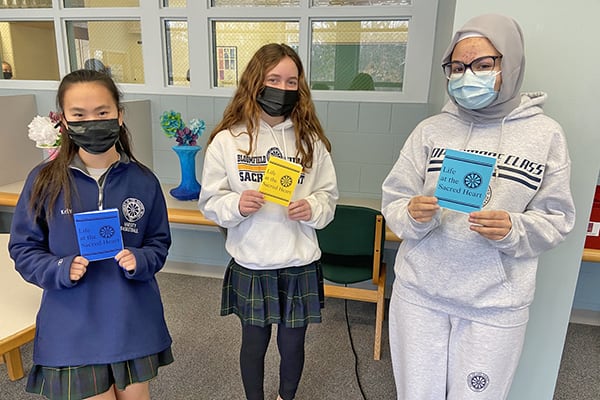 First published by the Network of Sacred Heart schools in 1985, and newly commissioned by Upper School Dean Mrs. April Wilcox, the Thursday morning service group has been hard at work re-imagining this 20-page booklet for a new generation of Sacred Heart students. Under the direction of Gillian Donoghue '21 and assisted by Grace Micale '21,, the booklet was completely re-set and printed for distribution to Upper School students. The initial run of 80 books was timed to coordinate with Catholic Schools Week, February 1-5. Ably assisted by Publishing Center members Bella McHugh '21 and Mimi Filak '21, the books are available from the Dean's Office.
Micro Loans Project
By Jordan Rivenburgh '24
In 2020 the Upper School joined Kiva, an organization that oversees microloans throughout the world, and supported two women in their efforts to buy store supplies and seeds. The loans we gave were repaid in January 2021, and so we were able to proceed in choosing two more women to support with loans. Using our $200 loan repayment and the $200 more we raised this year, we are able to loan a total of $400 to Ester and Domiciana.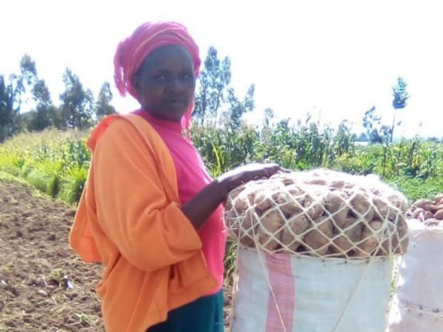 Ester is from Kenya and is married with four children. She has had a farming business for 30 years, and with the loan we give her, she will be able to purchase seeds and more fertilizer. Ester's hopes and dreams for the future are to have the opportunity to educate her children and to have better living conditions.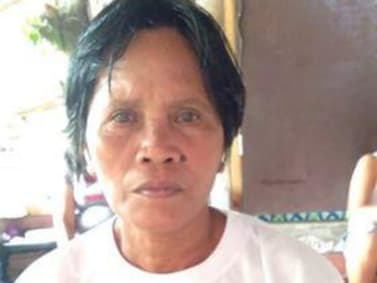 Domiciana is from the Philippines and is married with two children. She has owned a fishing business for the past six years. Using the loan we give her, she will purchase more fishing tools and materials for maintaining her fishing boat. Domiciana's hope is to save enough money to provide a future for her family.
Outreach360 Service-Learning Internship
By Charlotte Carozza '22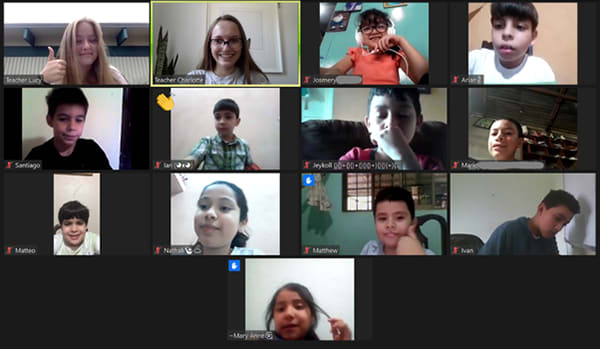 My experience with Outreach360 this summer was incredible. I got to meet 20 kids living in Nicaragua, and I spent four weeks teaching them math and English. I knew I was making an impact when I saw how much confidence the students gained throughout the program. They were so eager to learn and participate, and I am so glad that they found Outreach360 so they can get the best opportunities possible. During the internship, we took time to learn about Nicaragua and how to be a global citizen. I learned so much about the situations that people in South and Central America face, and this organization is using the power of education to help the kids that live there have the future that they deserve. I am teaching with Outreach360 again this spring, and I encourage you to sign up! Each volunteer makes an enormous impact. When we said goodbye to our students this summer, I remember one of the kids saying, "Bye teachers, you will forever be in our hearts." When I heard this, I was reminded of the enormous impact that Outreach360 volunteers have on each student. This organization truly changes lives and makes an impact by planting a love of learning within each one of its students, and I am so grateful to be a part of it.
Wise Freedom
By Kim Davidson, Kensington Hall Director
Goal V, Schools of the Sacred Heart commit themselves to educate to personal growth in an atmosphere of wise freedom, plays such an important role during the middle school years. Adolescence brings about so many new and unique challenges. Middle school students are learning to navigate a newfound independence, spend more time with peers, and try to figure out who they are, what they believe, and determine right from wrong.
Middle school is such a tremendous time of growth, both physical and emotional. Each student is growing into the young man he is meant to be. Because of this, he may begin to challenge authority, rules, and structure. He will make mistakes. Let me say that again. He WILL make mistakes. At Academy of the Sacred Heart, we recognize that learning from mistakes is an integral part of adolescent development. In Kensington Hall, we provide a safe environment for our boys to stretch their wings of independence, give them opportunities to make choices for themselves, and help them to understand how these choices can impact them and others around them. We work to create "an atmosphere of wise freedom" in Kensington Hall. We help our students to understand that freedom equals responsibility and that all choices come with consequences.

If they don't complete their part for a group work presentation, they have to own up to that with their peers and make it right with their group members. If they don't complete an assignment on time, they have to work out a solution with their teacher. If they choose to talk with their friends and get off track during classroom work time, they have chosen to give themselves what I refer to as "self-assigned" homework. If they choose to not complete their cycle work, they will miss out on Immersion Week activities until that work is complete. If they choose to be too rough or competitive during P.E. or recess, they may have to lose the privilege to participate in the next game.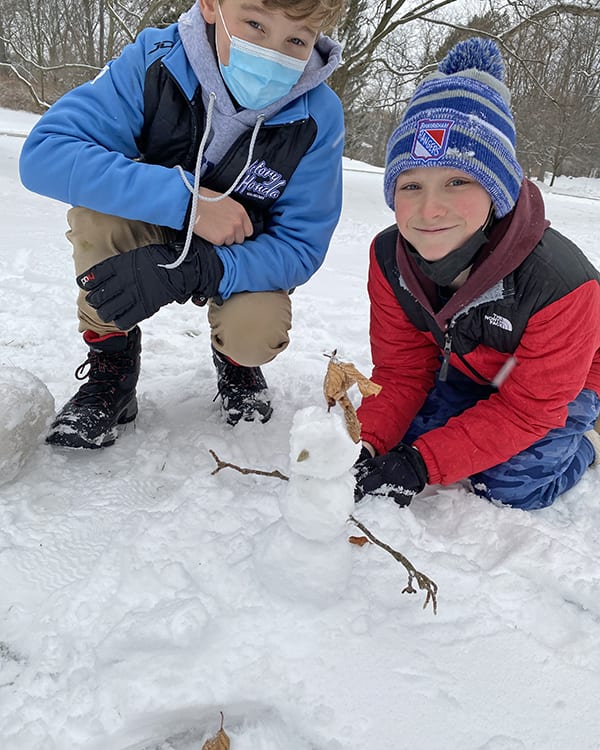 So much of our work and conversations in Kensington Hall revolves around helping our students make wise choices for themselves and for others. Our goal in creating the "atmosphere of wise freedom" is ultimately to help them understand that they can learn from their mistakes and make better or different choices next time. As Henry Ford said, "The only real mistake is the one from which we learn nothing."
Goal 5 & A Growth Mindset
By Joyce Lee, Middle School for Girls Director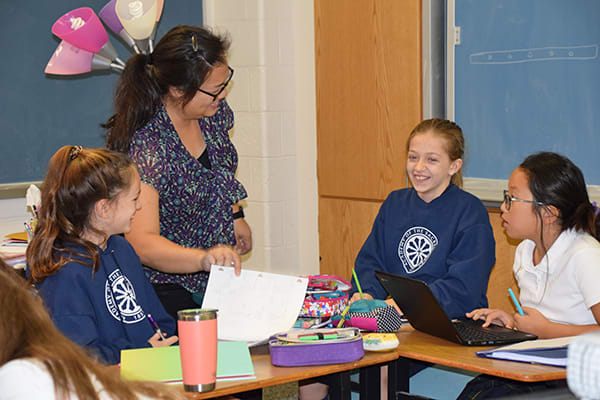 Above: Teaching math earlier in my career at ASH
Since the age of 7, I grew up within walking distance from Sacred Heart and would often come to the campus to rollerblade on the smooth blacktop surface, and even worked as a junior camp counselor for summer camp. Little did I know that this place would become my second home for 17 years of my professional career. Having the Goals and Criteria as a lens in which to view and live my life has been a blessing in so many ways, and I'm grateful that students who attend ASH are able to hear the mission at a younger age. Being asked to pick just one criterion is so hard to do, but looking back on my life as a math educator, I would have to choose Goal 5, Criterion 1 as my favorite. This new criterion asks for members of the community to grow in courage and confidence as they discover new abilities, cultivate strengths, learn from mistakes, develop empathy, and exercise resilience in meeting challenges.
One of my favorite stories to share with the girls is my own experience as a middle school math student. Students who have had me as a math teacher just assume that I've always been good at math. Even though I was a pretty good student when I was in the sixth grade, when I entered Mr. Hart's Pre-Algebra class as a seventh grader, I was in for a very rude awakening. This was the year when I received my first "E" and other failing grades on my math tests and quizzes throughout the year (below). I can still remember the long nights at the dining room table crying over my homework because I didn't know how to find the percent of a number or how to set up the percent proportion.
I didn't just struggle for one chapter; it was a challenge for a majority of my seventh grade year. It would have been easy to throw in the towel and proclaim that "I'm just not very good at math" and let that define me for the rest of my life. I am so thankful that, through hard work and persistence, I was able to overcome my math challenges and, with that, have the opportunity to teach students Pre-Algebra during my journey as a math teacher here at Sacred Heart. I feel that my own challenges actually make me a better teacher because I am able to understand where my students are coming from and empathize when I see them struggling with not meeting expectations. In hindsight, that red E at the top of my math quiz actually taught me so much more than all of the A's I've earned combined. It taught me not just how much I knew about percent and proportions, but more importantly, about who I was as a person. Having this criterion to guide me would have helped me so much as the tearful 12 year old, but I am thankful to have it now and to be able to use the personal growth mindset to help support your daughters.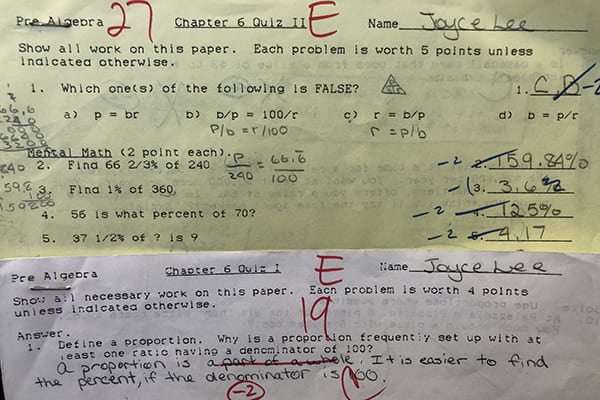 Safe, Ethical and Responsible Use of Technology

Goal 5, Criterion 5 states that "Student and adult members of the school community model, practice, and teach safe, ethical and responsible use of technology." Recent health classes in the MSG have focused on social media, cyberbullying and staying safe online. Officer Dave Vankerckhove, the Bloomfield Township School Liaison officer, visited health classes via Zoom the week of February 8. He taught students about the laws surrounding cyberbullying and answered numerous questions from students. Below is a reflection about the experience from Grade 7 student Alexa Ross.
When I first walked into Health class on Wednesday, I'm not going to lie, but I was nervous and curious about what Officer Dave would be covering in his presentation. I also thought I would have a hard time understanding because of all the information that was being shared, but something that surprised me was how well he really 'decoded' the hard to comprehend words and really brought it down to our level, helping me take in more information that I thought I would get out of it. Officer Dave was open to any questions that we had, and answered in a way that was both informative and understandable. Most of the information really surprised and educated me on keeping safe on the internet.
A Deep Respect for Intellectual Values
By Renee McNally, Primary School Director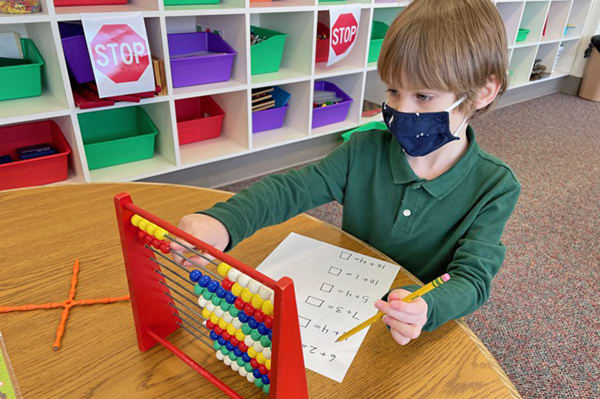 The Goals & Criteria are alive and visible in all aspects of the Primary School program. In addition to all students participating in the "I Love Sacred Heart" experiential where they learn about the Goals & Criteria and the important people who shaped the history of Sacred Heart education, the students are the beneficiaries of a dynamic school Mission that permeates all that we do. Upon reading the revised Goals & Criteria, we are reminded that they are a gift and a responsibility.
As Sacred Heart educators we are called to "develop and implement a dynamic curriculum" along with "effective instructional methodology," both of which should be based on "current educational research" (Goal II, Criterion 2). The Primary School math room is one curricular area I would like to highlight today through the lens of Goal II, Criterion 2.
Our math room is an exciting place for the Primary students. Math in the Primary School is a far reach from the traditional math classes people of our generation probably experienced. In our math room you will find children who are happy and motivated to learn about math. It is a place of comfort, where children can develop their math skills while progressing at their own pace. The math room is filled with an abundance of math materials that the children are free to explore on any given day. You will also see both small groups of children working together on activities and individual students working on math concepts with a teacher.
Students in the Primary School experience math in ways that are concrete and developmentally appropriate according to educational research. Because of this approach, the children develop a strong number sense that will serve as the foundation for future math concepts. Through ongoing professional development, the following beliefs regarding math instruction for young learners have been affirmed:
Developing beginning number concepts involves more that rote memorization.

Varied experiences with real objects over a long period of time is essential to understanding number relationships.

Early math experiences should make sense to the child. (What does the child need at this moment in time to deepen his/her understanding of a concept?)

Children will productively engage in math activities when they are given choices.

Time must be given to practice tasks over and over until the child no longer finds the task challenging.
The Primary School faculty is committed to providing your children with math experiences that will help them develop a strong foundation. As your child engages with materials in meaningful ways, he/she will become confident in their math abilities which will help to deepen conceptual understandings.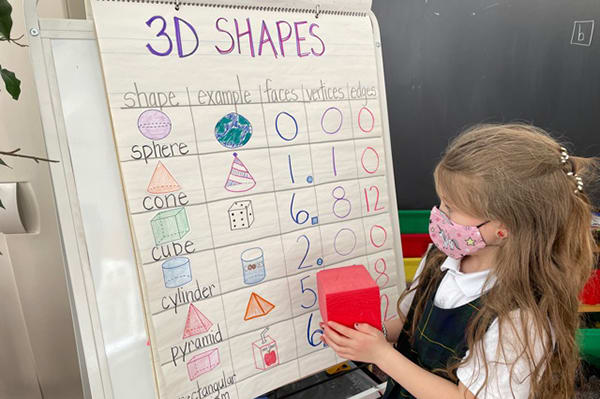 A Social Awareness Which Impels to Action
By Kristen Miller, Early Childhood Program Director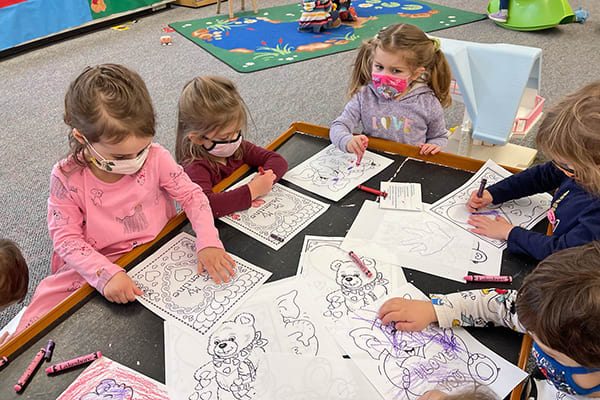 Above: Preschoolers making Valentine pictures for the Lower School teachers
Goal III, a social awareness which impels to action, always comes to mind first when asked about my favorite Goal. Although I pride myself in modeling and living each of the Goals in my everyday life, Goal III has always been special to me from the year I started my career at Sacred Heart. The seventh criterion within Goal III states: Sacred Heart Educators work to develop in students a life-long commitment to service.
One of my many favorite service stories dates to my very first year at Academy of the Sacred Heart. I was a Preschool teacher and was asked if I would chaperone an Upper School Project Term trip to Poughkeepsie, New York to live and work on a Sacred Heart farm for a week. I immediately said yes. I was not sure what talents I had to bring to this service activity, but I was sure willing to give it my best. Some might say this trip was also one of personal growth for me and the ladies I took. We quickly learned what chores needed to happen on a farm each day: cleaning stalls, baling hay, milking cows, and even watching the miracle of birth when we witnessed a few baby lambs and goats being born.
Was it an easy week? Nope. Was it a life-changing, fulfilling week? Yes! One of the service activities was to build a new trough for the animals. With hammers and nails, the girls worked together and got the job done. These are all such fabulous memories - a working, Sacred Heart farm that was run by our own RSCJ!
This began my strong commitment to service here at Sacred Heart and outside of these doors and into the community, such as volunteering at Forgotten Harvest and the Michigan Humane Society. My most cherished service commitment is running a non-profit organization with my husband in memory of our son, Ryan, who passed away of cancer.
Our hope is to instill this social awareness in our youngest learners, and there are many ways they can participate in service, such as collecting food for the Thanksgiving Baskets that went to the Lighthouse, Christmas toy donations, helping to clean tables after a meal we shared together, sharing a new song with another classroom, and so much more. Service is a Sacred Heart tradition that is extremely impactful and will live in your child's heart forever.
Thank you to all who supported Benefit 2021, "Never Apart, Together With Heart!" We are so grateful to all who played a role in last Friday's event, from wonderful sponsors, to auction donors and auction bidders, from paddle raise donors to ticket package purchasers - and in particular, our fantastic chairs, James and Kate Gwaltney. Because of each of you, our first-ever virtual event was a huge success. Nearly 380 viewers helped raise more than $215,000 in support of Academy of the Sacred Heart!
As a member of the Independent Schools Association of the Central States (ISACS), Academy of the Sacred Heart is pleased to offer our families access to their Parent Series of webinars on timely topics. To participate in any or all of the following events, you must pre-register; click here for details. Please reach out to Erin Wrobleski with any questions about the ISACS Parent Series.

The Importance of Executive Function: Helping Them Show What They Know with Steven Guy & William Benninger, psychologists - Wednesday, February 17 at 7:30 p.m.
Speaking to Children About Race with Y. Joy Harris-Smith, educator and author - Wednesday, February 24 at 7:30 p.m.
Parenting in a Pandemic with Michael G. Thompson, psychologist, author and school consultant - Wednesday, March 3 at 7:30 p.m.
Managing Anxiety, Stress & Parenting Under COVID-19 with Lisa Damour, psychologist and author - Wednesday, March 10 at 7:30 p.m. Dr. Damour previously offered this presentation to ASH parents as part of the Heart of the Matter speaker series in 2020.
ACADEMY OF THE SACRED HEART