Learning Community eNews | January 15, 2021
FEATURED STORY:
A Stone of Hope
By Dr. Korin Visocchi, Chief Learning Officer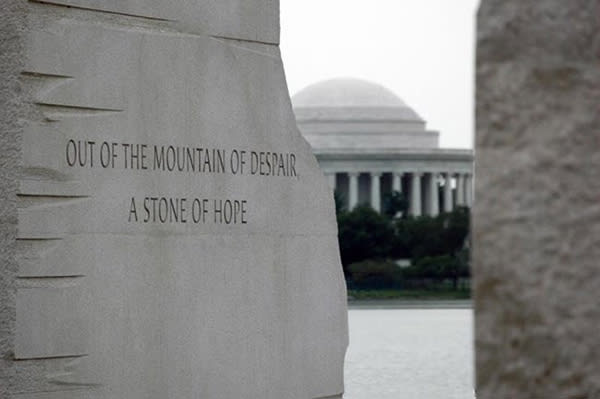 Photo: NPS / Bill Shugarts
The 2020 articulation of the Goals and Criteria emerges at a transformational moment in our history. And our foundresses have modeled for us that these moments in history are ideal for exploring at depth our core beliefs and values, educational philosophy, culture and life with Sacred Heart schools.
In the week ahead, we celebrate the life and legacy of Dr. Martin Luther King, Jr and look forward prayerfully to the peaceful transition of power in our country's highest office.
Each learning community, in their unique mission-focused and age-appropriate way, have been honoring the life and legacy of Dr. Martin Luther King, Jr; they have been analyzing speeches, sharing prayers for peace, studying the impact of the civil right movements, and modeling courage and confidence.
Goal III: Schools of the Sacred Heart commit themselves to educate to social awareness which impels to action.


Criteria 3: The school, drawing from Catholic Social Teaching, educates students to analyze and work to eradicate social structures, practices, systems, and values that perpetuate racism and other injustices.
Saint Madeleine Sophie Barat hoped that education within her schools would be profound enough to inspire people to rebuild, renew and transform society, wherever they lived. (Phil Kilroy, Madeleine Sophie Barat, a Life). Committed to educating to the charism of Saint Madeleine Sophie Barat, we celebrate the life of Dr. Martin Luther King, Jr.
In thinking about images and words to celebrate Dr. King, I'm drawn to the Stone of Hope at the Martin Luther King, Jr. Memorial located in West Potomac Park in Washington D.C. While each part of the memorial is significant and symbolic, the Stone of Hope surges forward as the focal point and references a line in King's speech, "With this faith, we will be able to hew out of the mountain of despair a stone of hope." As people of hope, let the life of Dr. Martin Luther King, Jr. continue to serve as inspiration to others fighting for civil rights around the globe.
Society of the Sacred Heart: In Solidarity with Those Who Are Most Vulnerable
The Society of the Sacred Heart makes clear that love is their mission; and from the contemplation of the Pierced Heart of Jesus in the heart of wounded humanity flows the desire to commit ourselves with greater passion and compassion to justice, peace, and the integrity of creation.
The Society of the Sacred Heart joins with the world in praying for peace and shares the hopes of the Leadership Conference of Women Religious (LCWR):
"In our increasingly divided nation, we renew our commitment to the common good and pledge to take up the challenge to use our energy to repair our democracy and contribute to the work of building a more perfect union. We invite all people of good will to join us and we call on our elected leaders to point the way."
MLK Day of Service: Monday, January 18, A Day "On" for Service & Celebration
Observed each year on the third Monday in January as "a day on, not a day off," MLK Day is the only federal holiday designated as a national day of service to encourage all Americans to volunteer to improve their communities.
In the spirit and ethos of Sacred Heart education, we encourage you and your family to reflect on the values that Dr. Martin Luther King, Jr. embodied. As a Sacred Heart family, let us empower individuals, strengthen communities, bridge barriers, create solutions to social problems, and act for justice on this day specifically, as well as throughout the year.
Project Term 2021 - A Rare Opportunity
By Linda Kozler, Director of Girls Education & Upper School Director
Project Term, the immersive, experiential week that the Upper School students and faculty all engage in together each March, is one of the most valued and core experiences of our school. Now almost 50 years in the making, this prized week in which small groups venture out across the state, the US, and globally in an intentional and life-changing experience rooted in the Goals and Criteria, continues to grow in exciting ways. This year, despite having to stay at school for Project Term due to the pandemic, we have been able to partner with the company Rustic Pathways to provide what will be a truly extraordinary global opportunity for our students.
For this year's Project Term, the students have selected a global challenge (such as equal access in education, environmental protection, etc.) and will work via Zoom with an in-country team during Project Term week (the education team is in Mongolia, the environment team is in Costa Rica, etc.). The in-country teams will partner with our girls by sharing their culture, tours around their locale, meetings with local people, as well as sharing their own struggle in terms of their lived experience with the issue matched with that country. They will then help the girls to use what is known as the Design Thinking model in order to create real solutions to help improve the lives of the people in that country.
What is Design Thinking?
Design Thinking is a model for creating change that was created and originally used by businesses, engineers, and global-assistance agencies. The process is rooted in empathy and genuine human connection before problem-solving, coupled with the use of a creative thinking or ideation process. A perfect fit with the Goals and Criteria! To learn more, this brief video is helpful.
Why is this such a rare opportunity for the Upper School students?
Originally, a person only had experience with Design Thinking in graduate school or the professional world. In recent years, it has started to be incorporated into undergraduate curriculum. We are being offered a unique opportunity to have our girls guided through a Design Thinking process in global solutions while still in high school! This means that they will apply to colleges with this unique strength and experience already under their belts, as well as benefiting from the ability to use it in all of their future endeavors. This is a concrete way that our Sacred Heart graduates can develop even more effectively into true change-makers in the world.


Moving Forward With Project Term
As soon as our circumstances allow, the Upper School will return to traveling for our Project Term experiences each year (hopefully next year!). It is my fervent hope that, by becoming hands-on young experts in the Design Thinking model this March, our girls can build a "blueprint" to infuse all of our future Project Term trips, year by year, with this exceptional experience and framework. This would ensure that every new class of Upper School students will gain mastery of the incredible Design Thinking skill-set, and the PT experiences will become stronger and richer every year.
Daughters of the American Revolution Good Citizens Award
By Becca Fite '21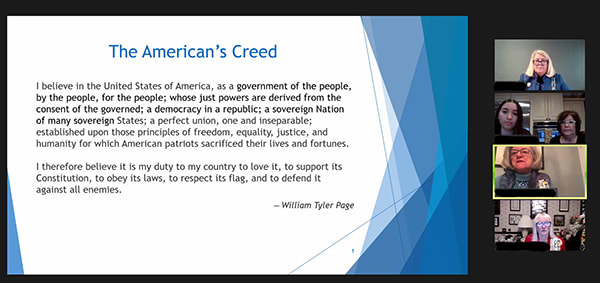 On Tuesday, I had the honor of receiving the Daughters of the American Revolution Good Citizens Award after being nominated by Ms. Parks and receiving a letter of recommendation from Mrs. Kearney. I especially appreciated the effort and care that was taken to make this event a possibility and the kind words that the board members had to share. In addition to being recognized for this award, I was able to spend the afternoon with and hear personally from the other recipients who do meaningful work within Southeastern Michigan that extends far beyond our state. We were all so different from each other in our passions and backgrounds, but we were all bound by that vocation as citizens of the United States to be models of qualities that DAR represents through dependability, service, leadership, and patriotism, which are especially important during this time. Receiving this honor compels me to reflect on how these values and the values of Sacred Heart translate into who I am as a person of service and as a leader. Being a member of this extensive community for seven years, having the privilege of representing the people who have been mentors to me in my understanding of the Sacred Heart Mission, and having the opportunity to be a part of organizations like the Daughters of the American Revolution instills in me the ability to hold myself to high standards and prove myself as a person of integrity each time in order to best serve others.
Remote Fun!
By Patricia Kearney, Upper School educator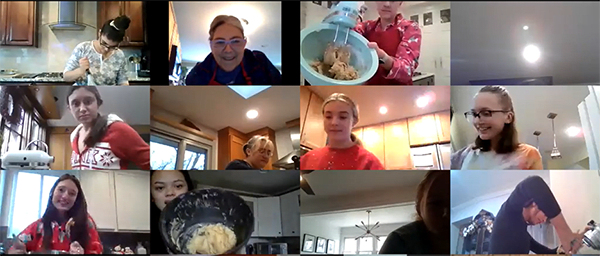 We are happy to be starting back this semester in person but there are some fond memories of celebrating the Advent and Christmas season remotely that we will keep with us into this new year. Each week in the Upper School we were able to light the Advent candle and pray together in our Monday meetings. Then in religion classes each day, we lit the Advent candles and shared mini Advent poems to keep us focused on the waiting and patience of the season. On Fridays, Upper School students gathered on Zoom to recite the Rosary together before classes, and were also able to do this on the Feast of the Immaculate Conception and the Monday morning of exam week. We are thankful for our times together celebrating liturgies virtually, too.
Keeping the season festive, we shared Christmas dress up days, views of Christmas trees, holiday mugs and our virtual learning spaces lit and decorated. We had St. Nick greetings and Jib-Jab dances (even from the faculty). The juniors, after looking at the social justice themes in Christmas Carols, even attempted a Christmas cookie bake off online.
Although we were remote, we have lots of good laughs and memories of our virtual Advent and Christmas 2020 and now look forward to the wonders of the New Year!
Community and Brotherhood
By Kim Davidson, Kensington Hall Director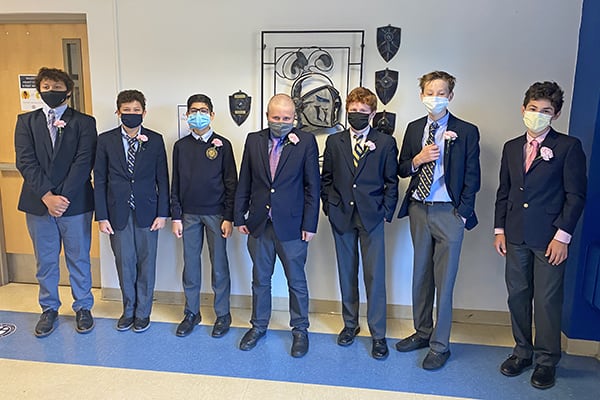 How can one define community? The dictionary defines community as "a feeling of fellowship with others, as a result of sharing common attitudes, interests, and goals." In the Goals and Criteria we recognize the building of community as a Christian value. Community joins people together. Members of a community feel a sense of trust and belonging. A community takes care of one another during times of need.
We are all members of many communities. Family, school, work, church, peers, and teams are just some of the communities in which we belong. I believe this year has made us realize even more just how important community is. In a time when we are being asked to socially distance ourselves from our loved ones and our peers; when sports and extracurricular activities are on hold and church continues to be online, how does that change how we come together as a community? We find creative and innovative ways to continue to come together and build community. It has become even more apparent this year how special and strong the Sacred Heart community is. It is evident in the hallways and the classrooms (both in person and virtual), in all the ways the boys help and support one another, and how our families unite and support one another in times of need.
Here's what some of our KH Knights have to say about their school community:
"What I like most about the KH community is how welcoming they were of me. I was new to this school and all the kids that were here before me were very welcoming. I also like how we have a brotherhood and everyone gets along. All in all the KH community is a very strong and welcoming community." - Patrick McCarthy
"What I value about KH [are] the participatory activities and classes. From Latin to Language Arts, everything about KH makes you feel welcomed." - Colin Moran
"KH is a great community; there are many unique things about KH. We have nice teachers who give you help when you need it." - Charlie Pankratz
"What I like about Kensington Hall is that everyone is selfless and caring."- Declan Feeny
We are pleased to welcome three new members of our Kensington Hall community! Jeremiah Allos joined our Grade 5 class, and Sam Versaci and Quinn Kuchman joined our Grade 6 class. We are happy you are here!
New Beginnings
By Joyce Lee, Middle School for Girls Director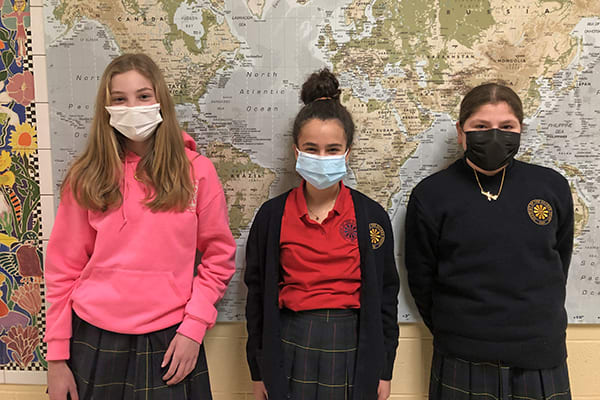 With the events of 2020 behind us, I am sure many of us celebrated the arrival of a new year and a new beginning. January not only kicks off 2021, but in the life of a student, it is also the start of a new semester. This is a time where your daughter can reflect on the progress made since the end of August and can make changes if necessary, for an even better second semester. Middle school is forgiving in that way; she can try out different strategies as she gets to know herself as a learner. I hope she took the time to read the narratives written by her teachers and that she did not just focus on what grade she earned. If your daughter was unhappy with her performance during the first half of the year, I would invite you to have a conversation with her on what she thinks she needs to do in order to improve and have her come up with a plan and set goals. It's important to set measurable goals. For example, instead of saying that you want to read more, a measurable goal is to read for 30 minutes three times a week. This makes it easier for her to track her progress. She is also welcome to talk to her teachers about her progress and goals to improve. They say hindsight is 2020, so let us use this opportunity to improve for an even better learning journey in 2021!
To celebrate another type of new beginning, we would like to welcome our three new MSG students, pictured above, left to right: Clare DePorre (Grade 8), Milana Kest (Grade 6), and Seidra Abdo (Grade 6).
Math Olympiad Results
By Charity Callas, math educator
The Second Math Olympiad contest took place on Monday, December 14 for all grades. Along with solving the five challenging math problems, the students needed to participate in the necessary online format due to remote learning. Given this is the 42nd year of the organization and over 5,200 teams are registered worldwide, we are so very proud of our students! Students with the top scores in their grade were also recognized at morning assembly. The next contest takes place on Friday, January 15.
Division E (Elementary Division)
Grade 5 with a score of 1: Penelope Wright
Grade 6 with a score of 4: Trinity McCormick


Division M (Middle School Division)
Grade 7 with a score of 2: Maria Juzych, Madison Karakashian, Reese Lindsay, Alexa Ross
Grade 8 with a score of 2: Atia Samuel
Full STEAM Ahead!
By Emily Avendt, Lower School Director & Director of Learning Support

Lower School students are starting off the second half of the school year moving full STEAM ahead with their explorations in science, technology, engineering, art and math. Last week, Lower School students participated in the Continental Math League contest, a 30 minute, six-problem math meet during which students use critical thinking and problem solving skills to work on novel and challenging math problems. The students did a great job stretching and applying their math skills to work through the problems, and they will participate in two more CML math meets this school year.
Lower School students are also currently engaged in exciting experiential and cross-curricular science investigations. The Grade 2 students are learning about the water cycle and Grade 3 and 4 students are exploring various forms and transfer of energy. Grade 3 students constructed Transfer of Energy Designs out of materials found around the house to apply and demonstrate what they learned. Students are taking these explorations one step further, by experimenting with electrical energy transfers via circuitry in ASH Works by making wind powered cars and flashlights.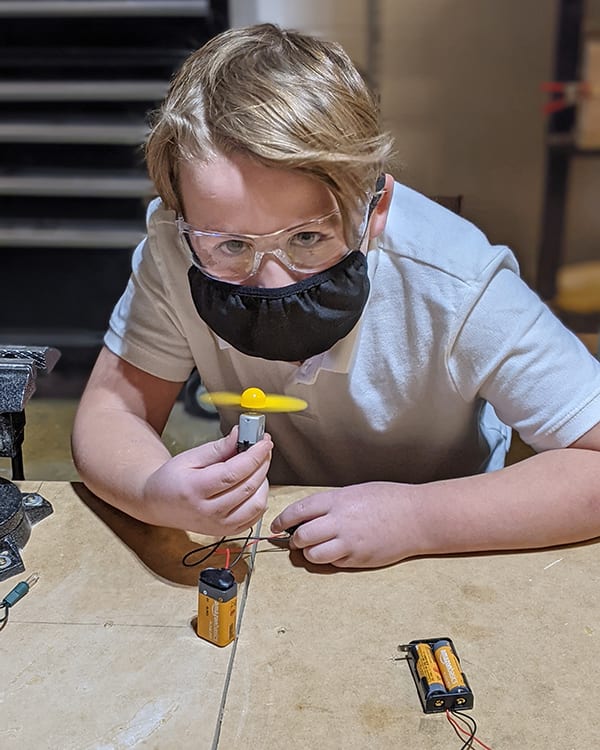 These STEAM activities are in perfect alignment with Criterion 4 of Goal 2: The school curricular and co-curricular programs integrate innovation and collaboration, critical thinking and problem solving, the exploration of emerging technologies and critical evaluation of information.
This spring we're expanding Science Night into STEAM Week. During STEAM Week, Lower School students will participate in different experiential activities each day, culminating with the beloved egg drop on Friday, April 23!
Heavy Work = Happy Brain
By Renee McNally, Primary School Director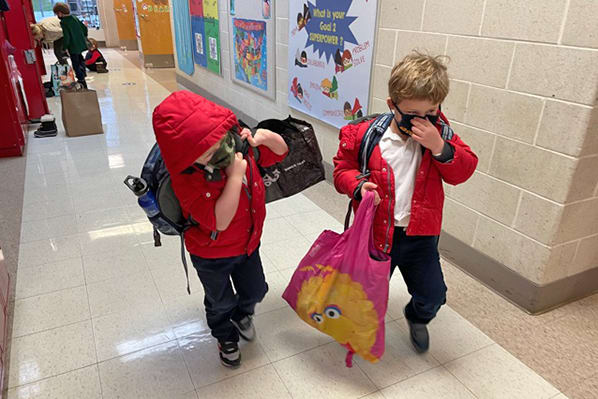 The Primary School educators were thrilled to see the students carrying their own belongings from the car to the classroom upon return from Christmas break. Yes, some of their bags were a bit heavier than usual and caused some slight awkwardness as they moved down the hallway, but they were engaging in important "heavy work," which is good for their learning!
Research has proven that participating in a physical activity prior to sitting down to complete a task promotes better attention, focus and calmness. Occupational therapists use heavy work activities to help children develop coordination and to get a child's brain ready for learning. These types of activities help prepare students to perform better in the classroom as well. Heavy work activities can be incorporated into a child's daily routine in natural ways. The Primary School students engage in heavy work throughout the school day. Some of these activities include lifting the chairs on and off the tables, climbing on the playground equipment, carrying books, sharpening pencils with a manual sharpener, kneading clay, and holding doors open.

Click here for heavy work activities your child can do at home. As a bonus, many of these ideas translate into helpful chores to promote the development of responsibility!
Welcoming 2021
By Kristen Miller, Early Childhood Program Director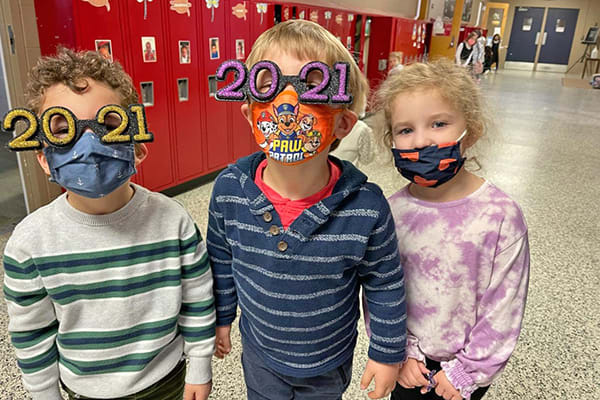 I hope that everyone had an enjoyable holiday. I know it looked very different, but I hope you were still able to find the joy and wonder in your child's eyes on Christmas morning. I have never been so happy to put a year behind me, and I am sure many of you feel the same. Good riddance to 2020. 2021 brings many new families to our Early Childhood Program. We would like to welcome you to our Sacred Heart family. To our families that have been with us for years or just a few months, thank you for your continued partnership.
As we move into the second half of the school year, we will have longer stretches of time in school where we will witness so much growth in your child. It may be mastering holding a bottle or sitting independently in our infant program, learning to walk and say a few words in Ryan's Roost, identifying colors in Toddler 1, potty training in Toddler 2, building skills for sharing in Young 3s, or, in Preschool, getting those fine motor muscles ready to master the task of holding a pencil or crayon appropriately. There is so much more that fits into the puzzle of growth for your child. We are here to make sure we are meeting all of those needs and so much more. The social and emotional health of your child is just as important to us.
Be sure to watch for an opportunity to sign up for our next set of conferences that will take place in March. This will give you the chance to speak with your child's teacher and hear about all the wonderful growth that will be taking place in the next few months. Thank you for allowing us to be a part of your parenting journey. Here is to a fabulous 2021!
ACADEMY OF THE SACRED HEART