Learning Community eNews | December 4, 2020
FEATURED STORY:
Recess During Remote
By Korin Visocchi, Ph.D., Chief Learning Officer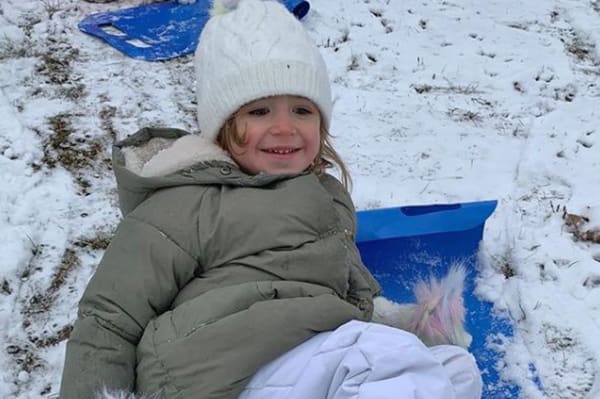 My two pieces of advice that I share with parents who are now home with remote learners: include recess in your day, especially in the wintertime, and please set (and keep) a schedule.
Recess
Recess is such an important part of the day for both children and adults. The word origin dates to the mid-16th century to indicate a withdrawal or departure. At recess, Sacred Heart students depart for the beautiful grounds, swing sets and play structures. Recess allows students a chance to switch gears and focus on exploration, choice, and fresh air. When we are home, please include recess in your day. Being outside nurtures a spirit of independence and a pause from (remote) learning. But what if it's cold and gray and snowing or raining?
"There's no such thing as bad weather, only unsuitable clothing." - Alfred Wainwright
So grab your gloves and warm coats, rain or shine, and depart for the great outdoors for recess with your child.
Daily Plan
Patterns and predictability give students and learners a sense of calm. The closer our daily schedule and plan mimics the school schedule, the easier we find our days together. Each night, try writing out the next day's synchronous Zoom calls and include two spots for recess. We try hard to make those recess breaks at regular intervals and always outside. It is easy to be tempted by the ease of the Kindle or TV, but we have found that bringing the kids back to learning after being on their Kindle is really hard and creates for some grumpy interactions. At the end of the "school day," look back at the daily plan and identify what went well and what still needs to get done. After some adjusting, once you've got a daily schedule (work, play and sleep) that works, stick to it.
Ladies of Charity Christmas Baskets Project
As people of hope, we are partnering once again with the Ladies of Charity in the Christmas Basket Project, which supports families in Oakland County this holiday season. Sacred Heart families are invited to drop off gift cards in denominations of $5, $10, $15, or $20 to the following stores: Target, Meijer, Walmart, the Dollar Store and Old Navy.
If you would like to participate, please bring the gift cards to the South Circle Portry between 7 a.m. and 5 p.m. There will be a contactless box that you may use to drop off the Advent gift cards. You may also send Advent giving gift cards to:
Academy of the Sacred Heart
attn: ADVENT CHRISTMAS BASKET
1250 Kensington Road
Bloomfield Hills, MI 48304
The Ladies of Charity Christmas Basket Advent giving will end on Tuesday, December 8.
Poetry Out Loud Live!
By Patricia Kearney, Upper School educator
I'm happy to announce that the Upper School grant proposal for the advancement of poetry has been accepted by Poetry Out Loud of the Michigan Humanities Grant Foundation. We have been members of the Poetry Out Loud initiative for three years, competing at the school and state levels. This grant will support the joy of poetry. We will have a committee of students researching and choosing new anthologies by both writers and spoken word poets to purchase for our classrooms.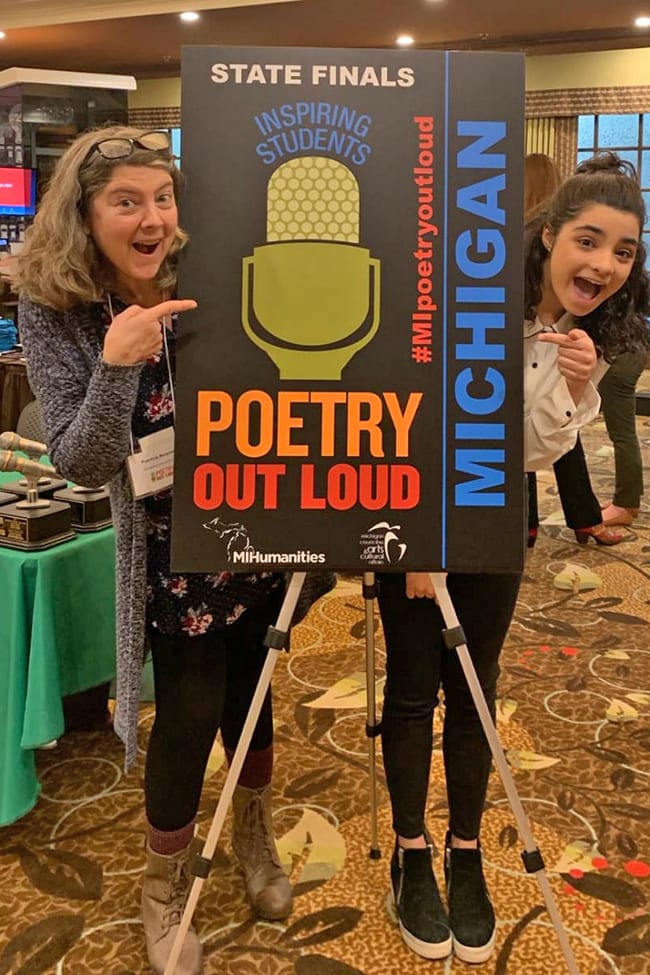 The grant money will also finance a visiting poet for a day of poetry in the spring and will support our annual school Poetry Slam. Right now, English classes are participating in Poetry Out Loud activities. Students have chosen poems to memorize, and in January will perform those poems for their peers. By February, a school-wide champion will be chosen to represent ASH at the State Competition in March (Sofia DeSanto '20, last year's ASH Champion, is pictured). We are excited that this grant will allow us to pursue poetry with even more passion!
"Curriculum of Joy and Laughter"
By Kim Davidson, Kensington Hall Director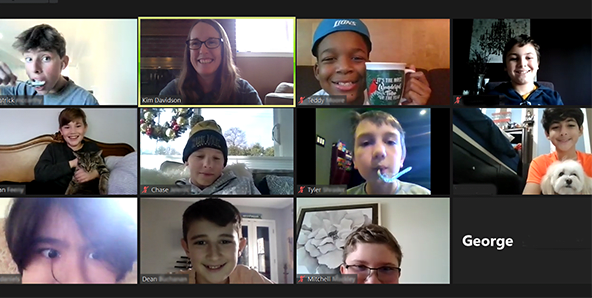 During a remote learning lesson, one may overhear teachers allowing students to spend time chatting and laughing about things that are off topic. Students may be talking about the latest video game, sports statistics, or yesterday's episode of The Mandalorian. Some may show us their pets, introduce us to their siblings, or show the decorations they put up in their rooms. This is intentional and important for our students.
During a typical school day, teachers and students have the opportunity to engage in spontaneous, casual conversations - in the hallway in the morning or at dismissal, on the way to classes, in the classroom as students enter, in the lunchroom, and at recess. We all need and miss these daily connections with one another. Relationships and community are formed during these small conversations and interactions. While we understand the importance of being remote to keep our community safe and healthy, we also recognize that clicking into a Zoom class is not the same as being together in our classrooms.
Before Thanksgiving Break, Mr. Hermann made a comment that has stuck with me during this time that we are remote learning. He said that especially during this time of Advent when we would be sharing so many activities together as a community, to be sure to remember to include in our work with the children "a curriculum of joy and laughter." I wrote that down and made it my mantra.
Of course, the teachers are still teaching our students how to best formulate their ideas in literature and writing, solve mathematical equations, how the periodic table is arranged, and discussing how our government works, while also allowing time for connection, smiles, and joy. We recognize that this shift to remote learning is difficult for many students. The middle school years are challenging in a "normal" year, and now our students have the added burden of trying to learn remotely during a pandemic. More than ever our students need grace, kindness, and patience. They will learn their academic lessons. It's not worth stressing or getting upset over school work right now. I can honestly say that these guys are doing the best they can at this time.
They are watching and learning from our reactions. My hope is that with our guidance and support (parents and teachers alike), they will also learn how to practice grace with others, how to be flexible in challenging situations, and that practicing patience and kindness is important when people are having a difficult time. In Kensington Hall, even while doing group work projects, literature discussions, and cycle tests, we are committed to adding joy and laughter into our curriculum, and I would challenge you all to find ways each day to put work aside and find joy and laugh with one another during this season of Advent.
Virtual Learning Tips
By Joyce Lee, Middle School for Girls Director
The shift to virtual learning began for MSG students on Monday, November 23, and the faculty and students have done a great job transitioning online. While it can never replace the face-to-face interactions that a classroom brings, virtual learning can have positives as well. Being able to see the smiling faces on Zoom has been the silver lining to all of this and I'm sure the girls have loved the extra minutes of sleeping in and wearing free dress. The girls should also feel a sense of independence as they navigate their own schedule and routine during remote. Some tips to help make this time as successful as possible:
Keep a regular sleep schedule.

Some students say getting up at their regular morning time, changing their clothes, and eating a good breakfast helps them start the day off on a positive note.

Put away those phones and iPads for non-academic use! Social media (especially TikTok) is going to be an even greater distraction for students during this time. Students will need to be diligent during the school day and may need their phones placed in a separate room to avoid temptation. Teachers are reporting seeing students randomly breaking out in dance and looking off screen during class. Please be mindful and check in on your daughter's social media and phone use during school hours.

Study spaces should be conducive for learning and students should be prepared with materials (paper, pencil, charging cords, books for class).

Use headphones when the student is in a community space so they can focus on what is happening in class and the class is not distracted by the noise.

Students should take screen breaks when they are given and use the time to use the restroom and eat their snacks off screen.

Use class time to work on assignments given. Don't let them pile up at the end of the day.

Attend office hours and check in with teachers on Thursday! What a gift to have an extra day in the schedule to catch up and ask questions.

Remember the spirit of Advent and think of ways to create memories as a family and ways to give back to the community during this time. Below, Ms. Callas' advisory shows us what gifts they bring this Advent Season!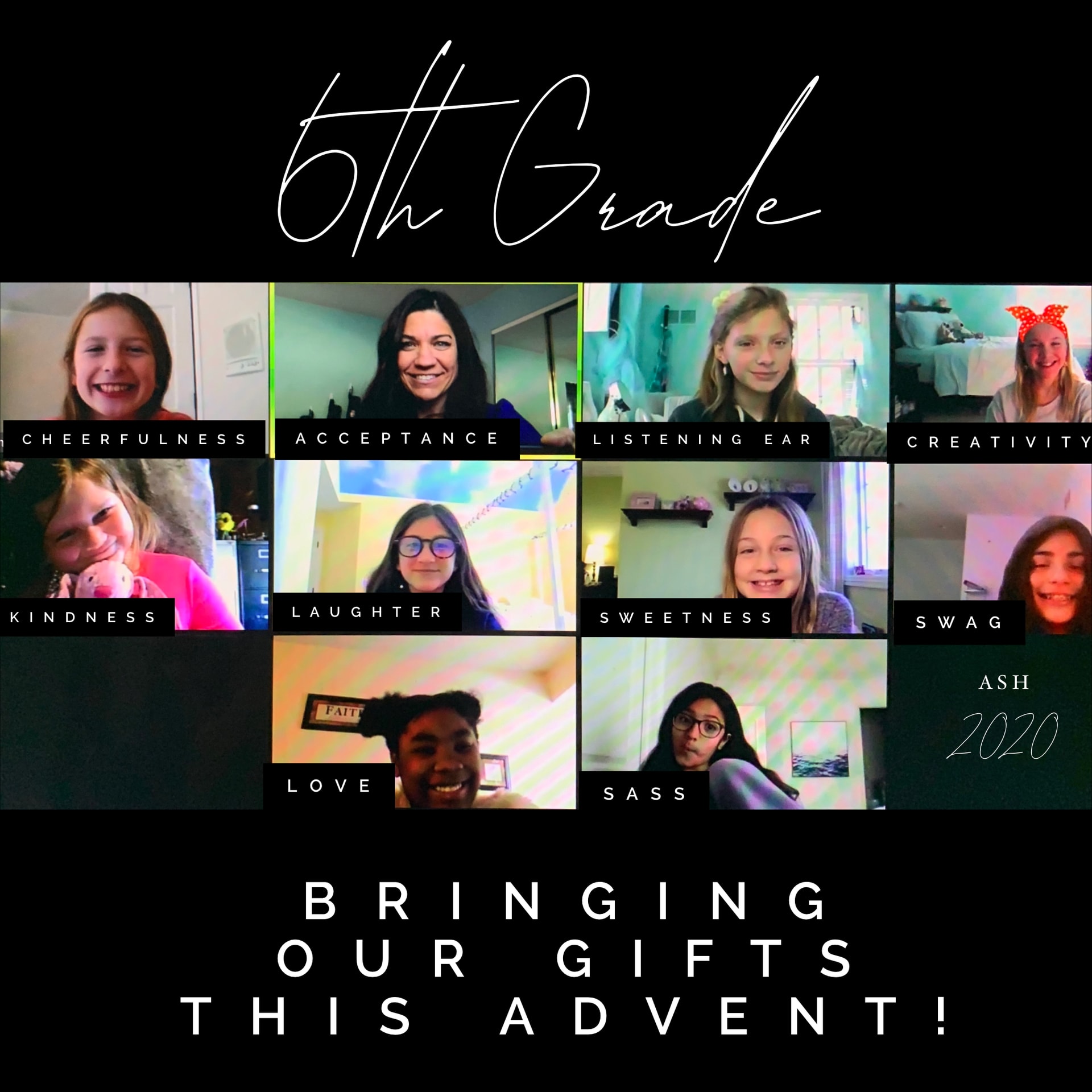 Advent - Finding Hope in the Manger
By Karen Lehmkuhl, MSG educator
Religion classes this week focused on learning about the church season of Advent. Grades 7 and 8 examined the Christmas story from the perspectives of the different characters involved in the story by creating modern Instagram profiles for each of them. All funny hashtags aside, the girls developed an appreciation for the unique perspective of each of these witnesses to the Christmas story and their personal connection to the birth of Jesus. The girls then spent time reflecting on their own connection to Jesus and how to continually invite him into their lives.
Grades 5 and 6 learned about Advent and practiced some spiritual preparation to make themselves ready for the birth of Jesus Christ. They created their own personalized Advent calendar of activities to use throughout the month. Hopefully you will witness and partake in some of these activities that involve family time.
Thursdays during remote learning provide the students with time to catch up and refresh their minds and bodies. The students received an email this week containing information about a service project idea that can be done from home during their Thursday free time. The project supports The Valentine Project, which sends cards, masks and pillowcases to children affected by cancer and chronic illnesses. They can make cards to spread love, hope and joy to some children who might need a little dose of that in their lives. The girls will receive additional service suggestions each week during our remote learning time.
Math Olympiad
By Alexandra Plannger, MSG educator
The first Math Olympiad contest took place on Wednesday, November 18 for all grades. Math Olympiad provides five critical thinking problems once a month from November through March which require students to solve problems with a creative approach. This is the 42nd year of the organization and over 5,200 teams have registered worldwide! Students with the top scores in their grade were also recognized at morning assembly via Zoom. The next contest takes place on Monday, December 14 for all grades. The contest will be on Zoom with answers in a Google form - which will be a new format for many students. Be prepared with a pencil and paper! Congratulations to our top-score earners below:
Division E (Elementary Division)
Grade 5 with a score of 2: Catherine Howe
Grade 6 with a score of 4: Antonella Kaminskas, Isabella Kaminskas, Trinity McCormick, Zara Sinkular
Division M (Middle School Division)
Grade 7 with a score of 3: Madison Karakashian and Kaylen Clark
Grade 8 with a score of 3: Ella Brenner
Hope Never Stops at All
By Emily Avendt, Lower School Director & Director of Learning Support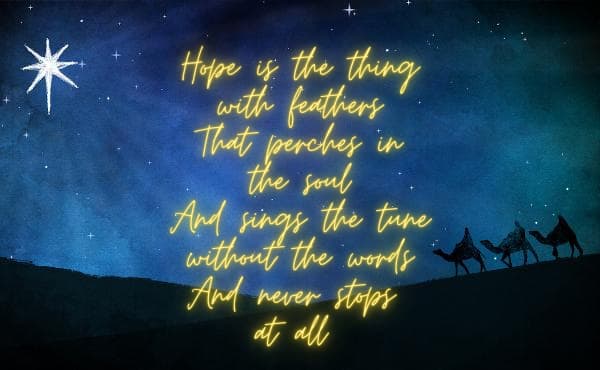 Dr. Visocchi runs great meetings and they always start with a reflection, prayer or poem. At a team meeting in September of 2019, Dr. Visocchi shared the poem quoted in the image above, which was written by Emily Dickinson. It really struck a chord with me, so I printed it out and hung it over my desk. So began my almost daily reflection on the word "hope."
Two months later I was in Syracuse, New York, at The Reading League annual conference. The conference was an incredible professional experience for me as I learned from and met literacy leaders from around the world. One of the keynote speakers, Dr. Maryanne Wolf, was particularly inspiring as she presented on the reading brain and literacy as a human right. After her talk, I had the opportunity to meet Dr. Wolf at a book signing. She asked my name before opening up to the title page of the book and writing, "To Emily, 'Hope is the thing with feathers…' (Emily Dickinson) May you always have hope in our children." Dr. Wolf asked if I had ever heard of that poem before, and I nodded in disbelief that it is the exact poem I reflect on daily at work.
Reflecting on hope continues to bring me joy, optimism and gratitude, and I'm of course drawn to our school Advent theme this year: Hope is Born in a Manger.
The Lower School community has been focused on hope daily during Advent. Mrs. Hamilton, Lower School educator, made an Advent calendar for the students. The calendar (found here), calls on the children to bring hope to themselves and others by saying special prayers, helping around the house, sending messages to loved ones and even looking up into the night sky to listen to God. I particularly enjoyed being the recipient of the task of writing love notes to your parents and placing them under their pillows!
In our Lower School Advent Prayer Service, the prayers described how Jesus was born in a cold, dirty stable with animals everywhere, but that didn't matter to Mary and Jesus. Mrs. Hamilton offered the following reflection: "The birth of Jesus brings new life and with that new life comes hope. Hope can be found in the darkest places, but all we have to do is look to the newborn Jesus." May this season of Advent awaken the hope in your heart.
Not Just Playing
By Renee McNally, Primary School Director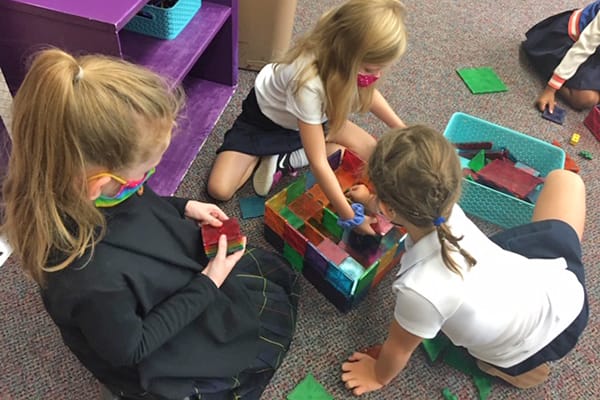 One of the founding principles upon which the Primary School program was built is the belief that play is child's work. Sometimes play is viewed by adults as the opposite of work, which is not the case at all. Child's play is fundamental to intellectual and social-emotional development.
Important cognitive development occurs when a child participates in unstructured, self-initiated play. Play is a basic human need and is the building block for higher order thinking skills known as Executive Functioning skills, including problem solving; sustaining effort; working memory; reading social cues; self-regulation of emotions and behaviors; stress management, delayed gratification, and resilience. Research has proven that children with well-developed Executive Functioning skills perform better in school in the areas of reading comprehension, expressive writing, math competence, test taking, attending to long-term projects, shifting between tasks, and completing homework. Your children are fortunate to be a part of the Primary School program where play is integral to the academic learning experience.
The research of Piaget and Vygotsky left a lasting imprint on the importance of play in cognitive development. Play allows children to practice symbol manipulation, which leads to other symbolic thinking they will eventually use in math, physics, literature, and art. According to Arnold Gesell, who is known for his research on child development, children need extended time frames for rich, engaging dramatic play experiences. It is not until after 45 minutes of play that creativity, imagination, and depth of play emerge. Studies have also confirmed the relationship between how children treat objects and their level of language development.
Children need varied experiences with real objects over a long period of time to arrive at concrete understandings of the world around them. This is especially true for the development of beginning number concepts, which involves more that rote memorization. Our math room in the Primary School is an exciting place for the Primary students. It is filled with an abundance of math materials that the students "play with" on any given day. As children engage with the math materials in meaningful ways, they are deepening conceptual understandings. Exploring with blocks, for example, offers children the opportunity to develop mathematic and spatial concepts such as symmetry and geometry. David Elkind, child psychologist and author of The Power of Play, reports that children who play with blocks create concepts of sameness and difference, greater than and less than. He further reports that children who play board games learn to read body language in addition to important thinking strategies. Herbert Ginsberg, professor at Columbia University, found in his study of the play patterns of children that children explore mathematical concepts 46% of the time during their free play.
It is the role of teachers and parents to help children learn in context, which happens naturally during play. For example, a simple card game can help a child develop one-to-one correspondence when she is asked to deal an even number of cards to each player. Brain research tells us about the importance play. Watching a child discover a marble will roll faster on a steeper incline validates the importance of play!
Can We Go Outside Today?
By Robin Clements, R.N., B.S.N., School Nurse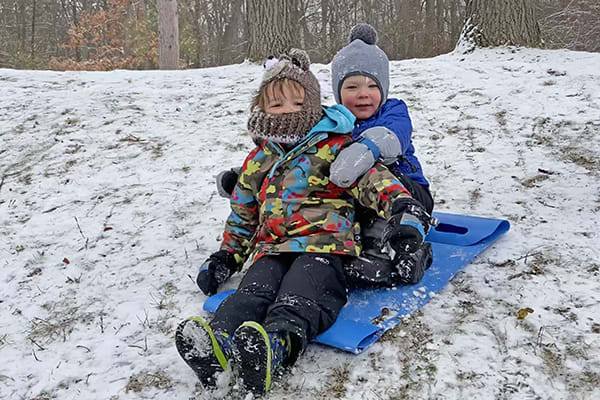 We have already had our first dusting of snow. I sometimes forget how beautiful our snow-covered campus looks from the ECP classrooms.
Typically, the winter months bring colds and illness. However, it is not the cold weather that causes illness. Viruses and bacteria live indoors. Spending time indoors, in close contact with others, increases the incidence of exchanging viruses and bacteria. The cold winter air is clean and free of viruses and bacteria. The fresh air is good for our immune systems.
For our students, there are even more benefits to playing outside in the winter. For our youngest students, playing outside promotes physical development. It is necessary for our little ones to learn gross motor skills - running, jumping, climbing, and even learning to walk in snow. Being outside in the winter is an opportunity for exploration. The students learn by exploring the brown, fallen leaves and grass, as well as the snow and ice. Outdoor play can increase one's self confidence and ability to assess risk. Students are learning about slippery surfaces and puddles of mud or water.
However, some days are just too cold or too windy for our little ones to be outside. The school follows The Child Care Weather Watch, which was introduced by the Iowa Department of Public Health and has been adopted by many other states as well. We do not look at temperature alone. We look at the temperature, wind speeds, and the wind-chill adjusted temperature ("Feels like" temperature) when making the decision on whether to go out or stay inside.
Generally, students will have indoor recess when the wind-chill-adjusted temperature is below 10 degrees Fahrenheit. Infants and toddlers, due to decreased mobility, are more vulnerable to cold temperatures. When the wind-chill-adjusted temperature is below 20 degrees Fahrenheit, infants are kept inside and toddlers' and preschoolers' time outside is shortened.
We also watch for active weather alerts in Oakland County. Even if we are not experiencing cold temperatures, if there are dangerous, high speed winds in the area, students stay indoors for recess.
Please do not forget to send your children with boots, snow pants, hats, and mittens/gloves. Children should not be going outside without these items.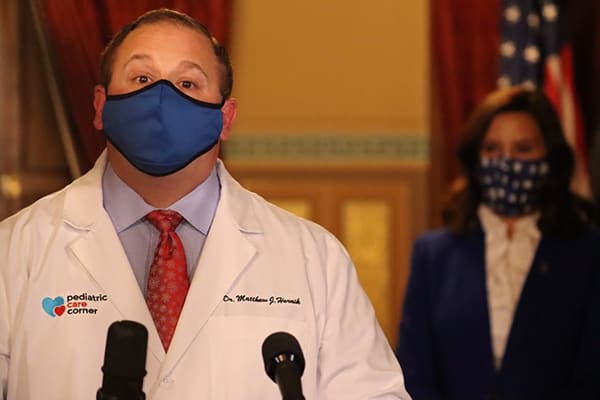 On a separate, health-related note, recently, Dr. Matthew Hornik (pictured above), an ECP parent, spoke at a state COVID-19 briefing in his capacity as president of the Michigan chapter of the American Academy of Pediatrics. We are fortunate to have Dr. Hornik as a member of the team advising Academy of the Sacred Heart's decision making during these challenging times. Please join us in thanking him for his expert counsel and service to the community.
ACADEMY OF THE SACRED HEART