Sacred Heart Connection - The Alumnae & Alumni eNewsletter | April 20, 2021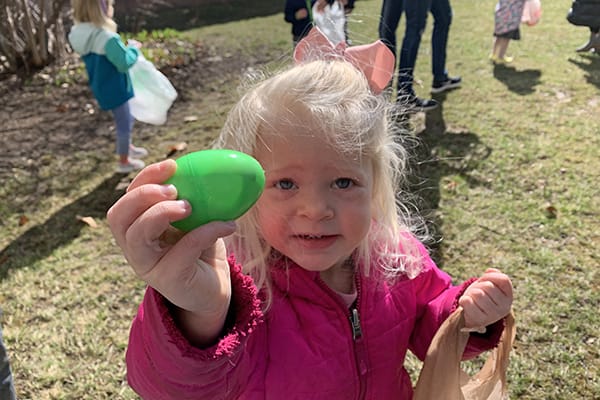 Academy of the Sacred Heart is happy to welcome the arrival of spring along with all of the events and celebrations for our students, families and our amazing alum community!
In this newsletter:
AASH National Conference this week!

Class of 1961 Alumnae Reunion via Zoom and Poem by Julie Oldani

Alum Reunion and Wansboro Award, June 5

Candlelight Ball, June 11

Spring Pop-Up Spirit Store

Anonymous Gift Honors Two RSCJ

Alum Updates

Opportunity to join the ASH Team

Condolences
AASH National Conference "Hearts in Motion" This Week, April 22-25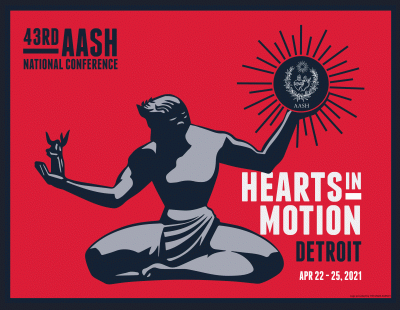 If you haven't already registered for the 43rd National Conference of the Associated Alumnae & Alumni of the Sacred Heart, please do so today! The Conference is virtual from Detroit this year, registration is free and open to all. Rotating host regions each biennium, we're excited that Detroit, MI is the host destination within the Central Region.
If you haven't already, please click here to register and view the schedule of events.

Those of us from the Greater Detroit Area might recognize and particularly enjoy the virtual panel discussion about Wholehearted Leadership featuring fellow Bloomfield graduates: Pamela Alexander '84, Crystal Ashby '79, Reema Hasan, M.D. '96 and John McInerney KH '08. The panel will be led by former Bloomfield Hills Associate Head of School, Dr. Korin Visocchi, who now serves as Executive Director of the Network of Sacred Heart Schools. This panel takes place Saturday, April 24, 2-3 p.m. EDT.
Please note, the venue for Mass has been changed due to circumstances beyond our control. The Mass will now be held in our Chapel in Bloomfield Hills. If you previously replied you would attend, we will hold a space for you. If this change affects your ability to attend, and you now will/will not be joining us, please reach out to Bess Quick '10. Reservations and masks are still required, and social distancing protocols will be in place.
Alum Spotlight - Class of 1961 Zoom Reunion
By Julie Oldani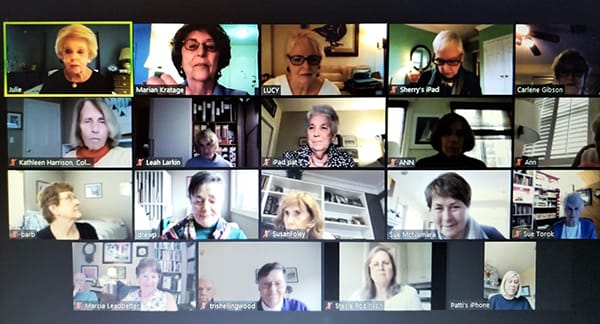 Participants included: Lucy Henry Abernathy, Venita Harris Caesar, Patti Thompson Dobson, Trish Coyle Ellingwood, Barbara Theisen Ervin, Susan Foley, Carlene Sullivan Gibson, Sherry Bartley Koenig, Marian Kratage, Leah Koester Larkin, Marcia Strale Leadbetter, Kathy Harrison McLaughlin, Susan Bearden McNamara, Karen Keith McRae, Ann Crowley Moore, Sheila Murphy, Julie Oldani, Karen Hodge Peslar, Jean Stevenson Robinson, Ann Mangone Schroeter, Susan Weed Torok, Margie Tait Wilson and Patricia Brady Winn
After graduating in 1961 from the Academy of the Sacred Heart, our class celebrated many milestone reunion years at various Michigan venues, sometimes planning a reunion in tandem with the Academy's annual alumnae event.
This year on March 24 we celebrated our 60th anniversary of graduation virtually by Zoom because of COVID. Five committee members (Lucy Henry Abernathy [San Diego, CA], Carlene Sullivan Gibson [Boulder City, NV], Sherry Bartley Koenig [Traverse City, MI], Marian Kratage [Annapolis, MD], and Julie Oldani [Bloomfield Hills, MI]) met via Zoom over a six-month period to plan arrangements and the agenda for the reunion. A class data sheet was maintained by a planning committee member and two classmates were engaged to assist with Zoom technology. It was important to ensure that classmates could navigate Zoom and be prepared for a four-minute presentation that included an update of present activities, the impact of COVID and a few photos. A timekeeper and moderator were utilized to keep conversations flowing. Warning bells were also utilized. After joining the call participants toasted deceased classmates (listed below) with a glass of champagne:
Candace McQuaid Becker
Juanita Christie Berghoff
Bonnie Ternes Brennan
Nancy Bogan Marston
Beatrice Stumpf Miller
Anne Monaghan Norris
Elizabeth Frederick Rassel
Participating classmates enjoyed presenting individual stories. Time was arranged for general discussion. A highlight of the exchange was a sharing of fond memories with many humorous stories. All seemed to agree that Sacred Heart education had a major impact on their lives. Eight women on the call had attended the Academy from Kindergarten through Grade 12. Participating classmates called from: Alabama, California, Colorado, Florida, Maryland, Massachusetts, Michigan, Nevada, New Hampshire, New York, Ohio, Virginia, Wisconsin and France.
Sacred Heart Memories
A poem by Julie Oldani '61
Who can forget white gloves, dresses & veils?
Exploring Lawrence Avenue's Indian trails
Oh how we anguished over Vicariate tests
Enjoying Glee Club and singing
"When the Battle Rages Fiercest"
The portry welcomed us next to the parlors
Processing in ranks as the clicker checked followers
Hoping for a medal & Tres Bien card at Primes
Always walking silently in ranks it seems
Don't forget to curtsy when Reverend Mother passes
And "ooing and aahing" in diction classes
Highly regarded were penmanship & Order
Praying to Mater in Chapel down the long corridor
Remember the silver trays with oral exam picks
Our lockers with bloomers & hockey sticks
The Guard of Honor December 8th at Sacred Heart
"Oh Mary I give you the Lily of my heart"
Red ribbon certificates, Committee of Games
Conges, gouter and adopted French names
At Advent hoping your lamb moves towards the stable
Processing & singing "Veni Domeni Jesu" if able
Always eager to win 1st place trophy
Following in the footsteps of Madeleine Sophie
June's Prize Day signaled the end was near
So happy to say adieu to the academic year
How fortunate we were to have the RSCJ's
Guiding our academic and spiritual ways
These unique memories all play a part
In our formative years at Sacred Heart
Alum Reunion 2021 & Wansboro Award Presentation June 5 - Save the Date!
The Alum Board has been working hard to ensure that we can safely hold an in-person reunion event this year. The plan is for the event to be held during the afternoon of Saturday, June 5 in the chapel at Academy of the Sacred Heart. Andrea Briefs-Ferris '75 has agreed to serve as the Chair of the Nominating Committee for the Wansboro Award. This esteemed award goes to a member of the greater Sacred Heart who exemplifies confidence and trust in the heart of Jesus, as shown by Katherine Wansboro, RSCJ.
Last year, COVID restrictions did not allow us the opportunity to hold the reunion. This year, we are planning to honor the reunion class years (10, 20, 25, 30, 40, 50, 60) for 2020 and 2021.
We hope you are able to join us for the Alum Reunion Mass and light refreshments and conversation to follow. Because of social distancing requirements, we will ask you to register, and more details will be sent soon.
With the surge in Michigan and current COVID-19 restrictions, the Alumnae Association is planning a similar Candlelight Ball as last year with a focus on small but beautiful event that will be meaningful for our graduating seniors. The event will be held the evening of Friday, June 11 at the Bloomfield Hills Country Club. Plans are in the works now and we will be sending an invitation with the opportunity to support this traditional rite of passage through patron ticket sponsorships soon.
Spring Pop-Up Spirit Store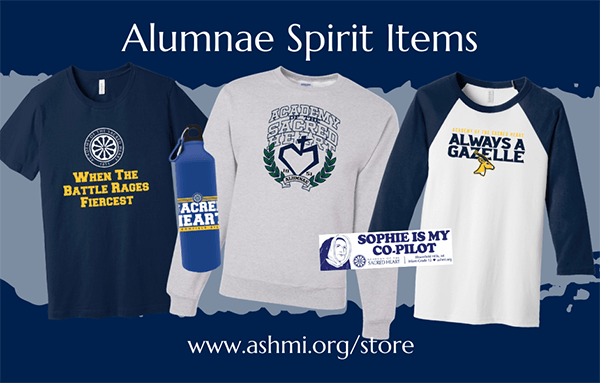 An online spring pop-up store is now OPEN for the Academy of the Sacred Heart community! Check out the alumnae throwbacks, summer items, and much more! Click here to browse, and be sure to place your order by Sunday, April 25.
Anonymous Gift Honors Two RSCJ
By Kelita Bak, Chief Advancement Officer & Interim Alum Director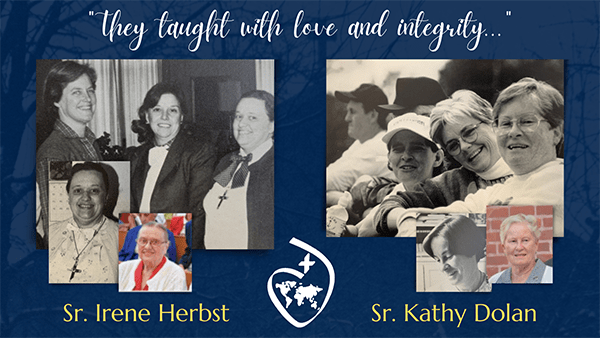 It isn't often that we are surprised with an incredibly generous gift by a truly anonymous source, but we recently had that amazing experience. Academy of the Sacred Heart received a $50,000 unrestricted gift from an anonymous donor, "In recognition of Sister Herbst and Sister Dolan who taught with love and integrity." To whomever made this incredible donation, on behalf of everyone at ASH, we are so grateful.
It was wonderful to reach out and talk with both RSCJ to share the news. Sr. Kathy Dolan was the head of the Lower School from 1973-1980, and went on to teach religion in the Middle School for Girls and Campus Ministry, serving a total of 14 years at ASH. She also served as a Trustee on our Board. Upon hearing of the gift, she said she is humbled and honored. She added, "I will pray for that person as it's the only way to thank them for their generosity and goodness to the school. I hope they know how much this means to me and to the school." Sr. Dolan said she had many happy years at ASH and she continues to be an avid reader of our publications, and she also enjoyed the virtual Benefit this past February.
Sr. Irene Herbst was similarly surprised and pleased to hear the news, saying, "Wow! What a beautiful gift!" She served as the head of the Middle School for Girls from 1973-1985 under Sr. Maxwell's leadership as Head of School. She shared that when she was called to serve at Villa Duchesne she was given a 12-year pin, in recognition of her 12 years at ASH and laughed when it was suggested that she qualified for an honorary diploma! She too, said that she will include this generous benefactor in her prayers along with her continued prayers for ASH. What a delight to engage with these two amazing RSCJ, who clearly made an indelible impression, and how wonderful to have a gift that ensures their legacy and that of Sacred Heart education continues into the future.
On May 7, the Student Advocacy Center of Michigan will be giving Joy Gaines '87 the Community Advocate Award recognizing outstanding service as a community member to underserved students, social justice, and education for all. Joy currently serves as one of the First Assistant Public Defenders of the Washtenaw County Office of Public Defender. In that capacity she supervises the Juvenile Division representing parents and children in child welfare and delinquency proceedings.
An Opportunity to Join Our Team
Are you looking for an opportunity to join a hardworking, mission-oriented team that is passionate about serving all the members of the Academy of the Sacred Heart community? Or do you know someone who is? We are currently seeking a Director of Development, whose role also includes alum engagement and serving as the Alum Director.
If you have any questions or need any additional information, please contact Kelita Bak, Chief Advancement Officer and Interim Alum Director at kbak@ashmi.org or 248-646-8900 x134.
Condolences were sent on behalf of the Alumnae and Alumni Association to:
Judy Baller '83 and Gabrielle Girard '16 on the death of their mother/grandmother Dianne Szluha
Michelle Vincenti Chaklos '86 on the death of her father, John Vincenti
Maureen Langton Clayton '86 and Jennifer Langton Yarger '88 on the death of their father, Frank Reeve Langton
Christina Drossos '99 on the death of her father, Thomas Drossos
Sharon Bartley Koenig '61 on the death of her husband, Richard Koenig
Jahel Hinch Nolan '75 on the death of her mother, Eileen Hinch Locke
Maureen Greenway Spalding '88 and Brigid Greenway '96 on the death of their father, William Greenway
Mary Jo Hodge Wall '60 on the death of her husband, Steven Wall
In Memoriam:
Noreen Hagan Conklin '68

Dr. Shoba Jonnalagadda '86
ACADEMY OF THE SACRED HEART