All-School eNews | May 7, 2021
FEATURED STORY:
Recognizing Educator Accomplishments, Especially During a Pandemic
By Damian Hermann, Head of School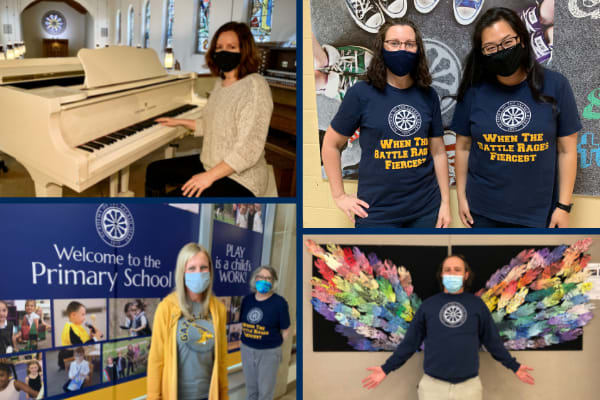 This has been a year when it is clear that a small, Sacred Heart, independent, Catholic school is both mighty and transformative. We are these things because of our educators and their commitment to Sacred Heart education. I have never been more appreciative of teachers than I am this year and I would like to take this opportunity during Teacher Appreciation Week to recognize their accomplishments. There are so many things that our ASH teachers have done this year that are remarkable, and I could list off all of the things that they have had to learn and implement in order to adapt to remote, flex, and in-person learning during this pandemic. These things alone make them exceptional, but the fact that they have done all this when so many other schools have stayed primarily remote is even more remarkable.
This is a wonderful example of Goal IV, the building of community as a Christian value. I know that I refer frequently to the Goals and Criteria. I do this to develop our own formation as parents, educators, students, and children of the Sacred Heart. As you experience Academy of the Sacred Heart year after year, you begin to see evidence of the Goals and Criteria in nearly everything we do. It is in highlighting the evidence of the Goals and Criteria that we all draw closer to what St. Madeleine Sophie saw as the end, purpose and mission for Sacred Heart education, "Let Love be your life for all eternity."
This is what our teachers have done this year. They have put all else aside and led in courage, confidence, and most importantly, love. I have seen and heard it:
when we were remote and the teachers brought joy, enthusiasm and care to their remote classroom;

when teachers balance remote and in-person learning, making sure that the students who are learning from home feel part of the class;

when they put their own fears aside during multiple surges and continued to teach our students;

when I walk through the lunch room or on the playground and see the students laughing, experiencing peer relationships, and playing; and

when Upper School students highlighted in small group discussions that teacher and student relationships were a Sacred Heart strength, saying that teachers take the time to really make sure that each student is known as an individual.
Suzanne Cooke, RSCJ, our United States-Canada Provincial-elect says, "The atmosphere of a Sacred Heart community is charged by the love of God as transferred through relationships." Our teachers did not let the pandemic affect their ability to charge their classrooms with love by building and maintaining meaningful relationships. I am grateful for our Sacred Heart educators and I proudly celebrate all that they have accomplished this year.
Thank you to everyone who has already purchased and/or sold raffle tickets. There are just three weeks left until the drawing during Congé on Friday, May 28! Don't miss your chance to win $5,000 cash + a weekend with Sophie the Smart Car + a LEGO® Smart Car. There will be also be a Second Prize of $1,500 cash. The top ten sellers will receive a LEGO® Smart Car, too! Tickets are $50 each or three for $100.
We are asking each family to support the raffle by buying or selling $200 in raffle tickets. Proceeds support the #ASHDifference! Tickets may be purchased with cash, check or credit card. Raffle packets were sent home last month; simply return the included envelopes and completed stubs to the Portry, or call the Advancement Office at 248-646-8900 x170. Thank you, and best of luck!
Limited Spots Remaining - Register for Summer Camp Today!
By Lauren Vidak, Director of HEART Enrichment and Summer at Sacred Heart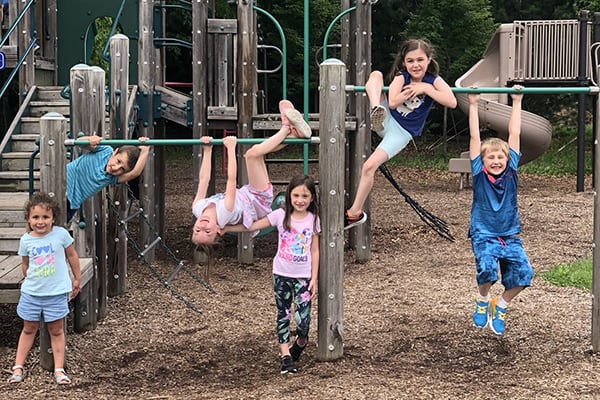 Above: Campers enjoying the great outdoors in 2019
Now more than ever, we believe that kids have a deep need to connect in a safe environment that allows them the opportunity to play, learn and grow--which is why we are gearing up for the best summer ever! Each week we will fill our days with engaging sports, arts and nature exploration activities designed to let campers express themselves and try new things in a supportive, welcoming environment. Don't miss our special interest camps either, with fun themes like:
Space is filling up fast, so if you'd like to join us for a summer of fun, be sure to register today! The first day of camp is June 7. The complete guide to camp and registration links can be found here.
Year-End Gifts
By Gloria Pankratz, PAASH Treasurer
We wish to offer parents an opportunity to recognize our amazing teachers, faculty, and staff who have quickly adapted to the challenges the pandemic has posed in educating our children. If you would like to give a gift for the end of the school year to recognize the aforementioned, PAASH is suggesting a contribution to the SCRIP program. The monies collected will be pooled and shared with all of the teachers, faculty and staff in the form of VISA gift cards. Because we are able to purchase these cards without any fees, 100% of your money will be gifted. We would appreciate receiving contributions no later than May 28. If you have any questions, please feel free to contact me at gloriapankratz@hotmail.com. Please click here to submit your donation.
Updates to COVID Protocols
By Robin Clements, RN, BSN, School Nurse
Effective May 4, Oakland County Health Division (OCHD) will allow the option of a 10-day quarantine after close contact with a known COVID-positive person. This decision to allow the option of 10-day quarantine is based on CDC and MDHHS guidelines, given the current downward trend in COVID-19 cases in Oakland County.
Note that 14-day quarantine is still recommended after known COVID close contact. Those who choose the 10-day quarantine option must do the following:
Continue daily symptom checks for the entire 14 days; there must be no symptoms consistent with COVID-19 during that period.

Continue all mitigation strategies: masking; distance; handwashing

Agree to cooperate with contact tracing efforts by public health officials.
OCHD will continue to monitor trends and may recommend a return to a 14-day quarantine if the average number of cases continually increase over a 28-day period.
As a reminder, a "test out of quarantine" strategy has never been adopted in the State of Michigan and is not endorsed by OCHD.
Testing of Student Athletes

If an individual has been fully vaccinated for COVID-19, they no longer need to participate in the sports COVID-19 testing. Per CDC Guidance, fully vaccinated individuals can gather for the purposes of sports practice or competition without testing if they are asymptomatic. Please send a copy of the COVID-19 vaccine record to the school nurse when your child has completed the vaccine series. Student-athletes (13+) will be tested if proof of vaccination is not received.
An individual is considered fully vaccinated:
If an individual does not meet these requirements, they are not fully vaccinated and must continue to participate in the testing program requirements to participate in organized sports.
Participants who have recovered from confirmed COVID-19 in the past three months and remain symptom-free may gather for purposes of sports practice or competition without testing if:
ACADEMY OF THE SACRED HEART