All-School eNews | January 22, 2021
FEATURED STORY:
Pandemic Parenting
By Damian Hermann, Head of School
Wednesday during our All School Meeting, we read the introduction to the re-envisioned Goals and Criteria that were just shared with us by the Conference of Sacred Heart Education. Then, in small groups on Zoom, we shared our thoughts and ideas. In particular, this quote jumped out to many of us, "At the end of our efforts, we recognize these Goals and Criteria as incomplete and unfinished; perhaps signaling that the living of a mission as great as ours is never fully complete or realized."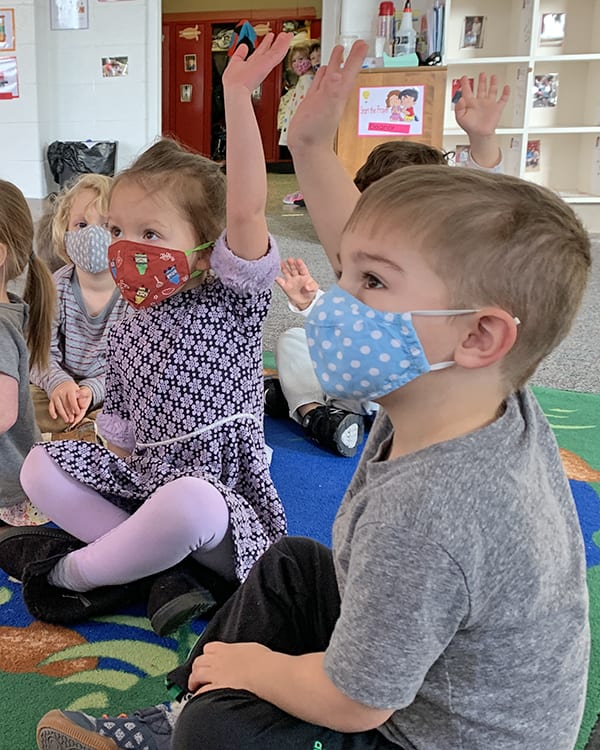 I share this not just because I want to encourage you all to read the 2020 Goals and Criteria, but also because it is so very poignant and it crosses over to the challenge we face as parents. Our work is never really done, and unfortunately, it is not formulaic. I have two college-age kids and I often share with young parents that parenting gets less physically demanding, but it does not get easier (at least it hasn't for my wife and me yet)!
I also consider myself fortunate because I am not raising young kids through this pandemic. I can only imagine the challenges that so many of you are facing each day. On its best days, parenting requires so much of us, but during a pandemic you are:
trying to work remotely from home while also managing remote students - especially when having to try to tutor them in subjects in which you are not an expert,

trying to run a household while managing remote students and always keeping your frustration and anger in check (this is NOT possible, by the way; cut yourself some slack),

trying to keep bored, cooped up kids entertained day after day without giving in and permitting unlimited gaming and screen time (we do what we need to do in the toughest moments; don't beat yourself up about it),

trying to find some peace and quiet to maintain your own sanity,

trying to stay upbeat and keep everyone else upbeat, and/or

trying to care for your spouse when you yourself are on edge.


I could go on and on … Suffice to say, we are all managing the best way we know how, and we must remember that we are not alone, especially in the Sacred Heart community.
As I do with so many things in my life now, I look to our RSCJ to provide inspiration in the moments such as these. In this instance, I think of Janet Erskine Stuart who said, "It is better to begin a great work, than finish a small one." As parents we are doing a "great work" and it will always remain "incomplete and unfinished". And in this particular work, there are an infinite number of ways to do it. I urge us all to take a moment, appreciate the great work in which we are engaged, admit the degree of difficulty is immeasurably higher during the pandemic, and commit to laughing and loving above all else.
Our Biggest Fundraising Event of the Year is Just Two Weeks Away!
We are working hard to ensure an enjoyable, high energy event that will make such a difference for Academy of the Sacred Heart.
So many have asked, "how can I help?" or "what do you need?" We need YOU! Please purchase your viewing experience. We have a package for everyone, from the Wine & Dine featuring Plum Market, to Cheers With Heart that includes the branded wine tumblers, to the View With Heart viewing experience. The live program will be exclusive to ticket purchasers! Get your reservations made today; the deadline to purchase the Wine & Dine package is next Friday!
Plan to make a donation and/or shop our auction. We are also offering two exciting raffles this year: one for the Wine Maker's Dozen, a $1000 wine basket featuring Belle Glos, Tignanello, Gaja (plus 10 other fine wines) and one for The Mirror home workout system. It's only $100 for a chance to win these awesome packages, and tickets will be available when our Silent Auction opens on February 3.
There isn't anything we can't accomplish when we come together in support of the common mission, Sacred Heart education. Your participation will be what will make all the efforts and preparations that have gone into this event, a success. We promise to bring you a fun and exciting Benefit, and we thank you for your participation and support! We are Never Apart, Together With Heart!
Questions? Feel free to contact Carolynn Krause in the Advancement Office.
Save the Date for the State of the School Address!
Don't miss this year's State of the School address on Tuesday, February 9 at 6:30 p.m. Held as a Zoom webinar, this event will include a preview of the path forward for Academy of the Sacred Heart, student perspectives and important re-enrollment information. Board Chair Emily Mayer will join Mr. Hermann for an engaging, upbeat presentation. Register today and add it to your calendar for February 9!
Winter Enrichment Classes + Summer Camp Registration!
Summer Camps are also now open for registration. Now through January 29 we are offering priority registration to our Sacred Heart families, during which sign up is only available to our students. To view a complete list of camp offerings and to sign up, please see our website!

If you have any questions regarding Winter Classes or Summer Camps, be sure to reach out to Ms. Lauren at lvidak@asmi.org.
ACADEMY OF THE SACRED HEART