Learning Community eNews | December 18, 2020
Christmas Programs & An Invitation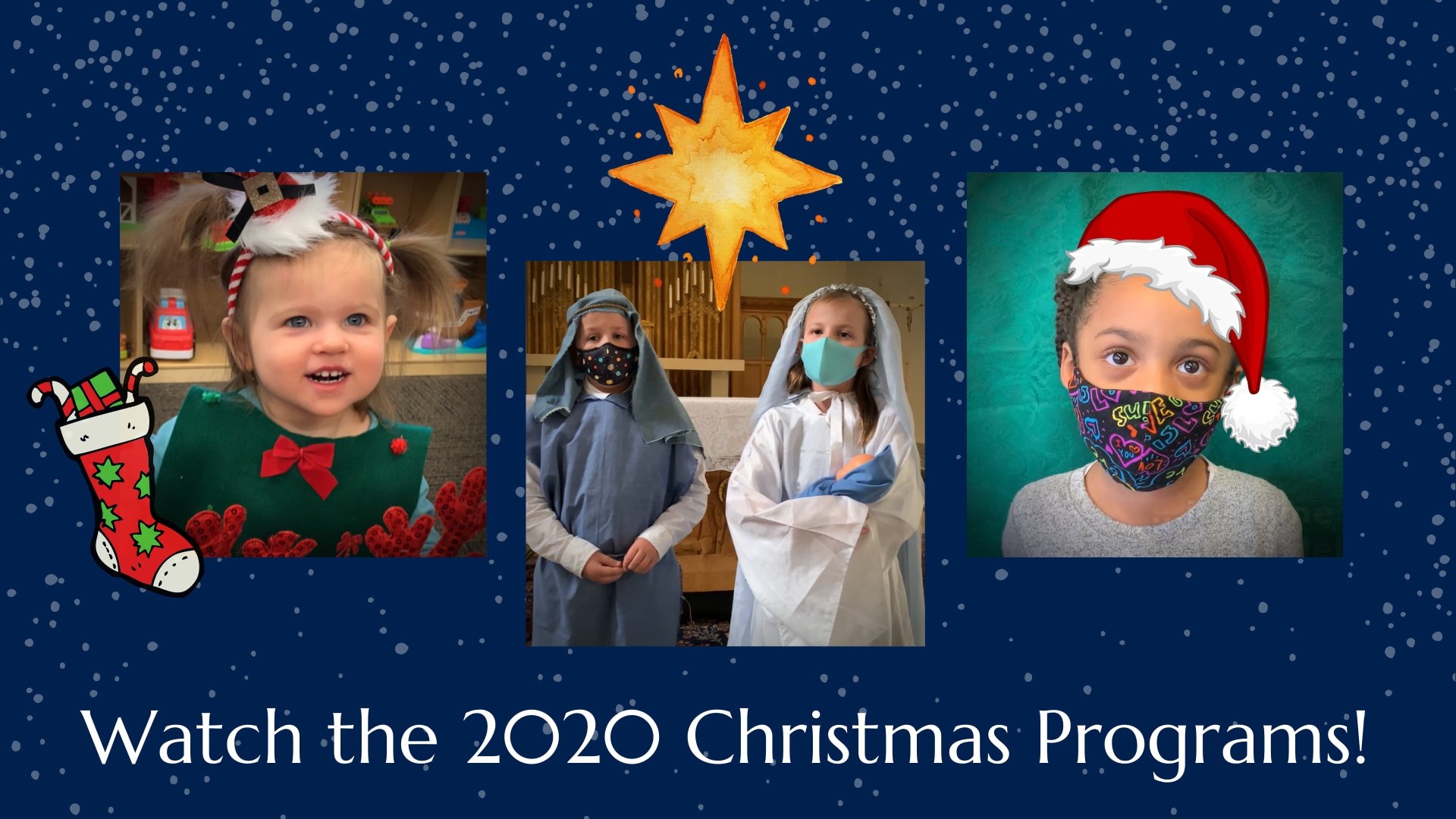 It's a Christmas miracle! The classic, rite-of-passage Christmas performances still took place this year, with students rallying to spread holiday cheer! And, since they are offered in a different format, you may watch these programs from the comfort of home:
In another nod to our cherished traditions, we invite you to visit our Facebook page or YouTube channel at 4 p.m. on Christmas Eve for a special virtual prayer service.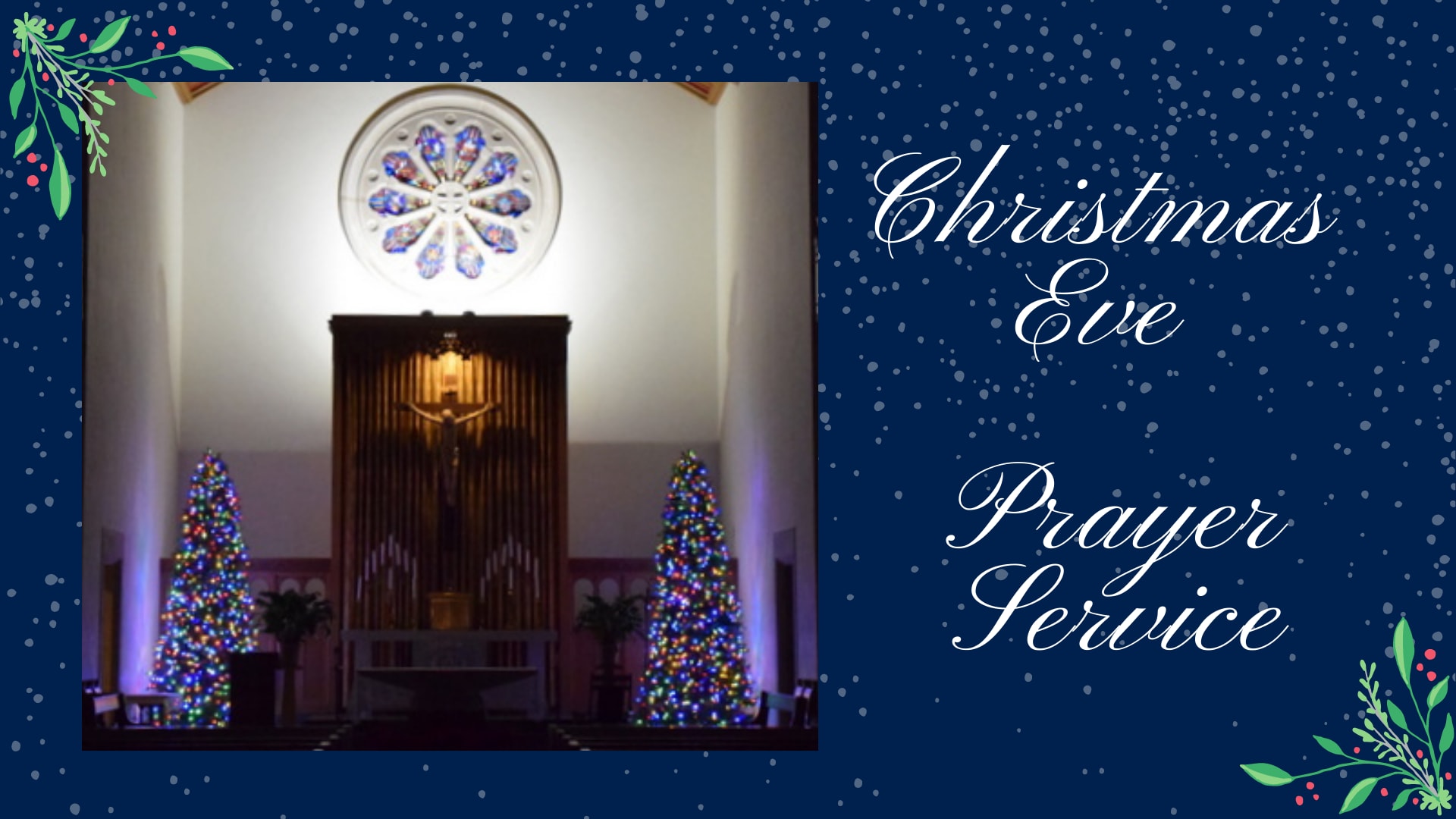 The Joy of Christmas
By Korin Visocchi, Ph.D., Chief Learning Officer
For this week's eNews, I have invited our team of Learning Community Leaders to share their joy-filled memories of Christmas past. Let their stories be enduring reminders of the joy and love of the Christmas season today and always. I encourage you to share your stories of Christmas past with your loved ones over the holiday break. Rejoice! The Lord is near.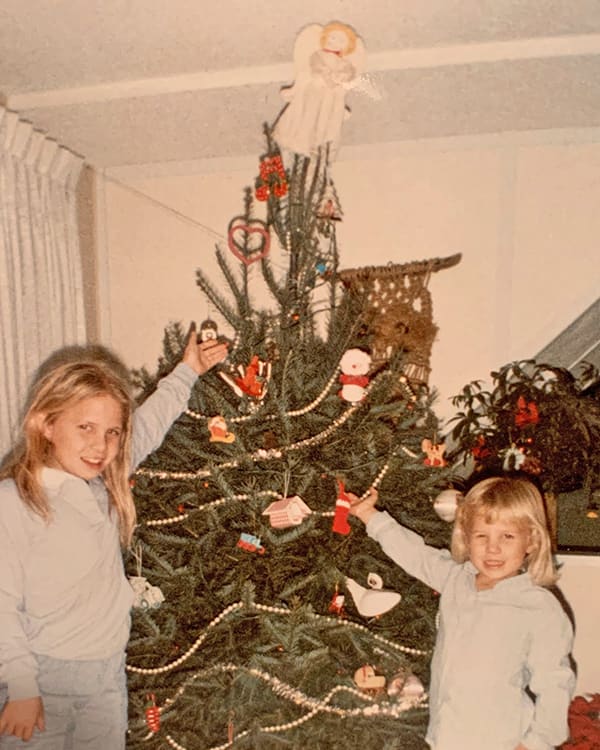 Rejoice in the Lord always.
I shall say it again: Rejoice!
Your kindness should be known to all.
The Lord is near.
- Philippians 4:4,5
Image: Christmas 1986 - Korin on right with sister, Darcy.
The Most Wonderful Time of the Year
By Kristen Miller, Early Childhood Program Director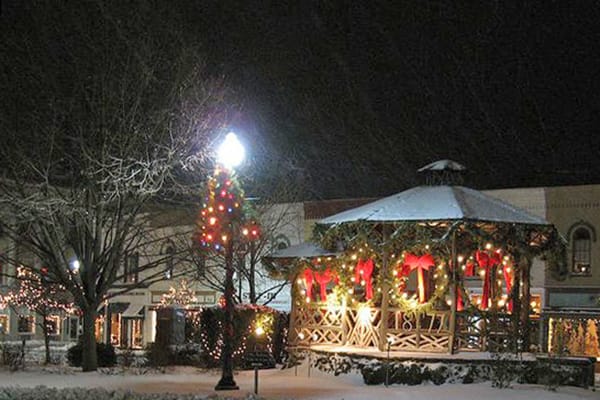 Having grown up in a quaint little town called Chagrin Falls, Ohio, you cannot help but have fantastic Christmas memories. The little town looks straight out of a Hallmark movie - decorated from one end to the other with every streetlight and lamppost dressed in green garland, white lights, and a big red bow at the top. In town was the famous Popcorn Shop and the Bandstand.
The Bandstand is where we would gather as a community on the Saturday after Thanksgiving to light the huge Christmas tree, sing Christmas carols, and welcome Santa. My grandparents would take my brother and me every year from the age of 5 to 18. As I got older, I realized what a wonderful tradition it became. Generation after generation of families would gather every year in that same spot. At 18, my family moved here to Michigan. I would travel back every Christmas until my grandparents passed away.
I do not go back at Christmas anymore. My husband and I do go back every summer to grab some goodies from The Popcorn Shop and visit family. That quaint little town still has its charming character. The tree lighting continues to happen, and the generations of families still come. When I sit back and close my eyes this time of year, I find myself standing at the Bandstand as a little girl singing, "Joy to the World," my grandfather's favorite song.
Wishing you and your family a very Merry Christmas and a Blessed New Year!
He's Making a List!
By Renee McNally, Primary School Director
Some of my favorite childhood memories were formed every December as my siblings and I prepared for Christmas. The process of making our "elf calendars" ranked fairly high on my list of favorite Florka family Christmas traditions. We made our calendars each year from cut cardboard wrapped in shiny red, silver, or green wrapping paper. With the help of a ruler, the calendar grid lines and numbers were carefully drawn with a black permanent marker. (I often wonder what could have been if my mom had thought to include a plush toy with our elf calendars!) That empty calendar hanging on my bedroom door every December 1st held so much potential as I crawled into bed reflecting on the day knowing that Santa's helper would surely place a "star" on it for my good behavior that day. Well, that wasn't always the case!
Years later, when my parents were packing to move out of our family home, I came across those calendars that my mom had carefully collected and saved in a box among all the Christmas decorations. As I reviewed those old calendars from the 1970s, something interesting was revealed. We did not receive a star in every dated square; sometimes we actually received a check mark. I also noticed an intriguing pattern. The check marks my brother and I received aligned on the same date(s) in the same years. I can certainly guess how that happened, but I will keep that part out of my story! I was really struck by the fact that Santa's "elf" had the courage to evaluate our behavior honestly and not make excuses for us so we could improve the next day in hope of getting back on Santa's good list.
Growing up in a pre-"Elf on the Shelf" era might seem old-fashioned to children today, but hope for what is to be on Christmas Day is timeless. The lessons learned from childhood when we hoped all night that Santa might overlook our faults and still surprise us with some special gifts under the tree transitioned into a deeper hopefulness as Jesus reveals himself throughout the most challenging times in our lives, always forgiving our faults. Hope was born in a manger and hope lives on in each of us through the heart of Jesus.
In this season of hope, I offer you this audio recording of One Solitary Life, an excerpt adapted from a sermon given by James Allan Francis in the early 20th Century. I first experienced this passage in the closing scene of Radio City Music Hall's Christmas Spectacular at the Fox Theatre in Detroit. As the words scrolled over a screen that eventually revealed a living interpretation of the Nativity, time stood still for me in that moment.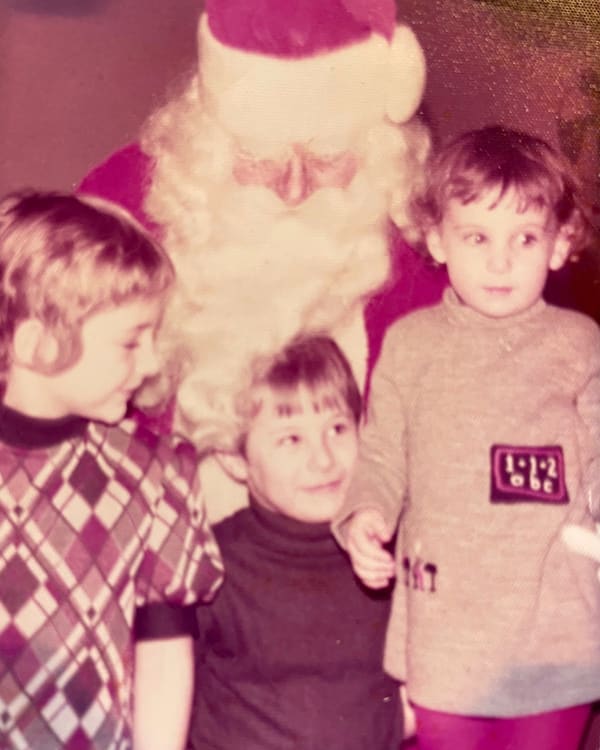 The words were so profound that it has become a family tradition to use it as our prayer before Christmas dinner. I hope you will allow the power of these words to bring you and your family closer to the center of the Nativity and to the heart of hope. Merry Christmas!
Image: My older siblings and I during lunch with Santa at Hudson's Department Store on Woodward Avenue in downtown Detroit, 1973
Christmas Eve with Papa Pandolfo
By Emily Avendt, Lower School Director & Director of Learning Support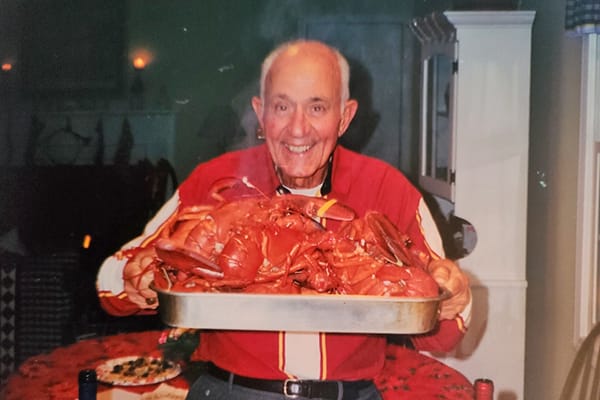 When I reflect on cherished memories or traditions from Christmases past, I think of my maternal grandfather, Papa Pandolfo (pictured above). Growing up, my family moved quite a bit and we never lived near either set of grandparents, so I always looked forward to seeing them for holidays. Papa and Grammie Pandolfo retired to Cape Cod, Massachusetts, and as a child Christmas celebrations with all of my cousins who lived in the Boston area were joyfully chaotic - tons of kids running around, lots of laughter and delicious food.
Our celebrations changed over the years and I remember most distinctly the Christmases we spent with Papa Pandolfo when I was in high school. My grandmother had passed away, the celebrations grew smaller, and Papa Pandolfo joined my immediate family for Christmas a few of those years. For me, those intimate celebrations with my grandfather were so formative in shaping my values. He was a deeply faithful man who was devoted to the Sacred Heart of Jesus, his wife, his eight children and 24 grandchildren. Each day with discipline he prayed the Chaplet of Divine Mercy at 3 p.m. and I joined him when we were together. He penned and sent us all spiritual reflections on a regular basis and even prepared a letter to be read at his own funeral which urged us all to eat, drink and be merry to celebrate his unification with God and Grammie.
He had a zest for life that was contagious. The picture I wanted to include for this article but couldn't find was of him from that same Christmas Eve, but he was wearing sunglasses and holding up a lobster in each of his bare hands. He was always doing silly things to make us laugh. Those Christmas Eves together were prayerful and joyful with so much laughter and love.
This year Christmas will look different for my family as we won't have the big celebrations with each of our large families. It won't be chaotic, but it will be joyful and prayerful and include some lobster that my kids will refuse to eat. What rings true for me now more than ever is how we really are truly never separated from those that have touched our hearts, even when we are physically apart. I'll be celebrating with the spirit of Papa Pandolfo for sure. Merry Christmas!
Cuisine & Company
By Joyce Lee, Middle School for Girls Director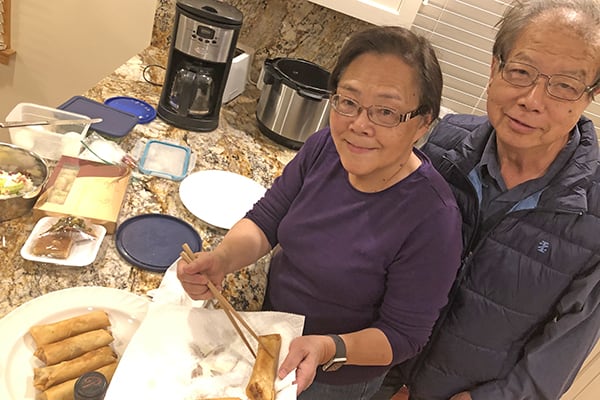 The power of food is not to be underestimated; the smell of sugar cookies baking in the oven, the sound of soup bubbling over the stove, or the sizzling sounds of oil in a hot pan are all senses that can take one's memories back to a particular time and place. What is that one dish in your family that everyone looks forward to eating?
One of my favorite family traditions is our Christmas Eve dinner together. My mom's cooking is always the highlight of the meal and my nephews and niece affectionately call it "Grandma Food". Hot and sour soup, shrimp with broccoli, sticky rice (my personal favorite), short ribs, noodles, and meat tofu purses are usually served at our Christmas Eve dinner. Aside from these delicious dishes, the main attraction is always her spring rolls, and both adults and kids often try to sneak one in before dinner, often hiding how many they really ate when they have all disappeared. It's gotten to the point where there is a predetermined number assigned as to how many spring rolls everyone gets at dinner. Individually hand wrapped and sealed, my mom and dad begin their perfected system of frying them just right to get the crunchy texture and golden color. My 9-year-old nephew, Jakob, has even spent some time learning how to wrap them himself, and I hope this is a recipe he will use when he gets older for his own Christmas dinner traditions.
Even though I love my mom's cooking, as I look back on 2020, this past year has taught me to cherish the company as well as the cuisine and I can't wait until we can gather at the same table together again, with or without spring rolls.
All My Life's a Circle
By Kim Davidson, Kensington Hall Director
It's interesting to me to think about how family traditions begin and how they get passed through the years from generation to generation. I am the youngest of five children, and rather than getting a gift for each one of our siblings at Christmas, we picked a name out of a basket at Thanksgiving, and that sibling became our "Kris Kindle" for the Christmas season. Kris Kindle is similar to a Secret Santa, but instead of giving clues, we had to be extra nice to that sibling for the entirety of the Advent season. That of course was a challenge, and we spent a lot of time trying to determine who had who. On Christmas Eve before Mass, we would all gather in our family room and one go around from youngest to oldest guessing our Kris Kindle and giving our gifts.
As we grew older, married, and had children, this tradition of Kris Kindle continued and expanded to include all of the new family members. Our once family of seven has grown to include five spouses, as well as 17 grandchildren and two great grandchildren, ranging in age from 1 to 36, who all participate in this tradition. Family members come from Texas, Tennessee, Connecticut, Michigan, and Germany to gather together in the very same family room as when I was young. It's pretty crowded and loud, filled with conversation, laughter, and silliness.
One year after opening the gifts, a couple of the grandchildren spontaneously chose to play the piano for everyone, thus beginning the tradition of the Annual Roden Family Talent Show. What began as simply playing the piano has evolved into an entire evening of one acts complete with a program and an MC. Cousins often start planning and rehearsing for this in the summer. My daughters claim that their first introduction to acting began on the Roden family "stage." The Talent Show ends when my brother and my father get out their guitars and start playing Harry Chapin's "All My Life's a Circle," which the entire family then sings together.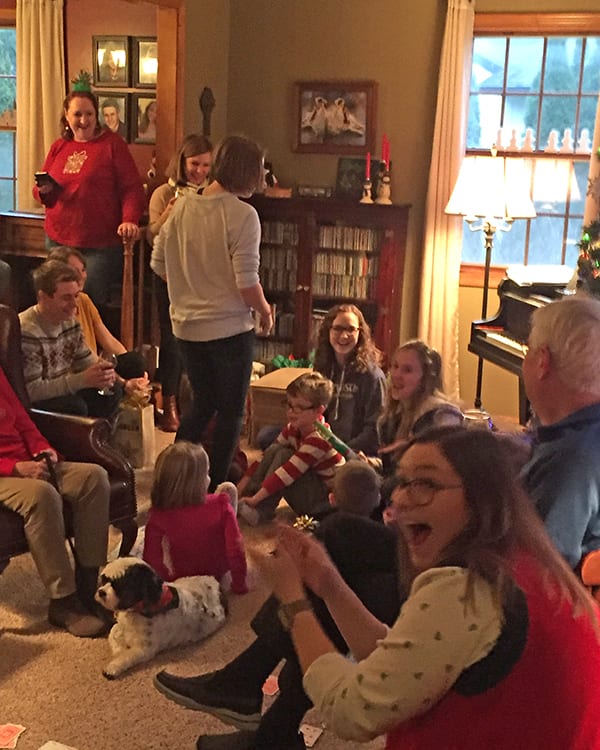 This year, as with everything else, we had to think creatively, because of course this tradition must continue even though we cannot gather physically together. Names for Kris Kindle were still picked and texted individually to family members, gifts are being shipped all over the country, and talents are being recorded so that we can all gather together over Zoom. Although it is loud, crazy, and chaotic, this is one family tradition that everyone cherishes and looks forward to and will continue to be passed down.
Cookie Day
By Linda Kozler, Director of Girls Education & Upper School Director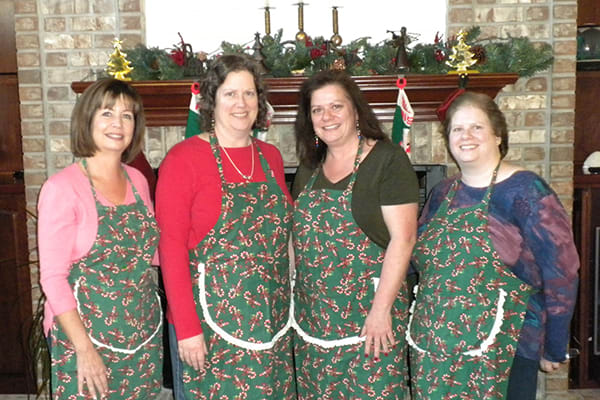 Growing up, my favorite holiday tradition was our Christmas cookie baking day. My mother would bake the holiday cookies all in one day, which in my large family meant dozens and dozens of spritz cookies, almond crescents, sugar cookies, gingerbread people, and my favorite, cornflake/marshmallow wreaths, all lined up on the counters, kitchen table, dining room table, and every other flat surface available. My three sisters and I, as soon as we were old enough, would all excitedly scramble to help her with such all-important jobs as dusting with powdered sugar, decorating with frosting, colored sugars and sprinkles, and most of all, creating a big, flour-coated mess. On Christmas Eve the cookies would come out on a two-tiered cookie platter and we would first gushingly admire and then ecstatically devour the work of our hands.
As we became adults and moved out on our own, my sisters and I would still gather each year with my mom over Thanksgiving weekend to hold our cookie baking day. One year, when we were young adults, as Cookie Day began, my mother presented each of us with our own matching Cookie Day apron that she had made for us, with one for herself. The matching aprons quickly became an integral part of the yearly event. We would spin and swirl around the kitchen, all matching each other, baking our many kinds of favorite cookies, catching up, laughing, and singing Christmas songs. Eventually the day grew to include the grandchildren as they arrived, and as each became old enough to join in, my mother would make them their own Cookie Day apron to match ours. She somehow never ran out of that fabric.
After my mother passed away, it was with both sadness and joy that my sisters and I continued the annual tradition in honor of her. We would each bring several dozen of our own two favorite holiday cookies to share, and then together we would don our aprons and bake the spritz, the almond crescents, the sugar cookies, and the wreaths (Cookie Day 2016 pictured above). We would tell memories and laugh together about mom, and sometimes we would cry together, too. And we would all leave with full hearts and huge containers filled to the brim with a wealth of Christmas Cookies for the cookie platter in each of our homes on Christmas Eve.
Cookie Day has never ceased to be my very favorite Christmas tradition. It continues on with two new generations. It never fails to make me feel close to my mom, my sisters, and our kids. And even in the years (like this one) when we can't bake with each other in person, we each still wear our apron and make all the old family favorites.
.
ACADEMY OF THE SACRED HEART