All-School eNews | October 15, 2021
FEATURED STORY:
Celebrating Success
By Damian Hermann, Head of School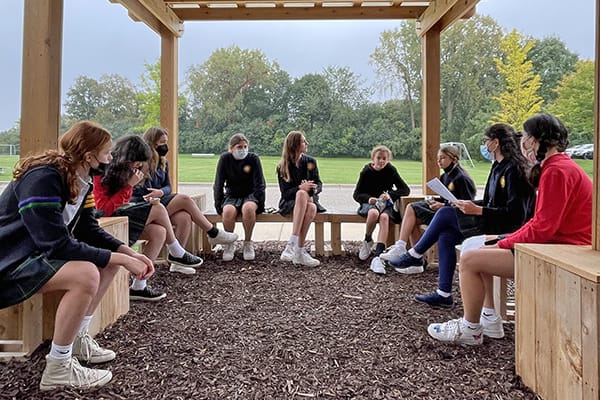 I've been remarking this week that it has been nice to be busy with the business of moving forward as a school. With the pandemic requiring less and less daily attention, it feels like we are returning to something approaching normal. I can honestly say that we are busier than ever, but it is busy for all of the reasons that make working in education rewarding. COVID has been a challenge and I'm sure we still have some hurdles to overcome, but the main focus of our day is serving students in the classroom, working to ensure excellent outcomes, and making strategic choices that get us just a little bit better every day.
School change is always ongoing; it is what I love about this job, and it never feels fast enough. I liken it to raising a child. In the midst of the ongoing challenges, you often forget to celebrate the developmental changes and successes that are always happening. With that in mind, I hope you indulge me as I share a few successes.
We have increased enrollment for our second straight year and I can project with confidence that this trend will continue into the upcoming years. Today we hosted the first event in a slate of open houses and admissions events that will allow prospective families to see our educators and students in action. Mark your calendars and invite some friends!
We have organizationally managed and will continue to manage an extremely difficult national teacher shortage and overall labor shortage. We have been fortunate to hire some excellent teachers and classroom aides in the past few months. It is an ongoing challenge, but we are doing better than most!
We have great Upper School student leadership. They are joyful, they are role models, and they are making memories (one such moment captured above). Today's first annual Powderpuff Game and Sunday's Trunk or Treat are great examples of this.
Support for our student-athletes is evident and impressive. The ASH Booster Club's first-ever Celebration of Athletics was a crowd-pleaser, and last week, they followed that up with a sold-out golf outing that netted 21% higher proceeds year-over-year (more on that below).
Our strategic design process is underway, helping us to envision a bold future for Academy of the Sacred Heart. Thank you for your input so far! Please watch for additional opportunities to provide feedback in the future.
Next week I'm off to St. Louis for our Network of Sacred Heart Schools Fall Membership Meeting. It has been two years since we have all seen one another. In many ways, I am closer to my Network Head colleagues than ever, because through Zoom, we have actually met more often to discuss our common and individual challenges. But like this return to a more normal school year, I can say that I'm greatly looking forward to a more normal experience with my Sacred Heart colleagues.
I'm looking forward to seeing many of you on Sunday at Trunk or Treat!
Don't Miss Trunk or Treat This Sunday!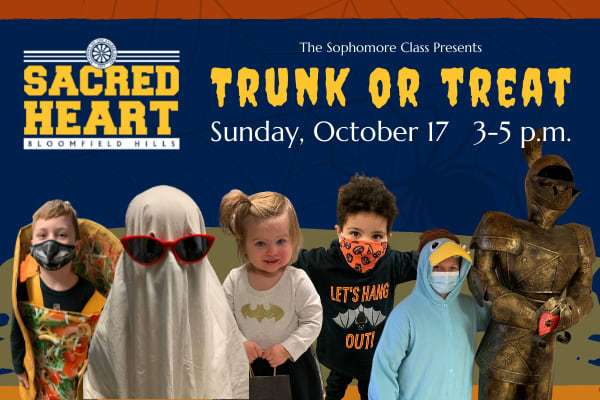 The Sophomore Class of 2024 is excited to host the eighth annual Trunk or Treat event this Sunday, October 17, from 3-5 p.m. Join us as we welcome Halloween revelers to a celebration of the harvest season.
All are welcome to attend Trunk or Treat - bring your friends and tell your neighbors! Activities will include Halloween crafts, outdoor games, and of course, trick or treating through the neighborhood of cars! The fee is $10 per family. Donuts, cider, and popcorn will be available for purchase.
Dads' Basketball Open Gym to Benefit the ASH Booster Club
Calling on all dads who love playing hoops, or are just looking for some exercise and/or camaraderie with fellow ASH dads.

Coach John Latella, the Varsity Girls Basketball coach, will be hosting a Dads' Open Gym for all ASH community dads on Monday, October 25 from 7-9 p.m. in the main gym. Please bring a $5 donation to support the Booster Club; the $5 donation is not a requirement to play, but much appreciated.

All skill levels welcome. We look forward to seeing you all on the hardwood.

P.S. - Mr. Hermann has a nice looking jump shot and is eager to team up with a few of you dads and see how long he can hold the court!
"FOREward Together" 2021 Golf Outing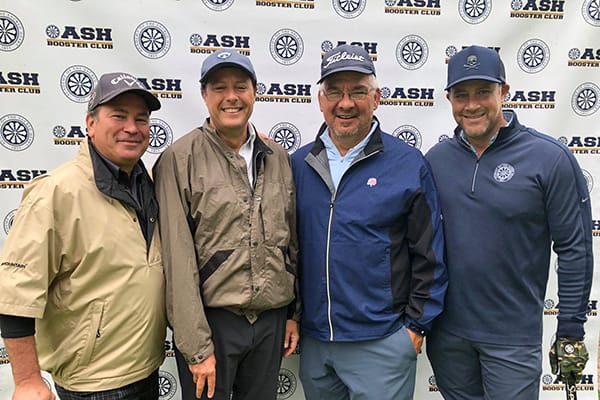 Thank you to everyone who attended "FOREward Together," the ASH Booster Club Golf Outing at The Wyndgate Country Club on Tuesday, October 5. Turnout was incredible for this sold-out event on a beautiful fall day. This was truly a team effort, and we are grateful to all who made this day a success as we exceeded our fundraising goal, with 21% higher proceeds than last year, providing financial support for ASH athletics!
Special thanks go out to our Event Sponsor, James Burg Trucking Company; Title Sponsors: Barton Malow, Bloomfield Hills Dental Associates, East Manufacturing Company, Huntington Bank, Integrated Fiduciary Advisory Services, MA Engineering, North American Bancard, and Wolverine Truck Group; Signature Sponsor Midway Dental, and generous donors. View more event photos on Facebook.
Children of Mary Sodality
Sacred Heart offers the Children of Mary members an opportunity to nurture spiritual awareness, deepen faith, and grow as women of the Church who honor the Blessed Mother. The Children of Mary Sodality is comprised of alumnae, parents of graduates, current parents, and friends of Sacred Heart, and we invite you to join with us in our days of prayer and reflection. Encourage your friends and relatives, too! The Children of Mary Sodality meets at 1:30 p.m. in the Parlor for conversation with Msgr. John Zenz. Liturgy will be held in the chapel, followed by tea or coffee and sweets in the parlor dining room. Please plan to wear a mask.
The remaining 2021-2022 meeting dates are:
Thursday, November 4

Thursday, December 9 - Advent Retreat at Manresa
Thursday, January 6, 2022
Thursday, February 3, 2022
Thursday, March 24, 2022 - Lenten Retreat at Manresa
Thursday, April 7, 2022
Thursday, May 5, 2022
The Children of Mary dues are $25 for the year, payable to Children of Mary. For more information, contact Barbara Brown Lopiccolo '62 at 248-505-2334 or jandblop@gmail.com.
October PAASH Meeting
Tuesday, October 19, 8:30 a.m.
Back porch, weather permitting
Ladies Luncheon
Friday, November 12, 11:30 a.m.
Oakland Hills Country Club
Ticket price: $75
Mark your calendars for the Academy of the Sacred Heart Ladies Luncheon, honoring the 2022 graduates. Lunch will include a guest speaker and raffle. Invitation to come.
FROM THE CAMPUS MINISTRY OFFICE
An Introduction
By Susan Nye-Brothers, Campus Minister
It is my privilege to have been named the Academy's full time Campus Minister. I come to you with a degree in Pastoral Ministry from Sacred Heart Major Seminary in Detroit as well as 26 years of experience serving in both Parish and Diocesan Ministry. I have served the church in a variety of roles, from Youth and Young Adult Minister, Director of Religious Education, Pastoral Associate, Adult Faith Formation Director, and Refugee Resettlement Coordinator. I have also recently made my formal commitment to become an RSCJ Associate, which has been one of the greatest joys in my life.
I have held many titles over the years, but no title holds a candle to the title of 'mom'. My daughter is in her final year here at the Academy, and it has been such a blessing to be able to watch her grow into the beautiful young woman she is, embodying the mission and the Goals and Criteria. My mother also worked for the Academy for 22 years. In my weekly visits to the school, way back when my daughter was a baby and young toddler, she would often be swooped out of my arms into the arms of a faculty/staff member, some of whom are still here today. When our daughter was two years old, we moved to Prince Edward Island, Canada for 10 years. Upon relocating back to Michigan in 2016, the Academy was the only school we considered for our daughter.
Transitioning into my new role here has felt like a homecoming, and I am so happy to be in this space that I have loved for 25 years. I look forward to serving each and every learning community, and it has been such a pleasure getting to know your children. They are truly inspiring. I pray for you all daily, and I look forward to seeing more of you over the next months. Please be on the lookout for prayer and retreat opportunities as we move through this year together. May God bless you, and may God protect your families and keep you safe.
Feast of Mater Admirabilis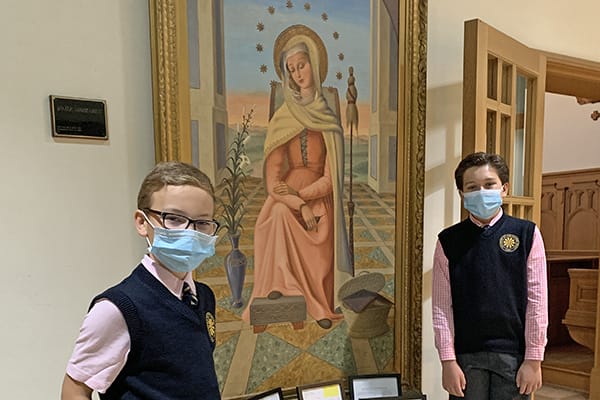 Above: Feast of Mater Admirabilis, 2020
On October 20, Sacred Heart schools across the globe will celebrate the Feast of Mater Admirabilis. A statue or painting of Mater Admirabilis can be found in every Sacred Heart school around the world and has captured the hearts of students, alumnae, alumni, educators, friends, and Religious of the Sacred Heart throughout our international family. To walk into a Sacred Heart school anywhere in the world and see Mater is to be welcomed home.
Why have generations been comforted by this simple image? Why are we drawn to Mater? Standing before the image of Mater, one senses that Mary knew something wonderfully extraordinary that gave her incredible peace. We will celebrate the Feast of Mater Admirabilis at 9:30 a.m. with the Blessing of the Babies to follow directly after Mass. Due to COVID restrictions, we are rotating different communities into the Chapel while others will watch Mass via livestream in their classrooms. For this particular Liturgy, the Middle School for Girls will be the lead community, lectoring and singing at Mass, and the Upper School Grade 9 Class will also be participating in the Chapel.
We are also pleased to welcome a limited number of parents to celebrate with us, so if you are so inclined to participate in person please complete this form. We would kindly ask that you both mask up and sit in the pews in the side chapel, as we are doing all we can to mitigate crossover exposure. Thank you for your thoughtful cooperation.
All Souls Day (November 2) may be about commemorating departed loved ones but for many, it's also a day where the family becomes complete again and shares meals together. Whether you are celebrating All Souls Day at the cemetery or not, the most important thing is to pray for the souls of those who are no longer with us. We invite you to share with us the names of your loved ones who have passed on over the last two years, so that we can enter each name into our Prayer Intention Book that will be surrounded by light and love all day in our chapel. To do so, please click here.
You may have noticed that each Thursday, you have been receiving a text message invitation to join us for morning Mass on Fridays at 7:10 a.m. in the Chapel. As we continue to focus on Goal IV - the building of community as a Christian value, we warmly invite you to celebrate with us. Fr. Steven Hurd, SJ is our weekly celebrant, and he brings a joy and gentleness of spirit that is palpable, inspiring, and quite contagious. Although 7:10 a.m. is early, I promise you that you will never regret being in his presence and celebrating with your ASH community. If you wish to include an intention for Mass, please do so by completing the form found here. We look forward to building community with you by coming together to worship and praise our God, from whom all of our blessings flow.
The Teal Pumpkin Project Map is Back!
From Food Allergy Research & Education (FARE)
October is here, and we can't wait to celebrate. When the leaves start to turn orange, it's time for the pumpkins to turn teal! FARE's Teal Pumpkin Project makes trick-or-treating safer for kids with food allergies and other medically restricted diets. With three easy steps, you can help make Halloween fun and inclusive for everyone this year.
Place a teal pumpkin on your doorstep or post a teal pumpkin poster on your door.

Offer non-food treats in their own bowl, separate from any candy.

Add your address to FARE's Teal Pumpkin Project map

to let local food allergy families know that children can find safe, non-food treats at your house.
ACADEMY OF THE SACRED HEART