Learning Community eNews | May 28, 2021
FEATURED STORY:
Winning Raffle Ticket Drawn!
Thank you to everyone who bought and sold tickets for the "Cruise into Summer" raffle. More than 900 tickets were purchased in support of the ASH Difference. As our amazing Congé activities concluded, our newly-elected 2021-2022 All-School Representative, Marisa Nafso, drew the winning tickets (video above).
Congratulations to Jen Logan on winning first prize - $5,000 cash and a weekend with Sophie the Smart Car! Our second place winner, Emily Davio, will receive $1,500 and LEGO® Smart Car.
Our top seller (37 tickets!) is Jamal Barnett. Additional top sellers include Aaliyah Layne, Alexandra Bowden, Joseph Davio, Avery McNally, Morgan McNally, Evan Puzzuoli, Atia Bella Samuel, Gabriella Kareem and Maria Kareem. All these superstar sellers will also receive a LEGO® Smart Car. We are so grateful for your support as we "Cruise into Summer."
Students Paving the Future for Project Term
By Angelina Kakos '22
Editor's note: For additional student reflections on this year's Project Term experience, view the video above.
This year, the Upper School experienced a new way to participate in Project Term. Due to COVID-19 and our inability to travel, we engaged in a virtual experience at our school and held Zoom conferences with people from several other countries about different issues. During our week of immersion, we were introduced to the Design Thinking Process, which was a new concept incorporated into Project Term this year. We all learned many things throughout the course of this experiential week and the process we partook in will forever be in our subconscious while problem solving.
Alongside the great success that we had following the Design Thinking Process during PT week, we also ended with a newfound inspiration to change and reform the immersion experience we all know and love. In light of this, a Project Term student leadership group was created to meet weekly, in order to discuss how we want to execute and build up future Project Terms. With the help of Mr. Rossi, a small group of us have been able to collaborate and talk about what has gone well in the past and what we would like to incorporate into future experiences. We will continue to meet over the summer, and student voices will be in leadership as next year's PT experiences are selected and introduced. We will also make sure the Design Thinking Process will be woven into every PT experience, whether local or a travel-based experience.
Our process has been collaborative. Each of our members has created blueprints filled with ideas, including the Design Thinking Process, on how we would like to prepare for Project Term, plan the output days post-experience, and continue the work in an ongoing way that was begun while away at PT. Our goal in this committee is to come up with a new and improved purpose for Project Term, find more meaningful methods to impact the communities we visit, and strategize ways to build long-term relationships with the people we meet along the way in order to maintain sustainable connections.
Project Term is supposed to challenge students to think outside the box and come up with long-lasting solutions for the people we are working with. Our job as this committee is to accomplish this goal and exceed the expectations of what Project Term used to be, because we all collectively agree that change is not only for the better, but also a means of taking on new opportunities to the fullest. As we continue to meet as a group and discuss our ideas, our hope is to strengthen and reaffirm the core values of what Project Term truly is.
2021-2022 All-School Representative
By Marisa Nafso '22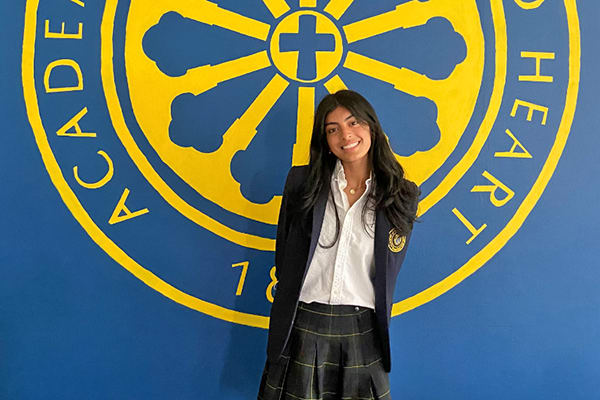 I am ecstatic to be next year's All School Representative. I have one sister who is currently a freshman here at ASH, and another who graduated last year and now attends Fordham University in New York City. I have been at ASH since preschool and have been extremely blessed to grow up in such an amazing environment. Although most people may know me from the field hockey field, basketball or tennis court, I am actively involved in almost every opportunity offered here at ASH. Throughout my time in the Upper School, I have dedicated myself to academics, athletics, service, and faith. As a result of attending this school, I have been able to identify my values and develop them into an asset that I believe will help me to represent the school as a young woman of character and social awareness. I hope to build community through service, faith, and school spirit as things begin to return to normal next year. I am so grateful for the opportunity to improve my leadership skills and I look forward to making life at ASH even more fun for everyone next year.
We Care
By Kayla Nafso '24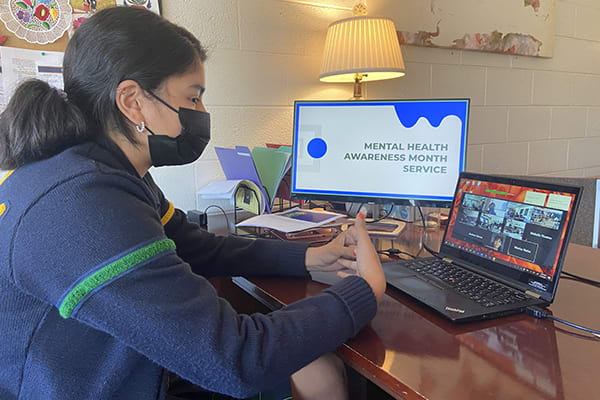 Mental health is something in our society that was ignored for many years. I was inspired by Dr. Jerome Motto and his theory on how the simple words "We Care" can be the difference between life and death. Dr. Motto's theory was based on his time in WWII where he experienced so much joy from receiving letters from home. There was a segment on Sunday Morning that covered the experiment run by Dr. Motto. This segment has stuck with me throughout the years and when the opportunity presented itself, I took my inspiration from this and created the Letters to Strangers service project the US participated in earlier this month. The program allows people to send a letter to a complete stranger and also receive one from the stranger. Through this project, I hope that those who participated were not only able to give some healing to the person they sent the letter to, but also for themselves when they received their letter. I am extremely grateful to be given the opportunity to be able to give this experience to the other students and I hope that we are able to continue to heal ourselves and others.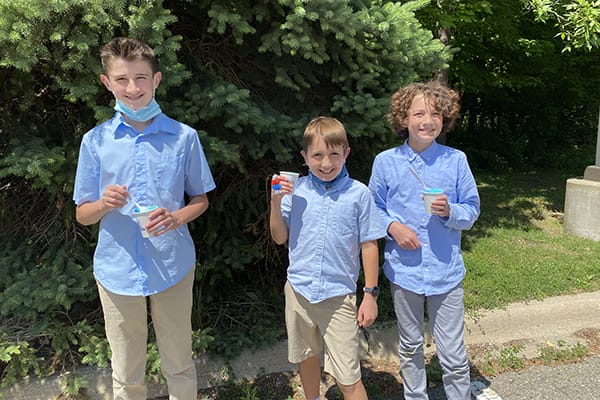 We have been having an amazing end to this very challenging school year! Cycle work is complete and we just concluded our Cycle 5 Immersion Week. Immersion Week is a unique component of the Kensington Hall middle school curriculum. Students grow to appreciate and cherish this special time in their educational experience. After we complete each five-week unit of studies, presentations and tests, we have what we call Immersion Week. Immersion Week allows time for the students to take a break from some of their traditional academics, creates a dedicated time to build community, and participate in experiential activities. This Immersion Week, we had a variety of activities including: team building challenges led by Eric Swanson, a hot dog picnic cookout with field games (thanks to Pete Kelly for being a tremendous grill master!), Ice Cream Science with Mr. Bagley, our final student-led KH Prayer Service of the year and Cycle 5 Mini Prize Day where the boys recognize one another for how they live the Goals and Criteria. We ended this Immersion Week with a unique party idea that three students (Colin Moran, Matheus Pinto, and Paul Kaczmar) came up with and named, "The BroDown". They planned and organized a dance party in the woods complete with hopping music, tasty snacks, a piñata, and to top it off, the Moran Family organized for Detroit Water Ice to come by and surprise the boys with a refreshing treat. Thank you, Moran family! It was much appreciated by the boys and faculty! View additional photos here.
Dive into Summer Learning
We are so thankful that we were able to continue in-person learning for most of this school year with only a couple of disruptions. We hear on the news how much "learning has been lost this year" due to the pandemic. I feel blessed to see how much our students have learned and the growth that they have made this year both academically and socially, as well as technologically! Parents often ask what they can do over the summer to continue the learning and growth and home and to keep their skills fresh. My first recommendation is to keep them reading! Take them to the bookstore or library and let them pick books that interest them. Set aside time to read together as a family. Another recommendation is to get them outside playing as much as possible. Children learn so much through play. Get them involved in cooking and baking. These guys love to cook, and cooking helps with their reading and math skills as well. Create space, time, and materials for them to get creative artistically. Find fun science projects and experiments to do together. I've noticed this year that these boys really enjoy getting into science experiments.
For returning students, summer reading and math assignments will be posted in mid-June to keep those skills honed. I hope you all have a blessed, healthy summer filled with fun and learning!
Looking Back & Looking Ahead
By Joyce Lee, Middle School for Girls Director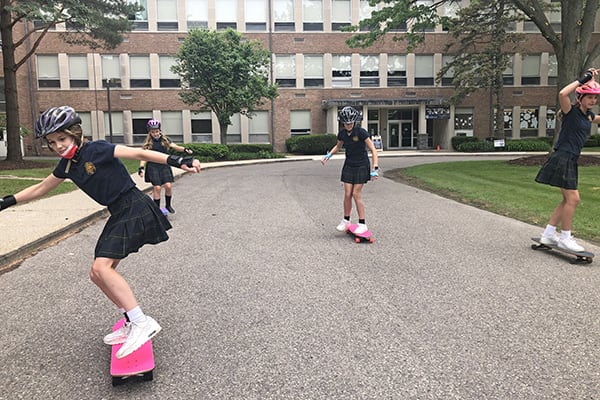 To say that this has been quite the year would be an understatement. In many ways, this has been a historic year, where students today will be telling stories in the future of what life and school was like during the pandemic of 2020. Stories of masks, staying and sitting six feet away from their classmates, and attending school through Zoom will all be woven through each student's experience and story. To be honest, I wasn't quite sure what the school year was going to look like. Would we be in person for a short time and then need to shift back to remote learning? Would there be a constant wave of teacher and student absences? Not to mention that entering the new year at the height of uncertainty during a pandemic brought many logistical challenges. Dismissals to lockers, bathroom breaks, lunchroom and classroom seating, changing in the locker rooms, morning assemblies, and community events were all things that had to be redesigned and reimagined. Despite the changes, the one thing that did not change was the spirit of the students. Despite the masks, laughter could still be heard throughout the hallway. Despite the six foot spacing, relationships and friendships were still formed and developed. Despite not being able to physically gather together for most of the year, we still felt a sense of community. As I told the students this past week, I have been so proud of the way they have handled the changes this past year. They are developing resilience as they encounter and overcome challenges, and through it all, we have grown together as a family. As we approach the end of this school year, things feel relatively back to normal and promising. My hope for all of you is that you will be able to safely experience a wonderful summer filled with many fun activities surrounded by the people you love and care about. Bring back the playdates, the sleepovers, the campfires, the hugs, and the life that we once knew because, frankly, it has been quite the year.
What has been the best part of this year?
Gigi Monigold, Grade 5
Being able to be in person at school because we got to be with our friends. It was so much better than just seeing their faces on the screen.
Kendall Ivey, Grade 6
I think we did a good job with all the COVID rules and I really enjoyed experiencing all the special events here like retreat and Congé.
Jorin Higgins, Grade 7
Experientials were really fun this year, I enjoyed having my Quiet Activity Time. I hope we have them next year!
Ally Zemke, Grade 8
Halloween was so much fun!
Click here for a media gallery showing highlights from this past year!
Ordinary Magic
By Emily Avendt, Lower School Director and Director of Learning Support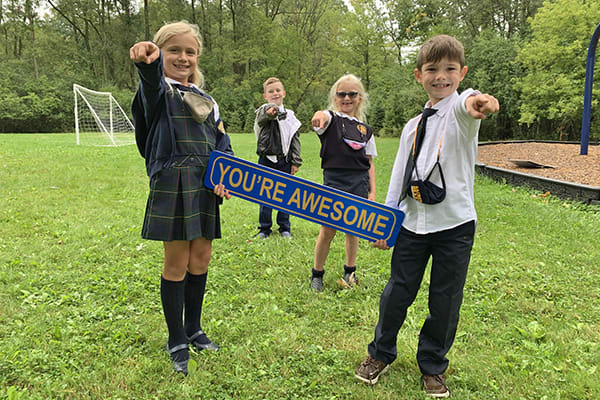 Here we are, one week from the start of Prize Days, and I'm filled with immense pride at the resiliency of our students and the dedication of our faculty and staff. Thinking back to one year ago, there were so many unknowns as to what this school year would be like and that caused many of us so much fear and anxiety. Last spring, I had the pleasure of interviewing Dr. Lisa Damour over Zoom on the topic of "Managing Stress, Anxiety, and Parenting Under COVID-19" as part of our Heart of the Matter Speaker and Film Series. During her presentation, Dr. Damour referenced the concept of "ordinary magic" as a major protective factor for our children during times of stress.
Ordinary Magic (based off of the work of Dr. Ann Masten) refers to the ways in which we can buffer children from the impacts of stress to promote resilience and help kids thrive even under difficult or less than ideal circumstances. There are three ways to support children to create this ordinary magic:
A connection to loving, capable adults

Engagement in meaningful work

A sense of control
Despite being impacted by the pandemic this year, the gift of school has allowed students to forge amazing and supportive relationships with teachers and fellow classmates. Students have experienced the predictability of a stable schedule with daily anchors across school or flex schedules, and they have engaged in meaningful coursework and projects all year long. All of this gives students a self of control and personal agency and the ability to thrive. When these three components come together they are a trifecta that makes even ordinary experiences extraordinary!
Next Friday at 10:30 a.m., we will celebrate each student and have the opportunity to witness the extraordinary magic of our students and faculty at the Lower School Prize Day. Parents, if you haven't already registered please do so here: Prize Day RSVP. Each student is permitted two guests.
It's All a Game!
By Renee McNally, Primary School Director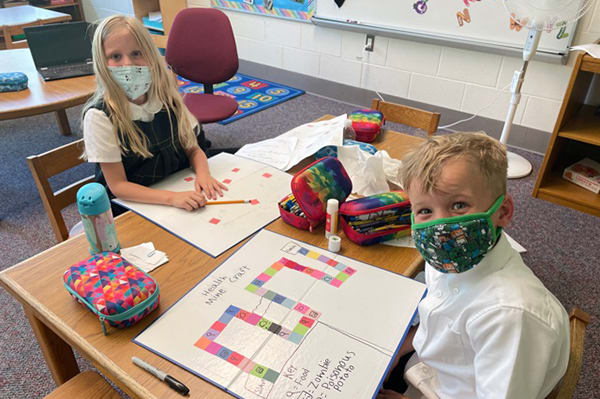 The first graders embarked on a new adventure in math class this month. After learning many new math games this school year, the students were presented with the challenge to design their own board game. Each first grader began with a concept and then sketched his/her ideas on paper. Once their plans were perfected, the students began constructing their game on a real game board complete with directions, dice, spinners, movers and anything else their game required for playing. The fun will continue when they get into small groups to play each other's games. This activity was a perfect opportunity for the first graders to experience 21st Century learning and to practice offensive and defensive game strategies.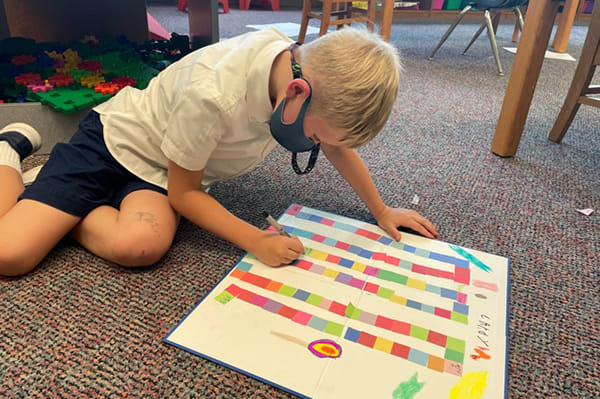 Prize Day
By Renee McNally, Primary School Director
Each Primary student will be recognized on Friday, June 4 at 9 a.m. for something he/she has worked hard on or done well during the school year. While all the children have experienced many successes this year, your child's "prize" will be a specific success that has special meaning to your child. See below for details regarding this special event.
Dress up attire is appropriate. Students do not wear the school uniform this day.

Students should arrive to their classroom between 8:15-8:30 a.m.

The ceremony will begin promptly at 9 a.m. in the Field House.

Every child must be represented by an adult in the audience. Each family may have two guests this year and registration is required
Attendees will be screened, wear a mask, and observe social distancing.
The event will be livestreamed at youtube.com/sacredheartmi so additional family members may view Prize Day remotely.
Students will be dismissed from the Field House by class following the ceremony. Once directed, parents should exit the Field House to greet their child and pick up an end-of-year packet to take home. The envelope will include a report card, information for the 2021-2022 school year, and other fun surprises. HAPPY SUMMER!
What a Great School Year!
By Kristen Miller, Early Childhood Program Director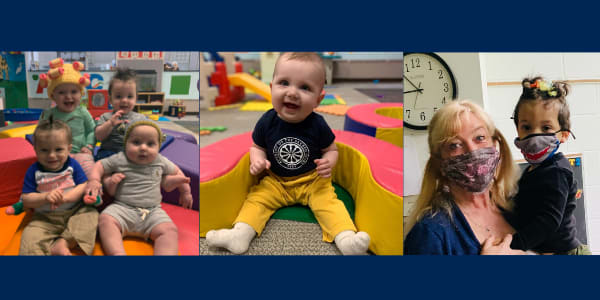 It is hard to believe that we are at the end of our school year. When June came around last year, I was not sure we would have a school year. When our Head of School, Damian Hermann, along with our dedicated COVID Task Force, said, "Kristen, we are going to open the Early Childhood Program on July 6," I was worried no one would come back. But you did. You trusted us and you brought your children back. We had a small but mighty group and by September, a full house. I am proud to say we remained full, with just a few hiccups here and there, but we did it! July is right around the corner - the one-year mark for our ECP being in person during a pandemic. Together we persevered. We are all ready to put this year behind us and welcome a fun-filled summer.
The ECP kids and teachers enjoyed a fun "Spirit Week" this past week. It was great to see so many participate with fun hats, favorite sports teams, and crazy hair, just to name a few highlights. The Preschool children are getting ready to celebrate their Prize Day; the other classrooms are anticipating some of the children transitioning into new classrooms. Some children will remain in the same space and make a transition in the fall. We thank you for your continued partnership. We cannot wait for an exciting summer filled with water play, bubbles, nature walks, arts and crafts and so much more. Let the summer fun begin!
ACADEMY OF THE SACRED HEART