All-School eNews | May 22, 2020
FEATURED STORY:
Real Heroes
By Damian Hermann, Head of School
Today we celebrated the Feast Day of St. Madeleine Sophie Barat, the foundress of the Society of Sacred Heart and Sacred Heart education. I hope you were able to join us for our virtual prayer service and Congé Carnival - these events were loving displays of community in the midst of challenge.

As we begin Memorial Day weekend, I'd like to re-visit this morning's call to worship, where I reflected on the words Pope Francis used on Palm Sunday:

"Dear friends, look at the real heroes who come to light in these days. They are not famous, rich and successful people; rather, they are those who are giving themselves in order to serve others."

Pope Francis is talking about all the regular, ordinary people who are leading us through this current crisis. Of course, he is talking about all of the people who keep us safe like nurses, doctors, fire fighters, paramedics, police officers, and our military and government officials, but he's also talking about so many others - priests, teachers, mail carriers, UPS delivery people, Amazon workers, and grocery store workers. I would go even further to include all of those people who are checking up on loved ones, offering a smile to neighbors, a kind word to a friend on social media, and especially those who are praying intentionally for all those suffering and in need. Pope Francis says in this quote that if you are giving yourself to serve others, YOU are a hero.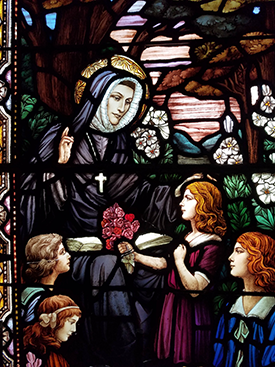 St. Madeleine Sophie (pictured) was a hero for this exact reason. When she was only 14 she dedicated herself to loving and serving the Sacred Hearts of Jesus and Mary. And at 14 years old, she started on a path that changed the world. She made it possible for countless girls to receive a Sacred Heart education at a time when girls were rarely allowed to go to school. She started with one school that has grown into an international network of schools that is in 41 different countries and includes more than 150 schools.
All these share one mission that demonstrates the love of the Sacred Hearts of Jesus and Mary through a commitment to the Goals and Criteria:
A personal and active faith in God;

A deep respect for intellectual values;

A social awareness that impels to action;

The building of community as a Christian value;

Personal growth in an atmosphere of wise freedom.
More than 200 years ago, St. Madeleine Sophie followed the love of the Sacred Heart of Jesus and changed the world by serving others. Every RSCJ that followed in her path continued this heroic work. You may have read that just recently, that the last RSCJ residing in Michigan, Sister Annette Zipple, passed away. Her many amazing contributions to our Detroit area include:
Developing the Sacred Heart art enrichment program for middle school girls in Southwest Detroit;

Developing of Our Lady of Guadalupe Middle School for girls in Southwest Detroit; and

Developing a program that enables disadvantaged women to go to college.
Are you willing to accept the challenge to always be giving of yourself to others as St. Madeleine Sophie and Sister Annette Zipple did? If you are, you will be a hero, too.
Where live events are listed, watch for Zoom links to be sent directly from the learning community leader.
Preschool: Prizes and custom videos to be sent individually to families on Thursday, June 4

Primary School: Prizes and custom videos to be sent individually to families on Friday, June 5

Lower School: Friday, June 5

Grade 2 at 9:30 a.m.

Grade 4 at 10:30 a.m.

Grade 3 at 11:30 a.m.

Kensington Hall: Tuesday, June 9 at 9:30 a.m.

Middle School for Girls: Wednesday, June 10 at 9 a.m.

Upper School: Thursday, June 11 - Prize Day Celebration web page is live
PAASH News
By Penelopi Drolet, PAASH President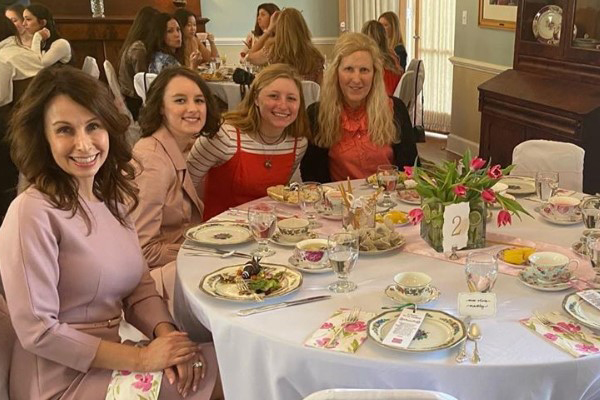 On behalf of PAASH and the Grade Level Representatives, I would like to thank all the parents for their continued efforts to create this incredible community. We are truly a family that cares for one another, a family that perseveres, and one that I have never been more proud to be part of than now! We started the year with a simple goal to build community, and our events were indicative that we achieved our goal. All of our events were well attended, full of energy and built community.
We started the year by welcoming new families, as we organized the "Eat" portion of "Run, Pray, Eat," hosted another successful Ladies Luncheon at Oakland Hills Country Club, prayed together at Christmas/Santa Mass, helped feed and welcome the talented Young Americans, sponsored Salmon in the Classroom, treated the faculty and staff to a night out for their Christmas Party, helped our seniors with their Senior Tea (above), bought pumpkins for Halloween, helped with decorations at Christmas and bought our faculty well-deserved signs and t-shirts for Teacher Appreciation Week. Thank you to the people that chaired these events, the PAASH team and Grade Level Representatives, faculty and staff, and to you for helping us achieve our goal.
Keep an eye out for an upcoming message from your Grade Level Representatives to help with our final event this year - Faculty and Staff Prize Day. Let's show all faculty and staff how much we appreciate them!


Stay safe and healthy this summer, and I look forward to seeing everyone in person this fall!
Save the Date for "Sacred Heart Sprints to Summer" Virtual 5K Event on Saturday, June 13
We're trying something new and exciting this year since we were unable to hold our Annual Raffle in support of Academy of the Sacred Heart. On Saturday, June 13, we will host our first virtual 5K; you'll enter by making a donation to ASH. Participants will run/walk/bike/treadmill their own 5K or one-mile fun run in support of ASH and receive route suggestions, a downloadable finisher certificate and a suggested playlist. Don't forget the Spirit Award - show your best spirit to be considered for this prestigious award! Watch for many more details to come!
Kroger Community Rewards Program
We're all making more meals at home these days, and you can support Sacred Heart when grocery shopping by signing up for Kroger Community Rewards. ASH families who participate in the Kroger Community Rewards Program raised more than $145 for Sacred Heart last quarter just by doing their regular grocery shopping. These families represent just a small portion of our community - if you don't participate yet, please sign up at krogercommunityrewards.com and start earning for ASH!
Practice Makes Perfect
By Robin Clements, R.N., B.S.N.
As you have read in previous ASH communications, we are hoping to re-open the Early Childhood Program and begin Summer at Sacred Heart on June 15. Masks will be required for campers, but not Early Childhood students per recommendations from the Centers for Disease Control and Prevention (CDC) and the State of Michigan.

Not all people who test positive for COVID-19 have symptoms of illness. It is possible to spread the virus without even knowing you are infected. The virus is transmitted via respiratory droplets through sneezing, coughing, and even singing or yelling. Wearing masks in addition to thorough cleaning/disinfecting and social distancing is crucial to preventing the spread of the virus. Proper hygiene practices (hand washing, covering coughs and sneezes, and not touching eyes, nose, and mouth) will be taught and modeled by the Sacred Heart staff and faculty as well.

Wearing masks is new to all of us. It may seem uncomfortable and awkward. However, it decreases the spread of the virus. Because wearing a face mask is a new experience, children may touch their face more often. Younger children might be afraid of the masks. It is important to practice wearing the mask at home before returning to Sacred Heart. Here are some helpful hints:
Wear masks in front of your child while at home and talk about why you are wearing the mask - to protect yourself from germs

Place a mask on their favorite doll or stuffed animal

Look in the mirror with your child while both of you are wearing masks and incorporate masks into play and one-on-one time

Find masks with their favorite cartoon characters on them

Practice wearing the masks at home often. Start with short amounts of time and slowly increase the duration of mask wearing (but never during naps or bedtime).

Practice putting on and removing the face mask with your child.

Remind children not to touch the outside of the mask. Make sure the mask covers their nose and chin.

There are videos for children wearing masks online.
Masks are not recommended for children under the age of 2. Children with underlying medical conditions who are at greater risk of illness are encouraged to wear masks. However, if a child is showing signs of respiratory difficulty, a mask may be removed if necessary, while in an isolated area, away from other campers.

We realize a day of camp can be up to nine hours, which is a long time to wear a mask. Masks will be removed to eat lunch and water breaks, while social distancing. In addition, Miss Lauren has arranged for "designated mask breaks", where children will be allowed to take a break from their mask, while outside and social distancing.

Please start practicing with your children now to alleviate fear and awkwardness. Remember, practice makes perfect!
Parent Survey Coming Soon!
After the Memorial Day holiday, please watch your inbox for a parent survey. As the school year comes to a close, and we complete nine weeks of emergency remote learning, we want to hear about your experiences, questions and suggestions. Responses to this short survey will assist us in planning for the year ahead. Thank you in advance for your participation; we are grateful for your partnership and support of Academy of the Sacred Heart.
ACADEMY OF THE SACRED HEART