All-School eNews | May 8, 2020
FEATURED STORY:
Let the Heart of Jesus Lead Your Life
By Damian Hermann, Head of School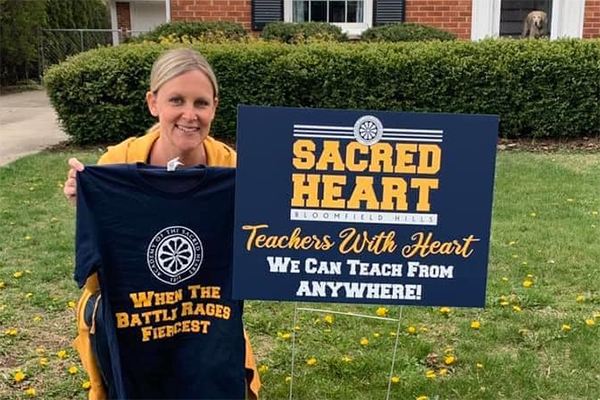 Last week, the school leadership team completed a two-day webinar training led by experts from The Reading League. This training in the science of reading provided our leaders with the foundational knowledge behind our new partnership with The Reading League. In June, our teachers will begin to train with them as well. I am enthusiastic about this professional development partnership and I am certain that our curriculum and instruction will continue to evolve in a way that is transformational for our ASH readers.

This training reinforced that we have to think about learning beyond the 180-day school year. Rest assured that we are and will continue to be at work thinking about how best to provide learning now, in the summer, and into next year. While Governor Whitmer extended our stay at home order until May 28 and shared that we are in the third phase of six, we are not resetting. We will continue to make the next wise choice and are hopeful that ECP and/or summer camp can still open on June 15. We continue to work diligently and pray for this.

So many of you helped celebrate Teacher Appreciation Week. I am appreciative for all of the thoughtful ways you shared your gratitude. In particular, PAASH donated the beautiful signs and t-shirts that we designed and delivered to all the teachers this week (above). Maintaining community through COVID has been a challenge, and I'm proud of the work that we all are doing to stay connected. Click here to see this great Teacher Appreciation Week video.

This community also generously responded to #GivingTuesdayNow this week, raising $7,500! Thank you to all who participated. Truly, your support is appreciated now more than ever! Contributions to Annual Giving may be made through June 30, and will ensure we can meet the needs of each of our Children of the Sacred Heart.

You may remember that I recently wrote that I've been reading the Psalms during this challenging time. Sister Meg Canty read this (she, too, receives our All School News) and she sent me her almost 50 year old, annotated book of Psalms. She inscribed it with a note that inspired me and my prayers and I hope it inspires you, "Your prayer with the Psalms - God's presence and gift to you. Let the Heart of Jesus lead your life. Courage and confidence." You are all in my ongoing prayers. Please pray for me and all of our Sacred Heart educators.
Dr. Lisa Damour on Managing Stress, Anxiety, and Parenting Under COVID-19
By Emily Avendt, Director of Learning Support
Yesterday afternoon, our Heart of the Matter Speaker and Film Series went virtual and welcomed Dr. Lisa Damour via a webinar presentation on anxiety, stress and parenting during COVID-19. Dr. Damour is an internationally recognized psychologist, best-selling author, teacher and consultant. It was a pleasure and honor to welcome Dr. Damour to our community. Her two books and her monthly Adolescence column in the New York Times are some of my favorite and most frequented resources because Dr. Damour has an amazing ability to take scientific research and translate it into user-friendly language and actionable steps to support children and adolescents. If you missed the live presentation, here are a couple highlights:

Anxiety and Stress are Normal and Healthy
Dr. Damour expertly described how, contrary to messages suggesting that individuals should avoid anxiety and stress, they are very normal and healthy experiences, and can even be protective. For example, during this current pandemic, anxiety can cause people to carefully observe social distance and wear masks. Stress occurs whenever we need to adapt to something new because it's stressful to renegotiate our routines or manage daily hassles. In her talk, Dr. Damour walked through coping strategies for managing anxiety and stress, which include breathing, establishing new routines to minimize decision-making fatigue, and tackling stressors head on. She also gave the ever-important message that when stress and anxiety rise to high, unmanageable and unhealthy levels, counseling should be sought. Counselors are providing sessions via telemedicine in the current pandemic.

Parenting During COVID-19
It was a relief to hear Dr. Damour's reminder that our children are far more resilient than we often give them credit for, and that there are ways to buffer the stresses of this pandemic, which can feel impossible to manage at times. Dr. Damour shared the following four strategies that research has found to promote resilience and buffer the impact of chronic stress on our children:
Giving Kids a Sense of Control

Promoting Meaningful Pursuits

Cultivating Positive Relationships at Home
Thank you to the Wudyka family for sponsoring Dr. Damour's presentation and thus supporting our community's ability to better manage stress and anxiety during these difficult times. A link to a recording of the presentation is available now in the Parent Portal.
2020-2021 All-School Representative
By April Wilcox, Dean of Girls 5-12

All-School Representative elections were held on Tuesday, May 5. Upper School students and faculty watched a Zoom webinar where Hannah Kakos, the current All-School Representative, lead a Q&A session with the 2020-2021 candidates, Reagan Beatty and Rebecca (Becca) Fite. Both candidates radiated confidence and eloquently presented their plans for next year, making it tough to decide who to vote for. In the end, Becca Fite (below) will be next year's All-School Representative! Please read on for a few words from Becca.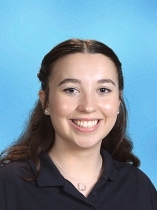 Even though we cannot gather, life still goes on and our hopes and aspirations for the future do not require an end, but instead, a change … It is an extreme honor to receive this position and to represent the community that has given so much to me. I would like to stress that I understand the state of life we are currently living in does not just come to an end, it is a transition back into normalcy. I would like to make this transition as smooth as possible by being in open communication with each other and collaborating to best serve the Academy of the Sacred Heart Community.
Next year will be a focus on what we can do for our community through new service opportunities and in living this out, I believe we will realize the authenticity of our school and how our role extends far beyond Bloomfield Hills, Michigan.
I would like to thank everyone who has mentored me through this process and whose kind words have meant the world to me. Right now, I can only say "thank you" but I hope to prove myself to you now and in the year to come. I would also like to express my admiration for someone who I consider more of an ally than an opponent, Reagan Beatty. She is a young woman with strong moral character and a deep devotion to God which is displayed in all that she does. She, and many others, will be vital to me and how I perform in my task next year. I look forward to working together next year!
Salmon in the Classroom Clinton River!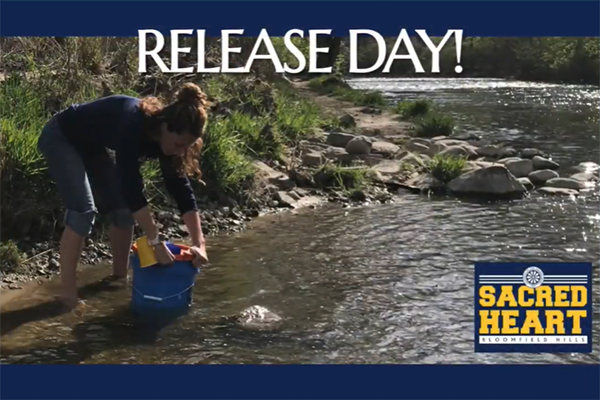 This week, our Salmon in the Classroom were released into the Clinton River! Click here to revisit their remarkable life cycle from inside our school tank, and then watch as they swim away in their new home.
Our entire school enjoyed watching these salmon grow from eggs to smolt. Thank you to Mrs. Howay (above), Director of the Middle School for Girls, who applied for this program through the Michigan Department of Natural Resources, and to PAASH for providing essential support and equipment. Special thanks are also extended to the students in the Middle School for Girls who helped raise these fish. Each of you made this exceptional learning experience possible!
Leaders Among Leaders Award
By Linda Kozler, Upper School Director
The West Point Society of Michigan has recognized our very own Becca Fite with a top award in their Leader Among Leaders essay competition.
Over 230 students from the metropolitan Detroit area participated in the Leadership Ethics and Diversity in STEM (LEADS) Workshop at Marygrove College on September 6, 2019. Twenty-three students were selected by Cadet team leaders as Leaders Among Leaders. As one of those selectees, Becca demonstrated extraordinary leadership and ethics skills to her Cadet team leaders.
Each Leader Among Leaders was offered the opportunity to complete an essay for competition describing an ethical dilemma of which they had knowledge or had personally experienced, and to discuss the situation using principles taught in the LEADS Workshop. The essays were evaluated by the LEADS essay review team. Becca wrote an outstanding essay, "Racism: An Ethical Dilemma." The LEADS team is very pleased that Becca showed her understanding of the importance of being an ethical leader, and felt she showed she is prepared to apply this knowledge in her school and community. They awarded her a $500 scholarship!

Below you will find a summarized version of her original essay. Congratulations, Becca!
One underlying issue that can be traced back for ages is racism. It does not matter if you start at the time of Christopher Columbus and the enslavement of Native Americans and Africans or right here in Detroit in 1968. Racism is an evil that has existed since the arrival of the first settlers in the Americas and will continue to exist until the end of time unless we abandon the prejudice of even the first social systems and recognize our progress towards a common goal, happiness and the ability to live to the fullest as a community. This ethical dilemma can be examined by personal experience and everyday occurrences in the news.
Racism is real and it is something that kids even deal with. They are only able to act on prior experience. They do not yet know the analysis of how we treat others, they only have a basic knowledge of right and wrong. This makes it more disheartening when a news article comes out reporting on a nine-year-old girl in Alabama who committed suicide because of the bullying she received for having a white friend. It is a rude awakening when the mindless issues adults avoid seep into the worlds of children. It makes me question, how could anyone let this happen? There are people in the world crying out for help, and systems in society are not doing enough. The young girl was being bullied by kids who do not even understand the weight of what they are saying. They are simply following the example of their parents and the people that surround them, because that is what young impressionable minds do. It should not have to take someone ending their life in order to be heard and respected.
Even though I have never experienced this evil I know the importance of feeling valued in a group. As a leader I will take in account each team member's current situation in life because you never know what someone is going through and there will be zero tolerance for putting others down. It is extremely vital that anyone who desires to be a leader takes time to comprehend the other person and their perspective of life. This allows us to better understand one another and work towards a common goal as ethical leaders. Each individual holds the responsibility of how they carry themselves as a person and how they influence the next generation of leaders.
ACADEMY OF THE SACRED HEART