All-School eNews | March 27, 2020
FEATURED STORY:
"Do what you can, with what you have, where you are."
Reflection by Damian Hermann, Head of School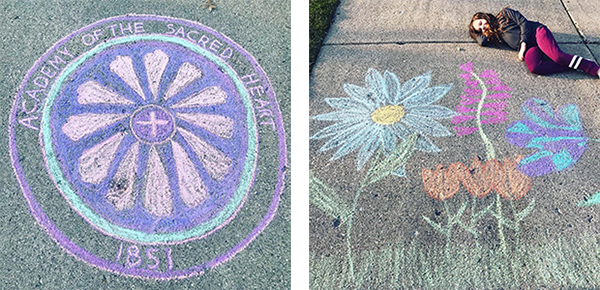 Above: Sidewalk art by Riley L., Grade 3
The quote above is attributed to Theodore Roosevelt, and everywhere I look in the Academy of Sacred Heart family, this is exactly what I have been seeing. I see students showing up and learning in an entirely new format. I see parents, adjusting, nurturing, supporting and loving. I see teachers designing, teaching, relating and caring. I see leaders and staff supporting, empowering, reassuring, and planning for what's next. I see Sacred Heart Network educators coming together to share, plan and support one another. And I see a greater ASH community doing what they can, with what they have, where they are. Our virtual prayer board is just one example of this. Please continue to share your intentions and hold the intentions of our Sacred Heart family in your daily prayer.

Thank you for all that you are doing to support our students in a way that keeps them learning, keeps them connected, and keeps them on a somewhat normal schedule.

Please enjoy reading the inspirational messages below courtesy of our ASH learning community leaders.
Have Heart, Will Lead Remotely
By Dr. Korin Visocchi, Associate Head of School & Chief Learning Officer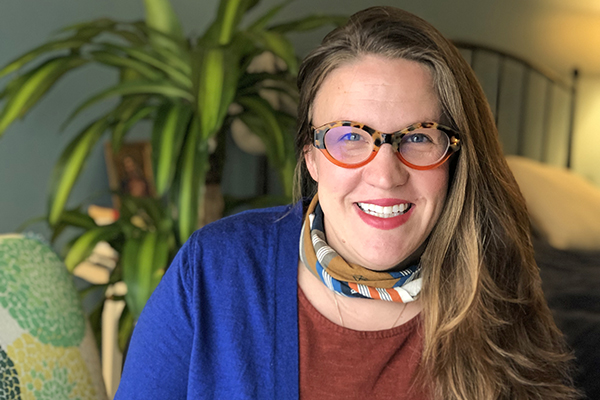 Above: Dr. Visocchi in her remote office

Take a caring community and mission-based school that thrives on hallway greetings, morning meetings, Friday prayer services and a gorgeous spacious campus and pivot in less than 48 hours to an entirely remote working, teaching, leading and learning institution. That's the task we asked our amazing Learning Community Leadership team to tackle and imagine for our faculty, students and families. As an academic team of school leaders, we created a swift and actionable plan in response to the COVID-19 Pandemic and local mandates. And if I could climb to the top of our building, I would shout for all to hear, "I am so proud of this team! The CoHEART of Learning Community Leaders at Academy of the Sacred Heart are incredible, creative and courageous!"
How was this possible? What is our success variable?
To start: Heart, trust, confidence and commitment to community serve as the foundational principles which guide our mission and work as school leaders.
Add to that: An entire faculty and staff team with heart, families who trust, leaders who exhibit transformational courage, and faculty members who pivoted to remote teaching while maintaining both an independent character and a commitment to our ASH students and families.
For the sake of each learner, we provided. We are still tired, and we are still learning, but indeed, what a testament to our beloved ASH community. As a team of academic leaders, we meet every day on Zoom; when we were in the building, we met twice a month. In many ways, "distance made the heart grow fonder" and we are closer now than I could have ever imagined.
Upper School is "All In"
By Linda Kozler, Upper School Director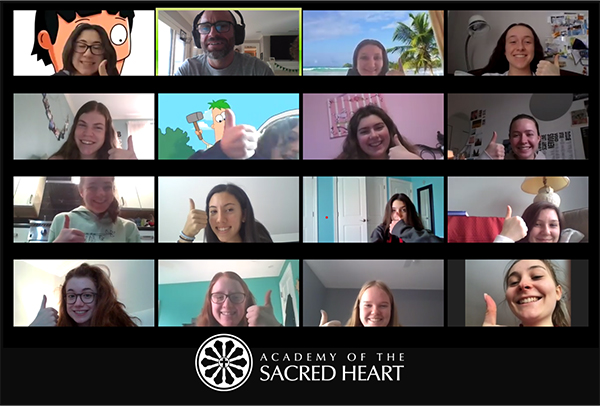 Life continues to be quite a whirlwind, from getting everyone ready for this remote learning time, to moving through week two of its implementation. I cannot thank you all enough for the many supportive emails you have sent offering kind words and prayers. I am continuing every day to drop into Zoom classes, and witnessing so much wonderful teaching and learning happening!
First and foremost, it has been a blessing to see our students' faces, laughing and happy and connecting to each other and to their teachers. I have watched them in discussions, listening to instruction, asking questions, and giving presentations for class. They have been nothing short of amazing. This week I have also been able to see them in a more relaxed way, in their class level meetings. It has buoyed my spirits!
It continues to be gratifying beyond measure to see how hard the teachers are working on their lessons and classes during this time. They are adept with the technology and masterful as always with their presence and teaching. They have come to me with concerns about students, and we are reaching out to families to support those who need increased support when learning remotely. The faculty's hearts are, as they say, "all in."
Within this unexpected challenge, we are living Goal IV in all-new ways, and those ways will creatively continue to expand and grow during this time of social distancing. We are here, we are doing this, and we are together in it. I pray daily for the good health of all of our ASH families, and for our neighbors, loved ones, and those who are alone during this time.
Together
By Stephanie Howay, Director of the Middle School for Girls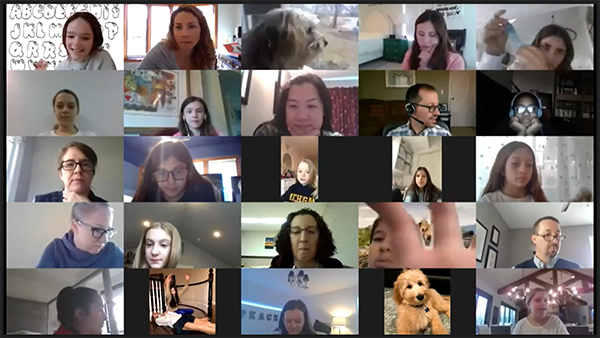 Above: MSG students and faculty gather for a prayer service
The MSG teachers know that one of my favorite sayings is, "Of all the things that I thought I would do as a principal, I never thought that I would ...". I generally complete that sentence with yet another non-glamorous activity, such as "... vacuum up the little paper circles that fall out of the paper punch", "... call maintenance after I've flooded the art room for the second time (that day!)", or "... disinfect every locker in the MSG hallway". I would be remiss if I didn't add "... completely flip our model of teaching on its head, and move all of my teachers and students online, in less than 48 hours".

The pride that I feel for the teachers and students in MSG is unlike any feeling of pride that I have previously experienced. The flexibility and resiliency that all members of our community have shown over the past two weeks amaze me. Though I know that we have talented teachers, and intelligent, hard-working students, it is the relationships that we have with one another that truly made this shift possible. As we've Zoomed into science class, met as a community for prayer, and played virtual games together, I can't help but think that this is all working because we know each other; we know one another's strengths, weaknesses and needs.

Although I'm grateful that we are experiencing success with remote learning, I cannot wait for the day that we get to see each other face-to-face again because together is my absolute favorite place to be.
Courage and Confidence
By April Wilcox, Dean of Girls, Grades 5-12

St. Madeleine Sophie Barat started this school with the intention of teaching young women and girls to navigate the world with courage and confidence. I have seen nothing less from our students these past two weeks. They adapted to the change of remote learning with ease and have given themselves grace as they navigate this new normal.
From greetings in the "hallways," to scavenger hunts during advisory, to chatting about what shows have made it to the binge-watching list, the students and faculty have not fallen short in ensuring they practice Goal IV.
Social distancing might keep us physically apart, but our hearts are as close as ever. Stay well, ASH community and I cannot wait to see the halls filled again soon.
Kensington Hall Knights Prevail!
By Kim Davidson, Lead Teacher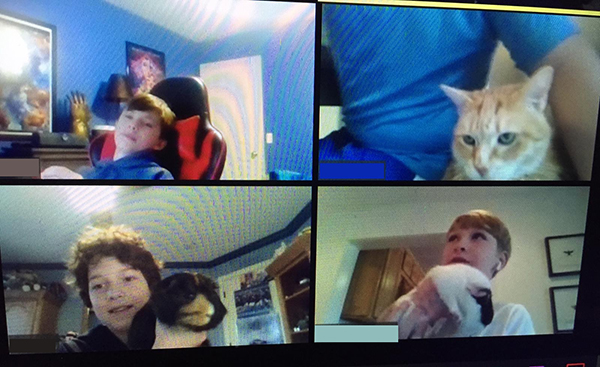 Above: KH Knights introduce their pets during a Zoom community meeting.
As someone who was not the most adept with technology and very relationship-oriented, the initial thought of transitioning our community-oriented, project- and discussion-based middle school program to remote learning terrified me. How could we re-create our classrooms on-line? Well, the Kensington Hall teaching team did what we do best - work together and share our knowledge and insight to come up with a plan for what we thought would be best for the boys during this time. Routine, consistency, and maintaining community were at the top of our list. After many hours creating Google Classrooms and mastering online learning platforms, we were ready and excited to launch. Our first Zoom Community Meeting was a sight to behold! The students and teachers were excited to "see" one another; they shared their pets and their new learning spaces, and had fun using the new technology platform. That enthusiasm continues in our daily Zoom classes. The teachers have all mentioned how blessed we feel that we are able to continue to "see" and interact with the boys each day.
I have been overwhelmed with pride at how well the boys and teachers alike have taken to remote learning. This challenge has been met with positivity and an attitude of encouragement. We are all learning new things together and helping one another. We began this challenge with the motto of finding the opportunities. The boys have the opportunity to practice and demonstrate what we've been working toward all year - responsibility, accountability, time management, and taking care of one another as brothers. I am extremely impressed with how they are stepping up to the challenge, and could not be more proud of our Kensington Hall Knights, the KH teaching team, and the entire faculty of Academy of Sacred Heart. Thank you to our amazing parents who have been so supportive during this as well! You are in our thoughts and prayers daily. God Bless!
Team INSPIRATION
By Renee McNally, Primary and Lower School Director

Last Friday, Primary and Lower School parents read my message of gratitude - gratitude that was permeating my heart following a quick and successful transition to remote learning. The collaboration between teachers and families made it all possible. Inspiration is the feeling that fills my heart now.
Your children's teachers, a.k.a. Team HEART, continue to bring the students important lessons and activities to keep their minds and hearts engaged. For their openness and dedication to exploring and demonstrating alternative ways of reaching their students, I am inspired.
You, our students' parents and families, a.k.a. Team SUPPORT, continue to be the bridge between the teachers' posted assignments and the learning that is taking place at home. For your ability to pause from your other responsibilities to oversee the daily learning of your children, I am inspired.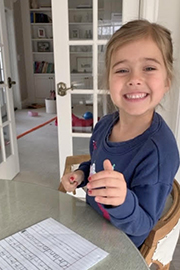 Our students, a.k.a. Team AWESOME, continue to surprise me with their ability to jump right into remote learning without skipping a beat (pictured, Emily W. in Pre-K). I have been reviewing some of their submitted work, and it is amazing! For their cooperation with keeping their minds and hearts engaged in their learning, I am inspired.
While we are using the term "remote learning" to describe this temporary way of teaching and learning, it has been far from a feeling of remoteness for me. I feel very connected to all of you and the students.
We are receiving daily messages of appreciation and encouragement from you, and we are seeing our students through the work that is being submitted and the photos and videos you are sending us. I encourage everyone to continue making these special connections until we return to the classroom and see everyone's smiling face in person. What a beautiful day that will be!
A Round of Applause for the Early Childhood Team!
By Kristen Miller, Early Childhood Program Director

I am so proud to be the leader of such a phenomenal group of Early Childhood Educators. This group of caregivers, lead teachers and assistants has pulled together to provide our youngest learners with some fun interactive activities. I never thought in my 25-year career that we would be dabbling in remote learning for infants and toddlers! But here we are. We did it! We have the ability to connect your child with their teacher and caregivers. I knew we had talent amongst us, but WOW! Now you as parents, get a small glimpse of what happens behind the scenes during parts of your child's day.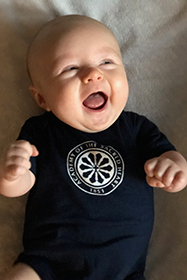 Your children are an extension of our own families. We look forward to teaching your child every day. It tugs at our heartstrings daily that we cannot see them and you. (Pictured: One of the youngest members of the ASH family, PJ, shows his school spirit.*)
We urge you to continue using the "Peek at the Week" as best you can. Look for more Remote Learning fun on Monday morning. Remember, this too shall pass, and the gift of time is precious. We are looking forward to being together very soon and holding each of your families in our prayers. Peace to all!
*Editor's Note: Many students, faculty and staff are wearing their spirit wear as we connect virtually. It's great to see our Gazelles and Knights in blue and gold! The pop-up spirit store is open, and items will be shipped directly to your home after April 20.
Learning Support Team Provides Continuity and Consistency
By Emily Avendt, Director of Learning Support

The mission of the Learning Support Team is to support the growth of all learners in the ASH community, students and adults, from the Early Childhood Program up through the Upper School. We have the great privilege of being a part of each learning community and seeing daily the amazing ways that ASH teachers creatively engage students at every developmental level to grow our students academically and social-emotionally. When faced with a swift transition to remote learning, teachers and learning specialists crafted equally engaging and developmentally-appropriate learning plans providing continuity and consistency for our students during these very challenging times.
Each learning support plan has been adapted to remote learning so that our youngest students continue to have access to explicit, extra practice on foundational skills, and our older students have the opportunity to review concepts learned in class a second time and receive curricular support completing their at-home work. I'm inspired by our learning specialists working one-on-one with students via video conferencing, joining virtual classes, making and sharing videos to re-teach concepts, creating learning platforms to guide the parents of our youngest students, and collaborating with teachers daily to ensure each student continues to grow during remote learning.
The Learning Support "Team" does not just include myself and our two learning specialists. We are all on the team: leaders, classroom teachers and parents. Despite the challenges we are all facing, the team has never been stronger! Thank you for your partnership, it brings us all great hope!
Stay Home, Stay Safe
By Robin Clements, R.N., B.S.N., School Nurse
The situation with COVID-19 is changing daily. Monday, the Governor issued the State of Michigan's "Stay Home, Stay Safe" order. The safest place for our children is at home. Yet, I still see groups of teens walking around downtown Birmingham. No playdates, sleepovers, or get-togethers with friends should be happening. Encourage your children to talk to their friends by phone, text, or FaceTime.
The uncertainty of our current situation can cause anxiety for us and our children. It might help to avoid excessive viewing of the news, as it is geared to adults. Talk to your children and address their fears and concerns with age-appropriate information. Reassure them that officials are working hard to keep them safe.
Please use caution when reading Coronavirus information on social media. The most accurate information can be located on the Centers for Disease Control (CDC), World Health Organization (WHO), and local hospital websites.
I encourage you and your children to stay active by going on walks, bike rides, doing yard work, or shooting hoops in the driveway. Write some encouraging messages and draw some pictures in sidewalk chalk for neighbors to enjoy. Being outdoors is beneficial for our mental and physical health as long as we are social distancing.
If you or a family member are experiencing symptoms of illness, contact your healthcare provider. If you don't have one, call the Oakland County Health Department at 800-848-5533 or your local hospital.
The best prevention for COVID-19 is to:
Wash your hands often with soap and water for at least 20 seconds. Use hand sanitizer if soap and water are not available.

Avoid touching your mouth, nose, or eyes with unwashed hands.

Cover your mouth and nose with a tissue or sleeve when coughing and sneezing.

Avoid contact with people who are sick.

Stay at least 6 feet away from others when in a public setting.


Stay home, stay safe.
ACADEMY OF THE SACRED HEART