All-School eNews | February 28, 2020
FEATURED STORY:
Celebrating Community
By Damian Hermann, Head of School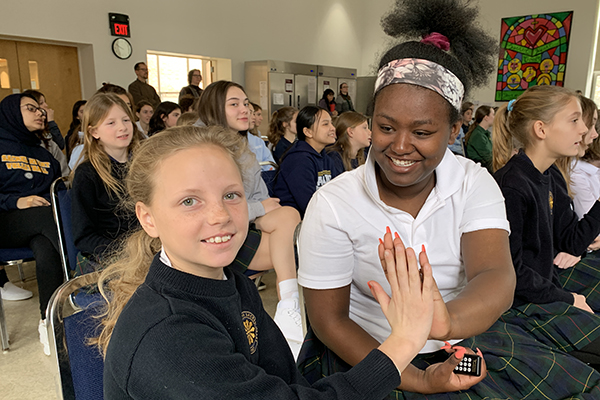 With the snow days this week, it is hard to believe that spring is right around the corner: sunshine, warmer weather, trees and flowers blooming, new life, and Easter! Lent is a time for us to take stock and focus, with specificity, on our prayer life, on the promise of our Faith - eternal life in communion with God and all who have gone before us.

As I pray and reflect, I think about how, as a Sacred Heart School, we are blessed to be rooted in a community that gathers regularly to celebrate relationship with one another and in so doing, we share, celebrate, and reflect God's love with one another. As the school year has unfolded, I have taken great pride in seeing:
attendance at events grow;

new parent and alumnae leadership;

warmth and hospitality extended to our new community members;

and a feeling of family that permeates so much of what we do (above: a "Big Sister, Little Sister" activity today).


Nowhere was this more evident than at the most recent Gala, "A Grand Affair". With the amazing leadership of Paul and Emily Buckles, the tireless efforts of the Advancement Office, and a willingness on your part to come, have fun and support ASH, we can celebrate a truly amazing community effort. The attendance and revenue we achieved is the highest we have seen in the past five years. Thank you!

As you may have heard at the State of the School, we continue at 110% effort to elevate the experience for every Academy of Sacred Heart family. As you know, we are in re-enrollment season and we appreciate your timely response to this process. Your willingness to give a few minutes of your precious time to do so is a great way to show your support of our work. If you have any questions about this process, please reach out to Rose Hacker, the Director of Enrollment Management.

Academy of the Sacred Heart is a place of joy and love. Don't take my word for it; look for it on the faces of the children that enter and leave our building every day - well, OK, maybe don't look to our Upper School girls at 7:30 a.m. But you get the point ... Curiosity and learning start when students feel comfortable, supported, and loved. And while growing up is infinitely difficult and even more complicated to parent through, please trust that ASH does that in partnership with you and your child - nurturing, guiding, growing, and challenging each student to be their very best.
A Lenten Reflection
By: Society of the Sacred Heart Formation to Mission Committee
Standing on the Lenten temptation precipice,
both despair and gratitude teeter in our hearts.
Listening to the voices of Lent,
we hear the invitation to enter our own desert,
and to pierce through the distractions
of digital solutions into the hard drive of the heart.


We dare to illuminate the temptations
attracting us away from grace
with magnetic force.


Let us listen with courage and confidence.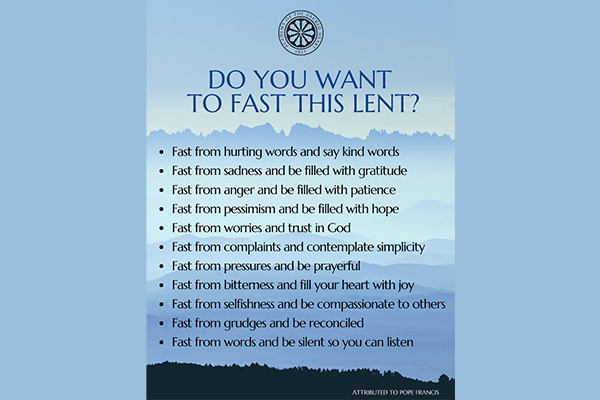 Editor's Note: Remember, our collection for the Pope Francis Center continues through Friday, April 3.
All students, families, faculty and staff are invited to consider donating:
Ponchos (Single-use)

T-Shirts (White, black, or gray, L-XXL)

Granola/Protein Bars

Peanut Butter

Vaseline (Individual or travel sizes)
Traffic & Safety Concerns: For student safety, all cars on campus must adhere to our posted traffic patterns. In particular, we ask that families enter and exit from Kensington Road if using the Kensington Road Circle Drive, and from Squirrel Road when using the Field House entrance. Do NOT use the throughway between Kensington and Squirrel Roads during arrival and dismissal; if necessary for student safety, we will close this road. We appreciate your partnership and attention when driving on campus.

Mother-Daughter Mass:

This Sunday, March 1, at 1 p.m., PAASH will host a special mass for mothers and daughters; all ASH moms and daughters are invited to attend. Following mass, seniors and their mothers are invited to the traditional formal tea in the Parlor.
The Young Americans are Coming! The Young Americans are Coming!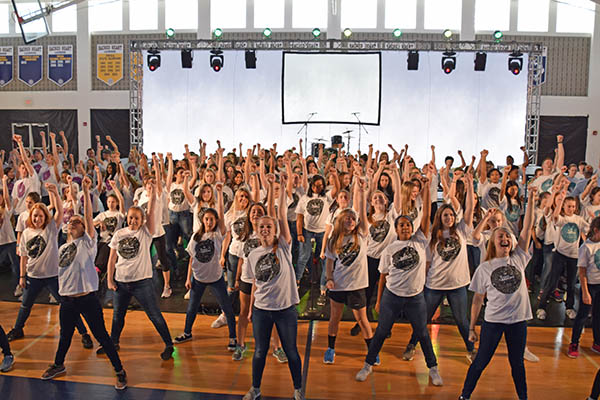 Above: The Young Americans dress rehearsal, 2017
We have an incredible event coming to our school next week! The Young Americans are making a tour stop to bring their Performing Arts Workshop here from March 5-7.
The Young Americans is a company of 40 teachers/performers and staff who present a three-day workshop program filled with music, dance, comedy, improv and fun! The college-aged members of The Young Americans are from many countries around the world, and since 1962 its International Music Outreach Tour has visited nearly the entire United States, and many, many countries including Australia, New Zealand, Germany, Spain, Poland, Sweden, Switzerland and Japan.
Besides being international performers, The Young Americans are also trained teachers whose main goal is to encourage growth, self-esteem and teamwork among the students with whom they work. The workshop is aimed at providing an experience that is not only fun but also challenges students to step out of their comfort zone. The first two days of the workshop are filled with classes, including vocal technique, dance, acting, choral singing, auditioning techniques and stage presence – just to name a few. After two days of intensive learning and rehearsal (plus loads of fun!) the students perform, on the third day, with The Young Americans in a concert for our community. The first act stars The Young Americans in a spectacular show, followed by the second act which features our students, alongside their new mentors, in a concert designed to showcase their personalities, talents, and newly discovered abilities.
Music brings people together for many purposes: teamwork, respect, accomplishment, caring and self-discipline, a sense of self-worth and much more! This marks the seventh time The Young Americans will come to work with our students and we couldn't be more excited to welcome them back. It is a fantastic opportunity for our entire 5-12 Learning Community, and thanks to Annual Giving dollars, the entire workshop registration is covered at no cost to our students. If you have students who will be participating, check your email for full details.
All members of the Sacred Heart family are invited to attend the culminating performance, regardless of if they have a child participating:


Saturday, March 7
ASH Field House
3:30 p.m. (Doors open at 3 p.m. for ticket sales)

7 p.m. (Doors open at 6:30 for ticket sales)
Ticket prices, as determined by The Young Americans, are $10 for adults and $8 for students.
Plan to Attend "History, Human Rights & the Power of One" on Tuesday, March 10!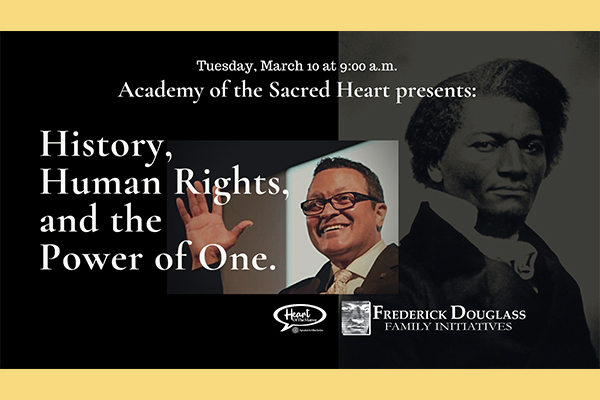 Academy of the Sacred Heart is pleased to present Kenneth B. Morris, Jr., Co-Founder and President of Frederick Douglass Family Initiatives (FDFI) on Tuesday, March 10 at 9 a.m. Mr. Morris will speak on "History, Human Rights and the Power of One" as part of our Heart of the Matter speaker and film series.
Mr. Morris and his mother are a direct descendants of both Frederick Douglass and Booker T. Washington, and their family launched FDFI over a decade ago. FDFI's focus is on eradicating human trafficking - an issue they felt Frederick Douglass would be tackling as modern-day slavery were he alive today.
FDFI offers a variety of age-appropriate human trafficking prevention education programs and service-learning curriculum, including the One Million Abolitionists project. Launched at a Library of Congress event in 2018 to celebrate the bicentennial of Douglass's birth, FDFI's goal is to distribute a million copies of a special edition of his first autobiography, Narrative of the Life of Frederick Douglass: An American Slave. In honor of the late Andre Dawson, friend of Morris and FDFI, this book will be distributed for free to Upper School students, and as supplies last, to adults for a nominal donation.
This event is free and open to the public, and recommended for ages 12 and up. Registration is encouraged for planning purposes, but walk-ins are welcome. Visit ashmi.org/morris for full details.
Register Now for Summer Camp & More!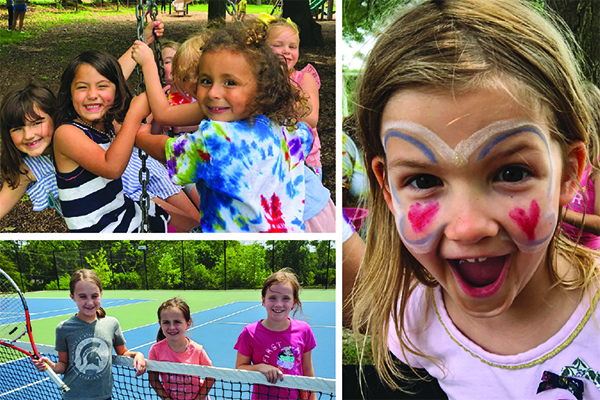 Summer Camp registration is officially open! We are offering priority registration to Sacred Heart families until March 1, after which registration will be open to the general public. Be sure to check out the website for our camp brochure that features information on individual camps and how to register. With a variety of sports, arts, science and themed offerings, there is something for everyone!
Our St. Patrick's Day Extravaganza will take place on Friday, March 6 from 3:30-5 p.m for ages 3 and up. Join us for a culinary adventure as we travel to the end of the rainbow and whip up treats fit for any leprechaun! Click here to register.
ACADEMY OF THE SACRED HEART