All-School eNews | January 24, 2020
FEATURED STORY:
Perspectives & Reflections
By Damian Hermann, Head of School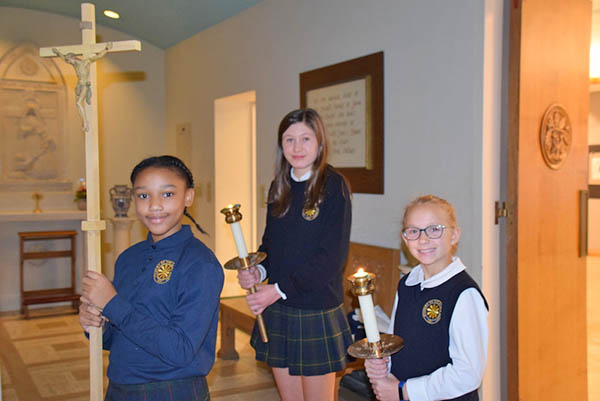 Above: Students in the Chapel vestibule, November 2019
I spend a lot of time in our Chapel. It truly is the heart of Academy of the Sacred Heart. The Mater picture in the vestibule when you walk in reminds me that we are devoted to the Sacred Hearts of Jesus and Mary. The marble altar immediately on the right in that same vestibule is from our former location on Lawrence Avenue. It contains a relic of St. Philippine Duchesne, and I often walk past it, touch it, and ask for her intercession. I just learned, when looking through historical documents, that our side chapel is actually the St. Madeleine Sophie Chapel. This pre-Vatican II side chapel allowed for the cloistered sisters to fully celebrate Mass with the public.
It is in this chapel that the RSCJ renewed their vows each year, prayed for the mission of the Society of Sacred Heart, prayed for Sacred Heart education, prayed with and for our faculty and staff, prayed with and for our students and families, celebrated weddings and sacraments, mourned our lost loved ones, and simply gathered as a Sacred Heart family. This Chapel has been and continues to be the place we find inspiration in the Sacred Hearts of Jesus and Mary, where we are exposed to God's Mystery and where we are challenged to carry that Mystery out into this world.
I have the benefit of having come from outside of the Sacred Heart community. While still a Catholic educator, I bring a perspective that I find myself repeating again and again. This place is special. I say it over and over because I think when you have always known it, you take it for granted. You assume that all schools have spent 168 years developing and evidencing a whole child approach. (Yes! Our RSCJ were light-years ahead of the educational world.) You assume that all schools are centered in the foundation of the Goals and Criteria. You assume that all Catholic schools celebrate Mass in a way that is truly special. And you assume that all schools come together in community often and joyfully.
Simply put, we are built on a rock-solid foundation. We certainly have opportunities for improvement, and it is because we are challenged to always be self-reflective that we recognize these opportunities and work to always be better. In fact, we were challenged by our Sacred Heart Commission on Goals team last year with this Janet Erskine Stuart, RSCJ quote, "Immobility, arrested development, bring decadence; a beauty, fully unfolded is ready to perish. So let us not rest on our beautiful past." This team challenged us to take what we do already so beautifully, and to do it even better.
I look forward to seeing you all at the State of the School on February 4 at 7 p.m. I have progress to report and a vision to share. I also have two terrific seniors speaking, one who is reflecting on her Sacred Heart educational experience and the other who will imagine how she will take the skills she has learned here and live into her future. And l can assure you, regardless of what I say, their perspectives alone will be the worth the time!
Sunday's Open House Kicks Off Catholic Schools Week!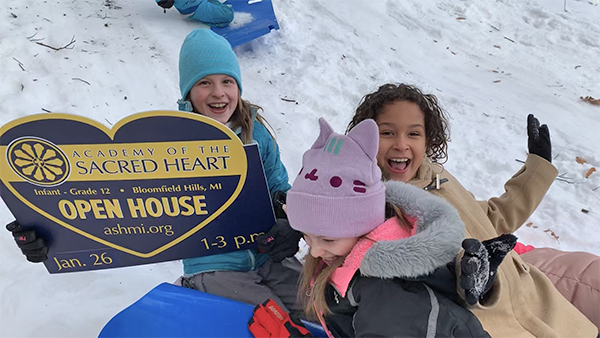 There is much to look forward to next week, when we will join with schools across the country in celebrating Catholic Schools Week. As a part of the Network of Sacred Heart Schools, our identity is three-dimensional. We are Catholic - independent - Sacred Heart. Catholic Schools Week allows us to shine a light on our Catholic heritage and the many ways we work to show the love of God in the world. (You can read the Conference of Sacred Heart Education's identity paper here.)
The week's festivities begin with Open House this Sunday from 1-3 p.m. Pray for good weather! Thank you for all you have done to spread the word about Sacred Heart; we look forward to sharing the #ASHDifference with many guests!
Check your communications from the learning communities about special events and activities happening each day. On Friday, we will bring the week to a close with an All-School Liturgy at 9:30 a.m., celebrated by our friend Father Grayson Heenan of St. Damien of Molokai Parish in Pontiac. Parents are welcome to join us for mass.
A Grand Affair Benefit Gala is Just Two Weeks Away!
Don't miss the party of the year! Purchase your tickets today for A Grand Affair Benefit Gala 2020, which takes place on Friday, February 7 at The Townsend Hotel. That's just two weeks from today! You'll enjoy delicious food, bid on extraordinary live and silent auction items, and close out the evening with a hopping after-party, all in support of student experiences at Academy of the Sacred Heart.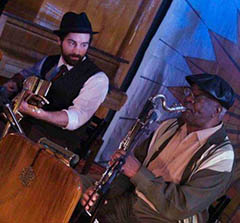 This just in - thanks to our generous "All That Jazz" sponsors, A Grand Affair will include live entertainment during cocktail hour, a local jazz quintet featuring Detroit jazz legend Wendell Harrison on the saxophone. Mr. Harrison was recently highlighted in The New York Times!
The Young Americans: Don't Miss Out on the Most Exciting and Educational Performing Arts Workshop in the Country!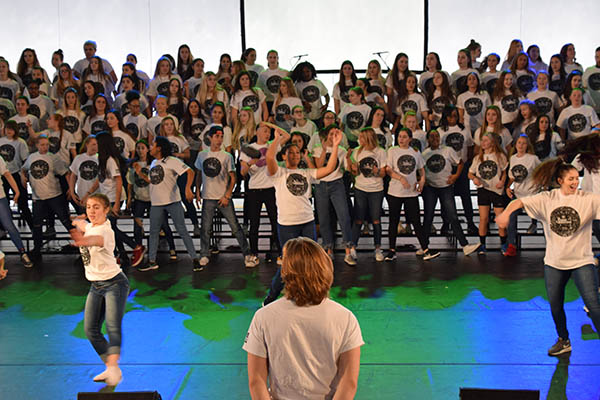 Above: Dress rehearsal, 2017
The Young Americans are making a stop in Bloomfield Hills to work with our Sacred Heart students in Grades 5-12 for three days. The 2020 show marks the seventh time The Young Americans will have come to work with our students. It is a fantastic opportunity for all students in our 5-12 Learning Community and we're so glad to be able to offer it again thanks to Annual Giving dollars.
What can your middle school/Upper School child look forward to? This high-energy comprehensive performing arts workshop covers everything from vocal techniques, dance, and comedy improvisation, to stage movement, sound, lighting and more. Learning a show in three days helps students to learn to work together, to respect each other's strengths and to discover their own potential.
Classes, Self-Confidence and Leadership: In addition, students will take classes in the areas of voice, dance, song-writing and performance (acting and improv).
After three days of intensive performance instruction, it's show time! The Young Americans cast of 40 performs the first act, and then to everyone's astonishment, the students and Young Americans perform the second act. The show is jam-packed with choral, jazz, contemporary, musical theatre, rock 'n' roll and more. Your students will be the ones in front singing, dancing and performing the variety show and solos they've learned in just two days.
This project is an enormous undertaking and requires a great deal of organization and cooperation from all involved – students, teachers and parents alike. Please click here for information on being a Host Family.
Keep an eye out for further information such as the ASH permission slip, Young Americans consent form, DVD order form and ticket information. In the meantime, mark your calendar and clear the following dates and times:
Thursday, March 5 from 3:30 – 9 p.m.
Friday, March 6 from 7:45 a.m. – 5:30 p.m.
Saturday, March 7 from 11:45 a.m. – 9 p.m.
We promise it'll be an unforgettable experience for you and your middle school and Upper School child/ren!
Reminder - School Illness Policy
By Robin Clements, R.N., B.S.N., School Nurse
Since we have returned from the Christmas break, I have been seeing students with fevers and vomiting.
Sometimes it is difficult as parents to decide when our children are too sick to go to school. Sometimes children will wake up fine and end up sick soon after arriving at school. Often our Upper School students who are not feeling well, come to school only to take a test or attend certain classes, rather than stay home and rest.
One of the roles of the school nurse is to try and control (as much as possible) the spread of illness in our classrooms and learning communities. To do this we implement set criteria for exclusion of ill children:
Fever above 100.5 F during the last 24 hours

Vomiting or diarrhea during the last 24 hours

Rash that is indicative of contagious illness

Severe, productive cough that interferes with daily activities

Known contagious illness such as Strep Throat or Influenza


Why the 24 hour rule?
A child must be fever-free, and vomiting/diarrhea free for 24 hours before returning to school after an illness. This could mean that your child stays home a day when he/she feels fine. However, medical evidence shows a child is contagious for 24 hours after symptoms resolve (such as fever and vomiting). If a child returns too soon, more children are exposed to the illness. It is important for our Upper School students to stay home as well to prevent the spread of illness. They can make up tests and projects when they are symptom-free.
Please notify the learning community administrative assistant or me if your child is diagnosed with a communicable illness. I will send out a letter to parents in your child's learning community when an illness has been reported.
Academic Burnout
By Robin Clements, R.N., B.S.N., School Nurse
As an educator of the Sacred Heart, professional development is a big part of the #ASHDifference. Last week we were grateful to have Berkley Brown, MA, LPC, CWP, come to school to discuss Academic Burnout. Ms. Brown is the assistant dean of student affairs for Oakland University William Beaumont School of Medicine.
The training objectives were:
How do we recognize academic burnout?

What are the signs and symptoms of academic burnout (and how do you recognize when you need a referral for help)?

Identify strategies to deal with burnout.
What is burnout?
Ms. Brown defined it as "physical and emotional exhaustion, resulting from prolonged environmental internal and/or external stressors and inadequate coping and adaptive skills."
How do we recognize academic burnout, and what are the signs and symptoms?
Ms. Brown explained that often emotions have similarities. However, emotions can also look different depending on the person. She explained that sometimes burnout can look like a difficult student rather than a sad student. Often, students who are experiencing burnout are going through the motions of school without being engaged. A student experiencing burnout may have sudden and uncharacteristic changes in academic performance and organization. The student may have a decreased tolerance level or increased frustration level.
The student experiencing academic burnout may be feeling ineffective or hopeless. He/she may become detached academically, socially, and/or emotionally. The student may seem pessimistic or negative. We may feel the student requires discipline when really the student needs help.
When students are experiencing these feelings, they may verbalize physical symptoms as well … which is when the school nurse might see them. They may experience stomachaches, headaches, and anxiety.
So, what are some strategies to help our students with academic burnout?
It is important to talk about feelings. Express concern and empathy when noticing changes in behavior. Don't blame, minimize or dismiss. Ask your child/student how he/she is feeling. Ms. Brown suggested "a one-word check" - provide one word to describe how you are feeling each day. This strategy goes well with our RULER program, which teaches emotional intelligence. RULER introduces "feelings" vocabulary to help our students express their feelings through words.
Ms. Brown also expressed the importance of knowing when to seek additional help through counselors, therapists and physicians if necessary. Seek therapeutic intervention if:
Your child is at risk of harming himself/herself or others

Your child is disengaged in the learning process and is resorting to cheating or dishonesty.

Your child is in distress that is beyond typical childhood/adolescent stress

It's curtains up for Drama Kids at Academy of the Sacred Heart! Grades 1-5 will participate in fun activities that help them think more creatively and learn new acting, confidence-building and social skills. Students will be part of plays, improvisations, silent scenes, mini-scripts, hilarious theatre games and more. There will be a Parent Participation Day halfway through our session and we will culminate the year with an in-class Parent Presentation. Everyone is getting into the act – don't miss out!
Class dates, rates and descriptions for Drama Kids and ALL enrichment classes can be found online at ashmi.org/enrichment.
ACADEMY OF THE SACRED HEART