All-School eNews | January 10, 2020
FEATURED STORY:
Immersed & Renewed
By Damian Hermann, Head of School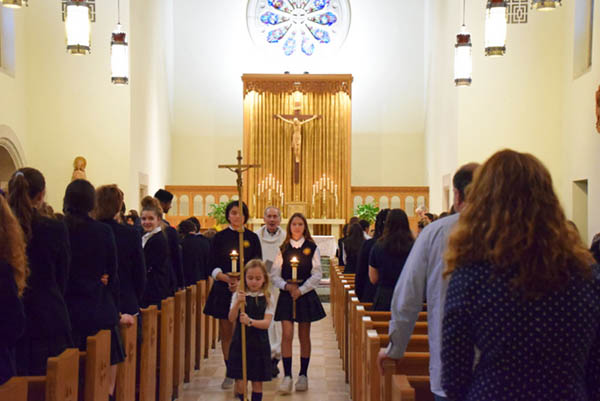 The beginning of the New Year offers us the opportunity to reflect on both what went well and what didn't go well in the previous year. In this reflection, we have a chance to take a deep breath and to start fresh, to imagine, or even to hope.

The liturgical calendar offers us a similar opportunity. On Sunday, and today for our All-School Liturgy, we celebrated the Baptism of Christ. Monsignor Zenz asked us all to immerse ourselves in the idea of our own baptism. It is in our baptism that hope, renewal, and life are promised.

As a school and as a school network, we are devoted to Jesus. Specifically, we are devoted to the love poured out through the Sacred Heart of Jesus and the grace promised by the incarnation of Jesus. It is through this devotion that the RSCJ began serving students 200 years ago. It is through this devotion that the RSCJ honed the Goals and Criteria. And it is through this devotion that we, as a member of the Network of Sacred Heart Schools and as an independent Sacred Heart school in Bloomfield Hills, Michigan, continue to courageously, confidently and uniquely serve students. It is this devotion that is at the "heart" of the #ASHDifference.
Spread the Word - Open House is Sunday, January 26!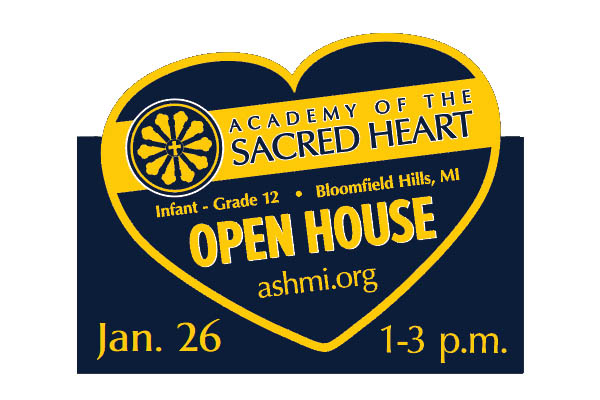 The winter All-School Open House is just a couple of weeks away, and we hope that you will continue to help spread the word about Sacred Heart. We've had several new students join us for the second half of the year, and we want to keep the momentum going! Please join us on Sunday, January 26 from 1-3 p.m. and be sure to extend an invitation to your friends, family and co-workers as well.

Stickers to update the open house yard signs (above) are available at each portry - please be sure to grab two so that you can update both sides of your sign. (Primary and Lower School parents, these will have come home in your child's backpack.) In need of a sign? Contact Rose Hacker, Director of Enrollment Management, at rhacker@ashmi.org. Once your sign's back up in the yard, post a picture to social media with the hashtag #ASHOpenHouse! Again, thank you for all you do to support our recruiting efforts - and don't forget, referral discounts are available!
Scholastic Art & Writing Awards 2020
By Linda Shultz Anderson, Visual Arts Educator

The Scholastic Art and Writing Awards, started in 1923, is a national recognition and scholarship program for creative teenagers in Grades 7 – 12. Former recipients include Andy Warhol, Richard Avedon, Truman Capote, Sylvia Plath and Ken Burns. This year, ten Advanced Art students have selected works for the jury process which began on January 7 at Detroit Country Day School. Selected works may advance to the College for Creative Studies in Detroit and possibly the national level. Congratulations to the following art students for their achievements: Livie Burg '20, Gillian Donoghue '21, Tamir Hill '20, Rose Jackson '20, Amanda Kelley '20, Olivia Mackley '20, Avery McNally '21, Allison Passejna '21, Charlotte Scott '20 and Katerina Jonna '21. Olivia Morreale '21 has submitted written work for review. Students will be considered for the prestigious Key Awards, scholarship dollars and local and national recognition for their artistic achievements.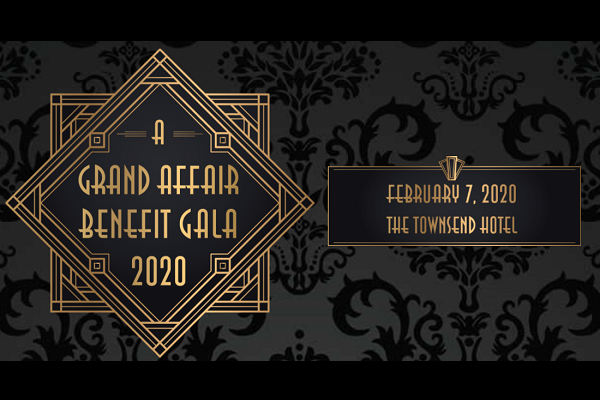 Just four weeks to go until A Grand Affair Benefit Gala 2020! We're putting the final touches on this amazing evening, and can't wait to share some exciting updates with you!
In the meantime, what can you do to get ready?
1. Make sure you've reserved an ad in the magazine. This is a great place to promote your business, recognize your children or thank a caregiver. The ad deadline is one week from today - Friday, January 17. Download an ad contract here, or order online now.


2. Watch for your invitation in the mail, and then RSVP! This event will sell out, so be sure to purchase your tickets early. Ticket prices increase on Friday, January 24 (if any seats remain).


3. Contact Carolynn Krause or Kelita Bak in the Advancement Office with any questions, or if you'd like to volunteer. Remember, funds raised from this event support student experiences throughout the school year, and our goal is for 100% participation from the parent community.
With your support, we will have an extraordinary and enjoyable Benefit on Friday, February 7 at The Townsend Hotel!
Monday, January 20 - A Day of Service

As Mr. Hermann announced earlier this school year, on Monday, January 20, the building will be closed for the Rev. Dr. Martin Luther King, Jr. federal holiday and day of service.

The Goals & Criteria call us to a social awareness which impels to action, and we hope you will venture forth to participate in one of the numerous opportunities available throughout metro Detroit. Many members of our community have a tradition of volunteer service on Martin Luther King Jr. Day - a tradition of acting for justice by empowering individuals, strengthening our communities, bridging barriers and problem-solving.
We encourage all members of the Sacred Heart family to honor the legacy of Rev. Dr. Martin Luther King, Jr. by acting for justice on this day specifically, as well as throughout the year. The following list includes links to local events taking place on Monday, January 20, but is just a sampling of the opportunities available. We hope you are able to find an activity that is a good fit for your family!
"Z - In Search of the Sustainable Soul" Project Term Clothing Drive

Is your closet bursting at the seams after putting away all the new clothes you got for Christmas? Can you spare some gently-used items that aren't getting the love they deserve? Please consider donating clothing to the "Z - In Search of the Sustainable Soul" Project Term Clothing Drive. Sofia DeSanto '20 says, "We are looking for spring and summer clothing, shoes, and sports equipment of all sizes to donate to the local communities of Iquitos, Peru ... Thank you for your thoughtful contributions. ¡Gracias por todo!" Look for baskets to arrive in each learning community soon.
Board of Trustees Welcomes Lynne Lieux, RSCJ
In December, Academy of the Sacred Heart's Board of Trustees voted to elect Lynne Lieux, RSCJ to the Board. Sr. Lieux previously served as a Trustee from 2001-2014. She is a member of the Society of the Sacred Heart's Vocations Team, and has been a member of the Society since 1980.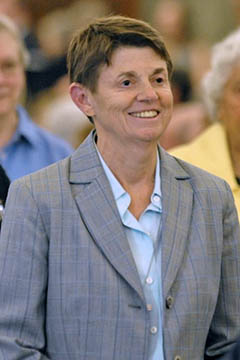 Sr. Lieux frequently states that her life in the Society began on her 14th birthday when she became a boarding school student at the Academy of the Sacred Heart in Grand Coteau. After receiving her BS in Mathematics from Maryville University, she spent her first year in the Society at Villa Duchesne teaching math and physics. She received her MA in Physics from Washington University and her doctorate in Educational Administration from the University of New Orleans. Sr. Lieux has spent most of her adult life working in Sacred Heart schools as a teacher, dean of students, upper school head, and head of school.
Sr. Lieux has served as a Trustee of several Sacred Heart schools and of Maryville University. In addition to continuing her doctoral research on sustaining educational change, she is writing a book on Religious of the Sacred Heart who were pioneer women in STEM fields. She also enjoys outdoor activities, including golf, fly-fishing, and cycling. Welcome (back)!
We are so excited to offer Abrakadoodle Art this winter with classes for Toddler 2's & Young 3's, Preschool, Primary School and Lower School students! Each class features tailor-made art activities that are appropriate for the students' age level.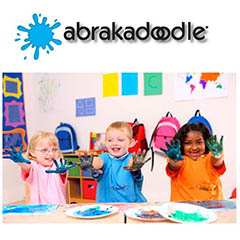 Younger students will use painting, stamping, collage and more to develop sensory and motor skills while older students will explore painting, 3D art and mark making. Class dates, rates and descriptions for Abrakadoodle and ALL enrichment classes can be found online at ashmi.org/enrichment and questions can be directed to Ms. Lauren at lvidak@ashmi.org. We can't wait to see what your children create!
ACADEMY OF THE SACRED HEART