All-School eNews | December 13, 2019
FEATURED STORY:
Pausing for Advent
By Damian Hermann, Head of School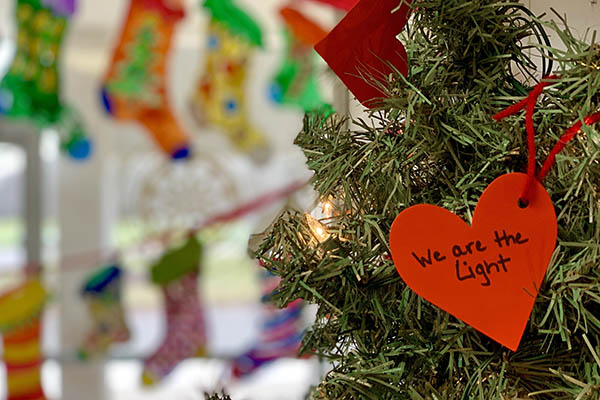 Recently, I shared with the faculty how much I love Advent. I love the anticipation. We are in such a "Buy Now" and "Deliver Today" world that we often forget how much fun waiting and anticipating can be. During Advent, we are waiting and anticipating the celebration of Jesus's arrival and the promise of God's grace.
It is so special to be on campus at this time of year! From our Advent by Candlelight holiday tables event to the Upper School & Middle School for Girls Christmas Concert last night and the Early Childhood Program's perfectly imperfect Christmas performance this morning, the joyful presence of God is among us. And, we still have much to look forward to!
I hope you'll plan to participate in the Family Mass & Christmas Party on Sunday and the Moonbeams for Sweet Dreams event on Monday night (more on those below). If you're in town on Christmas Eve, I encourage you to attend our 4 p.m. Mass. Arrive early - it is always a full house, and that way you'll hear the musical prelude that begins at 3:30 p.m.
Whatever your plans for the days ahead, I hope you'll pause for a moment and appreciate the beauty of our building and grounds. The often-unsung heroes on our facilities team have outdone themselves in "setting the stage" for all the festivities, and their work does not go unnoticed.
Although I hope to share my holiday greetings with you in person, let me take this opportunity to wish you an Advent that is truly a "Season of the Heart," as well as a very Merry Christmas and Happy New Year!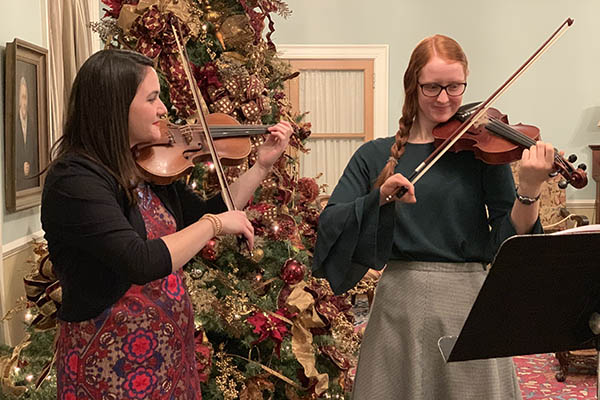 Don't Miss Sunday's Family Mass & Christmas Party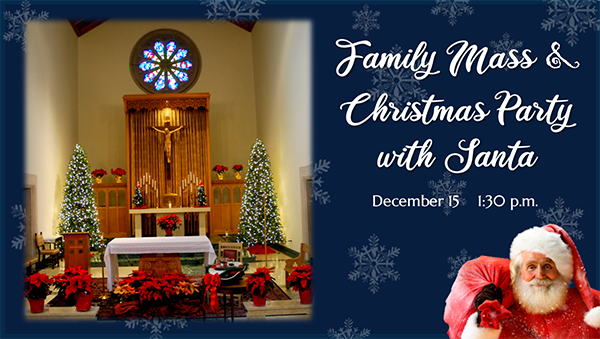 We will gather together as Sacred Heart family to celebrate the season of wonder with a Family Mass and Christmas Party this Sunday, December 15. Mass will be celebrated by Monsignor John Zenz at 1:30 p.m. followed by a joyful reception that will include treats, crafts, and visits with Santa. All are welcome!
Moonbeams for Sweet Dreams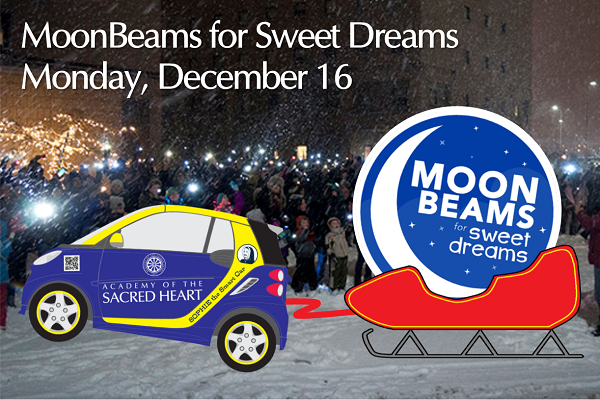 Bob and Kristen Miller (ECP Director) are hosting MoonBeams for Sweet Dreams at Beaumont Hospital in Royal Oak on Monday, December 16. On these nights pediatric patients shine flashlights from their hospital windows and look for community members standing outside the hospital to flash them back.
Join ASH in showing school spirit and our support for these brave children by attending on this night. We will be caroling at 7:30 p.m.; Moonbeams begins promptly at 8 p.m.
The event location is clearly marked with signage, but we will also have one of our Sacred Heart Athletics tents set up as the meetup spot - and of course, Sophie the Smart Car will be there (she's been spotted with reindeer antlers recently). Bring a flashlight!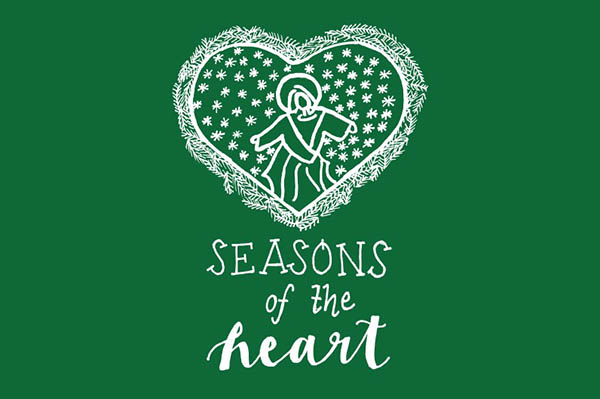 The Sacred Heart Formation to Mission team has declared the theme for Advent 2019 as Season of the Heart. Traditionally, an art student from one of the learning communities has designed the school Christmas card. This year, the selected design is a collaborative effort. Middle School for Girls students Lorena Ledesma Fabian and Anna Fischer created the image of Jesus in a star-filled sky surrounded by a heart of evergreens. Upper School student Emma Sarkisian '21 completed the card with her finely lettered greeting. We are thankful to have such talented young women to share their gifts with us all this Christmas season, and hope you will watch your mailboxes next week for the finished cards to arrive!
Building a Community of Learners
Building a community of learners is a top priority for our Chief Learning Officer. Over the course of a year, Dr. Korin Visocchi has transformed a classroom into a collaborative adult learning space where she hosts a professional development series titled, ASH PD Mondays. Each hour-long session is facilitated by both our in-building experts and educational experts from surrounding universities.
This week's session, "Reading IS Rocket Science" was led by School Psychologist and Director of Learning Support, Emily Avendt. It featured key takeaways from the Reading League's annual conference, with a focus on the scientific research behind how humans learn how to read as well as implications for effective instruction. Upcoming sessions will address topics such as academic burnout busting and student self-assessment tools, among many others.
We are pleased to offer and participate in these life-long learning opportunities, modeling the behavior that we hope to instill in our students!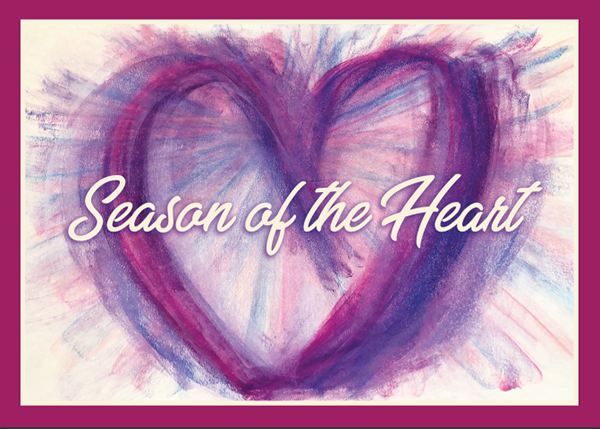 Thank you for your support of #GivingTuesday! Your generosity helped us surpass our goal for that important giving day. Your support of Annual Giving goes right to work for our students and our school, providing so much opportunity and growth. As you consider your year-end giving, please keep Academy of the Sacred Heart at the top of your list! Visit www.ashmi.org/onlinegift for more information. Please know you have our sincere thanks and best wishes for a Merry Christmas!
A Message from the Benefit Chairs, Paul & Emily Buckles
We are so happy to be chairing the benefit this year. A Grand Affair will take place on Friday, February 7, 2020 at The Townsend Hotel. It's going to be a great party, and we truly hope each and every Sacred Heart family will take part in some way. Become a sponsor, donate an item for the auction, attend the event! The possibilities are endless. You won't want to miss this great event. Visit www.ashmi.org/benefit for all the details. Thank you!
Register Now for Winter 2020!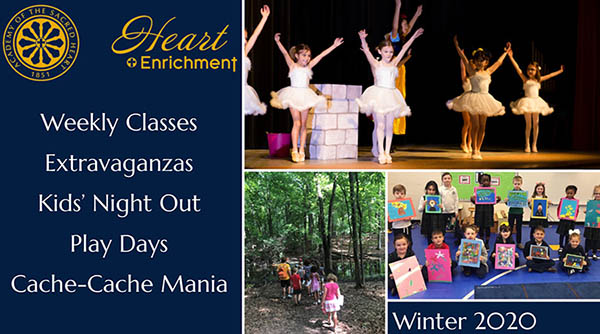 Winter 2020 enrichment classes are open for online registration starting TODAY, December 13! There are classes for every age and interest, so be sure to check out all the fun things headed your way this January. To register, please visit ashmi.org/Enrichment or stop by the Enrichment office for assistance.
ACADEMY OF THE SACRED HEART