All-School eNews | November 22, 2019
FEATURED STORY:
Contemplation and Thanksgiving
By Damian Hermann, Head of School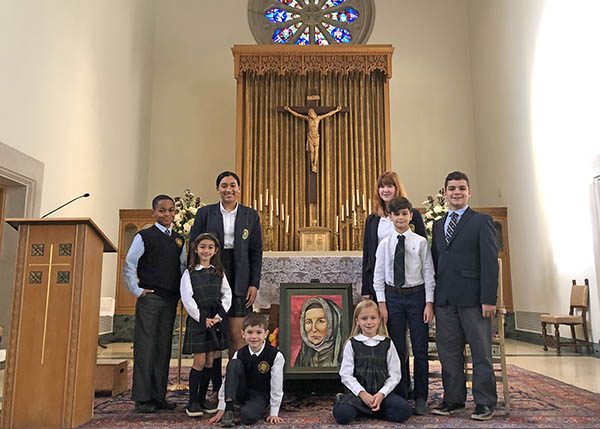 Above: Students gathered on the Feast of St. Rose Philippine Duchesne on Monday, November 18
The Society of the Sacred Heart believes fundamentally in the practice of contemplation. At Academy of the Sacred Heart, one way that we encourage this is through the daily practice of espacio. For me, this practice often becomes an opportunity to be thankful for things God has blessed me with:
for the gift of my family and friends;

for a profession that is also my vocation;

for students who come to school joyful and curious;

for a faculty and staff that serve our students and believe deeply in our mission;

for Sacred Heart families who entrust us with their precious children;

for the Society of the Sacred Heart and its commitment to education;

and for the love I experience in and through this community.
Thanksgiving begins the holiday season, and while this only comes once a year and often comes with hustle, bustle, and even anxiety, I urge you to consider making contemplation and Thanksgiving a daily practice. God Bless and Happy Thanksgiving.
3 FAQs from Mr. Hermann regarding Annual Giving

Why should I give to Annual Giving when I already pay tuition?
Tuition pays for salaries and curriculum. Annual Giving is a way to fill the gap that allows us to provide everything else that makes up the #ASHDifference. Additionally, Annual Giving gifts can be spent as they come in and can be invested where the need is greatest and where we can most directly improve the students' educational experience.

Why not raise tuition?
From a parent perspective, financially supporting Annual Giving allows parents to realize tax benefits that simply raising tuition would not allow.

How much should I give?
All gifts are appreciated and we are asking families to consider giving 10 percent of your billed tuition.
Tonight's the Night! (Tomorrow, Too!)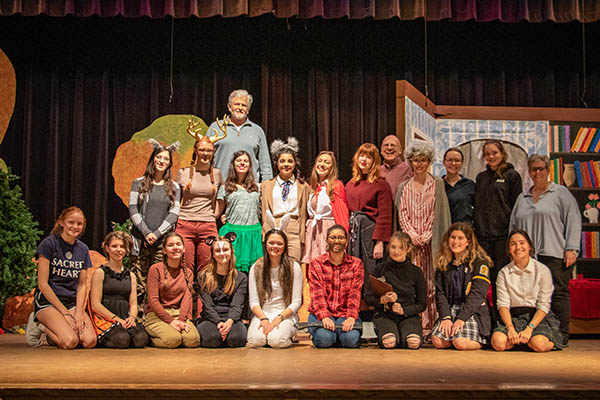 Don't miss your chance to hear how the wolf feels about being portrayed as the villian in the story of Little Red Riding Hood! The 11th Hour Theatre Company presents The (Real) Story of Little Red Riding Hood tonight at 7 p.m. and tomorrow (Saturday, November 23) at 2 p.m. in the auditorium. This hilarious musical is ideal for all audiences! Tickets will be sold at the door; $10 each for adults and $5 each for students.
ASH Has #SalmonInTheClassroom!
By Stephanie Howay, Middle School for Girls Director
If you have been in the building for conferences, Open House, or mass recently, odds are that you have seen the newest addition to the MSG hallway - a 75-gallon fish tank! One of my goals as Director is to expose the girls to as many experiences and "new things" as possible. Shortly before I officially took over as Director, I applied for a program called Salmon in the Classroom (SIC) which is run through the Michigan Department of Natural Resources (DNR). SIC started in 1997 and has since grown to almost 300 classrooms throughout Michigan. Sacred Heart is one of the newest SIC "classrooms"!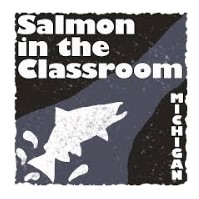 On November 14, our 150 salmon eggs arrived to their home at ASH. The girls will have a hand in raising them from eggs to smolt! Additionally, I will soon roll out learning opportunities for students and teachers building-wide so that the entire ASH community can share in this experience! The process of raising our salmon will take six or so months and then we will release the smolt in the spring in local (approved) watersheds.
A huge thank you to PAASH for sponsoring our tank, and to Kee's Aquarium & Pets for making sure that we have all of the correct supplies to ensure that this endeavor is successful!
Editor's Note: A version of this article also appeared in the November 15 edition of the MSG eNews.
Stay Warm, Look Cool with NEW Spirit Wear!

All-new Sacred Heart spirit wear is available NOW, including new Gazelles and Knights logos showcasing the synergy between our schools! There is something for everyone to stay warm in the winter and look cool all year round! You can get a feel for textures, colors and sizes by stopping by the physical spirit store location across from the Nurse's Office. The store will be open only through December 2, so don't wait! This is a great opportunity to do a bit of holiday shopping, as orders will ship directly to your home by December 17.
Put your charitable dollars to work to benefit YOUR child and all Children of the Sacred Heart! Annual Giving helps to sustain our excellent school. We count on your support, and truly need it! Please make your gift today! Or look for members of the Advancement Team on Giving Tuesday - we'll be at morning drop off to accept your gift with sincere thanks and greet you and all our students.
Advent - A "Season of the Heart"
Anticipation for Advent is already mounting throughout our school community, and we invite you to embrace the Advent season with us. We will introduce our school-wide theme of "Season of the Heart" at the all-school Advent wreath lighting on Tuesday, December 3, at 9:30 a.m. in the Chapel. All are welcome to join us.
Your family is also invited to embrace the spirit of Advent giving by donating toys to support the efforts of the Ladies of Charity. Children are encouraged to donate a new, unwrapped gift that someone their own age would enjoy this Christmas. Gifts can be dropped off on the floor of each learning community from December 2-9. The gifts will be collected in the days that follow and will be used in gift baskets for hundreds of children this Christmas.
In the spirit of Goal III, our families have always been so generous with the school's service efforts surrounding Advent giving. We thank you in advance for your family's participation again this year!
Kroger Community Rewards Program
ASH families who participate in the Kroger Community Rewards Program raised more than $150 for Sacred Heart last quarter just by doing their regular grocery shopping. These families represent just a small portion of our community - if you don't participate yet, please sign up today and start earning for ASH!
Thank you to all who attended Bubbles and Blues last week to benefit Academy of the Sacred Heart, and special thanks to our hosts the Latellas (parents of Gianna, Grade 7 and Tatum, Grade 1), Armijos (parents of Lena, Grade 8; Rico, Grade 6 and Nico, Grade 3) and Lichwallas (parents of Madeline, Grade 7). Everyone enjoyed the great party and our special Sacred Heart community spirit.
Vineyard Vines Fundraiser on December 5
Christmas shopping can be twice as nice when it is in support of a good cause. Mark your calendars for Thursday, December 5, 2-4 p.m., when vineyard vines in Somerset Mall will host a fundraiser for ASH. You'll get 10% off your purchase, and vineyard vines will give 10% back to the school. The past couple of years we have been able to raise just a bit over $1,000! View the event flyer here.
Celebrate the Season on December 15!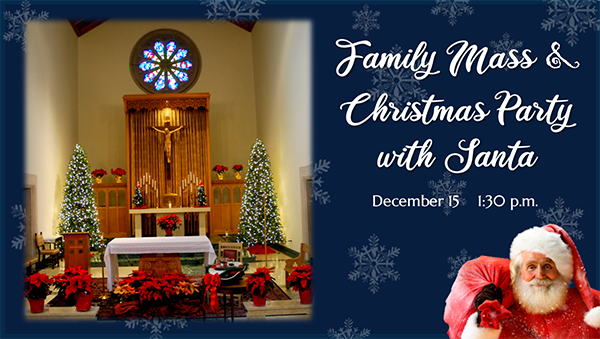 We will gather together as Sacred Heart family to celebrate the season of wonder with a Family Mass and Christmas Party on Sunday, December 15. Mass will be celebrated by Monsignor John Zenz at 1:30 p.m. followed by a joyful reception that will include treats, crafts, and visits with Santa. All are welcome!
Volunteers are needed for help with set-up, refreshments, craft stations and clean-up. Please take a moment to visit SignUpGenius to volunteer.
With holiday shopping season just around the corner, please add Academy of the Sacred Heart's Benefit to your list! On SignUpGenius, you will now find opportunities to contribute to the learning community baskets that will be auctioned off at our Benefit Gala on February 7. These baskets are always popular, generating many bids in support of the #ASHDifference. Thank you in advance for your participation!
Food Allergies: Protect a Life
By Robin Clements, R.N., B.S.N
According to the CDC, an estimated 8% of U.S. children under age 18 have food allergies (about 1 in 13 children). About 40% of children with food allergies are allergic to more than one food. For these reasons, we implement the program called PAL (Protect a Life) in our Learning Communities.
Food allergies occur when the immune system abnormally reacts to a food protein. Most food-allergy reactions are caused by eight foods: milk, eggs, peanuts, tree nuts (including walnuts, almonds, cashews, pecans, pistachios, hazelnuts and macadamia nuts), fish, shellfish, soy and wheat. In our Sacred Heart community, we have students allergic to each of these food items. A student with a food allergy who accidentally ingests the food allergen to which they are allergic can have a life-threatening reaction, which would require emergency medical treatment including the administration of epinephrine. For this reason, it is imperative that students with life-threatening allergies be identified in the school community and appropriate emergency medications and plans are accessible during the school day.
The PAL Program is put forth by FARE (Food Allergy Research and Education) to help children learn how to be a good friend to classmates with food allergies. The program aims to teach students about what a food allergy is and to emphasize that exposure to a food allergen can put a student in a life-threatening situation. The purpose is not to scare students, but to empower them with knowledge of how they can keep their classmates safe.
Presentations are tailored to each Learning Community. We discuss not sharing/trading lunches, never teasing a person with a food allergy by asking them to take a bite of something they may be allergic to, and emphasize that food allergies are no laughing matter.
Consistent with our mission, I believe the PAL program empowers our student community with knowledge so that they may better protect their peers with life-threatening allergies. PAL presentations were given in the Middle School for Girls and Kensington Hall and will occur in the remaining Learning Communities this month. If you are interested in reading more about the PAL program, please visit the FARE website at www.foodallergy.org.
ACADEMY OF THE SACRED HEART