Virginia Kratage Antakli Receives Cor Unum Award at AASH Conference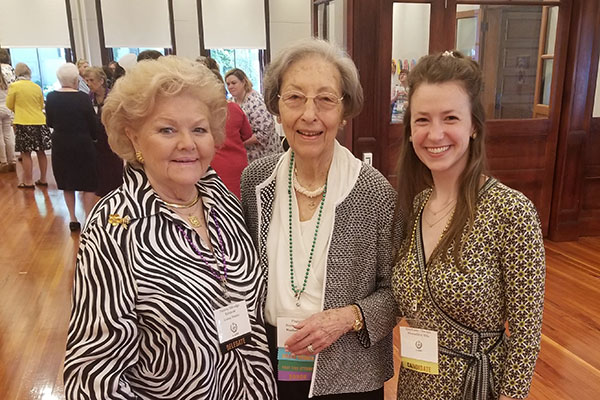 Above: Grosse Pointe alumna Patricia Eldredge Kolojeski (left) with Virginia Kratage Antakli '56 and Stephanie Chaczyk '07.
The 42nd AASH National Conference took place April 26 and 27 at the Academy of the Sacred Heart (the Rosary) in New Orleans, LA. Several Bloomfield Hills alums attended this conference on behalf of the Alumnae and Alumni Association, including Carolyn Lindeman Price '60, Barbara Cliff Silverman '77, Barbara Brown Lopiccolo '62, Carolynn Kinzey Krause '88 and Central Regional Director, Andrea Briefs-Ferris '75.
The slate for the incoming AASH Board was announced, and Roselie Bellanca Posselius '77 became AASH President and Stephanie Chaczyk '07 is now Recording Secretary. Congratulations and thank you for your commitment to AASH!
A highlight of the AASH Conference was the presentation of the Cor Unum Award. "The Cor Unum Award was established to pay tribute to alumnae and alumni who have embraced the philosophy of the Sacred Heart in their everyday lives. The meaning of Cor Unum is 'one heart,' taken from the motto of the Society of the Sacred Heart—One Heart and One Mind." (AASH website.) This year, the Central Region Cor Unum recipient is Virginia Kratage Antakli, graduate of the Convent of the Sacred Heart and Manhattanville College.  We are so pleased to congratulate and celebrate this beloved member of the Bloomfield Hills community, Virginia Antakli.
Bonnie Brennan '91, is hosting a gathering for alums and friends at her home in New York City on Thursday, May 2. Our new Head of School, Mr. Damian Hermann, will attend, and is looking forward to meeting everyone. Over 30 alumni and friends have already responded, and if you're going to be in the city, we hope you will join us. If you can't attend Thursday, come to the Harlem Tavern on Friday around 5:30-6 p.m. for Happy Hour with Sacred Heart friends!
If you have any questions or for more information, contact Carolynn Krause, Alum Coordinator, at cakrause@ashmi.org or 248-646-8900 x171.
We're Predicting a Home Run!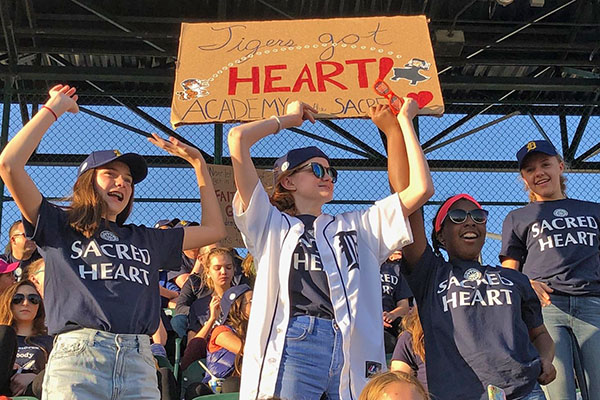 Gazelles cheer on the Detroit Tigers, 2018


Calling all Academy of the Sacred Heart friends and families! Join us for this great night of baseball and school spirit! On May 13, the Detroit Tigers & the Catholic High School League (CHSL) have once again invited schools in the Archdiocese to Comerica Park. This year, our Upper School and Middle School for Girls choirs will take to the field to sing the National Anthem! 
Tickets to the 7:10 p.m. game vs. the Houston Astros are $30 each and include an exclusive, newly-designed Tigers/CHSL/ASH ball cap AND a Sacred Heart tee. Purchase your tickets online at ashmi.org/tigers. All orders must be received by Friday, May 3!
Performing Arts Road Rally is Friday, May 10
Since 2003, members of the ASH community have supported the Performing Arts Department while having a rockin' good time, racing around town during the annual Road Rally! Originally designed as a fundraiser, it has become a community builder that people both look forward to and, depending on how competitive team members are, dread at the same time.

For two and a half hours, teams figure out clues, solve puzzles and drive from place to place in a race to be the first car to arrive at the final destination and win fabulous monetary prizes and possibly the honor of hosting the next year's Rally.
A good time is had by all and it's a fun way to support a great cause! Click here for a detailed flyer and registration link for this year's Road Rally and plan to join in on May 10.
Annual Alumnae & Alumni Spring Reunion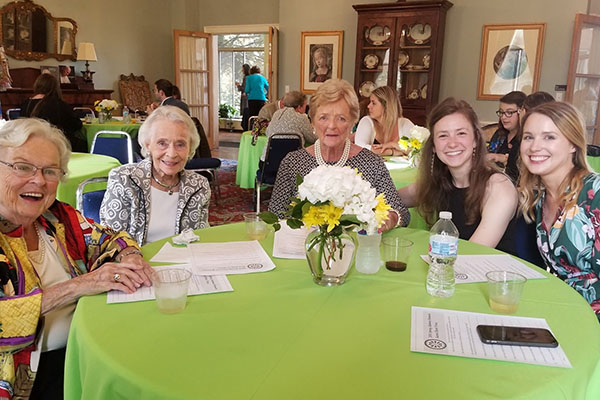 Above and below: Scenes from the 2018 reunion
Please join us for our Annual Alumnae and Alumni Reunion Saturday, May 18 at Academy of the Sacred Heart. Our evening will begin with 4 p.m. Mass celebrated by Monsignor John Zenz, and the presentation of the Wansboro Award. We are pleased to honor Kristen and Bob Miller as this year's Wansboro recipients.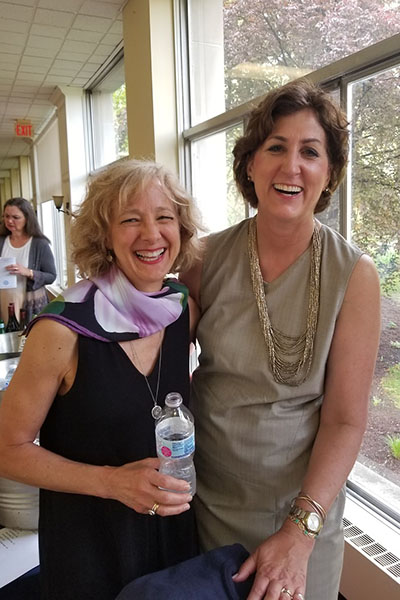 After Mass, all are welcome to the reception in the parlor. Students will be selling raffle tickets to support Academy of the Sacred Heart. This is a great opportunity to get in on the fun, and support your school.

We hope to see you all at the Alum Reunion!  RSVP to alumoffice@ashmi.org or call 248-646-8900 x171.
Getting to Know Damian Hermann, Head of School
By Isabella Shaya '11
Mr. Hermann (center) is also a Tigers fan!
As Damian Hermann is nearing the end of his first school year as the Head of School, alumni are curious to know more about the new person in charge of ASH. For starters, Mr. Hermann was born in the Upper Peninsula in Newberry. He then spent 10 years in Beulah, Michigan, located just south of Traverse City. Growing up, he was surrounded by some of Michigan's beauties—Lake Superior and Pictured Rocks National Lakeshore. He attended high school at Divine Child in Dearborn.
For his bachelor's degree, Mr. Hermann attended the University of Michigan. He studied education, German, and kinesiology. To this day, he still is a huge Michigan football fan, and his wife's family has held season tickets since the mid '70s.
Mr. Hermann obtained his master's degree in educational leadership from Madonna University. Mr. Hermann went on to work for Divine Child High School as a teacher, coach, alumni director, assistant principal, and principal. After that, he worked as the regional superintendent for the Manhattan region of the Archdiocese of New York.
As for the fun stuff, Mr. Hermann enjoys spending his free time golfing, fishing, reading, and going to great restaurants. In fact, taking a golf tour of the British Open course is on Mr. Hermann's travel bucket list. His favorite genres of music are easy listening, blues, and '70s folk.
At home, Mr. Hermann is a husband and father of two. His daughter will graduate high school this spring, and both children will be in college next fall. "I'm excited to see who they become in this next stage of their life," he said. He also has two dogs, both terrier mixes. His love of dogs has found its way to Sacred Heart, as he hopes to bring a comfort dog to ASH from a school-focused training organization in Indiana.
At Sacred Heart, Mr. Hermann has found the students always brighten his day. He said, "I love greeting the students in the morning and getting and giving lots of smiles. I would consider myself an introvert, but when it comes to students, I feed off their positive energy, so I have to remind myself to interact with the students every day."
As for the biggest surprises he has faced after beginning the job at Sacred Heart, Mr. Hermann commented, "The genuine depth of centeredness in the Goals and Criteria and the Society of the Sacred Heart. The charism, rich traditions and history ooze from every corner of ASH."
Mr. Rossi's 34th Trip to the Amazon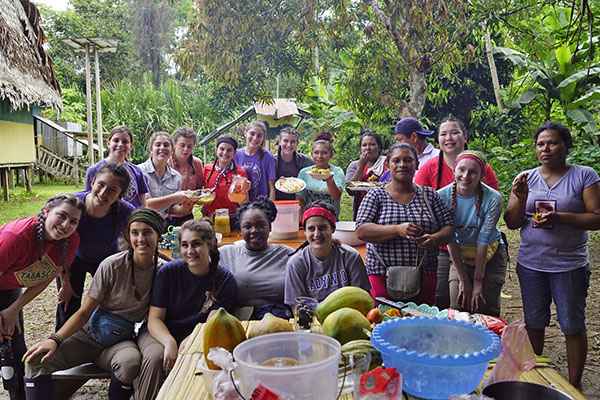 Mr. Rossi reports that this year's Project Term (his 14th!) experience was another great success, filled with immersive learning and personal development while working in solidarity with their Peruvian hosts! Several students wrote in their journals, "I will no longer take my education for granted." Mr. Rossi hopes that the 14 students who accompanied him this year will remember the people and beauty of the Amazon when making more sustainable choices in their own lives here at home.
A highlight of this year's experience was a multi-day service project at the new EKOAMAZON Sustainability and Education Center - a one of a kind facility dedicated to promoting literacy throughout the region by offering arts, technology and economic development programs all "centered" around sustainability. Mr. Rossi also shared that plans are in the works for a first of its kind mother/daughter expedition! If you are interested in learning more about the Sustainability and Education Center or upcoming summer expeditions (of which Mr. Rossi is also a veteran), see ekoamazon.org or contact rrossi@ashmi.org. 
Your Support Makes a Difference!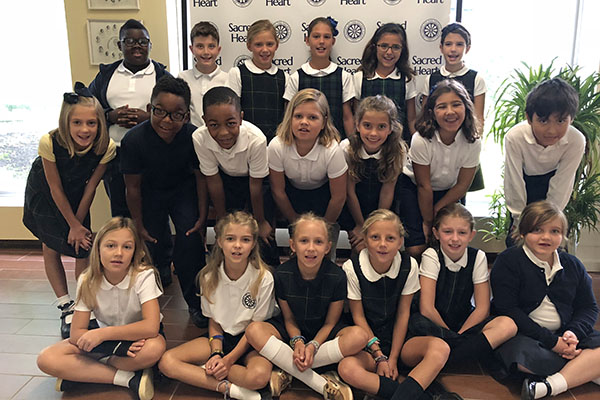 Above: Grade 4 poses in the portry
Your financial support of Academy of the Sacred Heart makes a difference! Your charitable gift to Annual Giving directly supports numerous key initiatives including technology, need-based tuition assistance, our amazing community service program, athletics and the arts. Annual Giving also supports our alum events, such as the spring reunion, Christmas Eve Mass, Candlelight and more!
Alum support of our annual fund efforts are critical to the strength of our school. As our fiscal year draws to a close on June 30, we count on your generosity. Please click here to give securely online, or call Carolynn Krause at 248-646-8900 x171.
On behalf of every Child of the Sacred Heart who benefits from your support, thank you!   
Raffle Ticket Sales - Call or Email for Tickets! 
The annual spring raffle is taking place now! Please support this important fundraiser by purchasing tickets to take your chance at winning the grand prize of $5000 cash or your choice of a two-year lease on a 2019 Dodge Ram or 2019 Ford Escape (made possible by Szott Automotive Group.) The second prize is $1500 cash.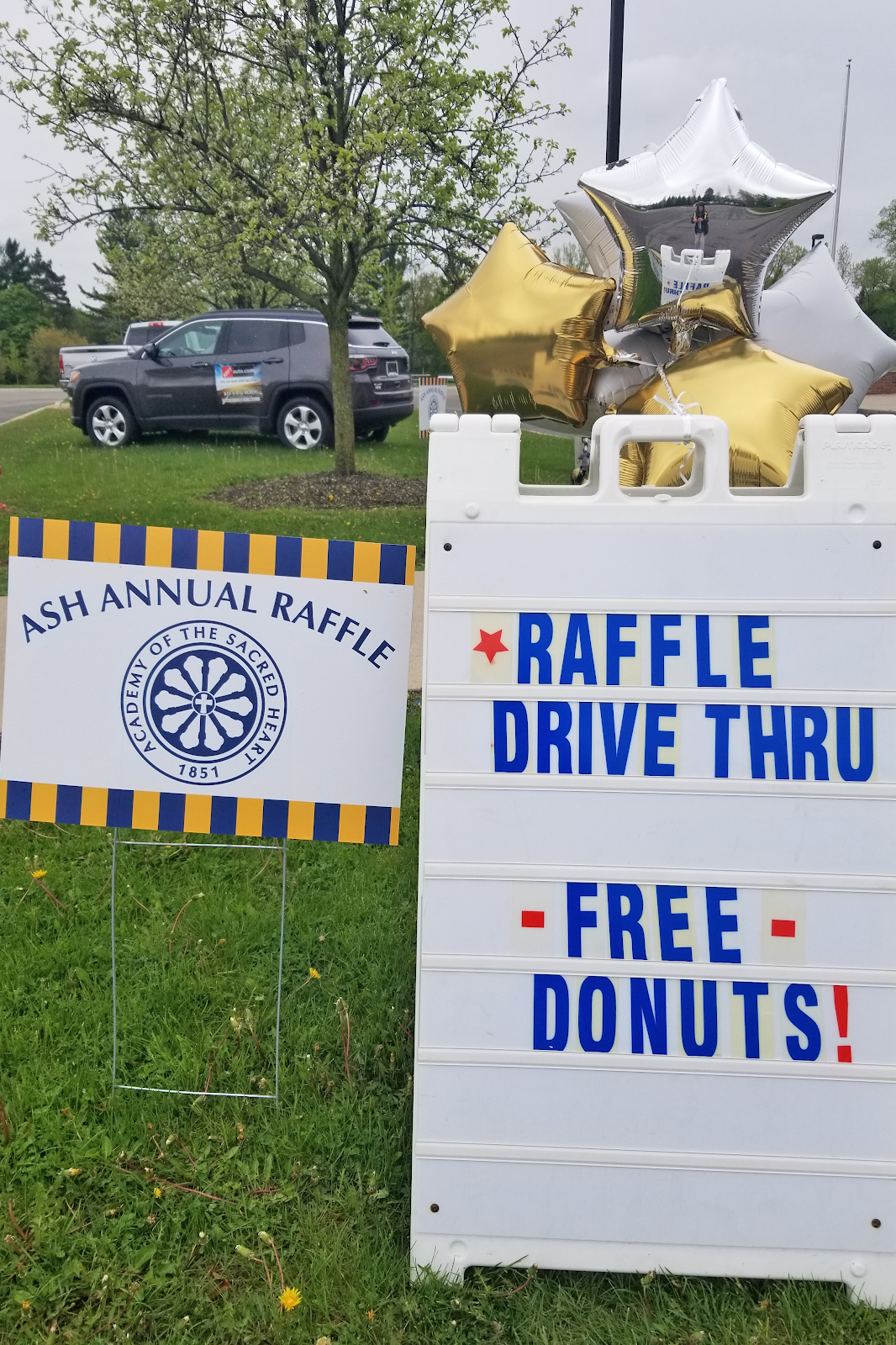 Tickets are one for $50 or three for $100. Watch your mailbox for your ticket order form or call Laura Millazzo at 248-646-8900 x170 to purchase over the phone. Raffle tickets will also be sold at the spring reunion on May 18. Thank you for your support!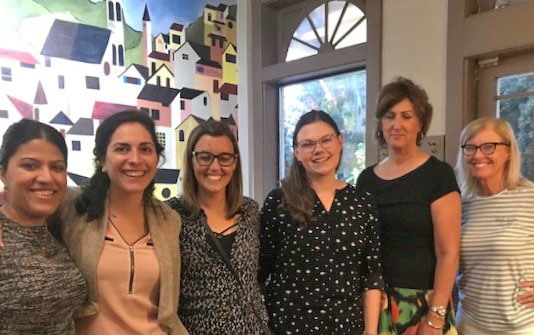 Members of the class of 2006 gathered with Alumnae and Alumni Board President Andrea Briefs-Ferris '75 and Sue Spangler, parent of graduate Sarah Spangler '14, at Cottage Inn Pizza in Ann Arbor (above). Joining our Bloomfield Hills alums were two graduates (not pictured) of Sacred Heart Network school Stone Ridge. The gathering was a fun opportunity to reconnect and share updates while cherishing our Sacred Heart bonds.
Molly Lynch '16
In the beginning of October, I accepted an internship at TechSmith Corporation in Okemos, MI. TechSmith is a global leader in screen capturing and screen recording software. While interviewing for the position, I was attracted to the company because the community aspect reminded me of being at Sacred Heart. I am working in the Human Resources department as the Employee Engagement Intern. I will be working alongside the Employee Ambassador to make sure our staff members feel supported and appreciated by the company. I am excited to gain professional experience in a collaborative, innovative, and community-focused environment. I am thrilled to dive into this internship with Goal 4 in mind as I join TechSmith Corporation.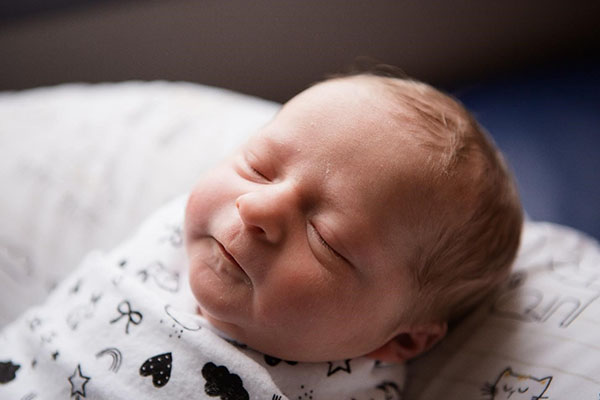 Lisa (Goecke '97) and Jason Malikow welcomed their first child, a daughter named Alexis Evelyn Malikow (above), on October 3, 2018. The Malikows reside in Glen Ellyn, Illinois.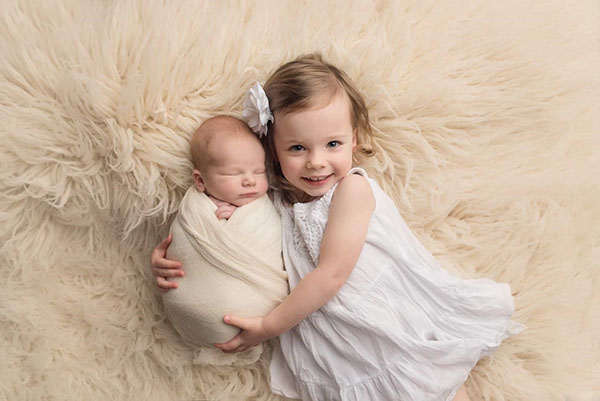 Kristin (Schram) Boyd '04 and husband Ryan, along with big sister Abigail, welcomed Jackson Timothy to their family on September 17.
Keep Us Informed
Academy of the Sacred Heart alumnae and alumni stay connected through the eNewsletters by contributing any newsworthy events that are happening in your life. If you have any news about weddings, births, careers, awards, travels, etc., submit the updates so your news can appear as part of the online Alumnae and Alumni eNewsletter. You can submit the news by clicking here. Be sure to become a member of the Alumnae/i Portal (www.ashmi.org/alumportal) to share even more news with your classmates.
Remember to stay connected through the ASH Alums (Bloomfield Hills, MI) Facebook page. Like us on Facebook and visit this site frequently to keep in touch with the school and your fellow alumnae and alumni.
Condolences to:
Barbara Bauer Brown '60, on the death of her husband, Thomas Brown
Deborah Insley Dingell '71, on the death of her husband, John Dingell
Mary Jo Stein Healey '60, on the death of her husband, Henry Healey
Lisa Goecke Malikow '97, on the death of her mother, Sandra Sue Goecke
Maureen Darin Sandahl '71, on the death of her husband, Daniel Sandahl
Please e-mail Carolynn Kinzey Krause '88 at alumoffice@ashmi.org to inform the Academy of the Sacred Heart of a death in the family. We will share that information immediately with your classmates and pay our respects in the eNewsletter.   

Très Bien Café Au Lait Mug
$25 - price does not include the cost of shipping.
Please visit our Alumnae/i Store page to see beads, bracelets, charms, key rings, and paperweights that make great gifts. For more information please contact the Alum Office.
Alumnae/i who register to become part of our Alumnae/i Portal automatically receive the eNewsletter via email. In addition, registered alums have access to the Alumnae Directory and past eNewsletters. To request your login information, complete the form at www.ashmi.org/alumid.
ACADEMY OF THE SACRED HEART