Class of 1968 Reunion
By Marna Flynn Wilson '68
In June, the Class of 1968 spent two delightful evenings together. On Friday, June 8, Marian Costello opened her beautiful home adjacent to the Convent. Twelve of the 21 class members were there to enjoy the perfect patio evening and delicious dinner created by Elaine Costello Potter, her brother Bob, and Mrs. Costello. Members came from near and far, including two from California! Sr. Bridget Bearss offered a prayer of gratitude for our well-lived lives. Wonderful wine was provided by our Sonoma County classmate Wendy Sundberg. Several members brought pictures, Junior-Senior Banquet programs, Candlelight Ball photos and other artifacts, eliciting non-stop talk and laughter.
On Saturday afternoon, Sr. Bearss gave an extended tour of the Academy to out-of-towners and we gathered again for dinner and a casual evening at Anne Oldani Kern's house. The night was filled with stories of Convent shenanigans, accompanied with much laughter. We pledged not to let so many years go by before we see each other again.
Class of 1968 Updates: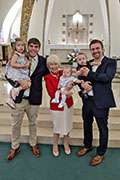 Mary Grace Altalo graduated from Smith College and received a doctorate from Johns Hopkins. She pursued a 30-year long career in marine biology and worked extensively in both the academic and business sectors. Since her retirement in 2008, she moved to South Carolina where she restored several historic houses and pursued a master's of divinity, which she received in 2014. For the past three years, she has participated in the Living School Program of Fr. Richard Rohr's Center for Action and Contemplation, where she has become "steeped in the contemplative wisdom tradition." She is also currently working with an environmental foundation in Virginia, restoring the oyster population in the Chesapeake Bay. The "lights of her life" are her two sons, Dave and Dan, and her three grandchildren, Emma, Teddy and Sadie (pictured).
Mary Baker Bozell, married to Chris for 45 years and residing in Houston, is now retired from her job managing the Cenacle Retreat House. She is mother to four successful daughters, Aloise, Jennifer, Priscilla and Meredith, and grandmother of six, and now enjoys travel, grandchildren and volunteering. She and her family weathered Hurricane Harvey and are immensely grateful that they were spared the tremendous devastation caused by the storm. 
Noreen Hagan Conklin graduated from Marquette University and received her master's degree from Wayne State University. A lifelong educator, Noreen taught in Detroit Public Schools for 25 years and at a private school in Istanbul, Turkey for 11 years. Her love of travel has taken her to at least four continents. She is now retired and lives happily in Wisconsin.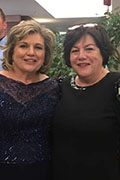 Brigid Flynn Godvin (photo right, with her sister, Maureen Flynn Porubsky '71) is a graduate of Marquette University and continued her education with a business degree from MSU. Married to Michael for 34 years, Brigid is mother to Brendan and Mary Catherine, who is a 2005 Sacred Heart graduate. Brigid spent her early professional years as Moderator of the Archdiocesan Pastoral Council in Detroit. In 2001, she and her husband became academic coaches and began their business, The Student Connection. Brigid has remained active in our Sacred Heart community and is guided by the quote of Saint Madeleine Sophie Barat – "for the sake of one child" - as she helps this current generation grow into successful adults.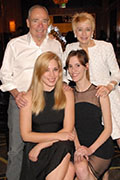 Eileen Judge Horowitz graduated from U-M and received her master's degree in education from USC. After teaching in Southern California, she pursued a career in real estate. Eileen and her husband, Ralph, reside in Los Angeles and spend their summers at their northern Michigan home in Harbor Springs. Mother to two adopted daughters, Meghan and Shannon, Eileen enjoys travel, tennis, skiing and photography, as well as collecting old cars. She has a Model A and an Edsel! 
Joanne Justi Coyle Hurtt has been a Florida resident since her graduation from Mercy College. She sadly lost her first husband, Mitchell, with whom she became mother to two children, Karen and David, and grandmother of five "wonderful human beings." She has been happily married to Terry for eight years and is now retired, although is still involved in the non-profit and pro-life sector and works as a volunteer with women in crisis.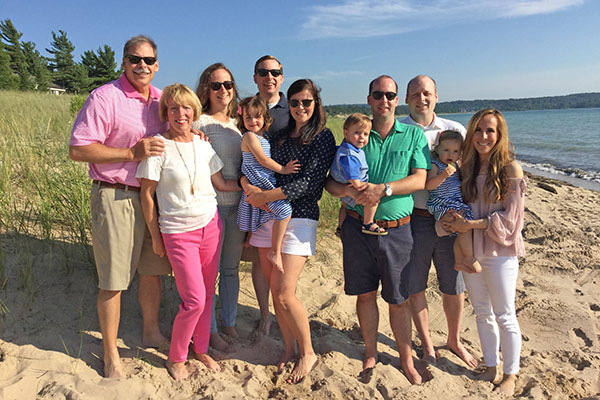 Above: Otto and Anne Kern (at left) and family
Anne Oldani Kern graduated from Barat College and received her master's degree in education, with a concentration in Montessori, from Xavier University. She has taught at Birmingham Community Montessori for almost 40 years. Married to Otto and mother to three boys – Michael, Christopher and Andrew – Anne is a proud grandmother of five.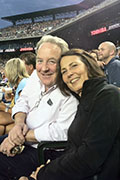 Carole Sehn Laramie returned home to Bloomfield Hills in 1985, after receiving her degree in speech pathology and audiology from Catholic University of America, followed by a master's degree in audiology from Boston University. She and her husband, Joe (pictured), met during freshman orientation at CUA and married right after graduate school. Their children, David and twins Celeste and John, all attended St. Hugo, and Celeste '02 is a proud ASH alum. Sadly, Carole lost her beloved Joe five years ago. She now spends her time volunteering at St. Joe's Hospital as a NICU "cuddler" and newborn hearing tester and travels the country to visit with children and four grandchildren.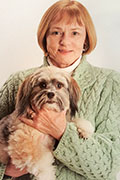 Joanne Lorenz works as a clinical psychologist in the Chicago suburbs, having done her undergraduate work at Brown University and then completing her doctorate at Northwestern University. She is actively involved with 1Pet1Vet, an organization that trains and pairs service dogs with veterans with PTSD. She remembers her years at Sacred Heart as a time of "instilling a sense of perplexity and curiosity of human behavior," a trait that has served her well in her professional and personal journey. She is the proud mom to Professor Higgins, a 4-year-old Havanese dog.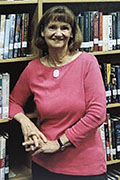 Kathy Jarvis Markley is a library media specialist, having received her undergraduate degree from Albion College and then pursuing a master's degree in library media. Married to Ed, Kathy is mother to two sons, Tom and Brian, and still enjoys her career, although she and her husband love to travel whenever they can.  
Judy Pistilli graduated from U-M and then obtained her M.A. and Ph.D. degrees in clinical psychology at Kent Sate University. She worked briefly in Auckland, New Zealand, then returned to work several years in a community mental health center. She opened a solo practice in Xenia, OH. She taught part-time at the University of Dayton, Wright State University and Wilberforce University and did consultation work with nursing homes and agencies serving older adults. After 40 years, she plans to retire this year. Married for 43 years, Judy and John have two adult children, Brad and Nikki. In her leisure time, Judy enjoys many outdoor activities, as well as reading and cooking. She is also involved in meditation and yoga. 
Elaine Costello Potter graduated from Newton College of the Sacred Heart and resides in Boston. Married to Tom and mother to Mary, Elaine was formerly a graphic designer and is now retired.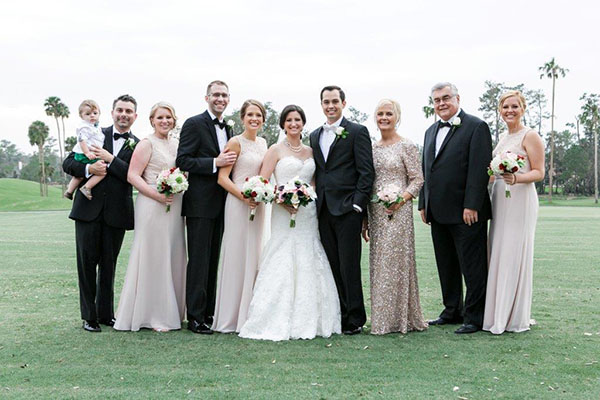 Above: Patricia and Mike Raezler and family
Patricia Popp Raezler received her history degree from the University of Detroit and went back for teaching degree, after which she taught in the Detroit metropolitan area. She returned to Oakland University for her master's degree in guidance and counseling and taught high school when she and her husband, Mike, were transferred to the Chicago area. Patty and her family moved home to Troy in 1988. She is the proud mom of four biological and adopted children – Adam, Katie, Michael and Stephanie - and grandmother to Macallen. She has been actively involved in her children's school, Lutheran Northwest, and has been the Director of West Maple Nursery School for the past 11 years, with no plans to retire!
Wendy Sundberg graduated from MSU with a degree in psychology, "packed her Camaro and headed West," where she landed in San Francisco and pursued an accounting degree. Owning her own business, Main Street Bookkeeping, allowed her the flexibility to be actively involved with her three children. Still working in the accounting field, Wendy loves to travel and is an avid duplicate bridge player. Although Wendy's home was spared, her family was affected by the devastating Santa Rosa fires and her daughter lost her home, which is now being rebuilt after spending some time living with her mom. Wendy is incredibly happy that all three children live in and love Northern California as much as she does. 
Christine Wilson spent her early professional career as a registered Account Executive in Agricultural Commodities and Financial Futures, following her graduation from U-M. She married and moved to the Netherlands, where her two sons were born. Her husband's job took them to London, where she later happily moved outside of the city and raised her two boys. Recently, Christine moved back to the States, settling in Charleston, SC. Her sons still live and work in London and visit frequently.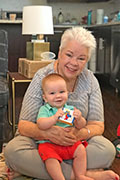 Marna Flynn Wilson received her undergraduate degree from the University of New Mexico, followed by master's degrees in both library science (specializing in science and medicine) and management. She has spent her professional career in accounting, finance and audit, most recently as Manager of the Audit Department at the Michigan Economic Development Corporation. Following her "passion for service and causes," she retired and now spends her time as a dedicated volunteer for several causes, as a member of Rotary International and many other local and regional organizations. Married to Steven for 43 years, Marna is mother to Graeme and devoted grandmother to Teddy (pictured). She is an avid follower of both the practice and sacred texts of yoga.
Classes of 1972 & 1973 Reunion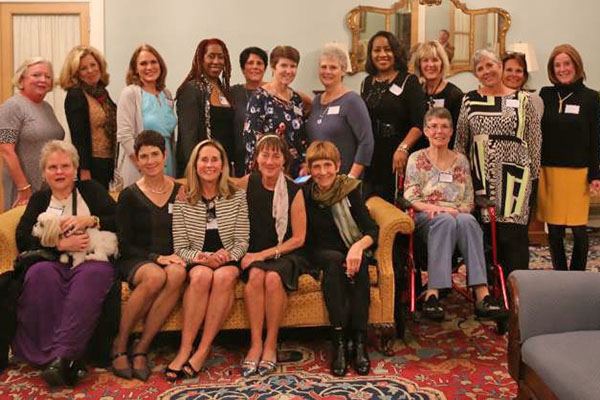 Top row: Mamie Oldani Yates, Susan Wottowa, Flora Ruiz Mahiquez, Marsha Irvin, Patti Groves Chapman, Kathi McCarthy Levine, Susan McKee, Janet Cobb Morton, Pam Mooradian Cumberland, Kelly Bookmeyer Sallee, Karen Holden Wick, Jody Hamill Jennings; Seated bottom row: Mary Jo Henretty Jornales, Sally Kolar, Kate Insley Bartley, Tracey Toepp, Kathleen Kolar, Deni McCarthy Ray; Not pictured: Dannielle Devault Marra, Terri Marra and Mari Mack Senko 
The classes of 1972 and 1973 celebrated during a collective reunion weekend on October 5-7. On Friday evening, about 20 classmates attended a cocktail party in the ASH parlor, resulting in "many hugs and lots of reminiscing", according to Jody Hamill Jennings, one of the reunion attendees. On Saturday evening, the group gathered at the Triple Nickel in Birmingham and the special weekend concluded with morning mass at Holy Name Catholic Church, where the class was introduced by Msgr. Zenz and they presented the offertory gifts - the perfect culmination of a celebratory reunion weekend.
Beloved gym teacher and field hockey coach, Pat Hayes, also attended some of the festivities.
Sally Kolar, who was instrumental in locating many fellow classmates and organizing the weekend, said, "We had such an amazing time looking at old photos, telling stories … some of which many of us never heard … and sharing news of our current lives. With so many rekindled friendships and realizations about what strong and amazing women we all had become, regardless of the paths we took, I expect that there will be a strong turnout for the 50th!"
Julie Dobritt Linton '04, married, mother of one child and currently working as a physician's assistant, is a proud Sacred Heart "lifer" along with her sisters. Julie has an autoimmune disease called Anklyosing Spondylitis, diagnosed in her early 20s. She was recently chosen as the Arthritis Foundation's Adult Honoree for the Jingle Bell Run 2018, one of the Arthritis Foundation's major fundraisers, which will take place on Saturday, December 1 at the Corner Ball Park in Detroit.
The Jingle Bell Run is a fun, family event and includes a 10K run, 5K walk/run, 1-mile walk/run, 1-mile kids fun run and post-race festivities. Julie will be speaking at the end of the event. As the adult honoree, she has pledged to raise $5,000 and recruit a team of 20 runners/walkers. Her employer, Tri-County Pain, is sponsoring the team. To learn more about Julie and her personal mission, visit her web page:                               
events.arthritis.org/participant/TeamTCPC.
College Connections
Linda Shultz Anderson, Visual Arts Educator, recently heard from a number of her former ASH students and shared their stories:
Kelsey Gilhooley '15, a senior at the University of Michigan, majoring in Sports Management with a minor in business, visited the Metropolitan Museum of Art in New York this past summer. During Kelsey's ASH senior year, the art history focus was on The Roots of Modernism, with a particular study of the work of Edgar Degas, best known for his pastel works of the Paris Opera House ballerinas. The class had the opportunity to dress in tulle and pointe shoes, be photographed, and then reference these images to create a pastel work of their own and imagine themselves as The Little Ballerina, Aged 14 through sculpture. Kelsey reports, "I visited the Met a few weeks ago and was so surprised how many artists I knew of, thanks to you! I searched for Edgar Degas' work while there and got to see the sculpture we recreated while in class."



Laurel Clements '18, currently a freshman at the University of Notre Dame, writes, "I signed up for a contemporary art history class as my freshman seminar and I was obviously very excited about it, but I have been even more pleasantly surprised by it than I thought. Our syllabus for the year includes Jackson Pollock, Willem de Kooning, Judy Chicago's Dinner Party, and various other artists and pieces we have discussed (in addition to many new ones, of course). I am incredibly thankful that you gave me the historical context and tools to be able to have intellectual conversations about art. In art I feel very confident in my knowledge and ability to analyze a piece with the right vocabulary and recognize important things about a piece." 


Charlotte Krause '18 is thrilled that she chose to attend the Michigan State University Residential College of Arts and Humanities. Charlotte was the inaugural recipient of the Academy of the Sacred Heart's Renaissance Award 2018 for her excellence across the Fine and Performing Arts. She says, "One of the really cool things about the program I'm in is that about twice a month the program holds what they call 'Wednesday Night Live.' They bring in a speaker and they come to share their story and tell students about their work. It usually has something to do with social justice and 'making a change' in a community."
Births
Tristana Bierkle Bulgarelli '99, husband Paul Bulgarelli and big brother William (Billy) welcomed Ivy Aretta Bulgarelli on August 30.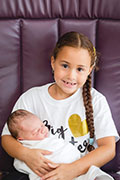 Nicole Cobb Roy '00 and husband Dennis Roy, along with big sister Mikayla, welcomed Desmond Lukas Roy on August 30.
Hillary Schwarb Rohrig '01 and husband Mark Rohrig welcomed a son, Thomas Edward, on September 6.
Marriages
Janise Blackshear '01 married Steven Harris on August 25 in Atlanta.
Barbara Cliff Price '77 married Daniel Silverman on October 13 in the Chapel. Among the many alumnae and current and former ASH staff present was Barbara's godmother and aunt, Cynthia Corbett O'Boyle '41.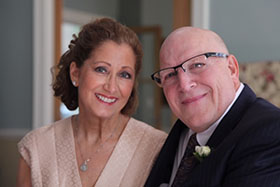 Barbara Cliff Silverman '77 and Daniel Silverman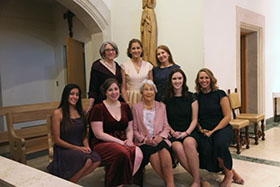 Standing from left: sisters Cathy Cliff Dawson '72, Barbara Cliff Silverman '77, Martha Cliff Robinson '74; seated: Becky Robinson Williams '09, Sallyann Price '08, Sally Fisher Cliff '48, Emily Dawson, Molly Dawson
Husnah Khan '06
Husnah was accepted as an intern with the Michigan Innocence Clinic (MIC) while a Wayne State Law School student in 2016. Her internship in the organization set a  precedent, as she was the first student to be accepted from a law school other than the University of Michigan, opening up the program to other Michigan law school students.
Through her MIC internship, Husnah worked with former Fox 2 Problem Solver Scott Lewis to locate a reluctant witness in the wrongful murder conviction case of a Detroit man. Following eight years of investigation, additional information supporting the man's innocence was provided and he was granted a new trial this November.
"This experience was rewarding because I knew I was making a tangible difference; the work I was doing every single day mattered," Husnah says. "Like so many law school interns who have gone before me, I was enthusiastic and humbled to know I was helping not only the clients the clinic was representing or interested in representing, but the legal field itself. When one person is wrongfully convicted, an injustice has occurred. When many people have been wrongfully convicted, a tragedy continues to repeat itself, impacting the individual, their loved ones, and the community from which they were removed. I also knew I was putting my interest in investigative work to good use, strengthening my communication and collaboration skills."
Husnah received her law degree in June and plans to take the Michigan bar exam in February. She is currently applying to jobs within the public interest sector, as well as opportunities within the courtroom.
"Since my long-term goal involves becoming a member of the judiciary, I would love to work for a judge and gain insight into their techniques and learn from their experiences," she says.
Kasia Rymar '11
Kasia is partnering with Abercrombie, Kent Philanthropy and LifeStraw, as well as the safari lodge Sanctuary Olonana, to raise funds for the Safe Water for Schools Initiative in Kenya. More than 2.5 million children miss school each year due to illness derived from unclean water.  This initiative is helping bring clean water to 6,000 children at nine schools in the Masai Mara.
Kasia's goal is to raise enough for at least one water filter (~$500) for children in the Masai Mara. She will be traveling to the Masai Mara in November, where she will be able to visit a school and see the impact of the LifeStraw initiative. For more info, you can check out this YouTube video or feel free to reach out to Kasia with any questions at krymar@umich.edu.
Alum Community Service Award
Colliscia (Lissy) Williams '18 is the recipient of the 2018 Alum Community Service award. In 1981, the Alumnae of the Sacred Heart of Bloomfield Hills instituted the Community Service Award, recognizing Sacred Heart's strong support of the service program in the Upper School and the Alum Association's commitment of service to the wider community. This award is given annually to a graduating senior who has been exemplary in her service to others. 
The student is chosen on the basis of three criteria:
Consistent responsibility and dedication to service

The development of a positive attitude and enthusiasm for service

A valuable or significant contribution to the service program


Because they know her the best, it is the faculty and senior students who participate in this selection. Congratulations, Lissy!
#ASHOpenHouse is November 11!
Our November 11 All-School Open House is coming soon, and we hope that you will help spread the word about Sacred Heart. Please be sure to extend an invitation to your friends, family and co-workers in the area. In fact, yard signs are available at the Field House and Lower School entrances! If you're local, we encourage you to stop by to pick up a sign, give it a place of honor in your front yard and then post a photo to social media (#ASHOpenHouse). Additionally, keep an eye out for our advertisements in the area - the Open House is also being promoted via digital billboards, Pandora radio, local newspapers and more! Let's keep the energy going! Thank you for all you do to support our recruiting efforts!
Got Goals?

Alums are invited to participate in our Sacred Heart accreditation process.  A visiting team of Network of Sacred Heart Schools educators will be on campus for three days to reflect with us about the Goals & Criteria of a Sacred Heart education. Alums are invited to participate on Tuesday, November 13 from 4:45-5:30 p.m. in the Parlor. If you would like to join this conversational reflection, please RSVP here.
Children of Mary Sodality
Sacred Heart offers the Children of Mary members an opportunity to nurture spiritual awareness, deepen faith, and grow as women of the Church who honor the Blessed Mother. The Children of Mary Sodality is comprised of alumnae, parents of graduates, current parents, and friends of Sacred Heart, and we invite you to encourage your friends and relatives to join with us in our days of prayer and reflection. The Children of Mary Sodality meets at 1:30 p.m. in the Parlor for conversation with Fr. Baker. The group then celebrates the blessed liturgy in the small chapel, followed by goûter and fellowship in the Parlor. Advent and Lenten full-day retreats are also offered, both taking place at the Manresa Jesuit Retreat House. The upcoming dates for the gatherings are:
November 15

December 6 (Advent retreat at Manresa)

January 10, 2019

February 7

March 7 (Lenten retreat at Manresa)

April 11

May 2
For more information, contact Barbara Brown Lopiccolo '62 at 248-505-2334 or jandblop@gmail.com.
The Eleventh Hour Theatre Company Presents "Bring It On, the Musical"
The Upper School will present "Bring It On, the Musical" on November 16 and 17 at 7 p.m. in the auditorium. See what happens when head Truman High cheerleader, Campbell (Sophia DeSanto), gets redistricted to the Crew at stomping, hip-hop jiving Jackson High. Campbell convinces Danielle (Carrington Vaughn) to pull together a Crew/Cheer Team at Jackson High and the fun begins. The audience will love the clever music written by "Hamilton's" Lin-Manuel Miranda and the choreography by Upper School students Olivia Tosto, Caroline Krause and Carrington Vaughn. Most important, though, is that this show is a social commentary on how we need to learn from people who are different than ourselves. It's time to stop petty rivalries and time to start supporting each other. So BRING IT ON! Tickets are $10, sold at the door.
Join Us for a Feast Day Celebration of St. Rose Philippine Duchesne
November 18, 2018 will mark the close of the Bicentennial celebration of the Society of the Sacred Heart in the United States and Canada. In 1818, St. Rose Philippine Duchesne and four companions arrived in St. Charles, and within days, opened a school in a log cabin, the first free school west of the Mississippi and the beginning of the Society's mission of education in the Americas.
This festive liturgy will take place in the Chapel at 2 p.m. and will feature the MSG Advanced Choir, US Concert Choir, MSG and US Violin ensemble, plus organ, trumpet and timpani. It will also be the premiere of "O God of Ev'ry Nation," composed by Fr. Michael Joncas (known for "On Eagle's Wings"), written especially for this occasion. There will be light refreshments following mass. Mark your calendars and plan to attend! 
Need a Ring?
Alumnae cherish and wear their Sacred Heart rings throughout their lifetimes. If you lost your ring and/or are interested in purchasing a new Sacred Heart class ring, please contact Gretchen Parks, College Counselor, at gparks@ashmi.org. Gretchen is in the process of ordering rings for the junior class, so now is the time to place your order. 
Keep Us Informed
Academy of the Sacred Heart alumnae and alumni stay connected through the eNewsletters by contributing any newsworthy events that are happening in your life. If you have any news about weddings, births, careers, awards, travels, etc., submit the updates so your news can appear as part of the online Alumnae and Alumni eNewsletter. You can submit the news by clicking here. Be sure to become a member of the Alumnae/i Portal (www.ashmi.org/alumportal) to share even more news with your classmates.
Remember to stay connected through the ASH Alums (Bloomfield Hills, MI) Facebook page. Like us on Facebook and visit this site frequently to keep in touch with the school and your fellow alumnae and alumni.
Catherine Mary Chaczyk, mother of Stephanie Chaczyk '07 and Claremarie Chaczyk '12
Thelma Riccardo, mother of Mary Kay Riccardo Billington '70

 and

Teresa Riccardo '7

1

Mary Smiley, grandmother of Sharia Wardlaw '99
Daniel Sandahl, husband of Maureen (Midge) Darin Sandahl '71
Please e-mail Danielle Bell '89 at dbell@ashmi.org to inform the Academy of the Sacred Heart of a death in the family. We will share that information immediately with your classmates and pay our respects in the eNewsletter.   

Très Bien Café Au Lait Mug
$25 - price does not include the cost of shipping.
Please visit our Alumnae/i Gifts page to see beads, bracelets, charms, key rings, and paperweights that make great gifts. For more information, please email alumoffice@ashmi.org.  
Alumnae/i who register to become part of our Alumnae/i Portal automatically receive the eNewsletter via email. In addition, registered alums have access to the Alumnae Directory and past eNewsletters. To request your login information, complete the form at www.ashmi.org/alumid.
ACADEMY OF THE SACRED HEART