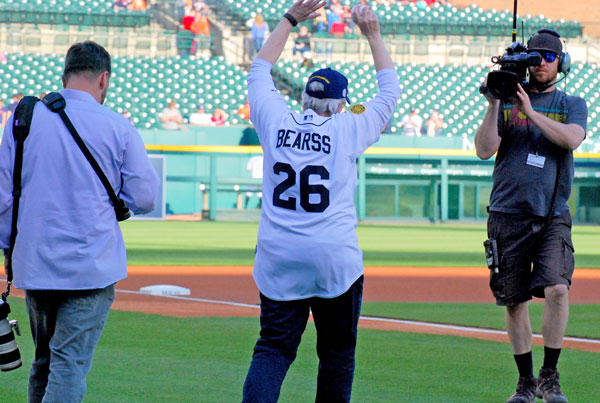 Sr. Bridget Bearss walking out to the pitching mound
Our Sacred Heart family packed the stands at Comerica Park for Detroit Catholic High School League Night on the first beautiful Detroit Tigers baseball night of the year - with our own Sister Bridget Bearss throwing out the first pitch! Click this video link to re-live the moment!
SIX HUNDRED students, parents, faculty, staff, alums, past parents, and more joined together to proudly show off what we all have known for years: our community is one like no other, and THAT is a big part of the #ASHDifference! Go Gazelles! Go Knights! Go Sacred Heart!
Fifty-Year Class Gathers for Spring Reunion
By Isabella Shaya '11

Members of the 1968 class gathered this month for a celebration of 50 years passing since their Sacred Heart graduation.
The 1968 class began at the Lawrence Avenue school, and they were the last class to celebrate First Communion at that location, according to Anne Kern '68. Six of the 22 girls in the graduating class attended ASH together for 13 years.
For many members of the 1968 class, including Brigid Godvin, this was far from their first time back at ASH since graduation. Brigid, director of the Student Connection in Bloomfield Hills, has never lost touch with the Sacred Heart community. Her daughter attended Sacred Heart, and she also returns because some of her students go to ASH.
Anne, who attended Sacred Heart for 13 years alongside her four other sisters, has carried on her family's ASH legacy. The Sacred Heart tradition in her family started with her mother and aunt. Pretty soon the whole family became Children of the Sacred Heart after Anne decided to send her boys to Kensington Academy. Anne has carried on the connection by holding many positions on the ASH Alumni Board, including president. 
"I just loved my time at ASH and feel that it has created a sturdy foundation for me throughout my life: my values, my faith, a realization that I wanted as similar an education for my children," Anne said. 
The reunion brought up some favorite memories at Sacred Heart. For Brigid, it was Congé. When she attended ASH, instead of a dancing competition, it was a talent show and everyone got to pick their talent to perform. There were prizes, but she said it was more of a show. "It was just much more: everyone got together and just kind of enjoyed each other's company and social lives," she said.
When asked about changes to Sacred Heart since her graduation, Anne said, "Since I was involved with the Alumni Association, we were always updated on changes by Sister Bearss. I just feel ASH has moved with times instead of stagnating. I can't pick any specific change to mention. I think the biggest change is ahead of us—the new Head of School will not be an RSCJ."
Brigid has noticed some minor changes, the first big one being Project Term, which was not available to the 1968 class. Also, the structure is different from what the 1968 class faced.
"We had to walk in lines; [they] had clappers—the nuns would have these little like two pieces of wood [put] together and they would close them and that meant you had to get in line and walk down the hallway," Brigid said.
Also, in 1968, the students operated on a ribbon structure. There were blue, green and red ribbons, each symbolizing different behaviors. "The highest blue ribbon was a special distinction," Anne said.
In terms of the curriculum, the 1968 class had to take Latin, etiquette and art history. And, the co-curricular choices given today were not an option, mainly because they had a set schedule with little flexibility, Brigid said.
Despite many the changes to the school over the past 50 years, the mission is the same, which has created generations of strong women, according to Brigid. "One thing you learn is resilience, to help you get through [tough times]. The students from other schools don't have that," Brigid commented. "And, as long as you have a strong and active faith in God, if you go with the goals that were laid out, then your life will be OK."
For both Brigid and Anne, their Sacred Heart education helped them find a life-long career in teaching. Anne is a Montessori teacher. She was introduced to Montessori by Rosemary Roney, RSCJ when she was deciding what to do after graduating from Barat College.
For Brigid, teaching was an afterthought, but a byproduct of her Sacred Heart education. "My time at Sacred Heart has helped me considerably. This career just fell into my lap. My family had a number of businesses, and we sold those, [so] this is a second career for me," Brigid said.
Read on for more details regarding the spring alum reunion, and congratulations to the 50-year anniversary class and all those celebrating a milestone anniversary in 2018.
Wansboro Award & Spring Reunion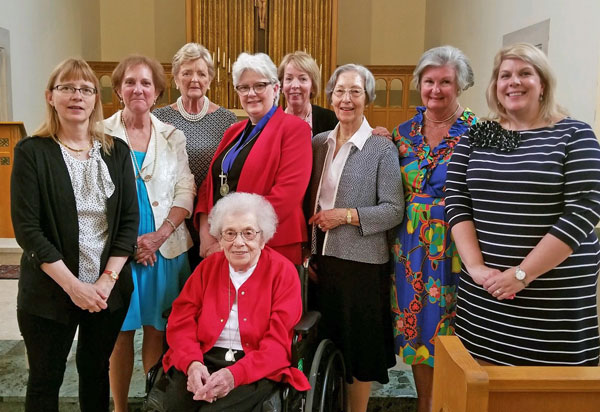 Sr. Bridget Bearss, RSCJ with Past Wansboro Recipients: Joan Tindall Watkins '73, Barbara Brown Lopiccolo '67, Mary Therese Gorman Mayer '44 GPA, Anne Oldani Kern '68, Virginia Kratage Antakli '56, Carolyn Lindeman Price '60, Hon. Alexis Krot '96 and Annette Zipple, RSCJ (in front).
In 1972, the Wansboro Award was initiated to honor individuals in the Sacred Heart family who, by their lives and activities, have demonstrated Confidence in the Heart of Jesus. The recipient of the award need not be a Sacred Heart alumna, as indeed Sr. Wansboro was not, but the recipient must share with Sister Wansboro that strong commitment and dedication to the Heart of Jesus and Sacred heart Education.
This year the award was presented to our very own Sr. Bridget Bearss. This year she celebrates 60 years of life, 30 years since her first vows as a Religious of the Sacred Heart, and is called from the House Built on Confidence to a new ministry at the Stuart Center in Washington D.C. In her 26 years at Bloomfield Hills, Sr. Bearss has been a member of the faculty on every floor of the school, as well as Dean of Students, head of the Upper School, and then Head of School for 18 years.
Sr. Bearsss stated, "I have learned the story of the phoenix that rises and the real meaning of resurrection. I have learned to live my life of trust in God's grace that shows up exactly the moment that I need it, not ten seconds before. It is here, in this House Built on Confidence, that I have learned to breathe the lessons of contemplation and action. It is here that I have learned what it means to be a Religious of the Sacred Heart." 
Following the mass was the annual Alum Reunion where we celebrated years ending in 3 and 8. There were light snacks and refreshing beverages served in the parlor as alums chatted about Sacred Heart memories. To see more pictures from the event, please click here.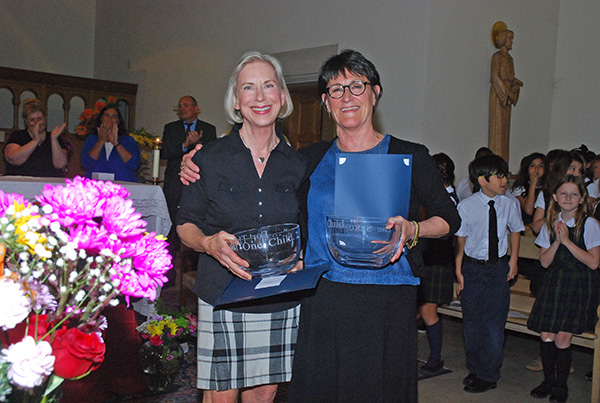 On Friday, May 25, the Academy of the Sacred Heart celebrated the Feast of St. Madeleine Sophie with a traditional liturgy, which includes Feast Wishes by the students and special awards from both the Network of Sacred Heart Schools and Bloomfield Hills. Faculty and staff members receiving special recognition as Honorary Alums for 12 years of service were Melissa Bullaro, Keith Cairns and Sally Widdett. Sr. Bearss recognized faculty and staff for five, ten, 15, 20, 25 and 30 years of service. Special awards were given to Kathleen Mayer '71 (above, right) and honorary alumna Catherine Parks (above, left) for 40 years of service. To view a Facebook photo gallery, click here.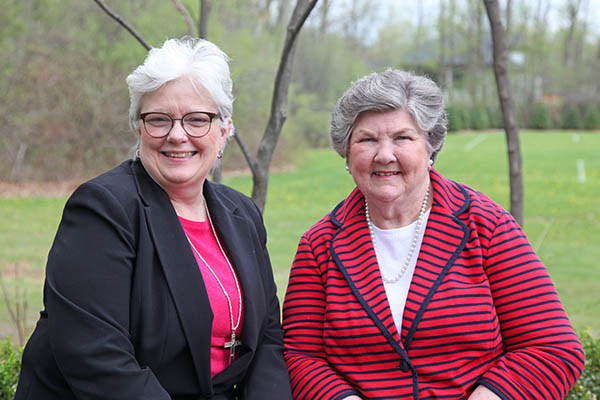 Guests of honor Bridget Bearss, RSCJ and Anne Eppig, RSCJ 
Please join us in celebrating Bridget Bearss, RSCJ and Anne Eppig, RSCJ with a Liturgy of Thanksgiving, followed by refreshments, on Saturday, June 16. The liturgy will take place at 5 p.m. in the Chapel with refreshments following in the Field House. This special farewell is generously underwritten by PAASH and the Board of Trustees.

To RSVP, visit
 www.ashmi.org/farewell. In lieu of gifts, please consider a donation to the Securing the Mission campaign. We hope to see you there!
Jennifer (Cheech) Fitzpatrick Burnett '93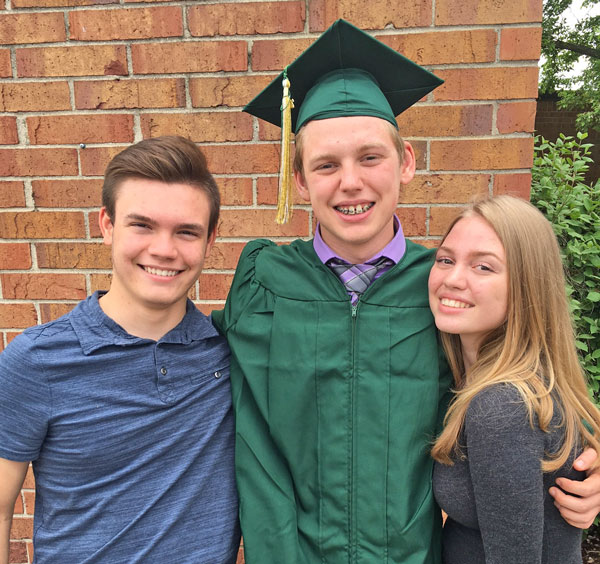 Dakota is pictured in the middle with his cap and gown, and his brother Patrick and sister Sydney '21 by his side.

This year Jennifer celebrated her 25th reunion as her son Dakota celebrates his graduation from Notre Dame Prep! Jennifer says, "He is now working full time at Fitz Manufacturing, our family business that my father started in 1977, learning CAD and software engineering. We are proud to now have three generations working together!"

Emily Cochran Jakacki '02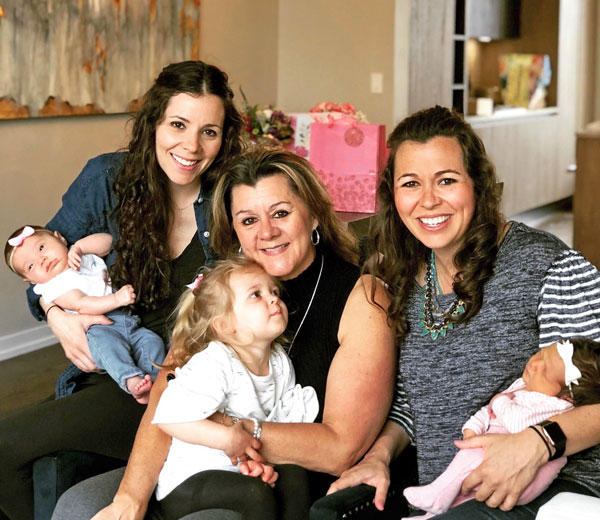 Back Row: Natalie Cochran Leonowicz '04, honorary alum Mary Lou Cochran and Emily Cochran Jakacki '02
Front Row: Emma Louise Leonowicz, Juliana Louise Jakacki and Georgia Michele Jakacki

Emily and her husband Tommy welcomed Georgia Michele Jakacki into the world on May 9. She is happy to be on the team, coming in at 7lbs, 8oz. Big sister Juliana Louise is super excited to have a new teammate. The Jakackis currently reside in Bucktown, Chicago.

Lauren recently graduated from Michigan State University with a degree in English and a concentration in creative writing. Next year, Lauren will be interning at MSU with Cru, a Christian mission organization. Throughout her time as an undergraduate, Cru was instrumental in Lauren's growth in her walk with God, and provided her with an invaluable community of believers with whom she developed a knowledge and love of God. During her involvement with Cru, she had the privilege of leading women with mentor relationships and in Bible discussion groups.

With her internship, she now has the opportunity to reach MSU students for Christ, and is currently developing a team of partners who will invest in the lives of the students at MSU. If you or anyone you know would be interested to hear more about Lauren's ministry and would like to know how you can help share the message of Christ with students, please email Lauren at lauren.benning@cru.org.

Keep Us Informed
Academy of the Sacred Heart alumnae and alumni stay connected through the eNewsletters by contributing any newsworthy events that are happening in your life. If you have any news about weddings, births, careers, awards, travels, etc., submit the updates so your news can appear as part of the online Alumnae and Alumni eNewsletter. You can submit the news by clicking here. Be sure to become a member of the Alumnae/i Portal (www.ashmi.org/alumportal) to share even more news with your classmates.
Remember to stay connected through the ASH Alums (Bloomfield Hills, MI) Facebook page. Like us on Facebook and visit this site frequently to keep in touch with the school and your fellow alumnae and alumni.
Have You Made Your Annual Giving Gift?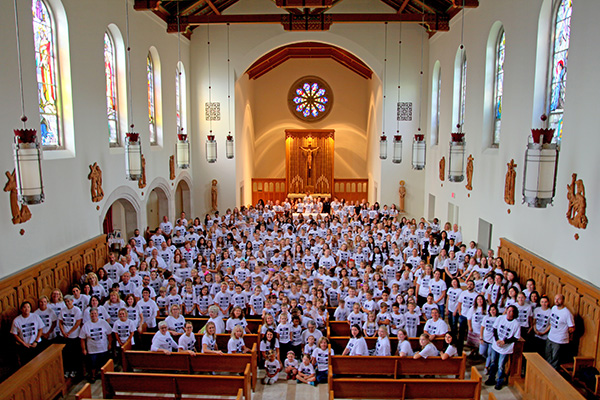 We are in the home stretch of 2017-2018 Annual Giving, but there is STILL TIME to make your donation! Current alum participation is only at 10%. We hope that more alums will take the opportunity to give to Annual Giving in support of the operation of our school, thereby enriching the life of every single Sacred Heart student, every day, every year! 

We count on your support! Visit www.ashmi.org/onlinegift to make your gift today. Gifts received by June 30 will be counted toward this year's goal. Thank you from the entire Academy of the Sacred Heart community for all that you do to support the Children of the Sacred Heart! 
Condolences to:
The Meyers and Eberz family, who recently lost Kelly Meyers Eberz '86. Kelly is survived by her parents, Dr. and Mrs. Ronald Meyers; her husband, Brian Eberz; and her two children, Hannah and Faith.
Katie Jeffries '98 and Mimi Jeffries '03 on the loss of their mother, Patricia Petz Jeffries.
Dr. Lucy Henry Abernathy '61 on the loss of her brother, Daniel J. Henry, Jr. 
Richard O'Connor, Kathryn Hartigan Bowman, Timothy O'Connor, Meghan Hartigan Sullivan, and John O'Connor on the loss of their mother, Lucille Hartigan O'Connor '52.
Please e-mail Jennifer Rink-Kasselmann '99 at jkasselmann@ashmi.org to inform the Academy of the Sacred Heart of a death in the family. We will share that information immediately with your classmates and pay our respects in the eNewsletter.   

Très Bien Café Au Lait Mug
$25 - price does not include the cost of shipping.
Please visit our Alumnae/i Store page to see beads, bracelets, charms, key rings, and paperweights that make great gifts. For more information please contact Jennifer Rink-Kasselmann '99: jkasselmann@ashmi.org.
Alumnae/i who register to become part of our Alumnae/i Portal automatically receive the eNewsletter via email. In addition, registered alums have access to the Alumnae Directory and past eNewsletters. To request your login information, complete the form at www.ashmi.org/alumid.
ACADEMY OF THE SACRED HEART